I wanted to post my personal results and experience with doing this swap. A little bit about what I used, what I did, and how it works.
What you need and the price. A more realistic cost list:
Volvo Fan or Taurus 3.8L Fan - $32.99+3.00core+2.00enviro+5.99pigtail =$43.99
Volvo Relay pack (listed below) - $5.99
Saab Temperature Switch Housing or equivalent (custom made) - $5.99
Dual Stage Temperature Switch - $21.99
Saab Mini-Fuse Box - $5.99 <-OPTIONAL
Relay(s) - 87/87A 40Amp 5 Prong (1 or more depending on setup) - 2@$5.99 - $11.98
Fuses - 30Amp for Battery->Fan, 5Amp for IGN->Relay - $.50
SPST Switch - Preferably Hat Switch for accidental bumps - $5.49
LED Indicator - As many and as colorful as you want. - $9.99
Wire - Plenty of 10 gauge wire to route wires as you prefer, you will have to measure - $10-$20 depending on quality and what you need.
Heat Shrink Tube - $3
Various butt connectors and other connectors - $2
Other Pick n Pull Fees and Gas- $20
Total = About 150 dollars.
I Understand that Some of this stuff can be bought for less, and people may already have some of these things, taking the cost down a bit. I tried to be as accurate as I could and this was how I figured it for me.
Volvo Fan:
(I believe it was a 1994 750 or 850 just make sure it has 3 wires coming from the fan)
The Volvo Fan I got, it seems to be every bit of fan the taurus and other 2 speed fans have been said to be. If your lucky you can find one with the the Fan wiring/pigtails and the Volvo relay all in one car. If you take your time you can find a nice one. Try to get all the wiring/pigtails from the fan to the relay and the black ground wire, it will have a quick disconnect plug on it,make sure to go past that and as far as you can. Follow as far as you can the other 2 plugs from the relay, one to the temp switch, and the red power wire. I went as far as I could and I ended up with enough wire, to use the original red power wire and black ground wire you see in the pictures(this may not be the case with you, but mine were in excellent condition still). If you can do it this way you will be able to unplug and pull the fan out if you need to replace it without touching any wiring except unplugging. Same goes for the rest of the components- Temp Switch, Volvo Relay. It also saved a couple bucks on wiring.
You'll need to do some trimming on the fan shroud to make it fit nice and snug. Just get it as tight as you can, its important to pull air from rad and not sides of shroud. Here is a picture of the fan (i did some shroud trimming already, I forgot to snap a fresh from the JY picture.) and a picture of the wires. You can see the black ground quick disconnect, and the nice lead on the wires. You can also keep the nice black heavy duty wrap it comes with. You should also get small shroud peice that the relays are attached too, You can cut this up and use it for a custom mount for your relay.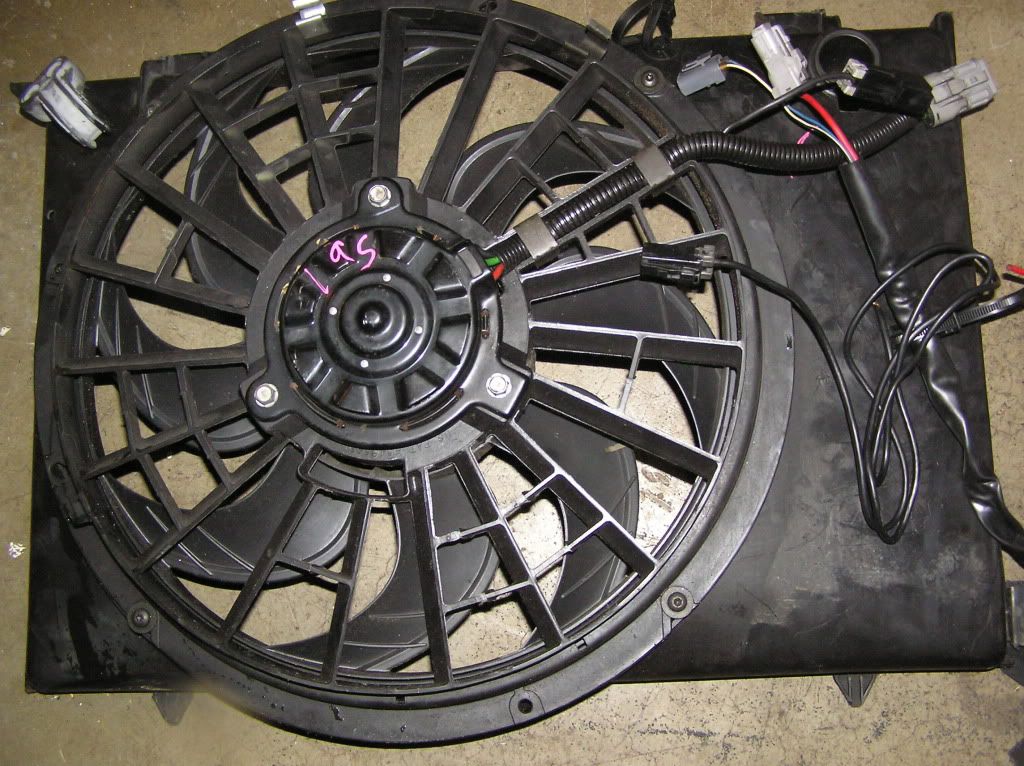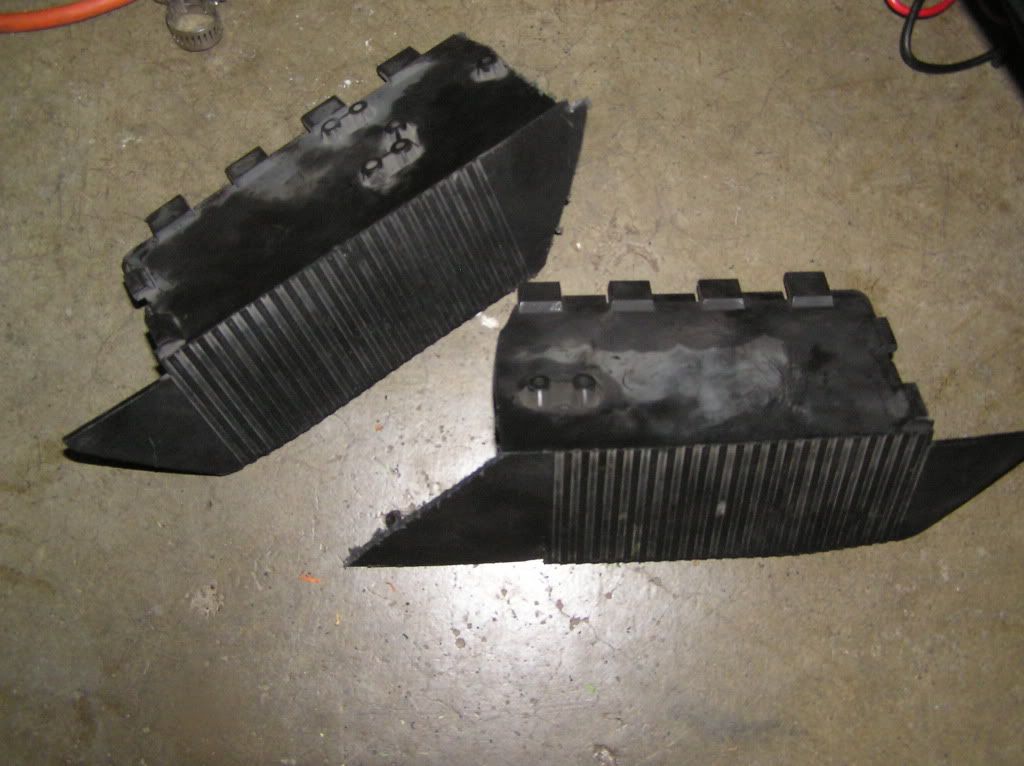 Saab Adapter Housing
: Use this to put the temperature control switch in-line into your coolant system, in the UPPER radiator hose. I recommend trying to find this part, because it seats the temp switch flush in the flow of the coolant system making sure you get an accurate reading, without air pockets or impedence in the flow. I have no idea how crucial this, however- I have had perfect results with mine and have read about problems. If you can't find one of these there are other solutions, check out thread above for ideas on making a temp switch housing.
I got lucky on this one, Its definitely a hard find. I have some tips for the rest of you guys that go on the hunt. I'm pretty sure it was a 1988 Saab 900 turbo, with the foward opening hood. I believe it came on a a certain engine made from 1986-1989, and/or an engine used from 1987-1993, the 900 turbo version. First of all, it was hard to find any saab's in the junkyards, and then I didnt have a clue really what to look for, because there isn't alot of information on what years and models have the adapter pipe. Here's the other tip, the one where i got lucky-
ALWAYS Look inside the car and in the trunk for this piece!
Alot of people Cut it out of the way when they are tearing out radiators and other parts, and they or the junkyard people will throw the parts inside the car to keep them in decent condition.
I failed at every Saab I checked until I finally starting digging in them because I Was pissed off, and found it buried amongst some other crap, IN THE TRUNK!
They all seem to be pretty old and rusty, and so was mine, but I made it work, until I find a Replacement. I cleaned it up good, but be careful, it was pretty rusty.
Here's a pic: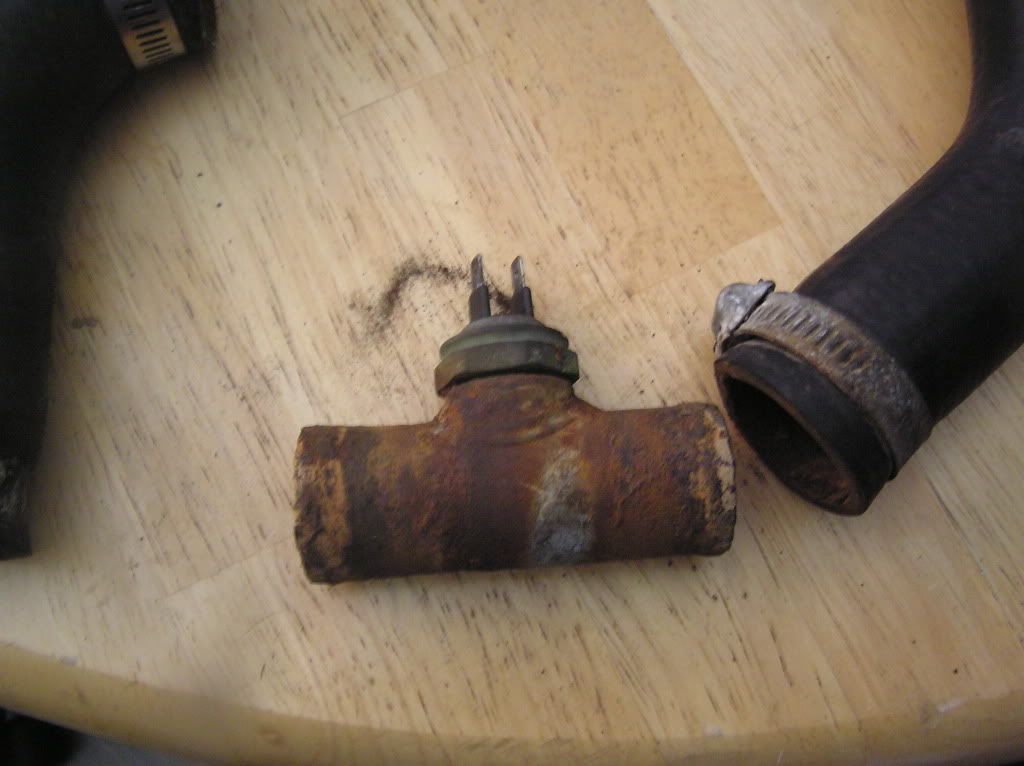 Temperature Switch and plug pigtail:
I used the Duel Temperature switch mentioned in thread at end of post
PIGTAIL:
quoted from taurus thread near end of post
"If you are looking for a pigtail you could probably find one, the same sensor was used across a wide range of porches, audis and vw's from mid 80's on.
Here is a list!
AUDI 100 (1989 - 1994)
AUDI 200 (1989 - 1991)
AUDI 200 QUATTRO (1989 - 1991)
AUDI 4000 1985
AUDI 5000 (1983 - 1988)
AUDI 5000 QUATTRO (1987 - 1988)
AUDI 80 (1988 - 1992)
AUDI 90 (1988 - 1991)
AUDI 90 QUATTRO (1988 - 1991)
AUDI A4 (1996 - 2002)
AUDI A4 QUATTRO (1997 - 2002)
AUDI A6 (1995 - 1997)
AUDI CABRIOLET (1995 - 1998)
AUDI COUPE QUATTRO (1990 - 1991)
AUDI S4 (2000 - 2002)
PORSCHE 924 1987
PORSCHE 944 (1985 - 1989)
VOLKSWAGEN CABRIOLET (1985 - 1992)
VOLKSWAGEN CORRADO (1990 - 1993)
VOLKSWAGEN DASHER (1974 - 1981)
VOLKSWAGEN FOX (1987 - 1993)
VOLKSWAGEN GOLF (1985 - 1992)
VOLKSWAGEN JETTA (1980 - 1992)
VOLKSWAGEN PASSAT (1990 - 1992)
VOLKSWAGEN QUANTUM (1982 - 1988)
VOLKSWAGEN RABBIT (1975 - 1984)
VOLKSWAGEN SCIROCCO (1975 - 1988)
VOLKSWAGEN VANAGON (1983 - 1984)"
I followed the list that is posted right above that lists the cars for the matching pigtail But I was having no luck matching it to JY cars(it was hot and I brought way too many tools). I started walking around to every Volkswagon I saw looking for the Temp switch, once i was familliar with what I was looking for it took about 10-15 minutes to find the right pigtail. I believe it was a early nineties Jetta, but on this one I could be wrong, I went through quite a few looking for it.
Its pictured below with the temp switch, just make sure it has the 3 connectors and its rectangular with the little notch at the bottom. Finding the right plug is worth it, its very nice and sturdy, weatherproof and will make future stuff easier.
SWITCH:
Beck/Arnley sensor (201-1266)203F/216F
- This is the one to use...
It works perfectly with my 195 Tstat. On mine, it kicks on at about 209/210, and cools the engine very rapidly on low speed. I can tell already, I will never get to high speed. My jeep is cold blooded though, I have never seen over 215, and before it was running at 185-195 tops, soon as the tsat kicked open it was cooled. Im actually glad to know my jeep is running at normal operating temperature now that the mechanical fan is disconnected. It seems to be glad as well.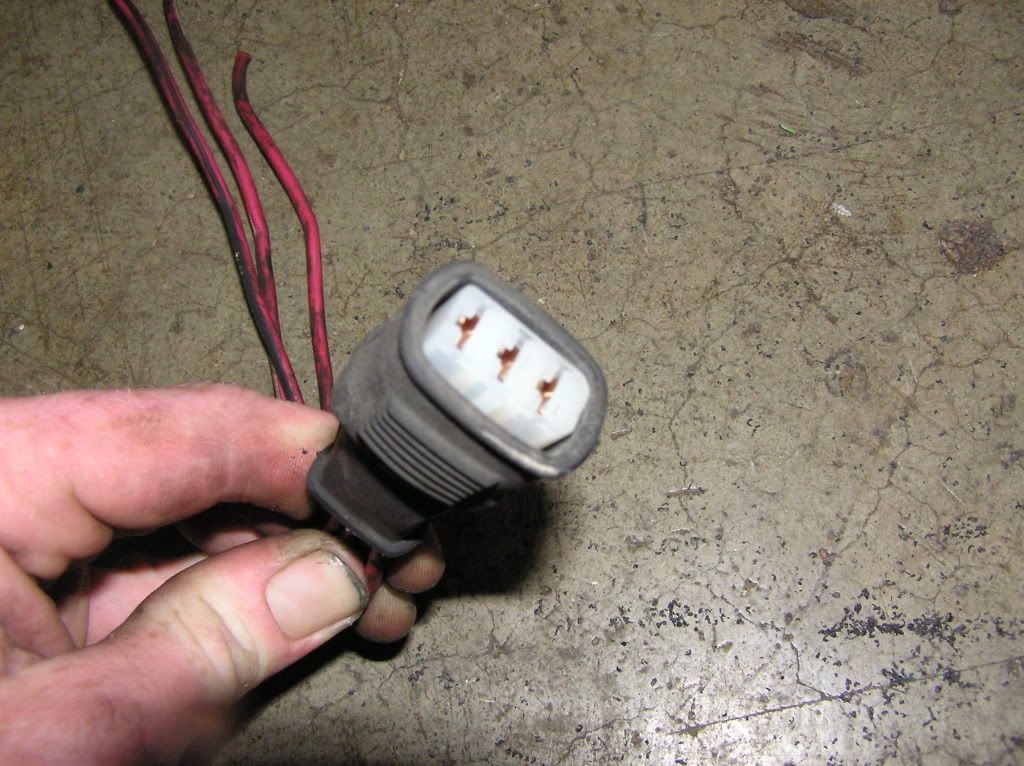 yay it fits!
Relay's and wiring diagram
(with the help of the pro's in this forum):
The relay's are easy to get from the parts store and cheap if your not sure what to look for at the JY or dont want to mess with the chance they are screwy. Any 87/87A Standard relay will work.
I decided to go with the ground switched set-up vs. running power wires into the cab. I think its a much more solid idea.
I used this diagram below
made by a poster in the thread above, to decide on what wiring to use. It worked perfectly with the one 40amp relay, I tested it quite a bit and the relay held up just fine. The Fan just doesn't turn on a whole lot. Dont believe all the horror stories about the huge amp draw, unless you plan on running high speed all the time(which i just dont see happening unless you have a problem with overheating thats totally non-related).
OPTIONAL-
I used 2 Hella Brand Relay's from the Junkyard, out of an Audi or something Im not sure. I run a 30amp 87/87A (SPDT- Single Pole Double throw) Relay to the cab switch and LED as posted in this image, but I used it as a low amp switch to activate my other 50A Relay that is only a 4 prong relay (SPST- Single Pole Single Throw) which has heavier duty materials, and the contacts inside are more isolated, to connect the battery to the fan, hopefully prolonging the life of the relay's.

Fuse Box:
I happened to score an amazing mini-fuse box out of a Saab. You might want to look around for one like it if you can. It has 2 relay slots, up to 6 prong, depending on how you configure it, and 4 normal fuse slots. Im using both relay slots, and 2 fuse slots, 5A on the lead to the switch, and 30A on the Battery to Fan lead. It keeps everything so clean and neat, plus its waterproof and has a drip slot for condensation. It was one of the things that made this install look like it was done from the factory. I had to do a little re-wiring, but it was well worth it end the end. Here's some pics.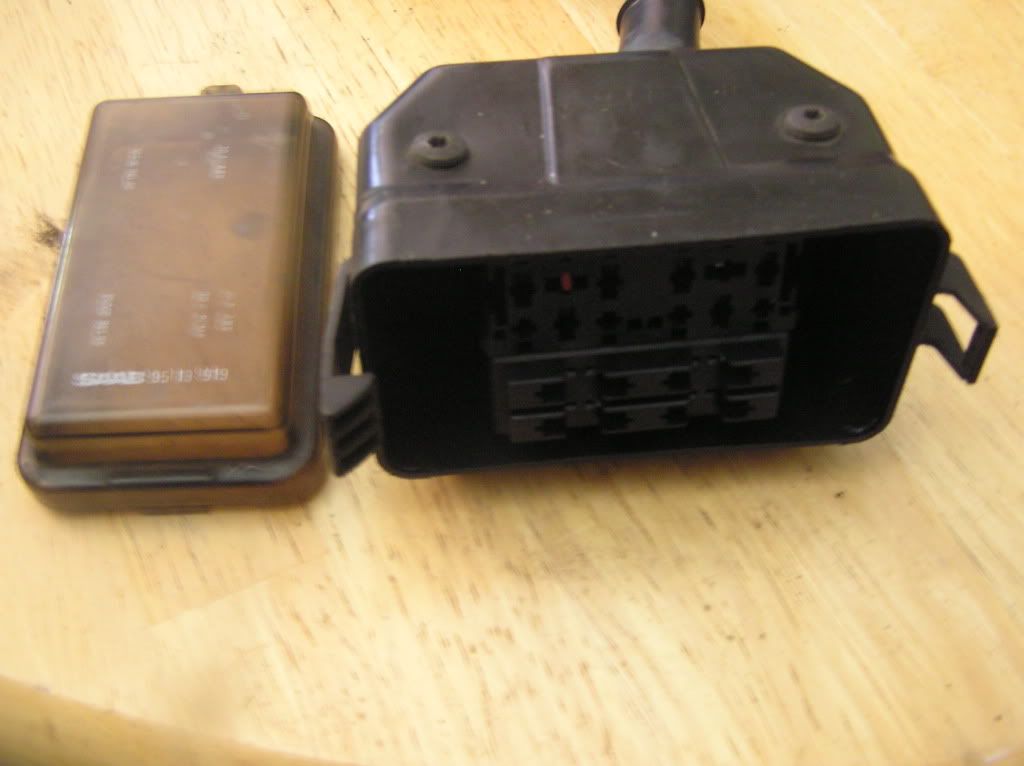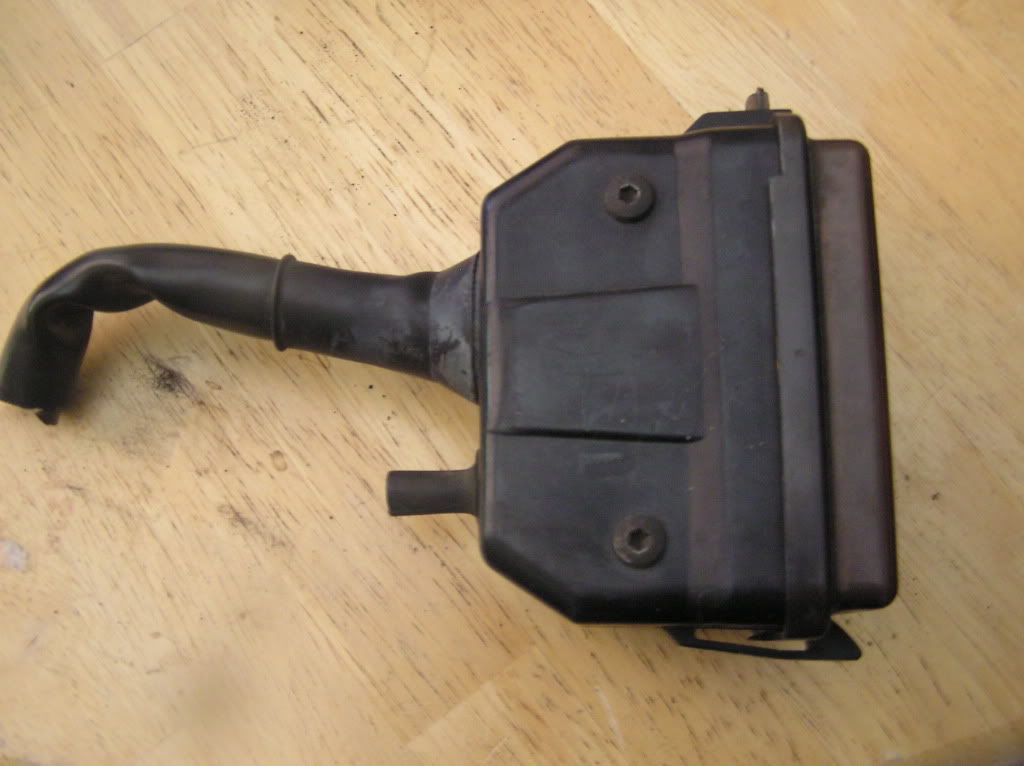 Ok here is some fun with wiring. Make sure you do a good job on the connections, it will ensure the least amount of voltage drop when the fan kicks on. Also weatherproof/seal them with heatshrink, it requires a lighter, and is well worth it. I have an example of how to run the heat shrink down to the end of the plugs for weatherproofing, instead of buying the more expensive ones at the store. You can run the wires with some black corrugated tubing, right next to the stock ones, and if your crafty you can sneak some wires into the stock tubing and hide them nice and neat.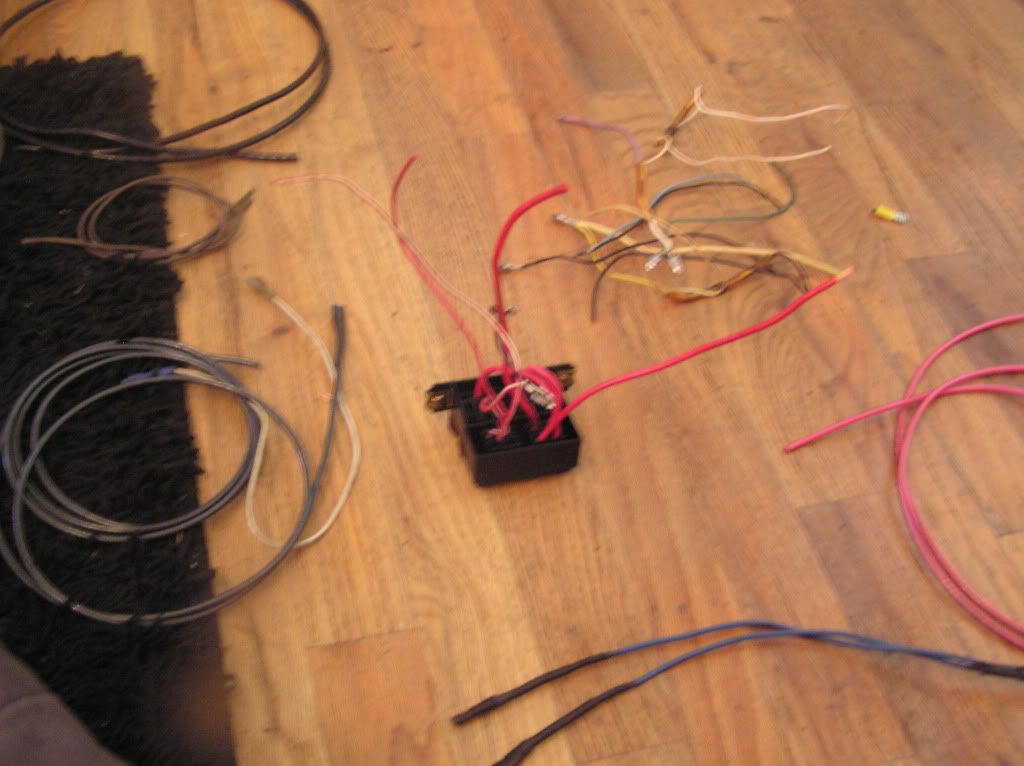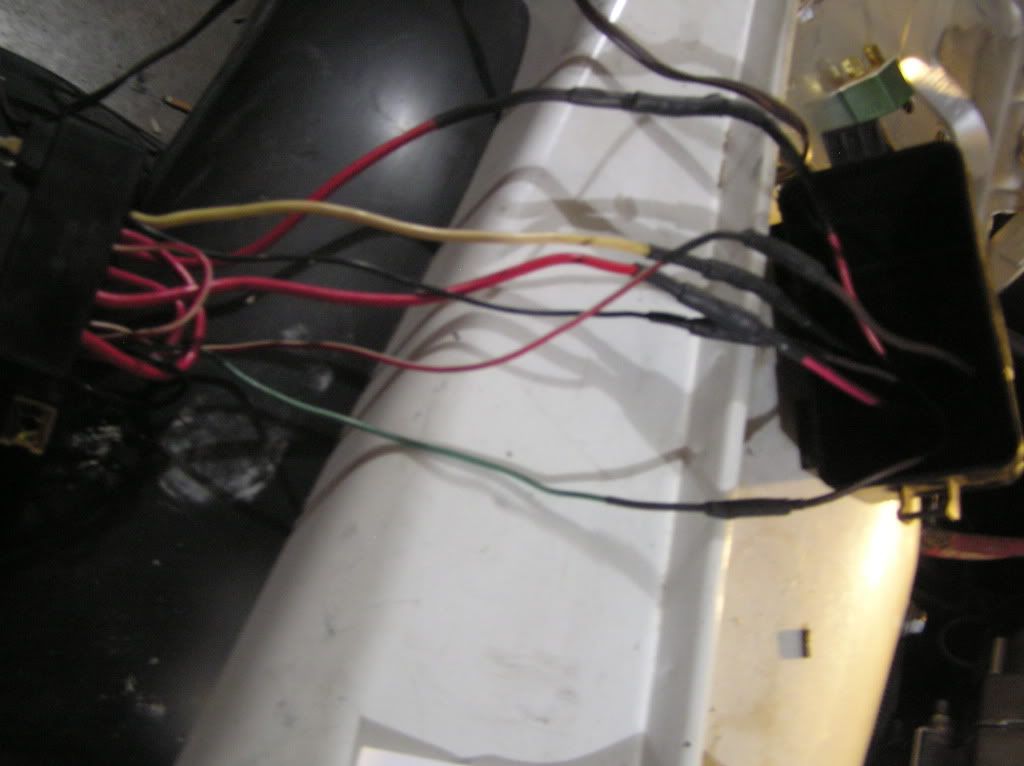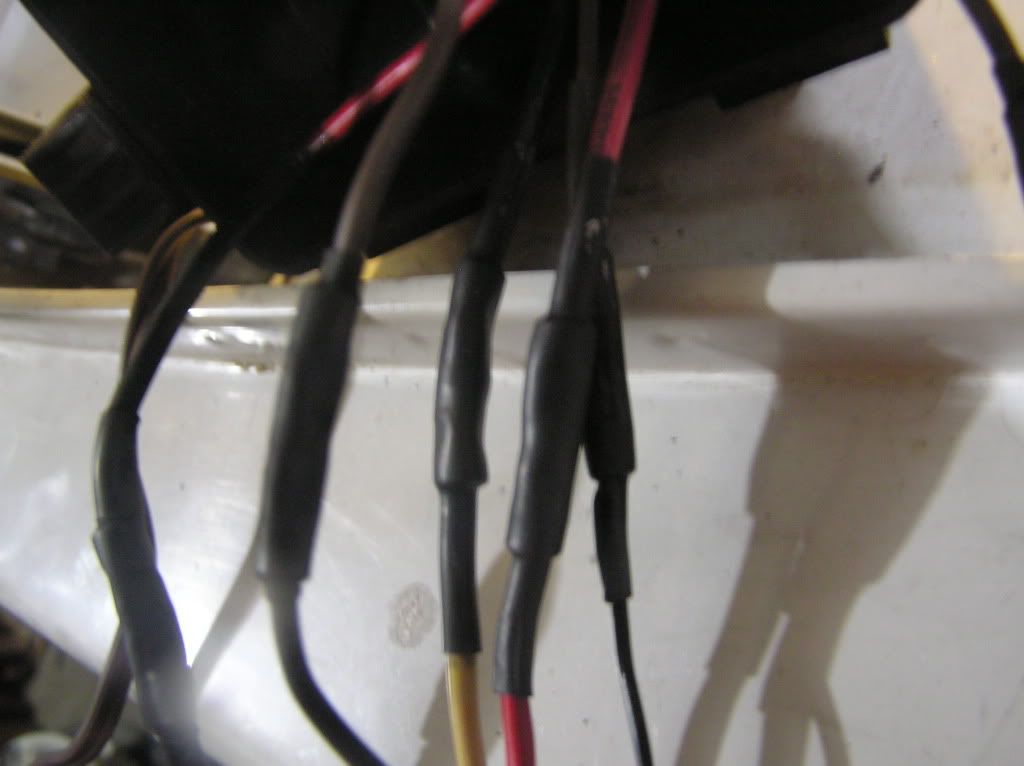 Heres a couple pictures of the Fusebox installed next to the battery, I made a bracket for it to mount on to the battery mounting plate bracket. Its easily accessible and right with the other relay's.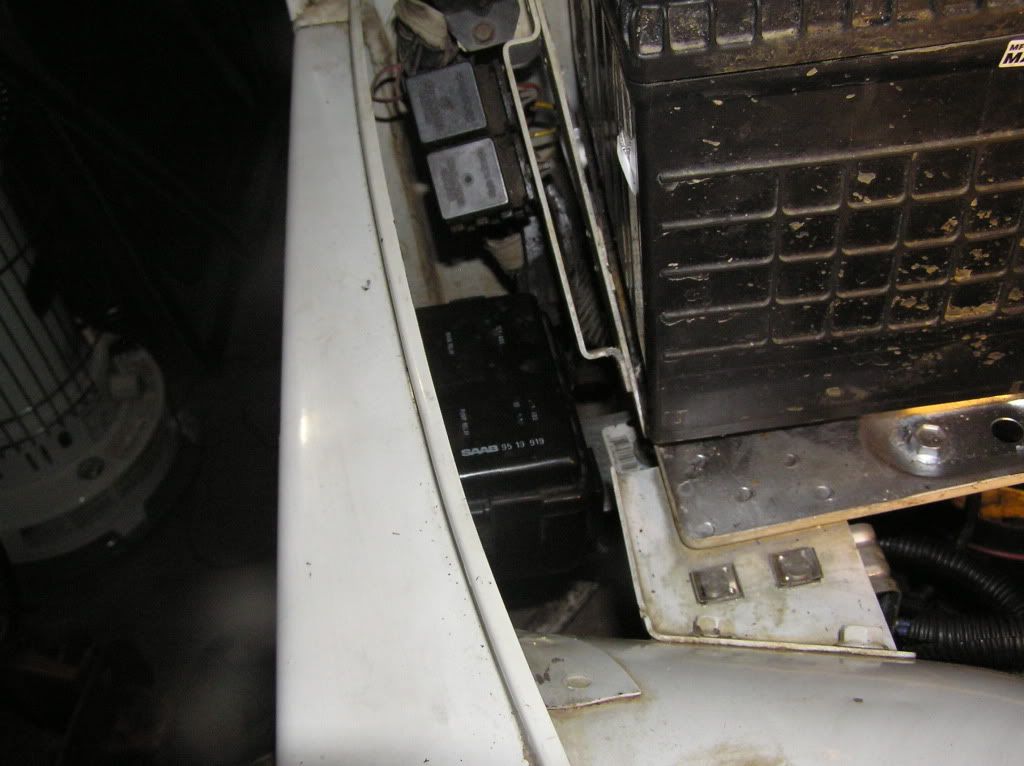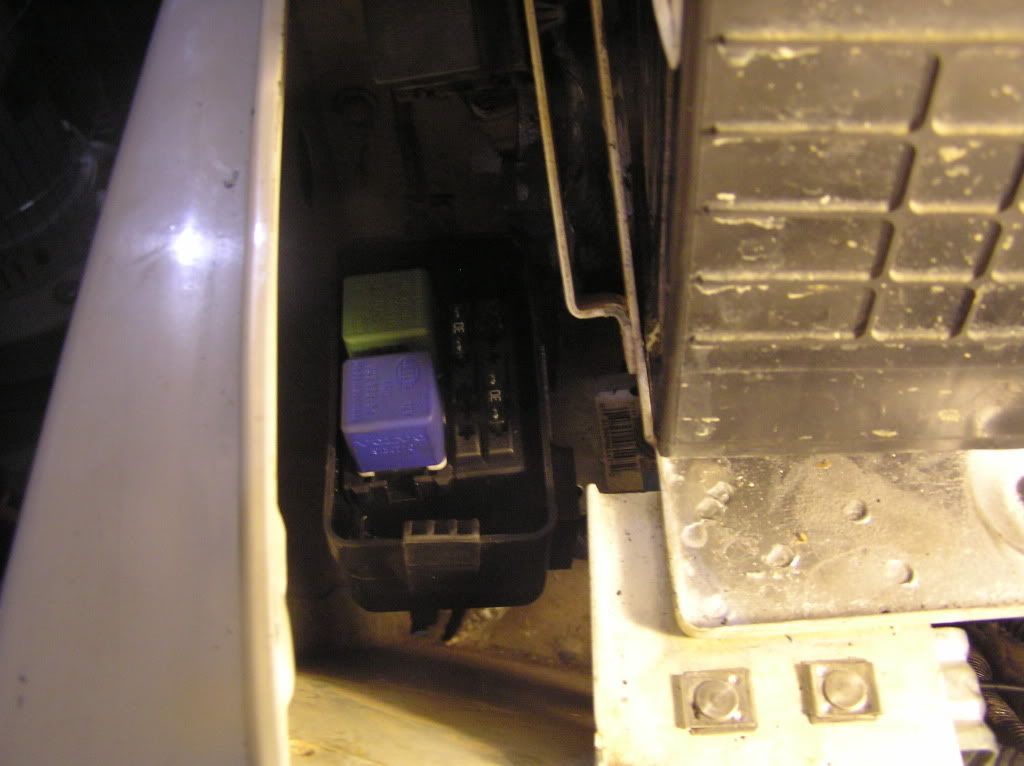 Here's a picture of my hat switch(used so i dont accidently hit it), and bright blue LED indicator light that tells me when the fan is off, with little custom plate i made real quick. sorry the picture is bad there was no light, ill try to get a better one.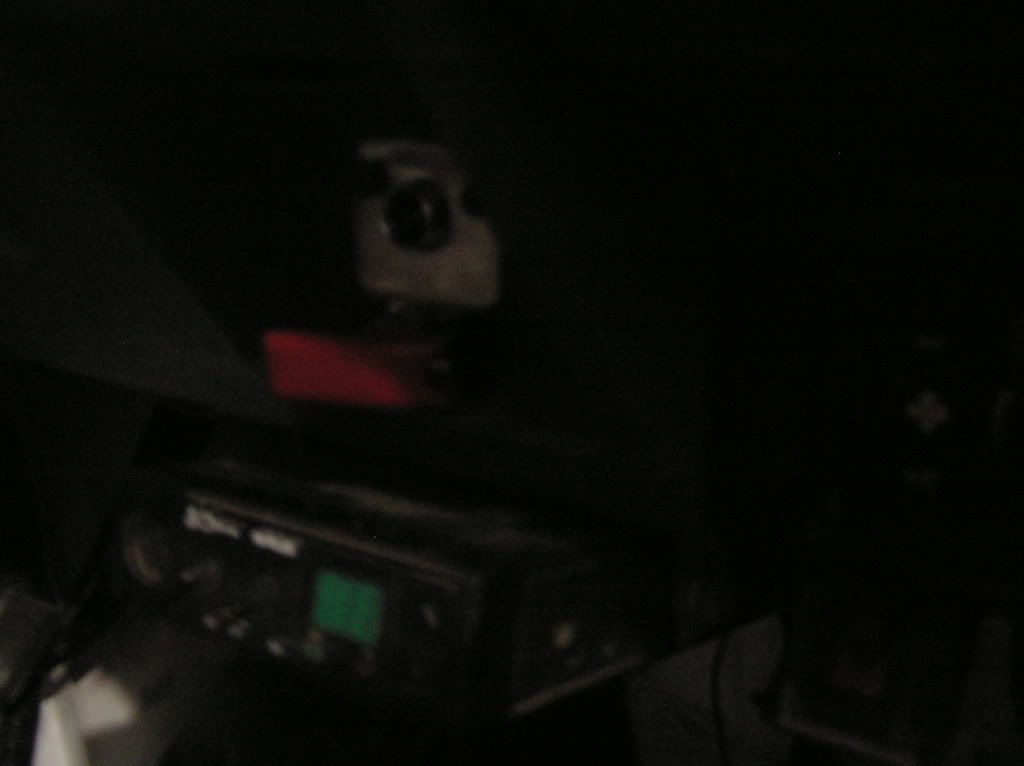 Here's a picture of the custom relay holder made out of the shroud piece above and installed on the fan. I just put it on here to test the location while i was trimming the fan up. The fan is also installed with custom brackets (you guys will have to get creative here and figure out what works best for you. I used 2 normal angle brackets and formed a " [ " shape to hold mine on).
You'll see I totally covered the Saab Adapter Pipe by cutting out the upper rad hose to find around the neck where the sensor goes in. Makes it nice and clean, factory fresh.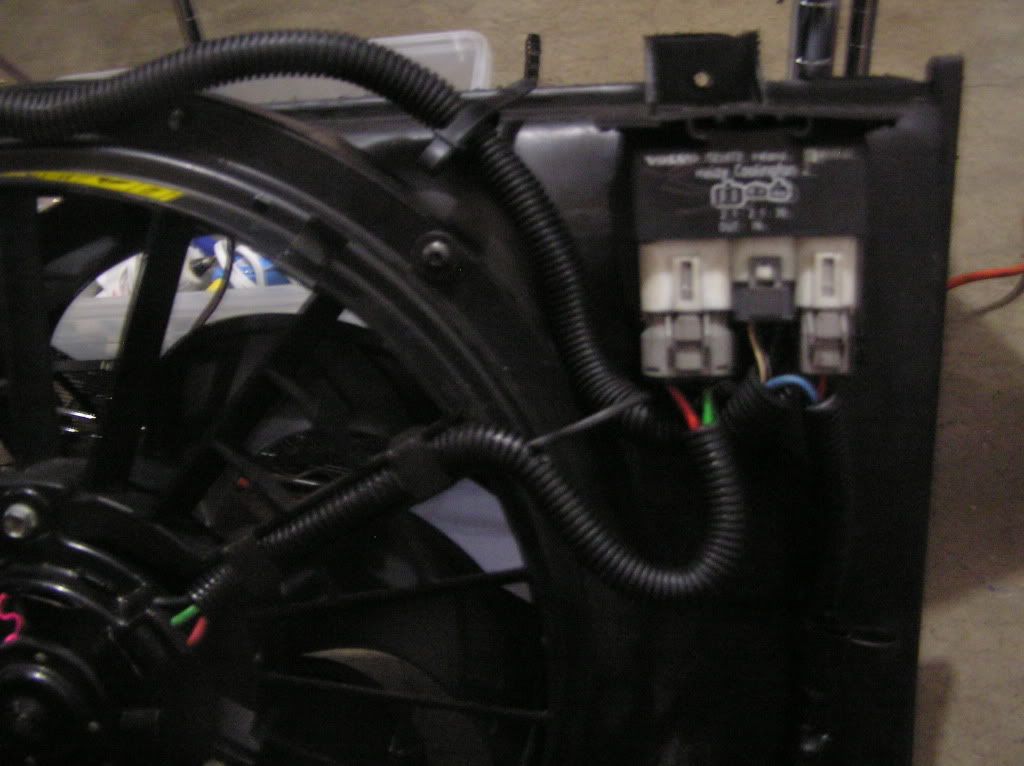 Believe it or not, I could actually feel the upgrade on my "Butt Dyno" , and Im seeing better gas mileage it seems, haven't had it long enough to take accurate measures. - It has definitely made a difference for me.
I hope this helps some people in the future doing this Upgrade.
For the whole discussion on the Taurus / Volvo Fan and Alternate wiring ideas, a bit more in depth converstation, and some more details, check out -
http://www.jeepforum.com/forum/f12/f...cheap-1325896/
http://www.pirate4x4.com/forum/showthread.php?t=1034031