Transmission Fell Need Advise
---
I was putting my transmission back together and when I was out of the garage one of the legs on the bench I had it on gave out. The transmission fell about 2 1/2 feet onto the concrete floor.
: It looks like it landed on the shifter tower because it broke a chunk of it off. Everything looks ok, but I noticed a little more of a noise when moving the input shaft. Heres a video of what it sounds like.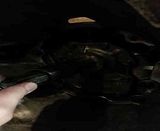 I just had a shop go through the transmission before this **** and they said everything was good. Should I take it back and have them go through it again?
Oh yeah if anyone has a spare shifter tower Im in the market for one.
---
1992 YJ 2.5L
Engine Mods:4.0L TB, Ford Design III 19lb Injectors, Firepower Ignition System, Ford TBird Electric Fan, Pacesetter Header, Magnaflow Cat, Dynomax Super Turbo Exhaust
Suspension Mods:BDS 2" Lift, M.O.R.E. 5/8" HD Shackles, 1" Brown Dog MML
Other:LED Tails and Herculined