Tie rod flip and stretch Pitman arm interference
---
This is kind of an Unorthodox axle swap so bare with me. I recently swapped in a 8.8 with 4.56 gears and Detriot Locker
this is where the unorthodox part comes in. I have been saving for 4.56 gears for my HP dana 30 but I ran across an add in craigslist for a dana30/35 combo with 4.56 gears for $100. I called imediately and come to find out the 30 is a LP out of ZJ ugh!! Im a budget so I bought them
. A few minutes later and a sawzall and cutoff wheel. I figured I can sell the rear 35 to recoup some costs.
I Made my own spring perches to gain an inch more lift over the stock dana 30 spring perches.
the LP dana 30 came with a tie rod flip so I figured I would make use of that since my spring perches gave me an inch more lift in the front I cant run my tie rod with it under the knuckle ( to close to the springs now with my new SUA perches ). Im also running waggy springs giving me a 2" stretch. With the tie rod flip I am having interference with drag link contacting the tie rod. I will let the Pictures do the talking. I have a stock pitman arm. I only have 1" of uptravel before they contact each other.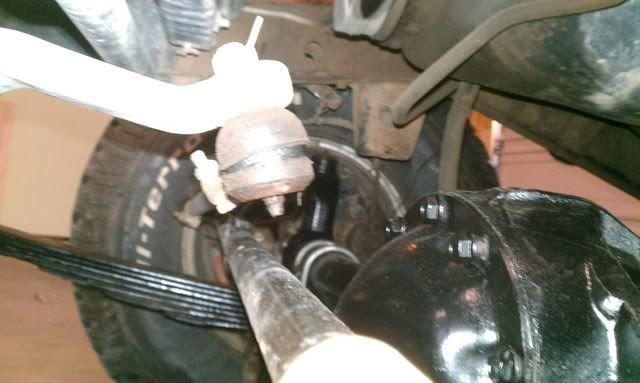 Can I also flip my drag link up to the top of the pitman arm too? giving me enough clearance between the arm and tie rod. I know I will have ream it out to fit but will it interfere with anything else?? Will I have to lengthen the drag link?? If so I can do that. will it bind?? can I run a flat pitman arm will a waggy arm work?? I dont want to lose my sway bar with a flat arm but if its the only way to make it work then I can remove it. Obviously the biggest factor here is my waggy springs with the stretch. Well Im off to do a bunch more research but I figured I can ask the questions here and see if I can get some feedback.
---
build thread: http://www.jeepforum.com/forum/f22/skyj-eccentric-build-1467426/ '90 YJ 5.2 magnum MPI, AX15, NP231 SYE, Dana 30 4.56 open/ 8.8 4.56 detriot locker. 1" shackles
2" BL, 4" stretch all on saggy waggy springs.