Next up I finally found the time and money to do my flat fenders.
Here's the before pic. (me on my way to go deer hunting) You'll also notice that I did a cheap Krylon spray paint job.
I plan on doing a nicer black paint job in the near future.
I started by cutting along the lip of the fender that runs under the hood. I cut until I got to the inner fender.
I left the bracket for the hood latch support though. I just ran the jig saw along the lip so there is about a 1 1/2" lip running under where the hood shuts.
Next I cut along the back side of the inner fender behind the tires and I made a vertical cut about an inch or so from where the fenders meet the tub.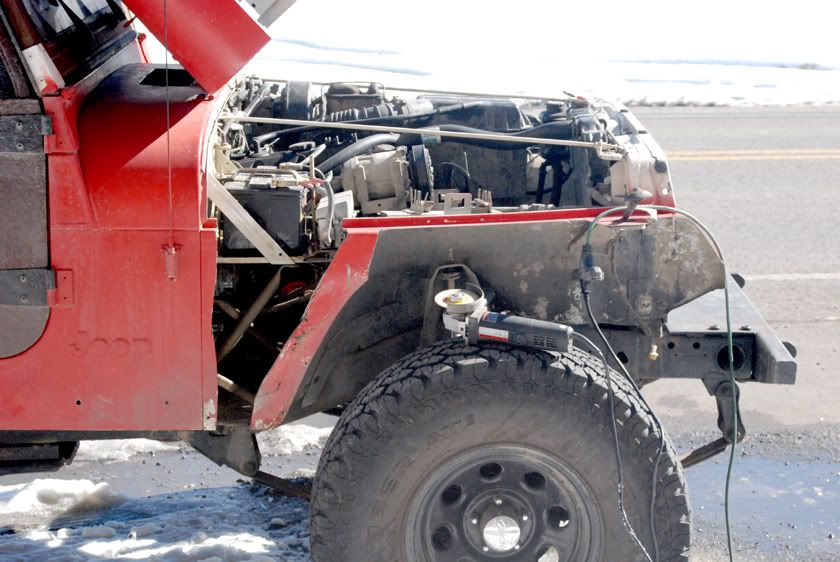 Then I took an angle grinder to the metal remaining on the inner fender and cleaned it up a bit. The front side (towards the tire) is nice and flush now, but I left the back side rough. You'll never see it and I was running low on wheels for the angle grinder. I did cut that rust out though. I also just unbolted the part of the fenders that was still attached to the tub.
I had to notch the inner fenders a bit to make room for the 1 1/2" tube to clear. It's not pretty, but you won't see it.
Then I trimmed the fronts of the old fenders off along the grill and took an angle grinder to the metal bracket behind the top 2 bolts on the grill and smoothed it down flush.