I see every few days a thread that will pop up asking questions about boomerang shackles. Some ask the same questions and some ask different questions. I figure I would take a few minutes and throw a good amount of info together about shackles. *please note that all the pictures I am using are just ones I borrowed from a quick google search.
Some quick shackle facts:
-Stock YJ shackles are 4" in length center of bolt to center of bolt, stamped sheet steel.
-For every 1" over stock length, you are effectively adding 1/2" of lift to your rig.
-Extending your shackle length will directly effect your pinion angle (not by much, but it will still change you pinion angle) and your caster angle (which effects your steering)
-As a benefit though, it allows for more suspension articulation (but there is a fine line between having a bunch of wheel travel and a rig that doesnt handle well on the road)
-Extended shackles also effect your approach/departure angle. (Too long of a shackle, and you are running the end of your leafs into rocks or obstacles)
Boomerang shackles:
-Help with shackle inversion. (Where the suspension drops and the shackle lays flat against the frame rail, commonly resulting in a bent leaf spring... see pics). The center tube in the shackle comes in contact with the frame to keep the shackle from inverting. It also stabilizes the shackle in a left/right direction when turning the steering wheel (with out a reinforcement, you will experience a bit of body roll or the wheel not wanting to return back to center).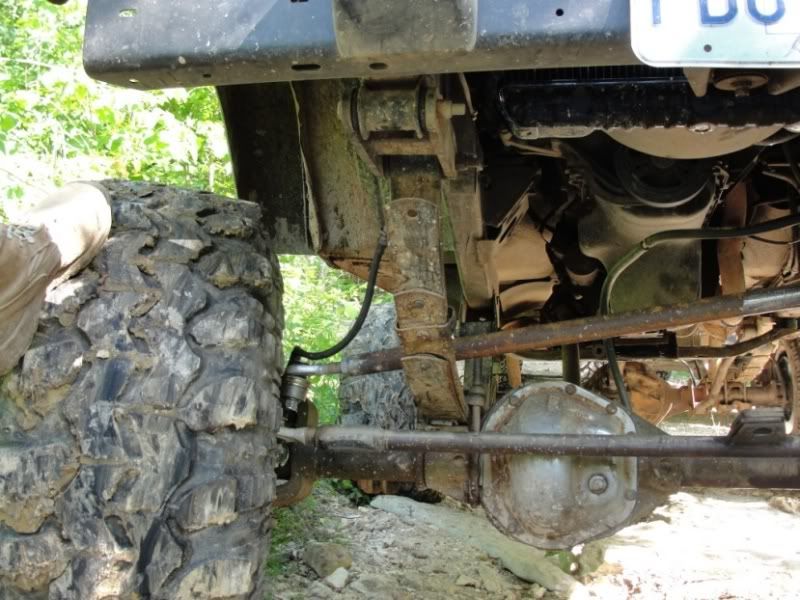 Inverted shackles caused this:
-Mounting direction. Traditionally people mount them with the "V's" pointing toward the center of the rig. Some boomerangs have a long side and a short side. I won't say that 1 direction is better than the other because all jeep suspensions are different. Your springs may settle differently than another persons. So in my opinion, mount them up, cycle the suspenion and see what works best in terms of clearance. (Below you can see one mounted short side up & the other long side up).
Short side up:
Long side up:
-The "V" in the shackle design also helps with clearancing bumpers and crossmembers allowing the suspension to cycle further.
-Torque spec for shackles. This has been a moving target... seems like the number is always decreasing. 1 fact remains true. If you hog down and over tighten your shackle bolts. Your leaf springs will bind causing a rough ride and poor flex. I suggest 45-50 ft-lbs. But to each their own.
-Will you need new shocks? Depends. How much lift do you have over stock? How long of a shackle are you planning on running? If you have stock shocks on a 2.5" lift with another 1" shackle... yes, you are going to need new shocks. If you are going to run a 5/8" shackle, you will most likely be fine.
-If you dont want boomerang shackles but are concerned about shackle inversion, you can always weld essentially a "bump stop" for your shackle to keep it from being able to lay flat against the frame rail
-If your shackle has become inverted. Go find a spot on the trail where you can droop the inverted side, or get a hilift and lift the side with the inverted shackle. You will most likely need a prybarlike device in order to help flip the shackle around. BE VERY CAREFUL, you are dealing with the weight of your rig and the energy from your suspension. Don't go sticking your head or limbs just anywhere when doing this.
I think I have touched base on many of the key things about shackles, extended shackles and boomerang shackles. If anyone sees something I missed, let me know. I'll add it on. Hopefully this helps some people out when they are looking into shackles