FYI - The AX-5 is notorious for the 5th gear clip problem.
If you want to JUST replace the 5th gear clip you could do it without dropping the tranny. However without dropping the tranny you won't be able to inspect or replace the synchros.
The 5th gear issue can be fixed by removing the shift tower and then the rear half of the housing behind the intermediate plate. Just be careful not to break the seal between the intermediate plate and the front half of the tranny. (You have to remove the bolts that hold the the front case half, intermediate plate and rear case. Nothing but the RTV will be holding the front half to the intermediate plate when you are seperating the rear half from the intermediate plate)
If you end up opening up the front of the case to address the synchros, bearings, etc I'd highly recommend you get your hands on the section of the FSM that details the step by step instructions and sequence to disassamble and re-assemble it. There a a bunch of shift rail locking pins, ball and springs that have to go back exactly right.
Screw it up and the tranny won't shift when you are done.
I rebuilt my AX-15 and was damn glad to have the FSM for the tear down and assembly sequence.
This is where 5th gear should be (minus the snapring)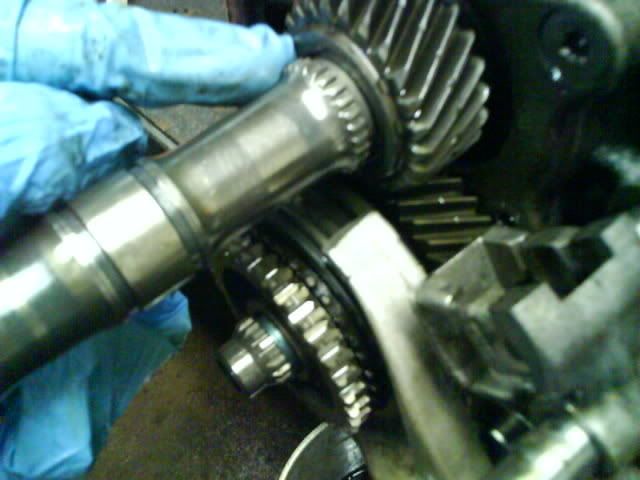 When you pull the rear case you'll probably find 5th gear here.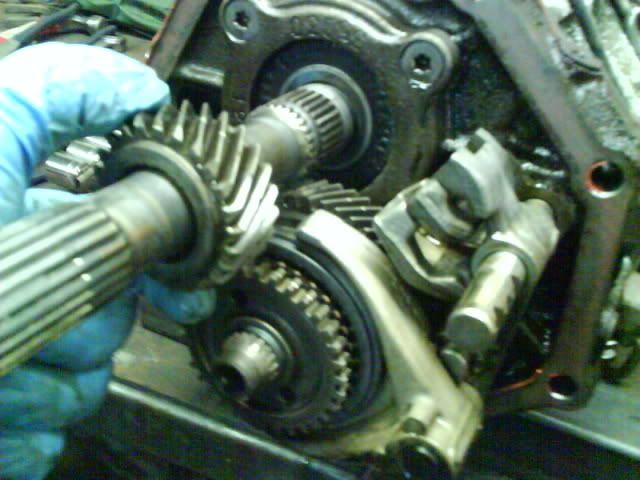 There is an improved 5th gear retainer to hold 5th gear in place. Here it is...
Here's the innards of an AX-15 (very similar to the AX-5)