Registered User
Join Date: Nov 2005
Location: London UK
Posts: 181
Quote:
Okay, I know that every little thing on a stock Jeep has a purpose. So for those that would find themselves vehemently opposed to the elimination of the Z-gate on the T-case shifter,
PLEASE, MOVE ALONG!
Personally, I have altered quite a few things on my Jeep, as most of us do. This one has always bugged me, so I finally did something about it.
Here is the T-case shifter with an intact Z-gate that "locks out" neutral & 4LO, requiring you to move the shifter to the right to access those functions. It's just a separate plate attached to the main assembly. I always hated that side-to-side movement requirement.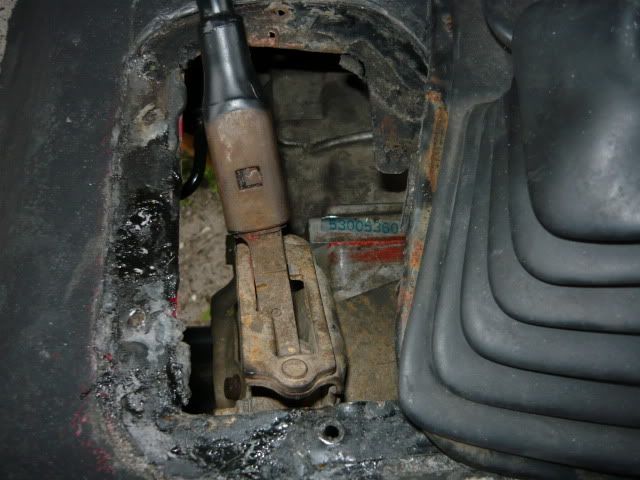 I simply drilled the heads off of the rivets that hold the Z-gate onto the shifter assembly & pried the gate off of the main assembly.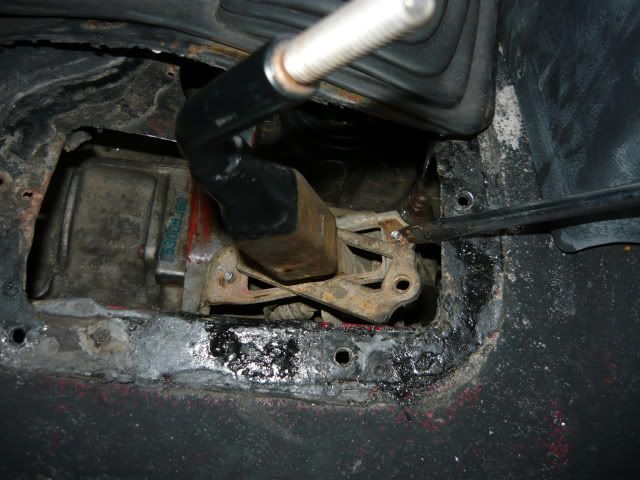 After prying it off the rivets, I bent it back and forth and it snapped right in two!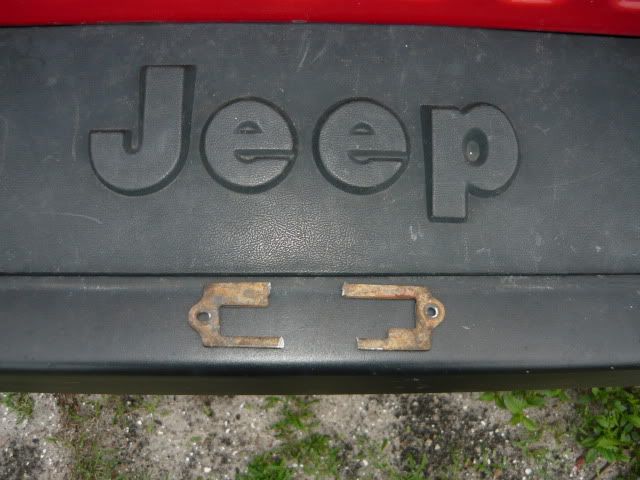 Here is the shifter minus the Z-gate. It's now a straight throw forward & back to engage any T-case function without moving the shifter side-to-side.
Of course, now there is a reason to pay a bit closer attention to how you operate the T-case shifter to avoid selecting the wrong function.
Max
Sorry to hijack this - i have already asked the same things on a different thread but noone seems to be able to come back with an answer. My query is related to the transfer case shifter and as i see the only good pictures of the shifter i can find here on it i ll shoot.
I replaced my clutch yesterday. The mechanic upon dropping the whole t-case and gearbox said that a bushing connecting to the t-case shifter was cut as he didnt notice and it was after all worn out. From what i can see in your pics here this was not a bushing that was connecting to the shifter knob inside the cab but more like it was something from inside the cab down to the linkage. Following the re install of the whole setup my t-case shifter is loose(i.e. it plays left and right and has slack when i grab it to put into 4H like there s a gap from when i grab it to when i put in 4H. It feels like whatever bushing was there to keep the shifter solid and in line with shifting backwards has gone...the prob is i wasnt there and he didnt keep the cut off bushing to show me...as a result i m looking desperately to make sure i order the right part...Would anyone be able to show me a similar picture of the shifter setup and the bushing in question that would keep the t-case shifter solid and in place without slack so i can order and put in ? will i need to drop the whole thing agian to install this? Basically the t-case shifter is now slack as if i play neutral on my gear shift at traffic lights. it goes left and right and forward and backward before i can actually put it to 4H..It sill engages but want it to be solid like it used to be befroe like it felt on a rail guiding you to go 4H N 4L rather than having the slack left and right on all of the gears mentioned...Any ideas what it could be and is there any pics so i know what to orderr?
Thx
__________________
---
'95 YJ, 2.5L,140000Km
SPICE SOFT TOP, CEPEK SHOCKS,1-1/4 Conferr HD Shackles,31X10.5 BFG MT/S,AMERICAN RACING OUTLAW IIs 15X8 3.75 BACKSPACING,JKS QUICK DISCOS
Registered User
Join Date: Nov 2010
Location: chattanooga
Posts: 37
Quote:
i'm in the same boat, do you trust this not to slip out of neutral when towing. I flat tow or use a dolly when I want to go far with the YJ. my tcase is like my backup in case the tranny falls into gear.
What a ***! The same thing that keeps from popping out of four wheel low driving over bolders going up a 30* slope....the detent balls. ***.
Currently Active Users Viewing This Thread: 1

(0 members and 1 guests)
Posting Rules

You may post new threads

You may post replies

You may not post attachments

You may not edit your posts

---

HTML code is Off

---