Switch Panel With Carling Contura II
---
Well, I finally got around to finishing my switch panel in my YJ. It is mounted on the front well of my Tuffy Overhead console. For the face, I used a piece of stainless steel from a door kick plate. Cut to fit and drilled four holes to screw it to the Tuffy.
The switches I used are Carling Contura II rockers. They have a LED illumination. The green LED behind the large window is independently lit, so I wired it to come on with the dash lights. The amber LED bar at the bottom illuminates when the switch is activated. The icons on the large windows are nothing more than images shown at
http://www.carlingtech.com/pdf/vl_serswitlegends.pdf
I simply printed them onto clear labels and stuck them on.
I got the everything from Mouser.com
Switch bodies
http://www.mouser.com/Search/Product...ey691-V1D2GHNB
Switch Actuator
http://www.mouser.com/Search/Product...alkey691-VVAAC
Connector Housing
http://www.mouser.com/Search/Product...lkey691-VCH-01
Here is the harness I made for the switches. Yellow wire is illumination via the dash lights. Red is power in, Black is ground. The switched wire will be inserted when installed in the jeep.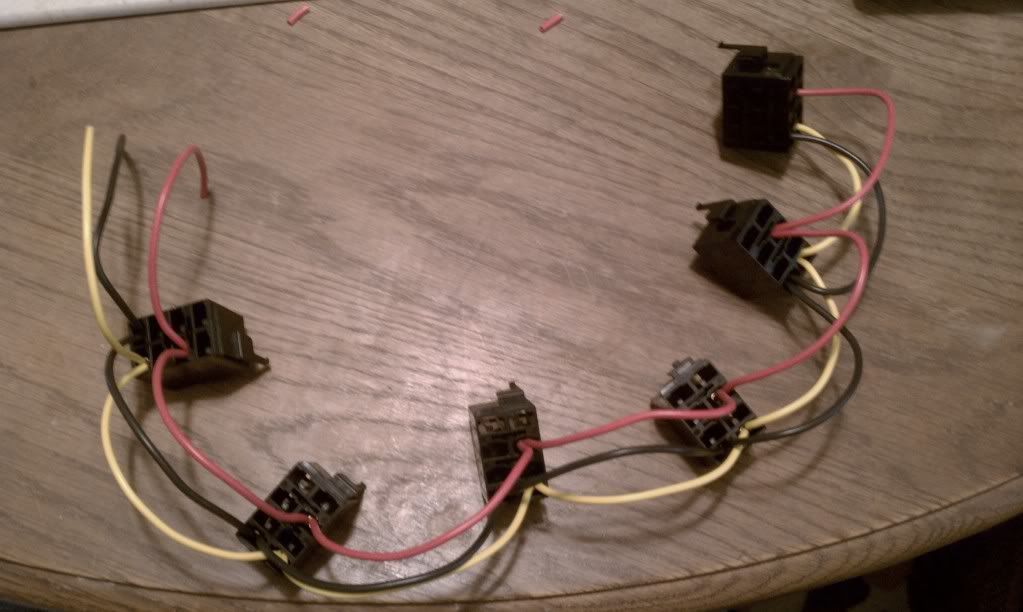 Here it is with installed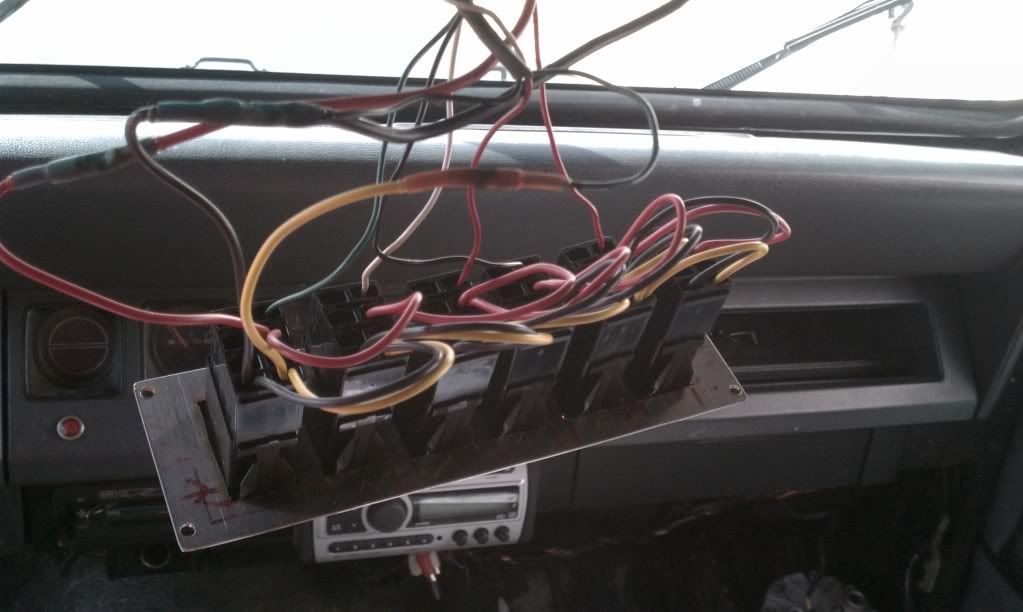 Here are the switches installed in the plate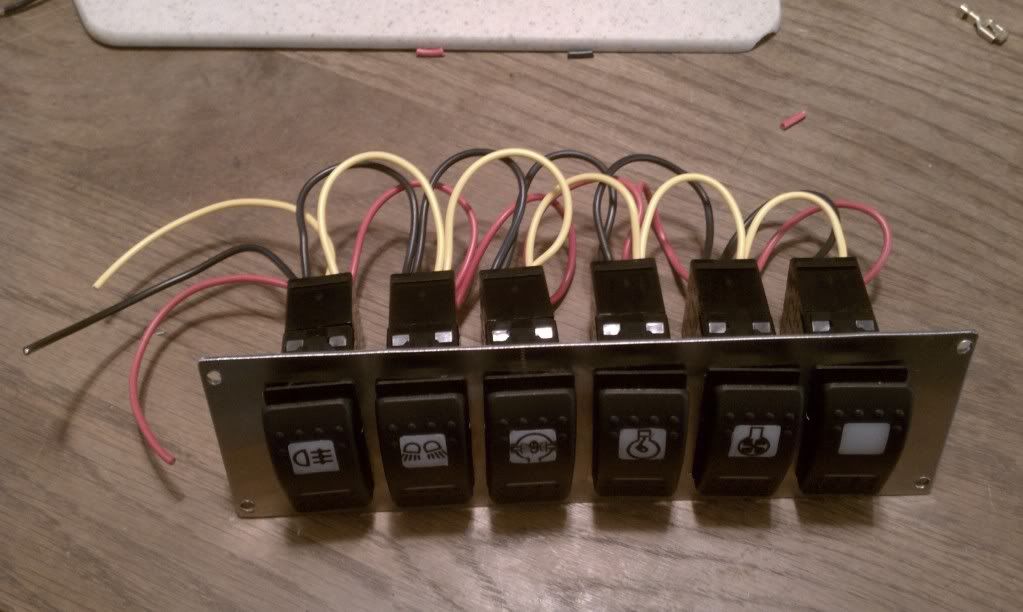 And everything put together installed in the overhead, daylight, lights off.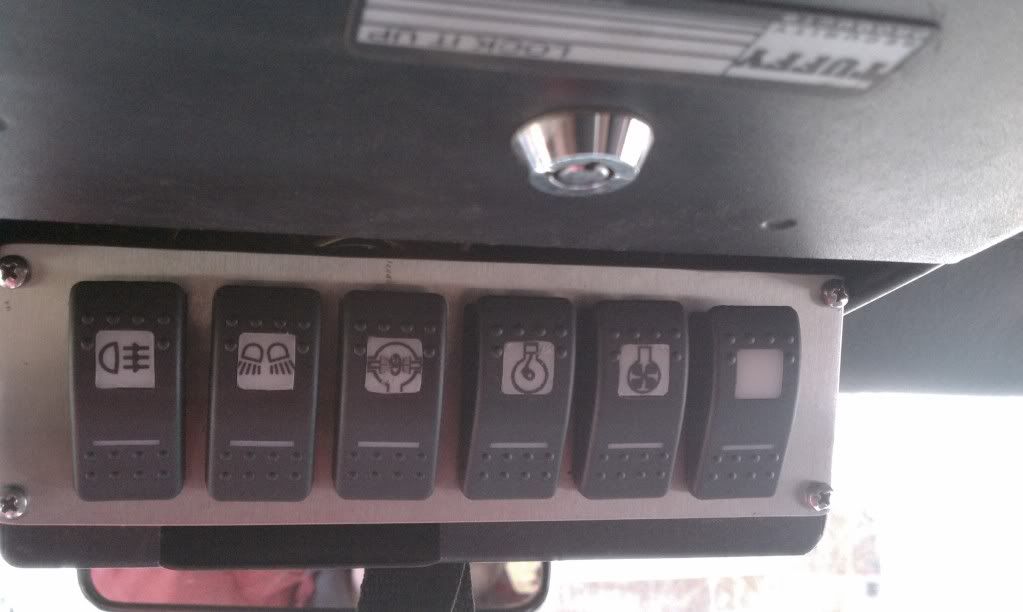 Daylight, Lights on, switches turned on.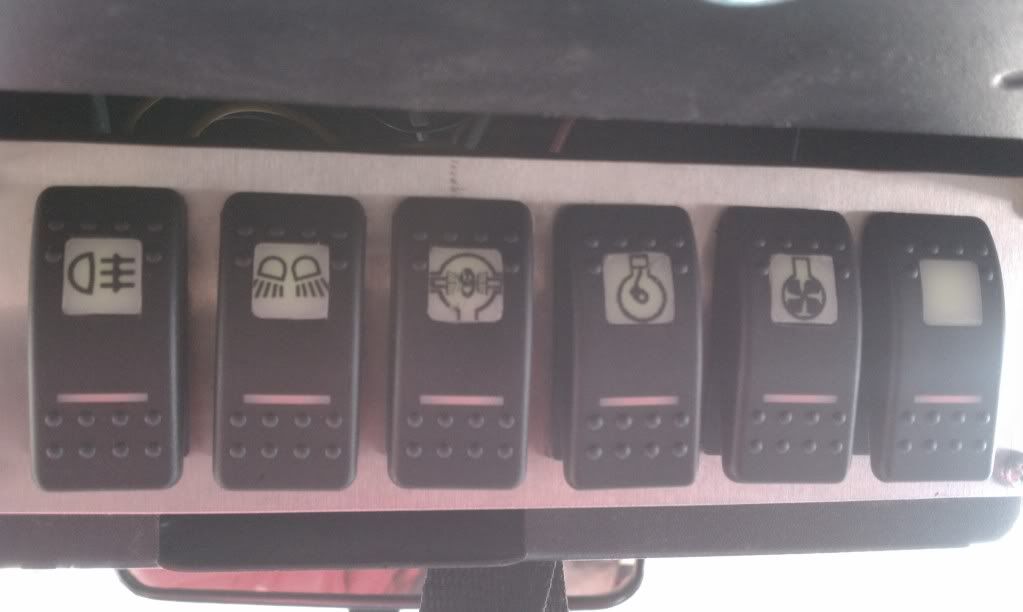 I will get a night shot tonight and post later. So farr I am really happy with the way it turned out....
---
www.pghoffroad.com
My SOA Build
Recovery Gear Basics
My BUDGET York OBA Install
Budget Welding Cart
Carling Contura Switch Panel
If it has tracks, tires or tits, its gonna cause a problem.
"Everytime someone "upgrades" a D35, an angel looses its wings."
"Dizzy" - What SnoopDog would call a Distributor if he was a mechanic. I cringe every time I hear this moronic term
Quote:
Originally Posted by Warren Zevon
Send lawyers, guns and money. The **** has hit the fan...
92, 4.0, AW4, 8.8, D30, 15x10, 37's, SOA etc, etc
92, 2.5, 30, 8.8, 4.88, Locked, Winch, 15x8, 35's, 3.5" (RIP)