Registered User
Join Date: Jul 2008
Location: moreno valley,ca
Posts: 36
soa in rear how high?
---
i have the procomp csc and i want to put a 8.8 in so i was going to go soa leafspring rear i was thinking of using waggy springs but i was thinking that would be higher than my front heres a pic theese are 31s by the way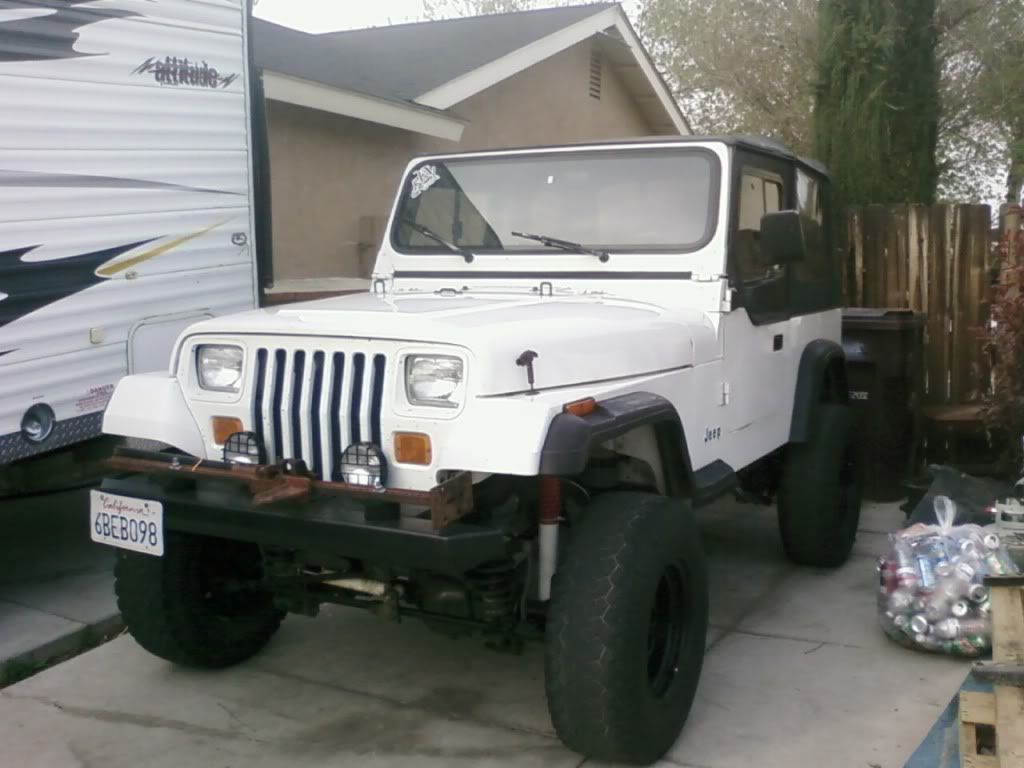 ---
http://www.jeepforum.com/forum/f12/my-build-92-yj-875543/
Registered User
Join Date: Dec 2003
Location: Morton IL
Posts: 5,789
Yes going SOA is going to be taller in the rear than the front. With a SOA you are going to gain around 5 " of lift with stock springs.
By the way I think the price of Aluminum is up.
---
93 YJ SOA 2" springs front, XJ springs rear w/main leaf added, High pinon 9 inch rear detroit locker front Dana 44 ARB 4.56 Gears, 36 inch Irok tires too much to list.
To view links or images in signatures your post count must be 10 or greater. You currently have 0 posts.

Registered User
Join Date: May 2009
Location: Charlotte
Posts: 322
I'm not really sure but I would think that you could use coil spacers in the front since you wanna keep those. It would level out quite nice probably.
---
[Originally posted by rulppa: But no, there is no change is power.. and my arse-dyno is pretty accurate]
Registered User
Join Date: Mar 2007
Location: SE Wisconsin
Posts: 14
How much lift is the coil conversion? It looks like about 4" over stock but pictures never tell the whole story, how old it is, etc.

SOA 8.8 vs. SUA D35 is a good 6-7" taller because the 8.8 axle tube is thicker and the SOA mounts (i.e. the "antiwrap" ones) are sometimes quite a bit taller than the stockers too. I think a waggy spring is 1-2" taller than a YJ spring as well so its probably gonna be a little taller back there, maybe 2-3" or so from the looks of things.

The axle wrap sucks with SOA unless you add an anti-wrap bar. You will break stuff without one if you are hard on it. Lotta pinion motion just doing basic accelerating and braking on the street without one.
Registered User
Join Date: Jul 2008
Location: moreno valley,ca
Posts: 36
what if i do sua with waggy springs probly too low,would need shackles, the procomp is supposed to be 5"
---
http://www.jeepforum.com/forum/f12/my-build-92-yj-875543/
Currently Active Users Viewing This Thread: 1

(0 members and 1 guests)
Posting Rules

You may post new threads

You may post replies

You may not post attachments

You may not edit your posts

---

HTML code is Off

---