I'm helping out a friend with a YJ he just bought. It has a 4.2l motor in it. It is completely missing the PCV valve and there is a autozone breather cone filter in the breather for the PCV at the other side of the valve cover. And there is smoke coming from both the PCV breather and the PCV valveless hole.
If you let it idle for a few minutes, it will stall and it's pretty tough to get it running again. It will run, but after cranking it a few different times. And through all this, I can smell gasoline.
Also I've been searching trying to find hose routing diagrams. There is a hose coming off the carbeurator with a spark plug jammed in it that I'm not sure where it is supposed to go to (I think the PCV plugs into it, but I'm not sure).
I dont know much about this motor, and have never work with anything carbeurated before so any help will be appreciated.
*Edit*
After running it for a few minutes after putting on the new muffler, the exhaust out of the tail pipe was extremely hot and the muffler looked like this...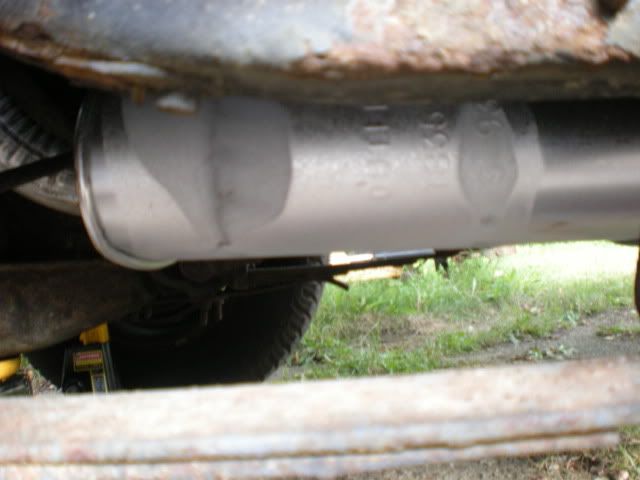 Also, I pulled a spark plug wire before I shot the video, and forgot to plug it back in. Forgetting to plug it back in didnt change how it ran from before though, so now I'm thinking it might have a dead cylinder. Compression test will be performed this weekend.
Here's a video of the smoke.
[yt]<object width="425" height="344"><param name="movie" value="http://www.youtube.com/v/R6CKLVcm8rw&hl=en&fs=1&"></param><param name="allowFullScreen" value="true"></param><param name="allowscriptaccess" value="always"></param><embed src="http://www.youtube.com/v/R6CKLVcm8rw&hl=en&fs=1&" type="application/x-shockwave-flash" allowscriptaccess="always" allowfullscreen="true" width="425" height="344"></embed></object>[/yt]