Next day I start poking around and fixing up what I can. First thing I did was rip out the carpet and throw it in the trash. Then I cut out the hole in the floor and welded in a piece of an old mr2 hood. The floor is now 100% solid and ready for bed liner. I go to fire it up and it started up fine go figure.
I did a few minor things then I started searching for things as to why it wouldn't rev up. I unbolted the down pipe and looked in the cat. Clogged up and shot. I cut it out and gutted it and threw it back on. Welded it back up and fired it up. Revved out all the way and sounded great. I felt good.
Next order of business was to ditch the original carb and upgrade. Found a weber 32/36 on cragislist for $20. The guy was awesome he just wanted to clear out some space to fit more stuff in. He had it listed as a Holley carb and didn't know what he really had.
Grabbed that up threw it on and went to town on vacuum lines. I eliminated some of them but everything seems to be fine.
At this point I had it running and seemingly well. I took it around the neighborhood a few times and it felt great. Get to looking the body lift is garbage and needs to come off. The bottom bushing that goes between the bolt head and the frame is completely missing. I start pulling and I see the bolt twisting.
It's ok, I didn't want to run that big of a body lift anyway. It will be coming off as soon as I get a 1" body lift.
I decided that it's a jeep and I should try to crawl something. I have a bunch of wheels from my mr2 laying around so I laid some down.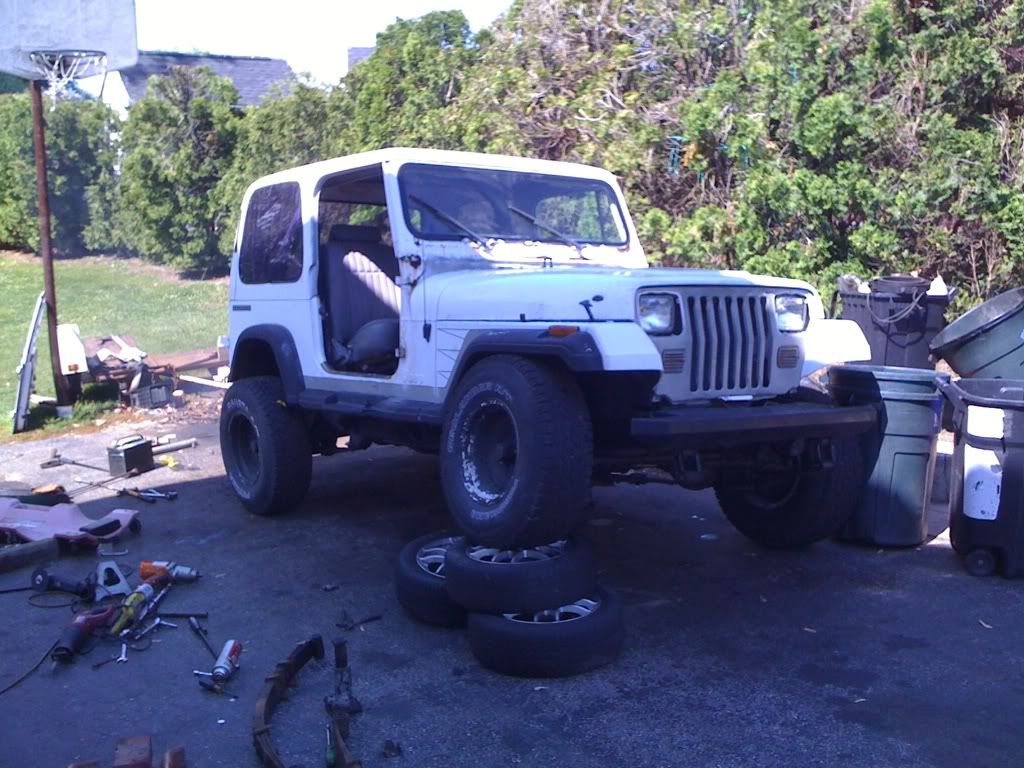 When the left side was up I noticed where the broken leaf piece came from. Not a huge deal, I am actually glad it's broken and I actually have a reason to put real springs on it. As of right now, I'm thinking OME springs because Quadratec is only 30 minutes away and I won't have to pay shipping. The OME kit is about the same price as the RC lift is with shipping and I've never heard anything bad from OME.
Also got a bikini top with rail for $20
I love craigslist, wallet hates it.