Slow cheap build
---
I am new to the the forum, I've wanted a Wrangler since I was 15 and I got to ride in my friends Laredo back in high school. I'm 21 and I finally got one. I'm a college student and money is tight so it'll be a slow build. I come from tiny cars. I have had 5 Toyota mr2's.
In January I bought an 86 mr2 that was for a fix and resell. Bought it for 300, put a 300 engine in it and sold it for $1700. I owed my parents some money and payed them back with the money. I saved up a few pay checks and started looking for the most solid yj Wrangler. Searched craigslist and couldn't find anything local. Expanded my search and found one down by the Jersey shore. I'm from outside Philly so I decided to make the drive and check it out. When I got there I told my sister who made the trip that I was coming home with the jeep.
If only it was that easy. The seller lost the key after showing it to another guy an hour before I got there. He asked what I wanted to do, he offered to pay me for gas for making the trip. I asked him if he could get a locksmith out to make a key. He asked me to go out and grab some lunch so he could run to his house to see if he had a spare there. I go out and come back a half hour later. No luck no spare. He called AAA and they sent someone out. It cost him $108 for new keys and took an extra hour for that whole mess to go down.
Here it is as it sat.
The windshield frame is rusted out and there was a small hole on the drivers side floor board.
His asking price was $1800. I told him I would not pay even close to that in it's condition. He kinda sighed and felt bad. I was there for 3 hours at this point because he was a talker and just kept rambling.
New keys were cut, and I go to start it up. Started up right away surprisingly. It would stall and choke out however once the engine revved above 1300 or so rpm. Got it back and parked it. Made him an offer of $1000 and he reluctantly agreed. I get it up onto my tow dolly and made the 2 hour drive home. I was limited to 55 mph but it went smooth. I managed to get 11mpg out of my parent's GMC envoy with the jeep on the back!
I get it home and start to unload it. Start it up and back it off the dolly no problems. Cut the engine so I can wrap everything up. Fire it up 10 minutes later and start backing into the driveway. It stalls out and wont start back up. It's now stuck sideways in the street. I call in the house for my sisters help. 2 of them come out and we start pushing as one steers. Get stuck nearly into the driveway. At this point I'm exhausted and have zero energy. Luckily my neighbor comes home and says he'll be right over to help. We push it back into the street a bit to get a bit of a running start and get her in the driveway. Thank god for him. Without his help it would've been stuck out there for a few hours till my dad got home. Unfortunately I don't have any pics of that fiasco.
Here she is in her new home.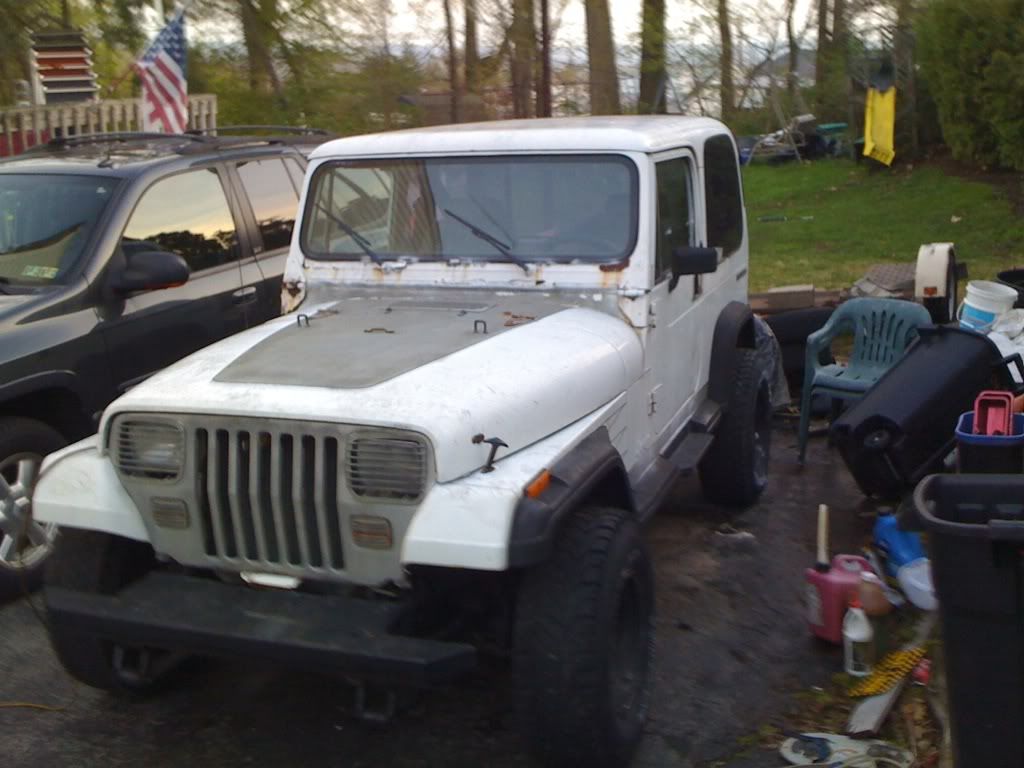 I called it a night after getting it home and parked.