I would make sure you lighten the load by separating off the transfer case so you only have to wrestle with the Transmission. You can wiggle it free and "bench press" it down, taking caution to not cushion its impact with your face.
Putting it back in is more of a challenge as you need to align a variety of items. To make this easier, thread in some long (8-10" dowels) that fit the two bottom/widest apart mount holes on the engine block. You can then use these as guides which will also support the front of the trans and assist in getting things lined back up. Here is a photo example of this: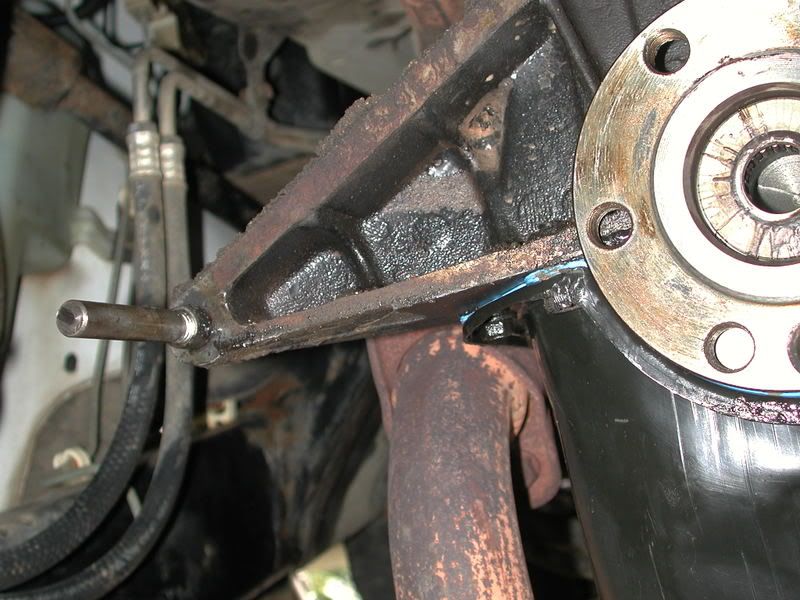 You can also use these as "safety devices" if you use all-thread, just spin a nut on the end so that when you pull the trans back when removing it, it won't jump off onto your face but will stop up against the nuts. Thread for these I am pretty sure is like 7/16 coarse, but pull one and verify before you head for the hardware store.
It isn't necessary to have a floor jack or a tranny jack, but sure is helpful in handling the weight. I'd recommend luring a buddy into the act of helping by offering a 12-pack or so, just don't start drinking it until the trans is back in place. Drain your Trans/T case fluids into an appropriate container for recycling or disposal first.
Look thru the FAQs, specifically thru the Transmission section--start here:
http://www.jeepforum.com/forum/f12/y...-first-580536/
Read thru any transmission swap threads where removing/installing transmission and/or clutch is mentioned and you will pickup a bunch of tips. Make sure you take a ton of photos, get an online free account like Photobuckt and post up IMG code photos so we can help with any questions, and you can of course illustrate your concerns with the photos. I have more tips, so just keep posting up questions.