Alright folks, here are your finalists in no particular order. If you submitted an entry, and do not see yours here, please check over the entry rules and submit next month. There weren't any contestants from last month that entered this month. The winner this month will recieve a $50 gift card to 4wheelparts. Anyways, Here ya go!
Budke
Specs/mods- 1992 4.0 auto. D30-d35, 3.07s, 31x12.5x15 super swamper tsl's for play tires, 235/75/15 falken high country for DD tires. Smittybilt xrc bumpers front and rear, smittybilt xrc8 winch, hella 500ff light in place of the stock fogs, smittybilt stereo security center console, ~7k miles on a fresh full rebuild on the trans with a transgo shift kit and high energy clutches with and the vent line has been rerouted. A lot of mods are in the works right now. An axle swap with a d44 and amc20 out of a wagoneer regeared to 4.11s, lockers front and rear, sye, 35's, and more to come.
What's special about my jeep? Well my jeep has always been with me through thick and thin, gets me where I need to be without any argument. It has never left me stranded even when I had to drive an hour home after the trans took a big drink of some muddy water. I did get stuck on the side of the road once, but all I needed was to take off the whole exhaust from the cat back(long story, ignition wire melted off, front of the cat was melted closed), and get a new ignition wire, 30 minutes later I was up and running. I can take it off road and beat the living hell out of it and it always does great and gets me back home. I honestly think my jeep likes it rough. Lol. My jeep is also a teacher. It breaks stuff just so I can learn how to fix it, and I love it when it does that! I can tell me and my jeep with have a long and happy relationship together.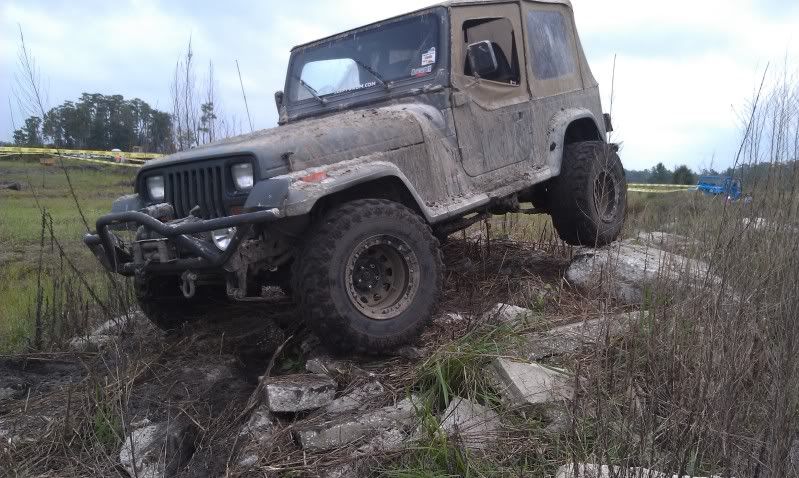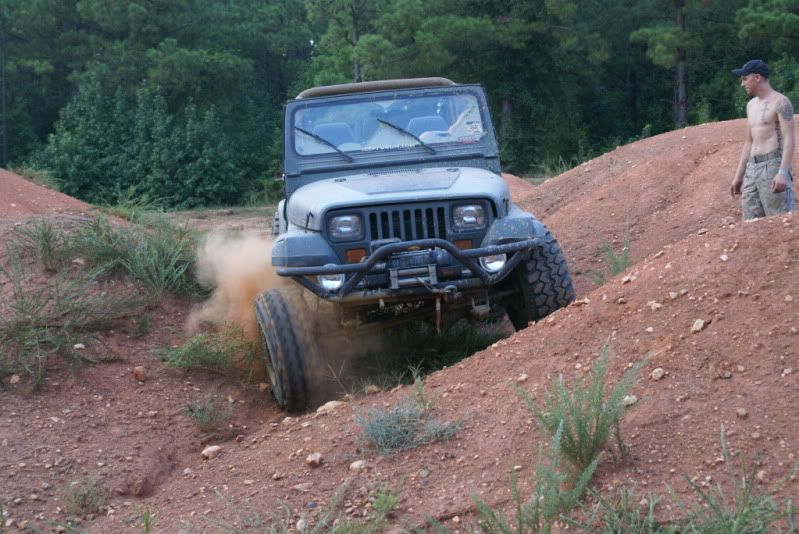 `````````````````````````````````````````````````` ``````````
JFranko
1992 Wrangler. 4.0L/NV3550/NP231sye
Mods include:
4.10 gears
2.5" lift
32" BFG KM1s
home built front bumper
Rear tire carrier
steering box skid
Olympic reversa-bars
Metalcloak front fenders and Xenon flares in the rear
One piece axle swap in the front with a powertrax
8.8 swap with and ARB in the rear
York OBA
What is special about my Jeep is that it was given to me by my dad when I was in the 8th grade. It was a father-son project that we worked on fixing up so I'd have a nice vehicle when I turned 16. It's still an ongoing project, and thankfully my dad is still there to help me out when I break things, or want to tackle a big project like the re-gear or axle swap. At this point, I've put enough money into my Jeep to just go out and buy a new one, but I don't think I'd have it any other way.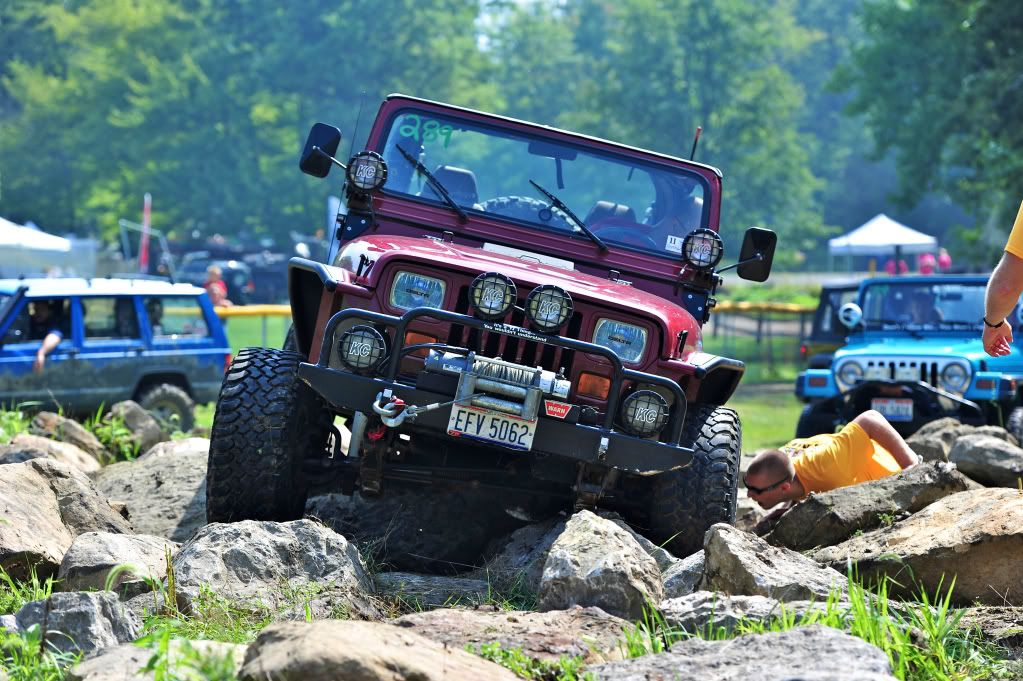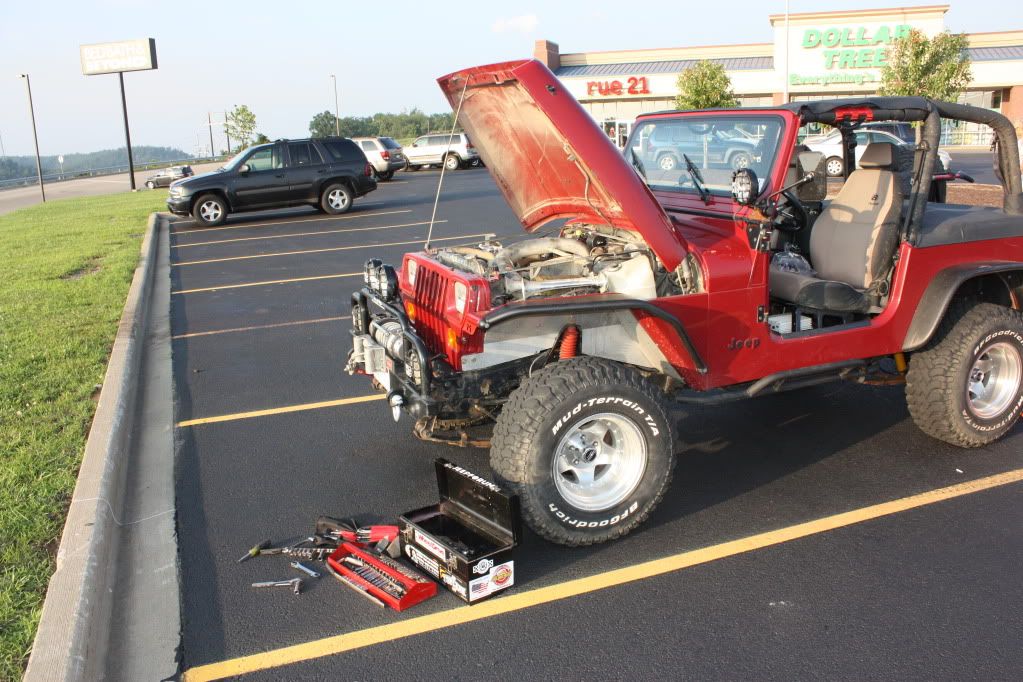 `````````````````````````````````````````````````` ``````````
RobertJ
Specs/Mods: 1987 YJ, SOA on RE1445 Leafs, 35x12.50x15 BFG KM2's, 15x10 Mickey Thompson Classic Locks, Ruff Stuff diff covers, Home Made Posi Lock, Home Made quick disco fire extinguisher mount, GenRight 4" Aluminum front fenders, Genright 4" rear tube flares, GenRight Boulder Series front Bumper/Stinger, GenRight 3pc shorty hood louvers, GenRight Sliders w/side step, GenRight full corner guards w/TJ tire cut out, Alloy USA front Grande 30 kit, full pioneer sound system, Hunsaker seats, full stainless Magnaflow exhaust, 4.2l 258ci 6cyl with aluminum valve cover, Motorcraft ignition/Team Rush, rear CV shaft, RE Hack N' Tap SYE, Hella E-Code lights with Piaa Extreme White bulbs, Hella Comet 500 lights, Family Cage.
Images: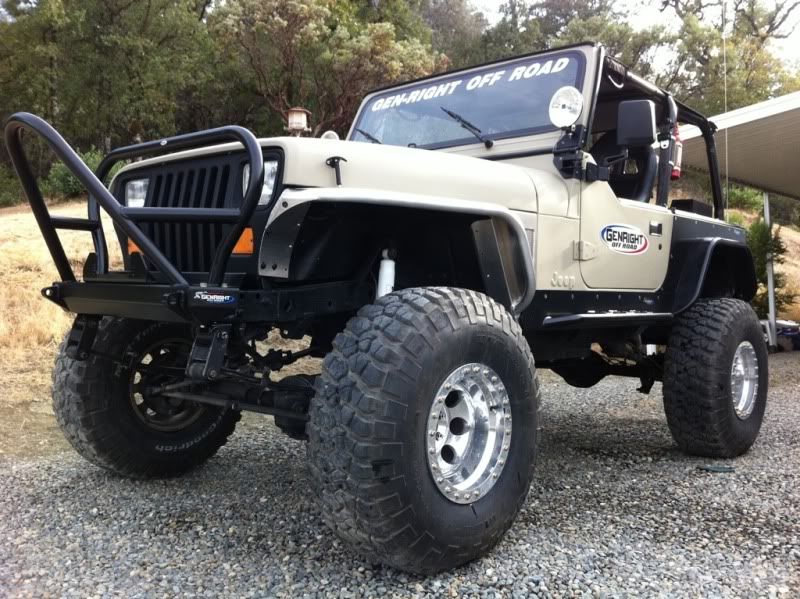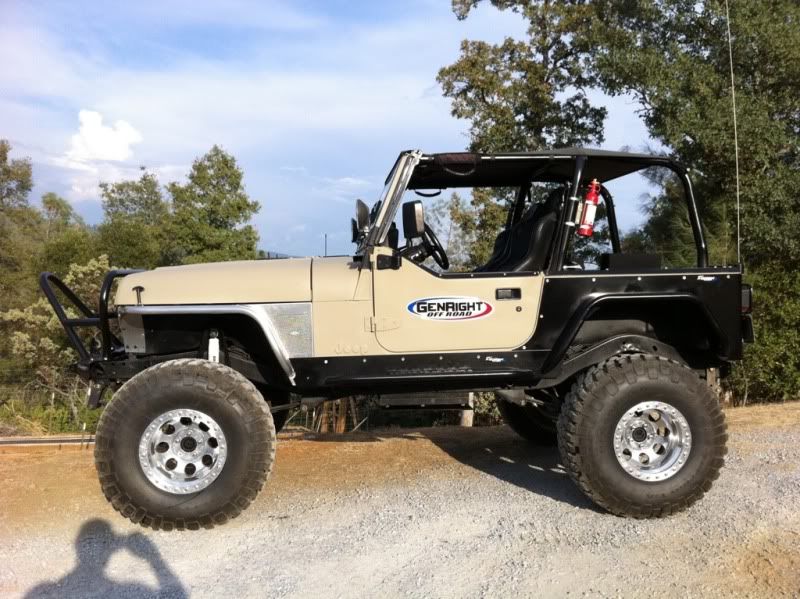 `````````````````````````````````````````
Dtn8tr
My YJ is a 1988 Sport that I bought last year as a bone stock unit sitting on 205's with half doors a ripped up soft top. It now sits on 31x10.5x15 BFG AT's with an Old Man Emu 2.5" lift and .75"lift boomerang shackles. The Carter was replaced with a Weber 38 DGES, Nuttered and Team Rushed. I removed the chrome tube bumper up front and installed front and rear bumpers from "The DirtWorx". I then installed a Gorilla (ProMark Offroad) 8k winch. It has a new Bestop Supertop, factory hard top and bikini top with duster and windjammer. It has four 100watt lights on the light windshield mounted light bar. The carpeting was stripped out and I herculined the interior and installed a Bestop sound bar for audio with the JVC stereo that I installed. Future plans include a 4.0 head swap, an 8.8 rear, SYE, and a set of 33's for the trips up to Gilbert , MN with my wife. I'm not looking to build a monster crawler or anything but more along the lines of a Jeep that I drive to work everyday during the summer, can drive to wherever I'm going to wheel and make it through what is put in front of me. And being in MN, I'm proud of the fact that it still has the factory paint job 23 years later and cleans up nice.
````````````````````````````````````````````
jsawduste
This YJ was a ground up build. That is no specific donor vehicle was used to to start with..Parts were secured based on need, condition and availability.. For the example the tub came from rust free Arizona. The frame from Georgia and so on.
List or parts/modifications.
1. Engine
Started out as a 93 4.0. Features a 4.2 12 cwt crank. Eagle rods. Custom zero deck pistons from Diamond Racing that give a static compression or 10.3:1. Hesco 270/480 can advanced 4*. Ported head with stock size valves and Chevy valve springs. Roller Rockers from Mopar. 24 lb injectors fed by an adjustable fuel pressure gauge. Edebrock header into a stainless steel exhaust..DUI ignition system. Hi flow water pump and three row radiator. Fed with a high volume oil pump and Brad Penn oil. Fully balanced and blue printed.
2. Transmission and transfercase.
Center-force dual friction clutch drives an NV4500HD from a Dodge diesel pickup. Transmission is coupled to an Atlas II with 3.8 gears. Flat belly skid and also an engine skid plate that extends up to the harmonic balancer.
3. Axles
Front axle is a HP44 from a 78 3/4 ton Ford. Narrowed and the C`s rotated to correct for caster angle. Superior shafts are drive by a Detroit Locker and 5.13 gears. Hi steer with Reid Racing knuckles and NWF 4 bolt arms. LPW Girdle.
Rear axle is an 8.8 with Mark Williams billet main caps. Held in place with ARP studs. Ratech crush sleeve kit. A Detroit Locker and 5.13`s. Moser 31 spline chromo shafts and Ford 9 inch outer bearings. Ford SVO backing plates and disc/parking brake system. Full TNT truss. LPW girdle.
37 x 15 MT/R`s for street mounted on 10" beadlock wheels. 37 Maxxis CC`s also mounted on 10" Beadlocks for off-road.
4. Suspension
Custom Alcan SOA Zero lift springs. Front axle pushed out 3 inches. Same for the rear. Bilstein 5150 shocks on each corner. Greaseable shackles. Custom traction bar eliminates axle wrap. Currie Anti Rock Sway bar.
5. Body
Complete Speedliner bed coating 360* on tub, hood fenders etc.. Color tinted with blue with black accents. Satin gloss mixed into mixture to add some shine. TNT Crusher corners, sliders and front fenders.
Custom front and rear bumpers with a winch mounts and various accessory mounts.
6. Interior
Custom dash and Autometer gauge package. Full cage tied into the frame. LED lighting. MasterCraft seats with 5 point harnesses. Undien CB, Alpine, Polk handle the entertainment. Garmin 76CSX GPS tells me where to go.
7. Misc
Kilby On Board Air system. Full PSC ram assist steering system with cooler. Full hydroboost with an externally adjustable brake proportioning valve.Complete rewire from headlight to taillight. New connectors, wiring and the electrical architecture has changed dramatically from the factory.. Twin Optima Yellow tops powered by a 180 amp alternator. Warn 9500 winch. Piaa lighting x 4. Roundeyes conversion headlights with a 55w/130w rating. LED taillights.
8. Pictures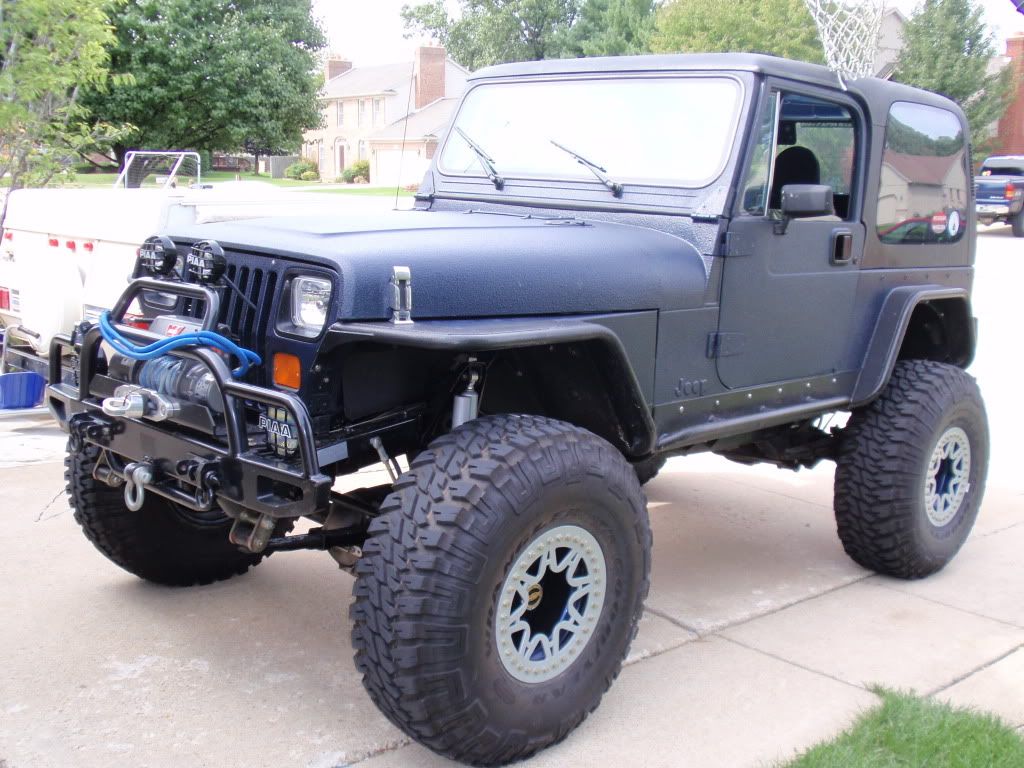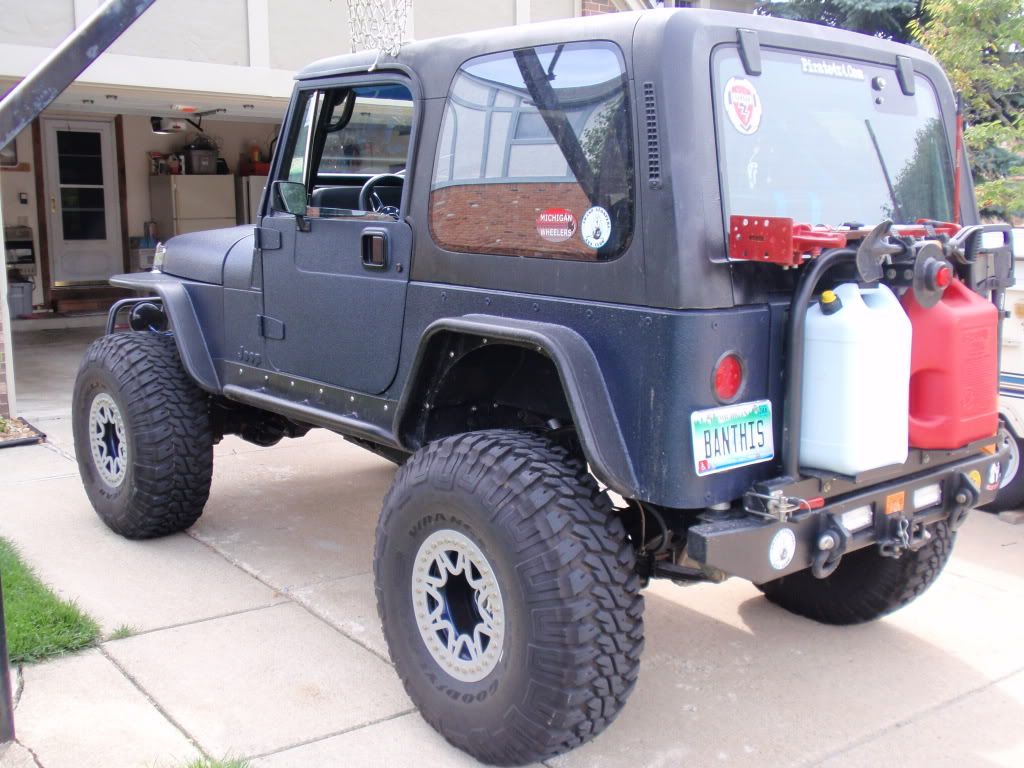 `````````````````````````````````````````````````` ````````````````
teamhirev
List of Specs: 1995 Jeep Sahara : My Jeep is special to me because this is the first Jeep Wrangler I have every owned. Even though my father owned plenty none where mine. He owned one specific Jeep that I really liked and it was a SOA YJ. I soon found out what I really wanted and found this Jeep from an owner who just let it sit for 6 years. I have done everything my self so I am proud to say this Jeep was built with my sweat blood and tears. 
Warrior Product Safari Rack
Hella 700F
Hella 500
RC 4" Lift
PA 2" Body Lift
33x12.5 R15 ProComp Xterrain
15x8 American Racing Baja Wheels
Cobra CB
Firestik CB antenna
K&N Intake
Things installed after pic
Warn 9.5ti
Warn Bull bar
Warn raised winch plate
Comp 4x4 Tire carrier
PIAA 520 Wind shield lights