Registered User
Join Date: Jan 2008
Location: ilion ny
Posts: 151
scooters 95 yj build thread
---
hey there i just bought my 95 yj a few weeks back and have some work cut out for me to get this jeep where i want it. first the details of the jeep. It is a 95 with the 4.0l, 5 speed transmission, 31" tires 1.5" suspension lift, 5/8" lift boomerang shackles in the rear, 6" tj flares, hard and soft tops, hard upper door with the sliding windows, soft doors, emergency cover, nice tan interior.
The bad is ride quality sucks big time i think part of my problem is the springs in the lift kit are new and poor ride quality. The tie rod ends are all shot and my gear box looks to be leaky. the body is for the most part pretty good but the rear corners are bad as well as underneath tailgate the tailgate has about seen its last days, and some small rust/holes just behind front tires and in front of rear tires. From what i can see pulling up the carpet the floor boards all look to be solid. The frame is in great shape except for right where the transmision skid plate bolts up on the drivers side needs to be fixed I can actually see daylight between the frame and skidplate and see the holes. The otherside plate is right up against frame so cant see it verry well so ill havta look at it when i get that skid plate off. Im probably going to havta find some help with the welding to fix that i dont have a welder and dont know how anyways.
Well the plan is to first fix the steering issues which i just got the rugged ridge hd steering kit on my doorstep today (looks sweet and beefy by the way) I want to do the dodge durango steering box mod and i have ordered a steering box skid plate and a steering box brace kit. the brace is on back order till the 28th of this month so im hoping first week or 2 of april to get this done considering i have all the parts by then. I also plan on loosing the front and rear track bars while im under there as well as the sway bar. The next thing i want to get done is install the 3" susp lift (wish i had a 4" instead
) i have as well as fix the frame. I also have the m.o.r.e. 5/8" greasable boomerang shackles to put in. And i am also hoping I will have enough clearance to fit 33" tires and also be able to stay away from an sye for now (just looking to avoid the cost for now) Hopefully somewheres in the midst of these 2 projects i want to get the bad body parts taken care of and the draystar 1" body lift installed. Once i have the main 2 things taken care of i think ill have a pretty good start on a nice rig to ride around with and maybe hit some trails here and there.
The questions i have now is has anyone used the steering box skid plate with the durango steering gear box? Do they actually fit well? Also what steering stabilizer do you recomend i use with the setup i have planned? Any imput on the poly tie rod bushings? Do they actually make an improvement over the rubber ones that come with the tre's? Also wondering if i could get away with installing the 3" drop pitman arm now (while maintaining drivability) instead of waiting till i put in the new lift?
---
Last edited by scooter18155; 03-17-2010 at

11:09 PM

.
ok here are some pics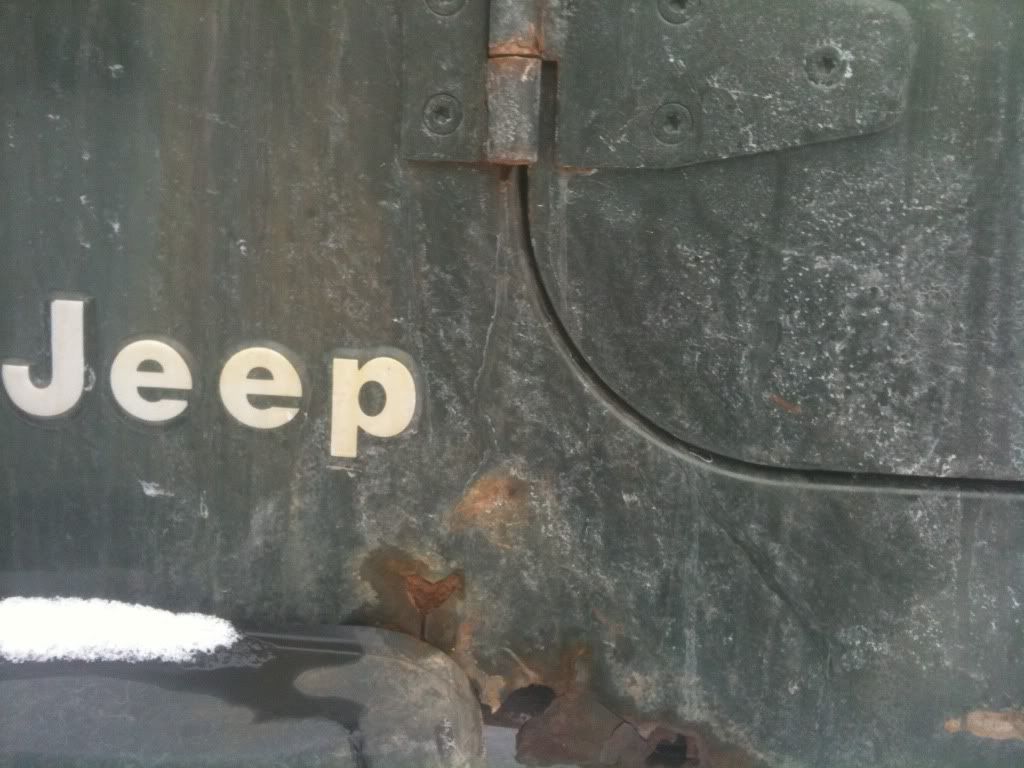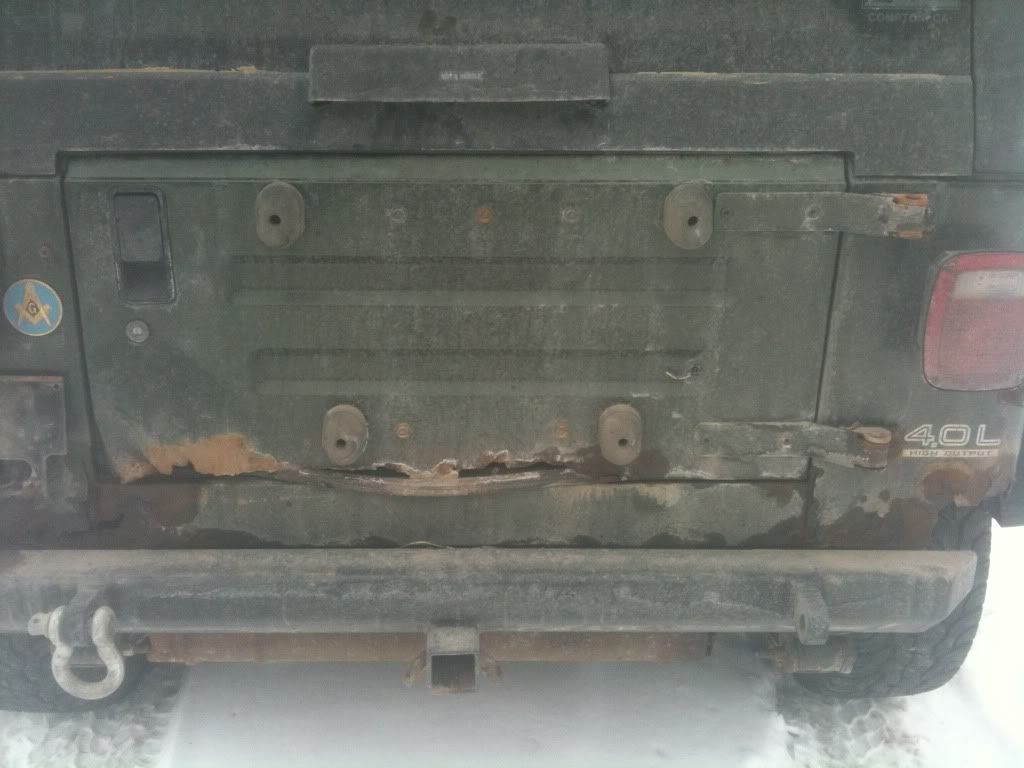 and here is the results of a cpl hrs of work yesterday afternoon. I took off the rusted up light bar (had no lights for it anyways) replaced bent bumper with a strait one moved the 1 light towards the middle and actually installed the other the prev owner musta forgot to do and added the push bar to the bumper. and replaced the plastic frame cover with another one that wasnt cut up for some unaparent reason.
before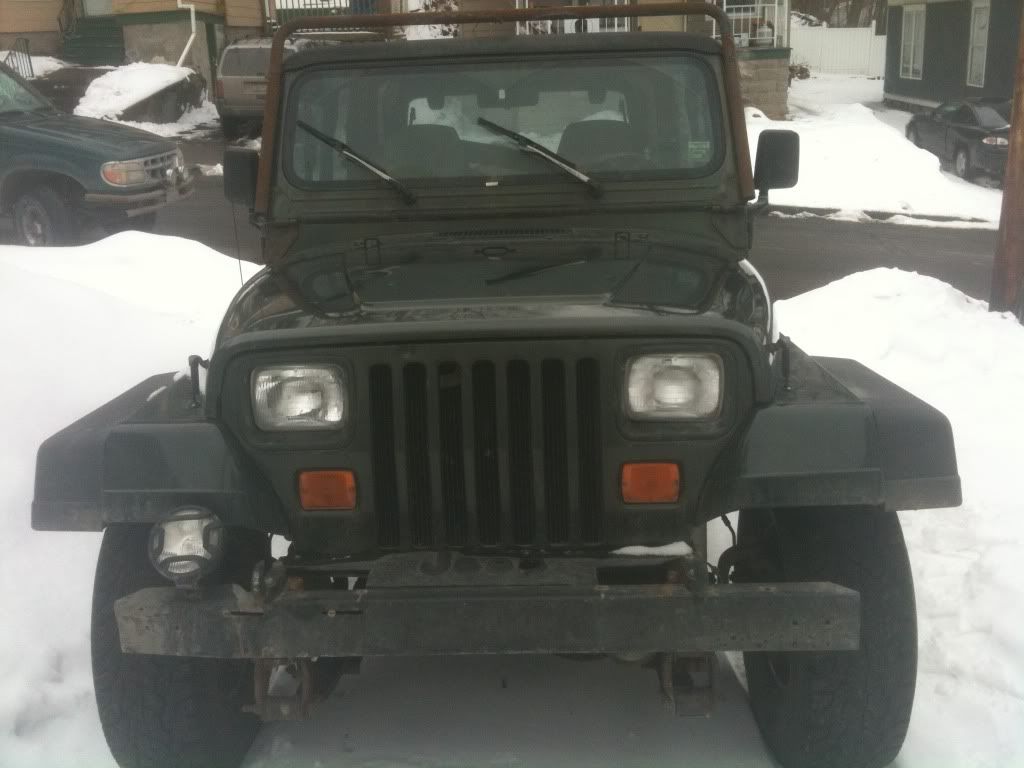 after
well its been a slow process but i finally got something accomplished on my jeep today. I had bought a rear bumper with swing out tire carrier from a guy in the jeep club i joined for $200 which i thought was a good deal. I know it isnt much but its a start and at least i can carry my spare outside instead of in the back seat. It also allowed me to eliminate the fold down liscence plate carrier no more fighting to put gass in anymore.
Also sence my last post i found out my radiator is on its way out so im going to get a new one with a new water pump radiator hoses and thermostat and get that taken care of before weather gets too warm. It isnt overheating yet but it gets close on long drives so i imagine when it gets hot this summer ill be in for it if it dont get fixed. Then the other day i looked at my jeep and noticed my gass tank was hanging down. Took a look and the frame rail that it bolts to rusted and deteriorated pretty bad and let loose. I have it strapped up for a temp fix as this is my dd but i havta get this fixed at some point in time.
im also planning on getting started with the steering upgrade hopefully monday if weather and my mood lets me. I have rugged ridge hd steering, borgeson steering shaft, dodge durango gear box and new power steering hoses, gear box skid plate, and the gear box brace.
anyways here are the pics of the new to me rear bumper and tire carrier.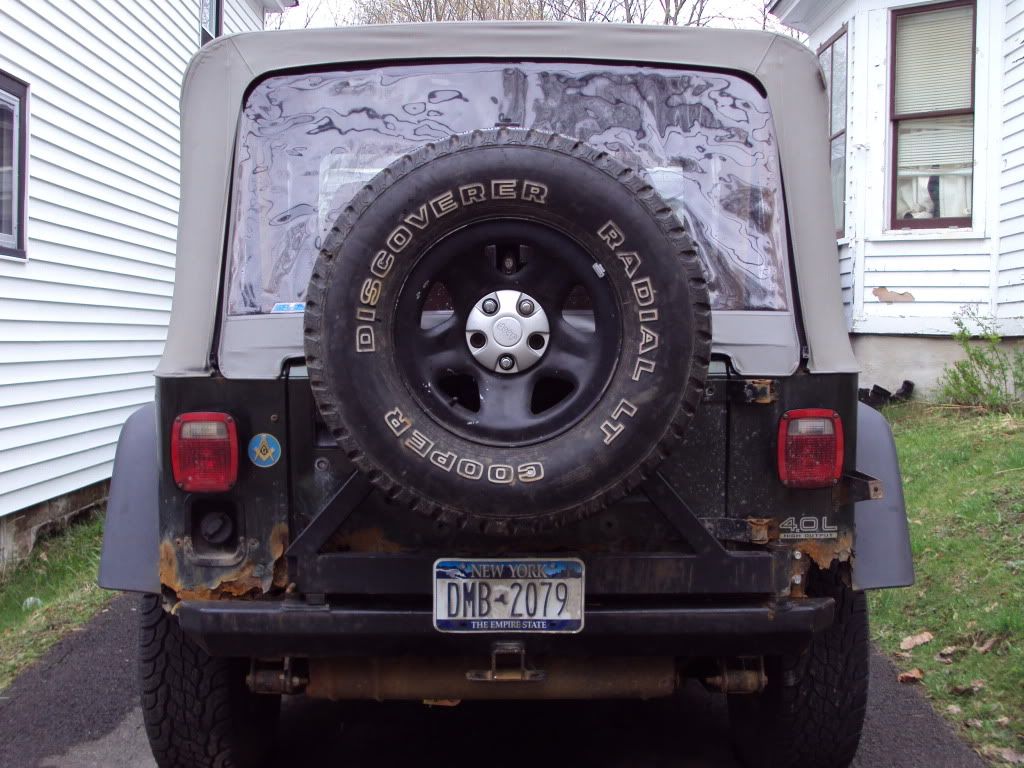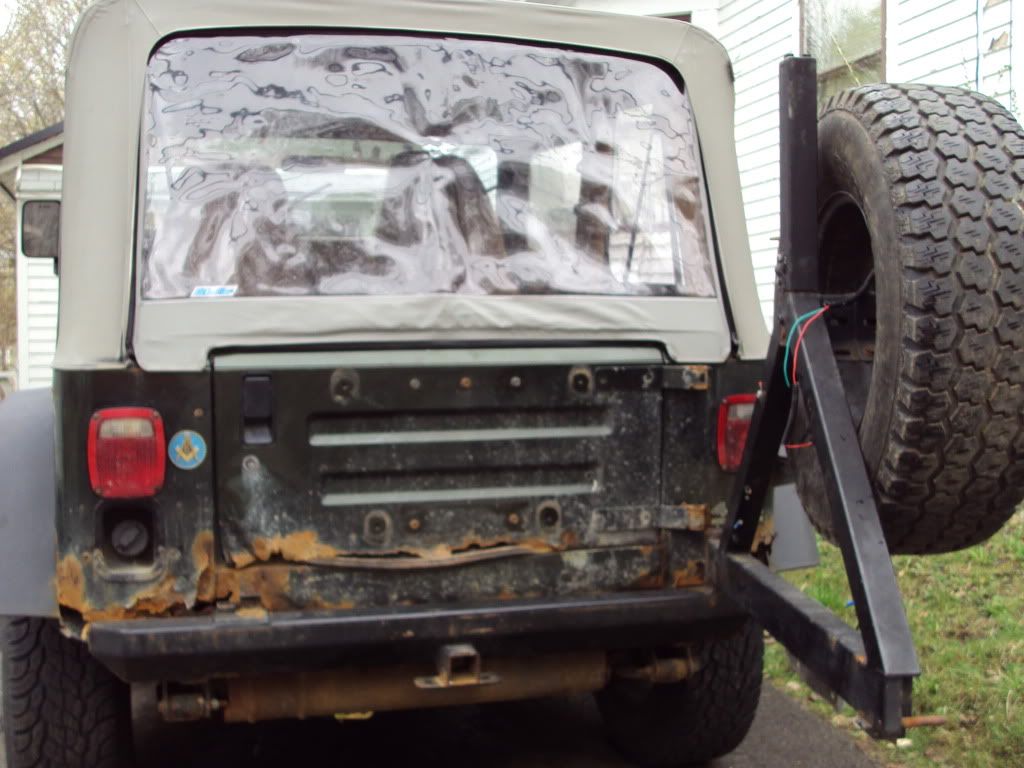 Currently Active Users Viewing This Thread: 1

(0 members and 1 guests)
Similar Threads
Thread
Thread Starter
Jeep Forums
Replies
Last Post
87 YJ Build Thread

mattlott00

YJ Wrangler Technical Forum

119

09-11-2014

04:00 AM

New Build Thread

wanabejeeper

YJ Wrangler Technical Forum

70

12-17-2012

01:48 PM

My 03 Build Thread

timcfuller

TJ Wrangler Technical Forum

82

09-20-2012

10:10 PM

build thread

uglyoldbob

YJ Wrangler Technical Forum

8

11-02-2009

05:19 PM

My build thread.:)

ImportEater

YJ Wrangler Technical Forum

49

03-18-2009

06:38 PM
Posting Rules

You may post new threads

You may post replies

You may not post attachments

You may not edit your posts

---

HTML code is Off

---