So I ended up getting my tools from the brown santa during the week last week (pickle fork set, ball joint adapter tool for Jeep axles, cotter pins). I held out for the weekend so I could do things all at once and get it done and ready to take back to the inspection shop. They said when I take it back, all they'd have to do is a visual check to make sure I've completed what was required to pass inspection and they'd slap a sticker on it. I have a decent sized update from this weekend, so I'll get to it here..
The pickle fork set definitely was a saving grace getting the knuckle off.. it was stuck on there pretty good
Here's a picture of the Jeep adapter for the Ball joint press. I ended up biting the bullet and buying the adapter, but I rented the press from Advance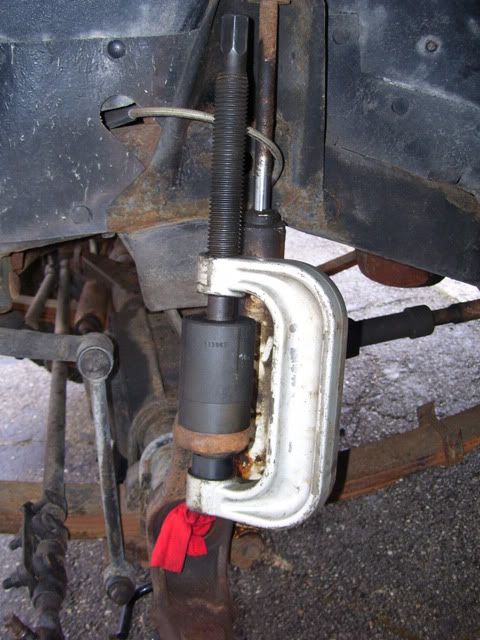 Both ball joints came out fairly easy.. I was expecting a little more resistance considering the difficulty I've encountered getting to this point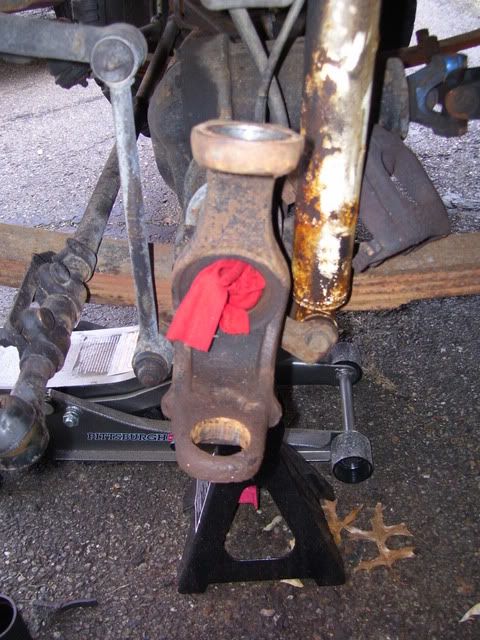 This is where I came to my first speed bump in this installation. My FSM calls out a special socket to remove and install the set screw for the lower ball joint, shown below. First one is the one in the knuckle and the second is the new one that came with the new lower ball joint.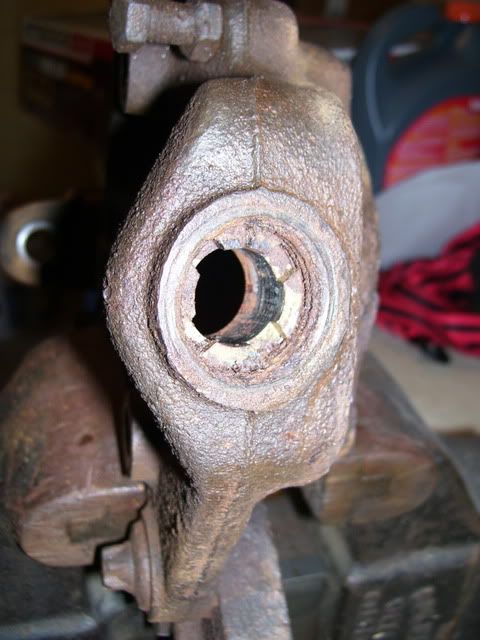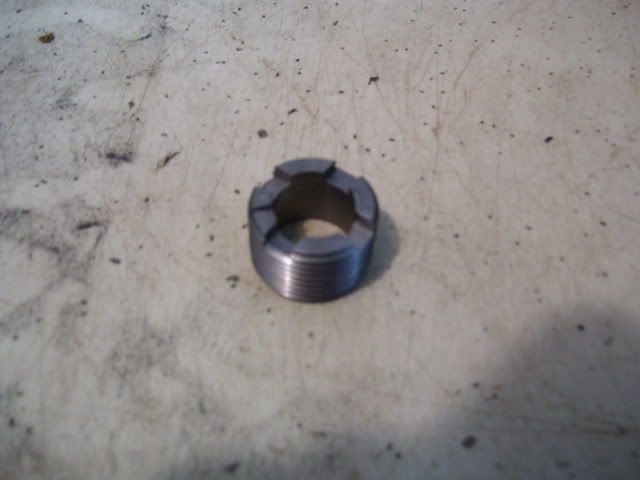 Now since this special tool costs about 90 bucks and is a really rare part.. I decided to sacrifice one of my impact sockets to fab up the special tool.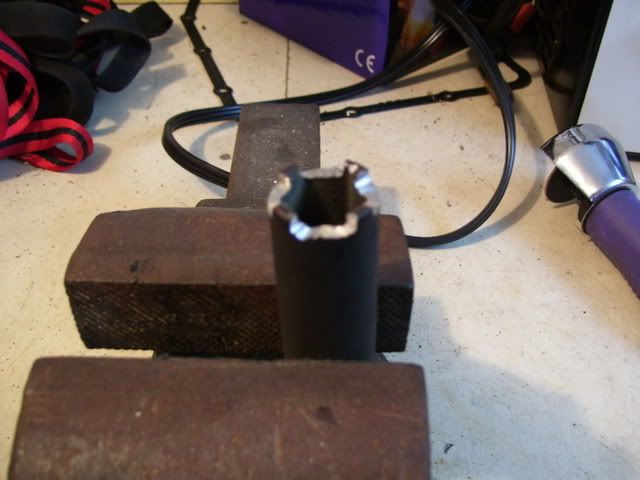 Here's a picture the old set screw coming out
And here's me using my modified socket to screw in the new set screw. The socket is basically just four nubs in a cross pattern across the socket's center
After I got that all taken care of I turned to installing the new ball joints. I didn't run into any really big issues with this, especially with the use of the adapter kit. Ended up going with Moog for the ball joints
Then I moved along to replacing the axle shaft u-joint since it wasn't as moveable as it should be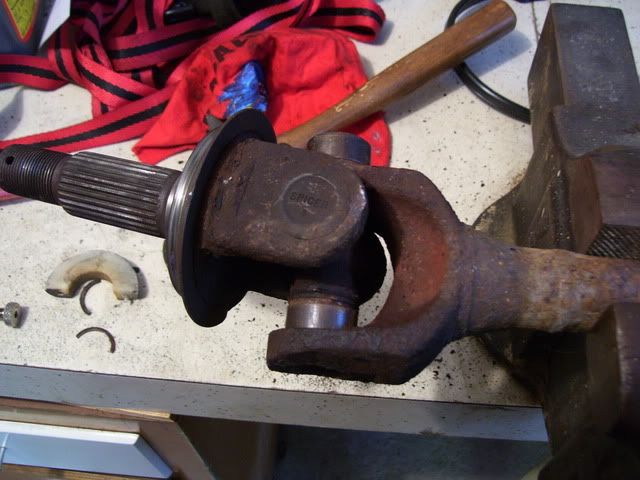 Definitely not in the best of shape.. haha. On the two rusted sections, the needle bearings were actually rusted fast to the inside of the cup and to each other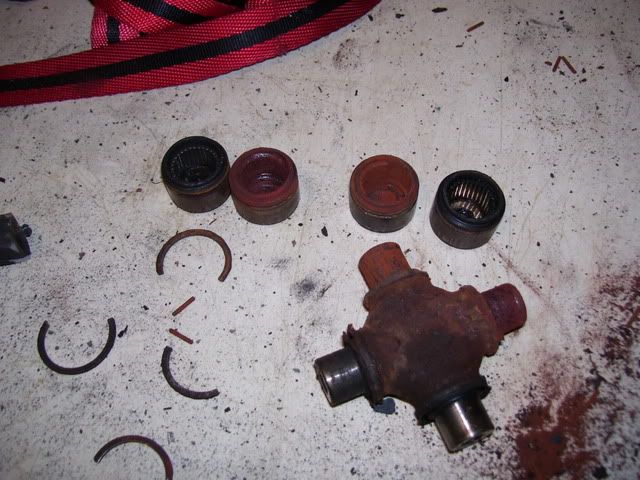 Installed a heavy duty u-joint and repainted the axle. I ended up having to make an emergency run to Advance to find u-joint retaining clips that hold it in the yoke, my u-joint did not come with them and i broke two removing the old one.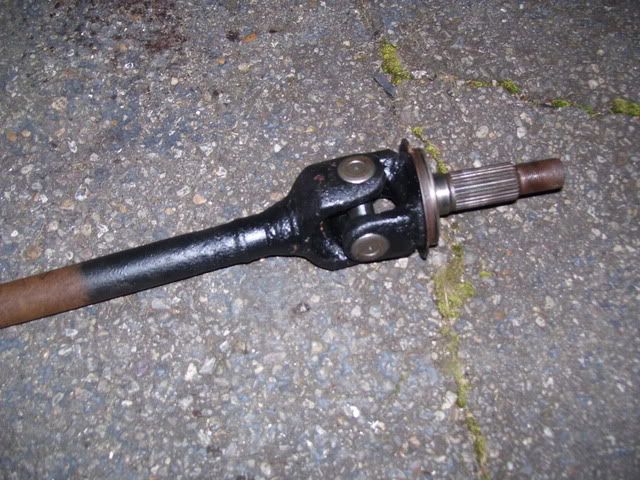 And here's where the pace started to pick up because I could start to see the finish line
Dust shield and new unit bearing installed and tightened down
And here it is all buttoned up and the axle hub nut torqued down. I anti-seized the hell out of the unit bearing and knuckle opening. Hopefully that will help me out in the future if I ever have to take this apart again. I also went through and made sure the ball joints and the tie rod end were fully greased