Registered User
Join Date: Aug 2006
Location: california
Posts: 101
Replacing battery (+) wires, need a suggestion
---
I'm planning to replace both of the positive wires coming off from the battery to the starter and to the PDC. I noticed there are 2 eyelets on the end of the wire going into the PDC. I've checked my local auto parts store and they only have single eyelet ends. do you guys have any suggestions on how should I go about replacing this wire with the double eyelets?
thanks
Registered User
Join Date: Mar 2009
Location: quechee Vermont
Posts: 4,699
are you talking they have eyelets on both ends of the wire? They do make them. In my zj I needed a 12" one. Most of the box stores have them but dont list them by vehicle...
---
1998 ZJ 5.2 Auto

1989 Wrangler Black Bone Stock 2.5l 5spd
/l , [____],
|---L--[]lllllll[]-
()_) ()_)==O=)_)
Registered User
Join Date: Jun 2008
Location: st. louis
Posts: 2,116
Web Wheeler
Join Date: Apr 2008
Location: Detroit
Posts: 24,685
Just go to a single heavy duty lug that fits on one of the studs.
Registered User
Join Date: Aug 2006
Location: california
Posts: 101
yes, i'm talking about this connection at the PDC. This photo is from a 2000 wrangler. On my 95 YJ, the studs at the PDC is in the vertical position.
Registered User
Join Date: May 2011
Location: Martinsville
Posts: 726
I put the opening on the bottom stud, and pushed it up as far as i could and tightened the top nut on the top of the end snugly.
Edit for Photo: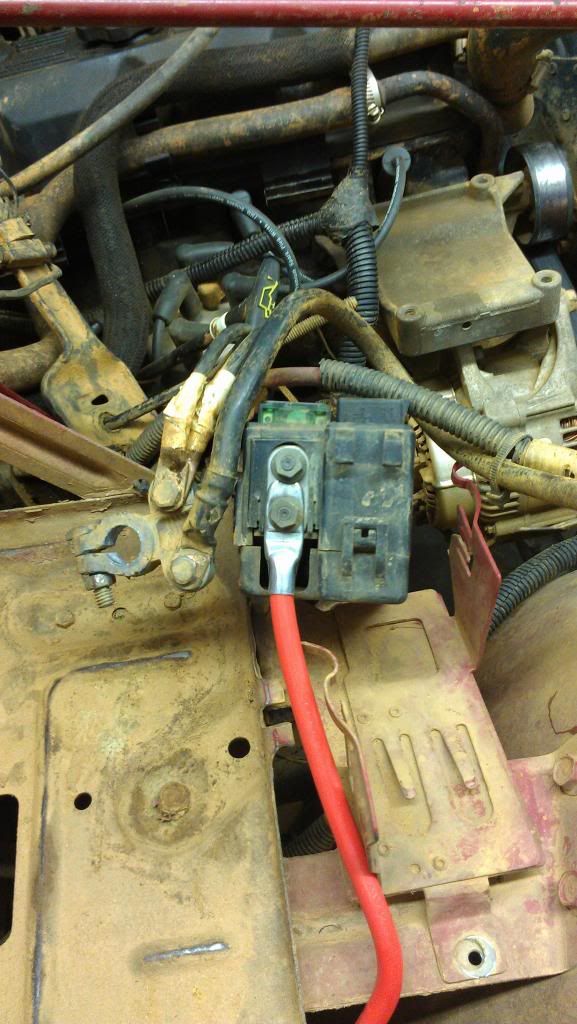 ---
95' YJ - Warn Bumpers/Tire Carrier/Winch - 2.5L - 6" Skyjacker Suspension Lift - 4.10's - Locrite Locker - Dana 35/30 - 35" BFGoodrich KM2's

11' F250 - DD

1982 Toyota Pick-Up - Spray-On Yellow Rhino Lined - Chevrolet 305 H.O. - SM465 - NP208C - All-Pro Off Road 5" Springs - 35x15.50x15 Super Swampers
Registered User
Join Date: Aug 2012
Location: Long Island
Posts: 663
im gonna have to do this as well... new battery as well as postitive and ground wires
Registered User
Join Date: Dec 2003
Location: Morton IL
Posts: 5,806
Problem though is our YJs are verticle instead of horizonal.
This also from that web site.
The fuse block wire is 4 gauge wire with a singe hole heavy duty 90 end. The wire is a heavier gauge than the factory wire for reduced voltage drop. If you have the factory 2-hole connector you may need to fabricate a jumper. Some guys just cut the old connector off and use it for a jumper.
This would be really easy to do.
---
93 YJ SOA 2" springs front, XJ springs rear w/main leaf added, High pinon 9 inch rear detroit locker front Dana 44 ARB 4.56 Gears, 36 inch Irok tires too much to list.
To view links or images in signatures your post count must be 10 or greater. You currently have 0 posts.

Currently Active Users Viewing This Thread: 1

(0 members and 1 guests)
Posting Rules

You may post new threads

You may post replies

You may not post attachments

You may not edit your posts

---

HTML code is Off

---