Quote:
Originally Posted by
'92 vegas YJ
Thank you. That really means a lot coming from you.

As Joe said I am running his old MORE setup(except now with 1.5x.250" DOM) and his old front D30.

You really disliked the old MTRs that much?
Thanks for the kind words. All the complaints of ill handling rigs can often be traced back to poor design and execution of the steering set up. Again, yours looks pretty well done and I`ll bet it handles pretty well.
I found the MT/R`s (old style) to have too flexible of a sidewall unless they were pumped up in air pressure. Hard to balance and the profile whether they are mounted on a 8 or 10 inch BL to still be quite rounded.
Conversely the Maxxis CC`s I ran at the same time were so much better.....read stiffer sidewall/flatter profile........in handling. Plus they balanced out nicely. Downside to the CC`s was the compound. Street driving just ate `em up.
The YJ handled better with sub 10 psi in the CC`s over the MT/R`s with 28 psi plus. I had to run them (MT/R`s) that high to combat a sidewall induced flex. The the MT/R`s rounded profile was exacerbated at the higher pressures.
Take a look at these pictures. See how the center is well worn while the outers are still pretty meaty ? This on a 10 inch wide BL that should have flattened the profile out and stiffened the sidewall.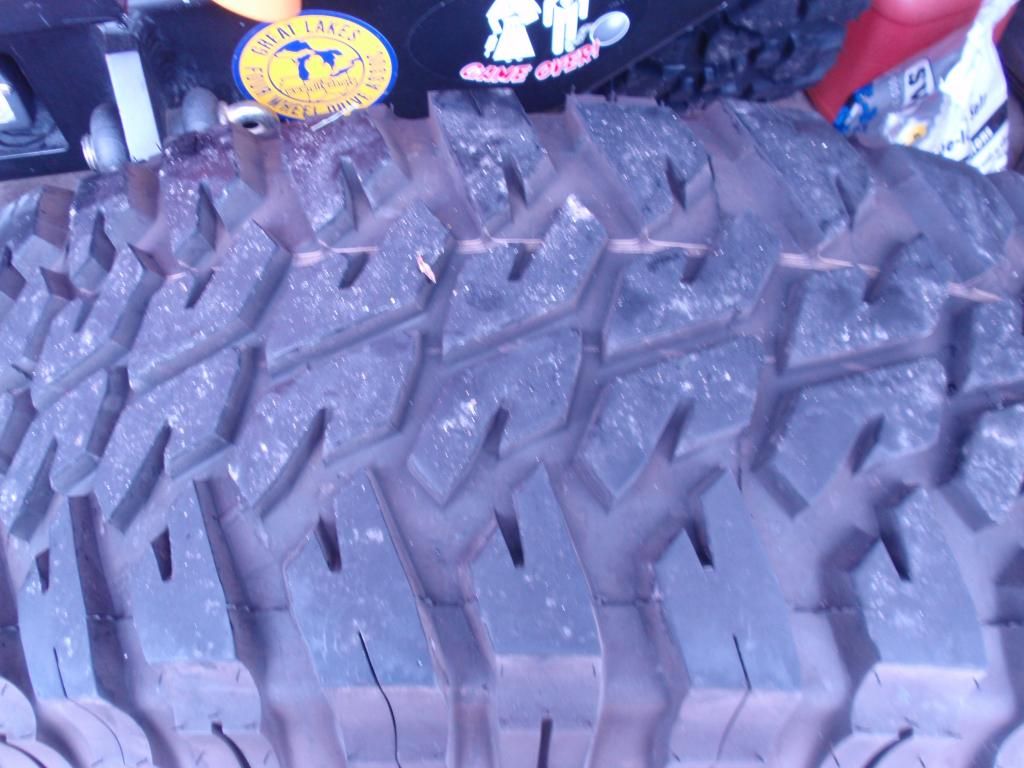 The PBR`s are nice and flat. Even with the 50 psi in them to set the bead for the BL`s they are still much flatter then the MT/R`s. I am running the PBR`s at around 22 psi and they handle and ride very well. Full tread width on the ground thus good wearing across the face and better traction.
Blaine likes the old MT/R`s FOR the flexible sidewall. He likes the fact that they tend to wrinkle up like a drag slick then spring forward while crawling. That works for him in JV but we don`t have that type of terrain here in Mi.