Past YJOTM Winners.........
---
November '09 Winner:
4bangerYJ
Congratulations for this month goes to 4BangerYJ with 37% of the vote. Was a very good contest this time around. I look forward to the future contests with some rule changes and some prizes lined up. Thank you all that participated.
And now here is 4BangerYJ's story:
I bought my Jeep off the lot in Oct of 95. It was about as stripped as you could get. I went thru a number of lifts and tire sizes before ending up with what I have.
The Deaver springs are awesome! Without a doubt the best springs I have run. They flex well and the ride on the street is very nice. Very important to me since it gets driven and not trailered.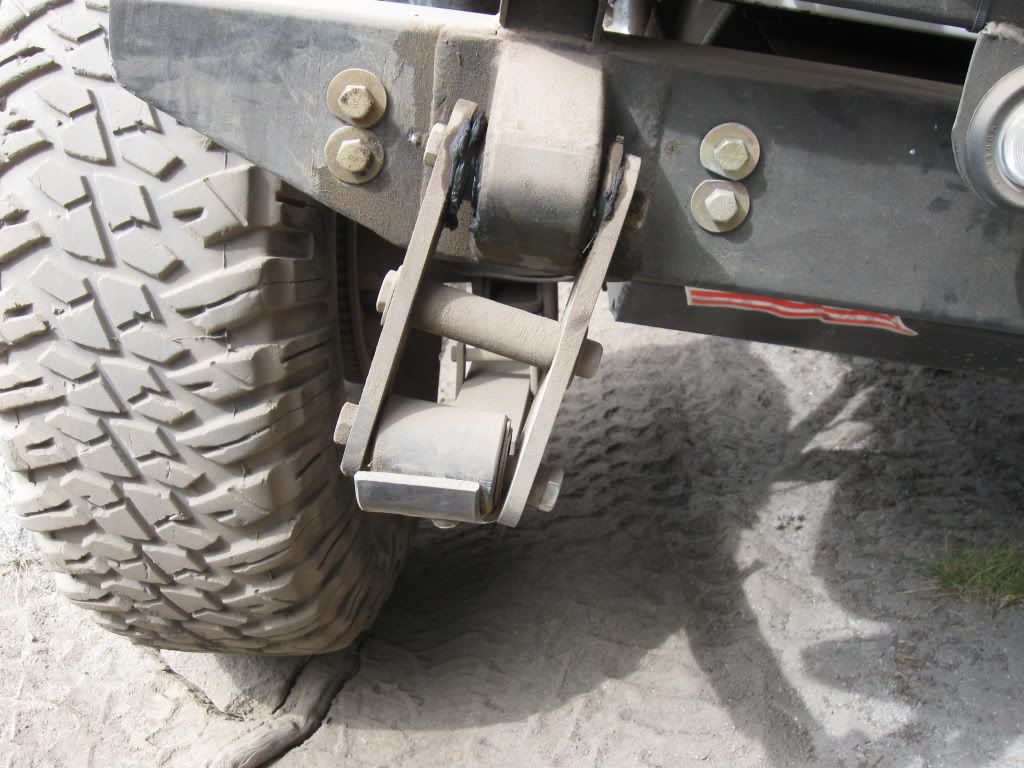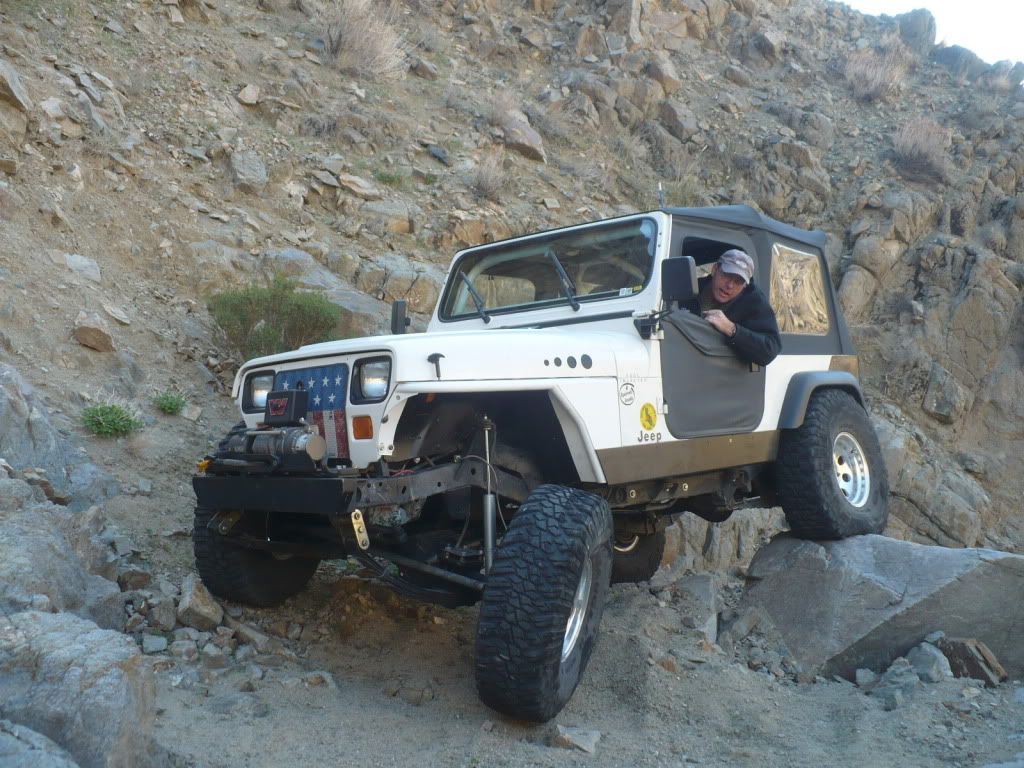 They have lots of thin leaves so I went with U bolt flips front and rear.
The Klune/D20 are protected by a custom made crossmember. I like the open design to make changing fluids easier and keeping an eye on things.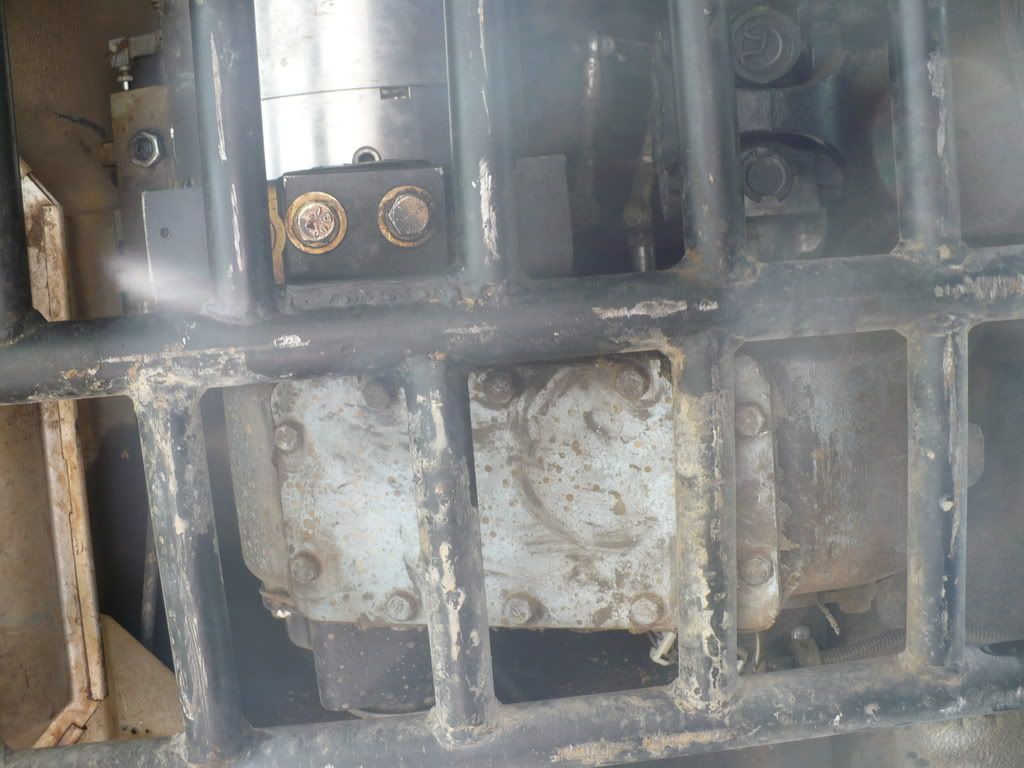 Here is a shot of the twin sticks and Klune shifter.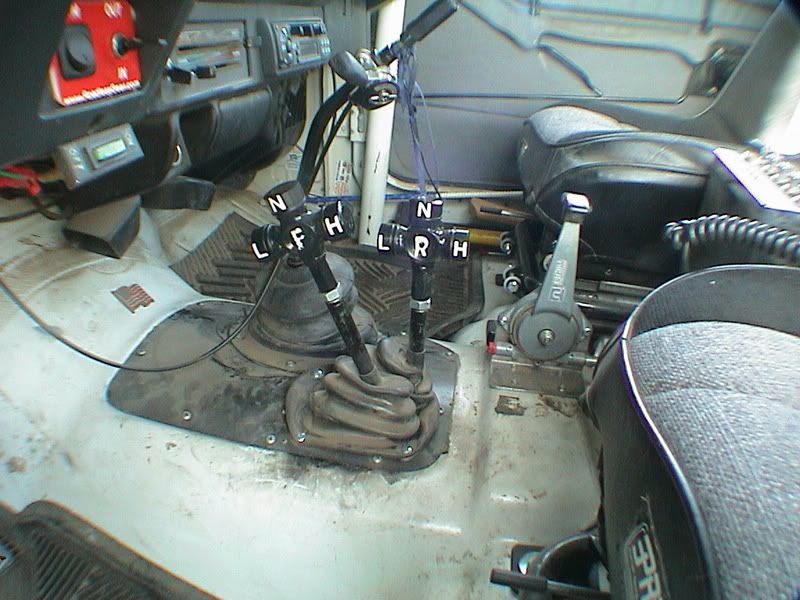 The front hoop is a Smittybuilt for a CJ7. I added the middle spreaders and the dash bar.
The front end is a HP D44 from a 77 F250 I narrowed it to Waggy inners. From the knuckle out is F150 to get 5 on 5.5 bolt pattern. It's filled with Alloy USA shafts, Bobby Long joints, 5.38's and a Detroit. I sent everything to be cryo'd for a bit of added strength. The hubs are Warn premiums, and a Riddler diff cover. I put the steering on top of the knuckles to clear the springs. It uses GM TRE's.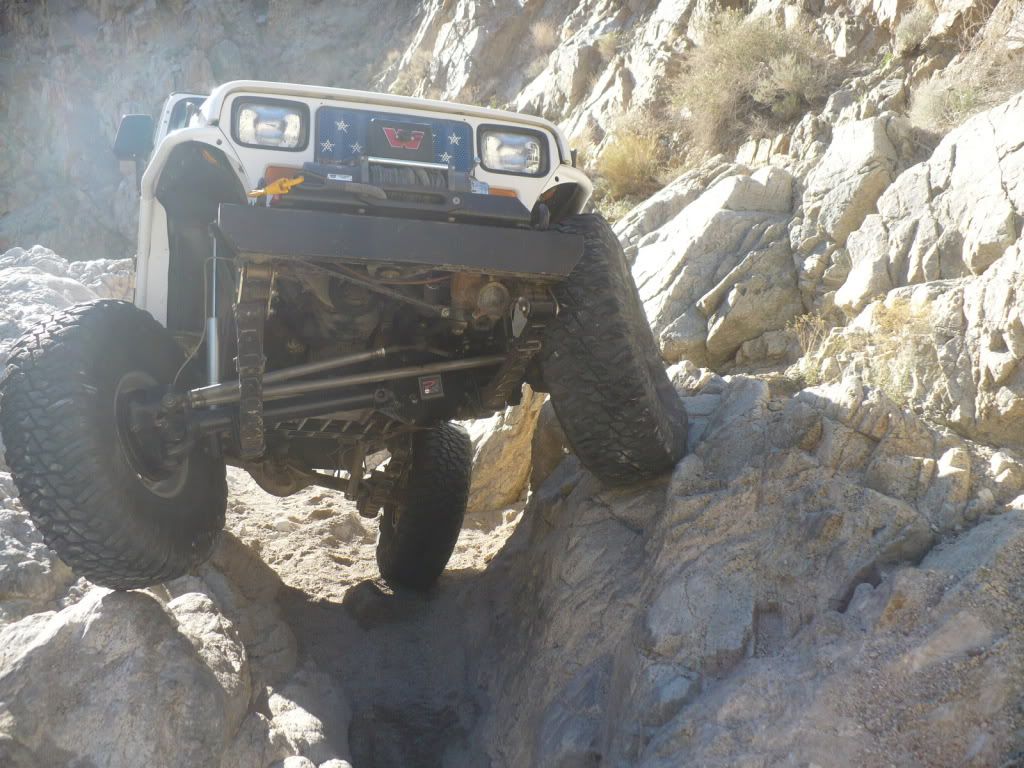 The rear axle is a D44 from a 87XJ. It has Alloy USA shafts with dual pattern, 5.38's and a Detroit.
Genright tube fenders, rockers and gas tank was added. I used the gas tank to stretch the WB 4 inches along with the custom Deaver springs.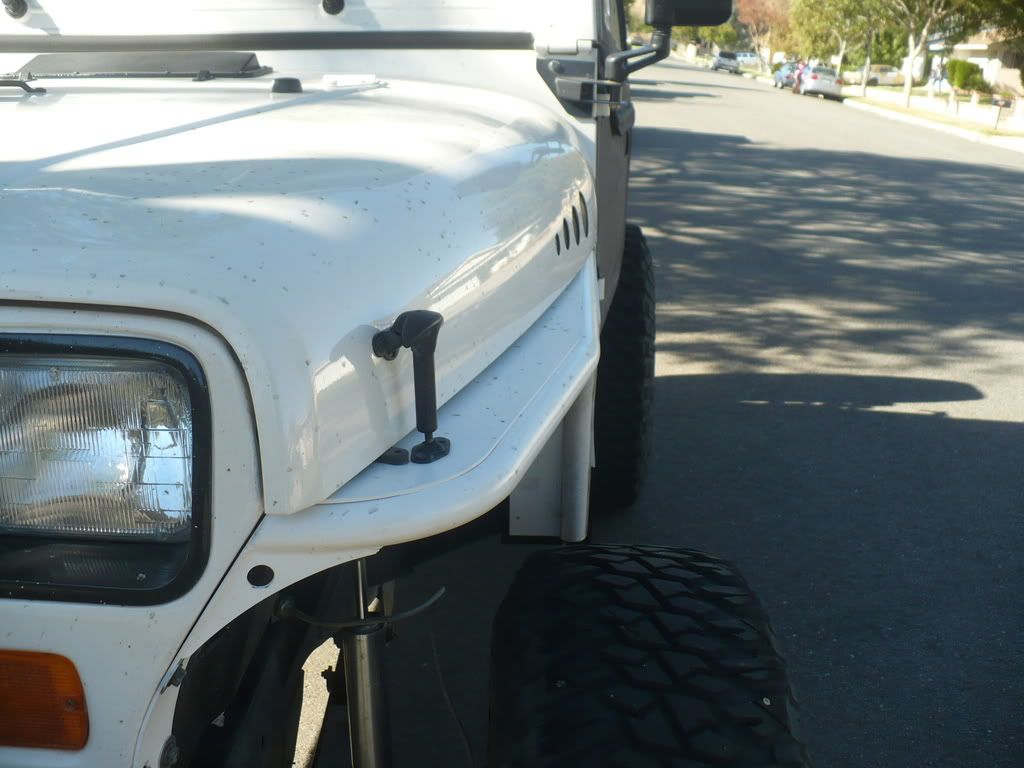 The bumpers and tire carrier and rack I made.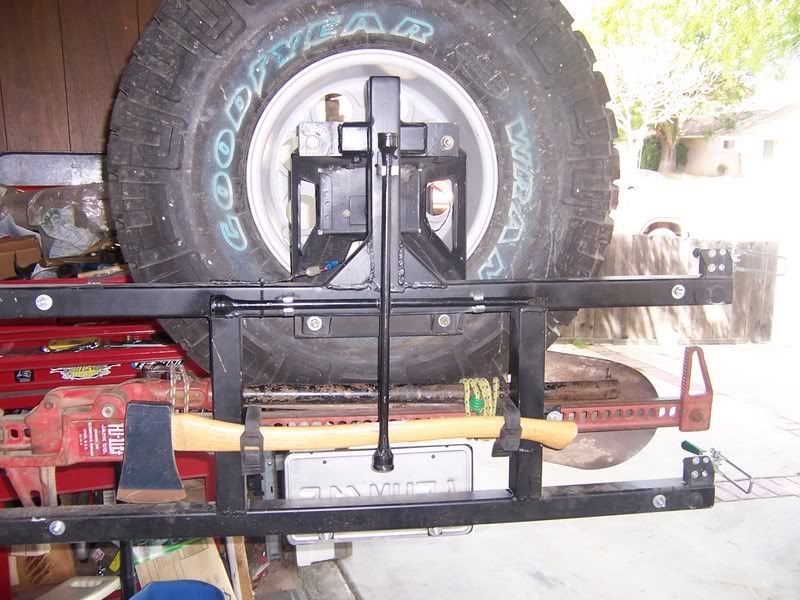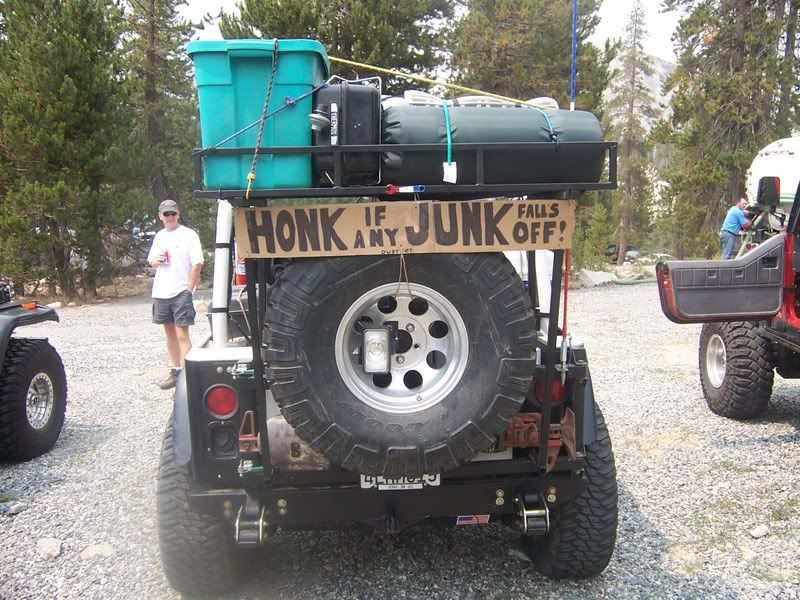 Thanks a ton for all the votes!
I'd be glad to answer any questions.
The rest of his winner announcement thread
October '09 Winner:
Congrats go to
tomesd
for an outstanding rig. Below is a detailed description of his rig and some extra pics. Thank you all that participated. I look forward to doing this again next month.
Thanks for the honor! I had always wanted a Jeep when I was in my teens so when I was able I ordered a '95 from the factory back in '94. It was a SE sport model with factory air, black, with upgraded wheels/tires, limited slip, etc. It was my daily driver through 2005 and while it had been taken good care of it had seen some wear and tear. It had never been offroad! I had it in the garage only driving it occasionally and realized how much I missed driving it so decided to go through it this year and fix it up.
After tons of research here I installed a RE 4.5" XD lift with Cragar soft 8's and BFG KM2's with TW's front and rear drive shafts/super short SYE and wire brushed the surface rust off the frame and repainted/undercoated it. I then Herculined the tub after finding surface rust under the carpet on the drivers side. I ordered JCR Offroad front and rear bumpers, Shrockworks sliders, and a Rock Hard 4x4 rear roll crossbar and had the paint shop powder coat/install them when they painted it. I decided to go with new Jeep "Bright Silver", which turned out great! I put a Banks cat back on it with a Magnaflow high flow cat and a K&N CAI as well.
The interior was completely redone with new carpet, Wet Okole seat covers, a Tuffy console and rear storage trunk, a new Sony in dash with Infinity speakers/amp.
I plan on upgrading the axles soon as well. I have had so much fun going thrugh this thing and I'm glad everyone likes what I have done with it. Thanks for all the compliments! I'll post some wheeling pics soon.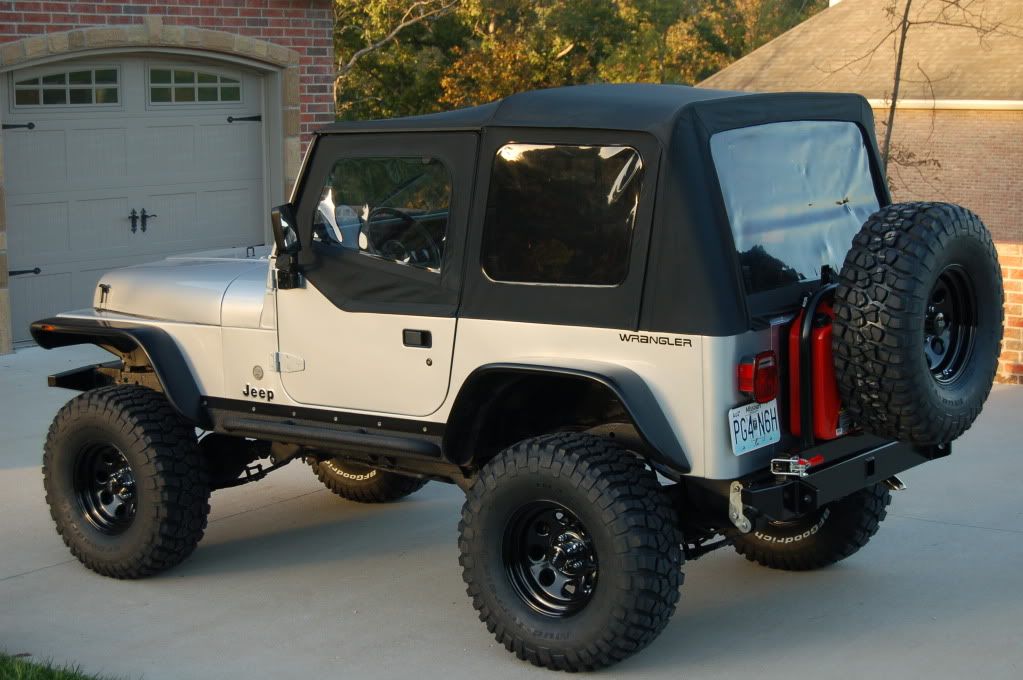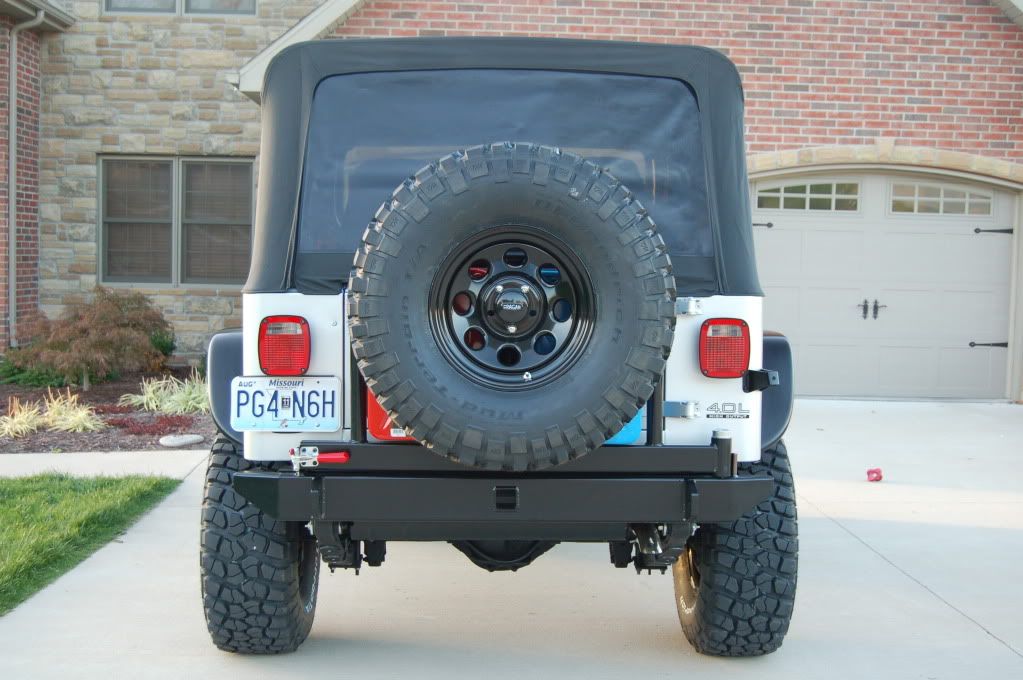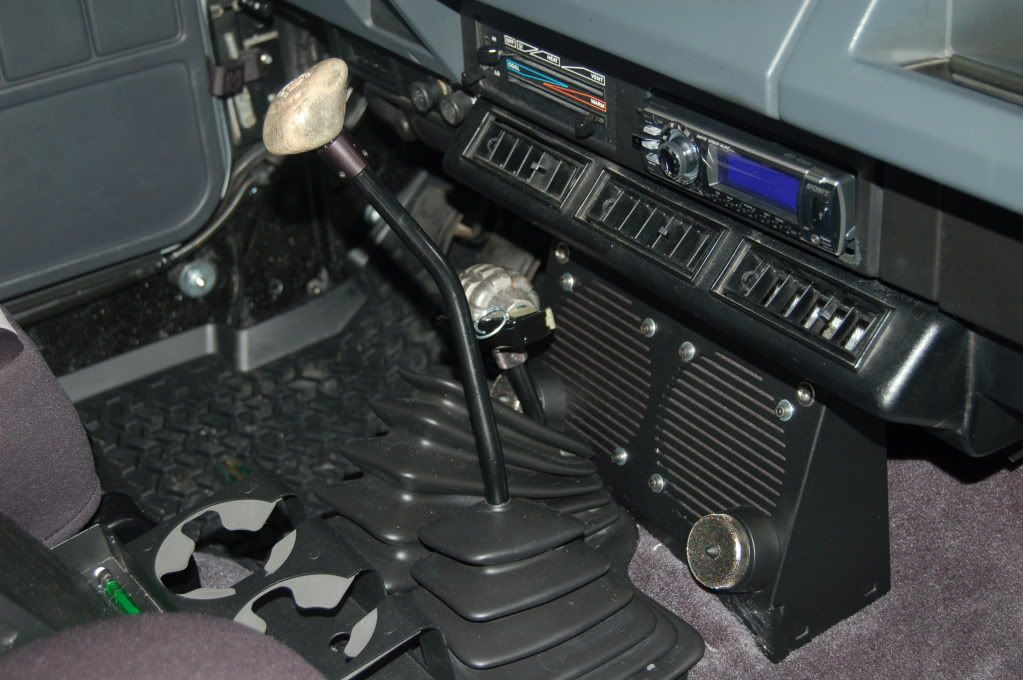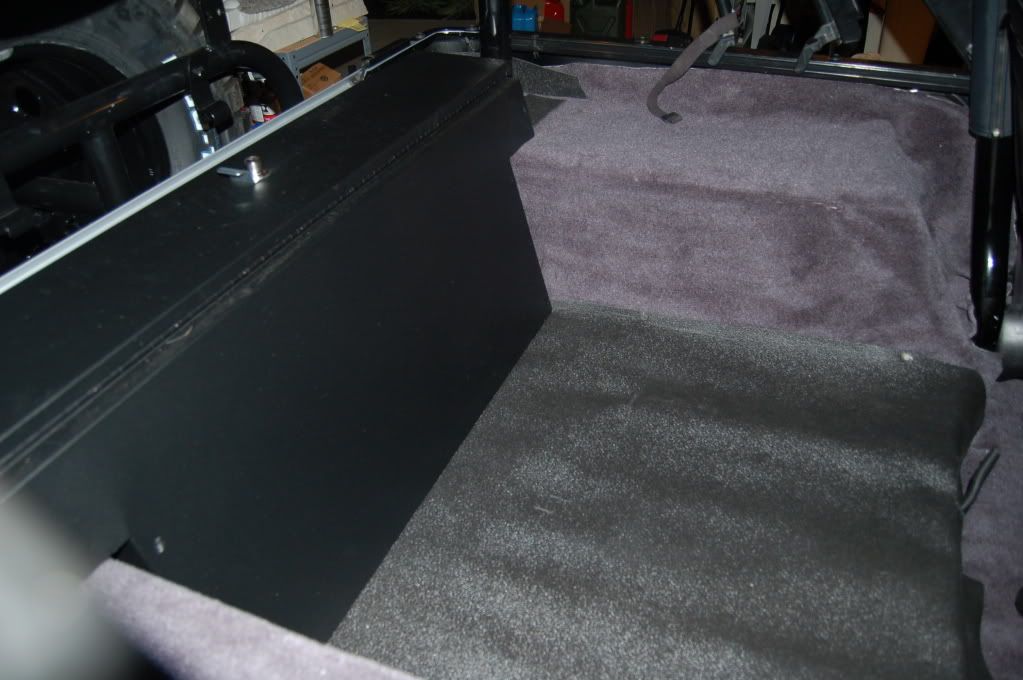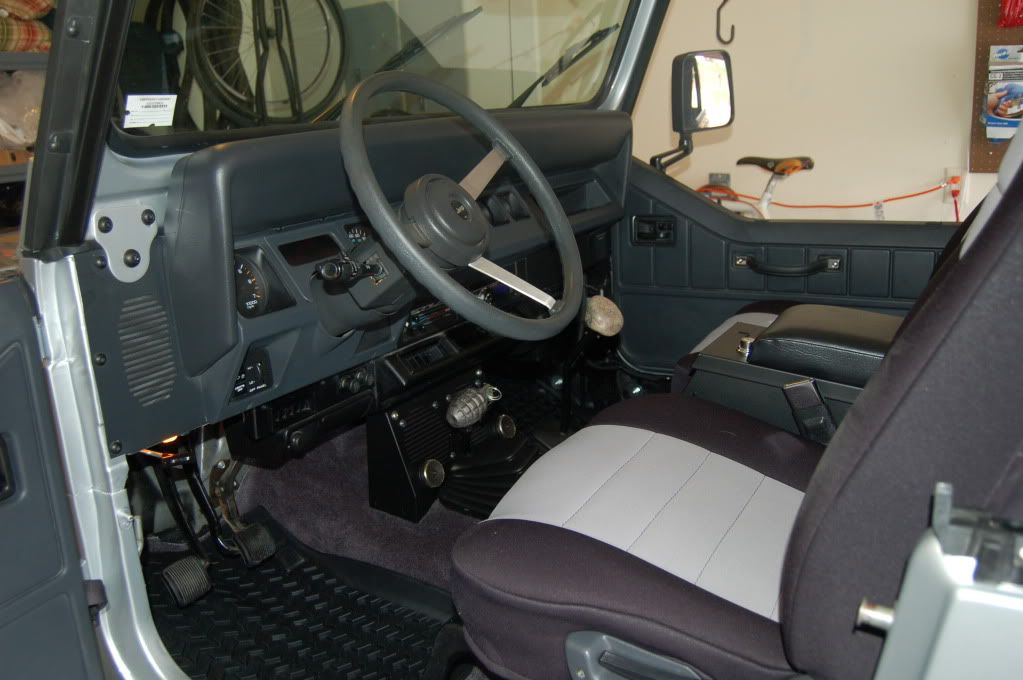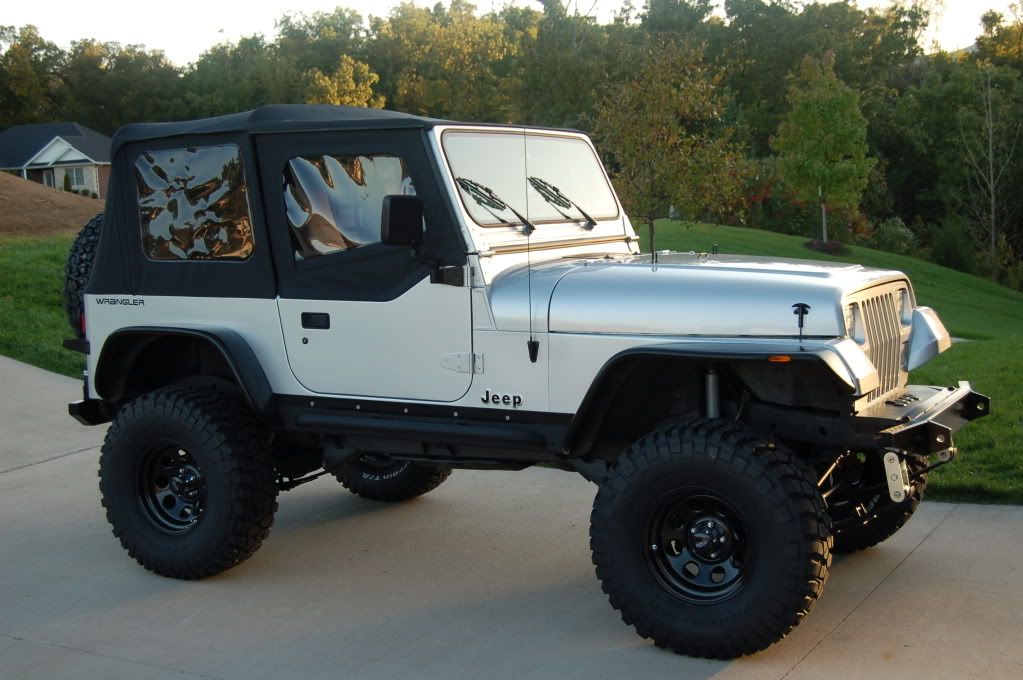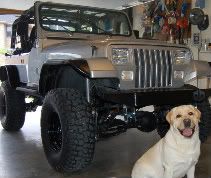 May '09 Winner: rrbgtt
The jeep specs are as follows:
1995 YJ
Engine: Cummins 4BTA
Custom injectors
HY 35 Holset Turbo
Intercooler
Modified injector pump
Trans: TH-400 with reverse pattern manual valve body.
Trans Case: NP-205 twin sticked
Front: Dana 60 fully locked
Rear: 14Bolt GM with detroit locker
The jeep has a comp cut rear, tube fenders, reverse shackle BTF full width kit, rear stretch BTF kit, RE extreme duty springs, spray in liner, 39.5" boggers, and is tagged and driven almost daily. It belongs to my son Garrett Gordon and we have been building it for about a year now. The most unique thing about it is obviously the diesel engine.
Got my eye on you.....
2009 Past winners:
April '09 Winner's:
VamosJEEP & TheRealOldJeep Tied....
VamosJeep
Little about my jeep:
I purchased this 1990 YJ after it was in an accident. I rebuilt it and got it moving during the summer of 2007. Towards the end of the summer I realized that the Jeep was going to need a frame swap. I started the Frame Swap in January of 08 and finished just before summer that same year! This jeep took up every spare minuet of time I had when I wasn't at work or sleeping. I actually vowed to get the jeep done before I took time to participate in my #2 hobby surfing. I re-painted it OD green and made my own little version of a willys YJ. I recently swaped out axles and now have a rear 8.8 with trac lock and a BUILT dana 30 with aussie locker, alloy shafts, one piece conversion, and alloy outer seals. Front and rear warn diff covers protect it. It sits on 35" MTR's with crager soft 8s. It has a si12000 winch along with a bunch of other accessories to get the job done. I have been purchasing Autometer Guages one by one so that I can get them all installed at the same time. I eventually will spring over the jeep, but thats a little further down the line. There are plenty of other pics on my Photobucket.
TheRealOldJeep:
List of specs and/or modifications (don't forget to include the year of your jeep) or a short paragraph describing what is special about your Jeep.
94 YJ
2.5L 7" forward of stock, raised up so that the whole driveline is above the bottom of the frame
AW4 transmission with full manual control via AWShifting controller
Clocked NP231 with SYE
Home shortened driveshafts
D30 - Yukon shafts, superjoints and aussie locker
8.8 - Aussie
35" MTZ's on ar767 with copperhead rim stiffeners
Home made swingdown tire carrier
Home made front bumper/grill guard
Home made cage additions
H1 taillights
the URLs to 2 pics of your jeep.
March '09 Winner:
CoverinEarth
Stats:
1994 Wrangler YJ
4.0L, 5spd, 76k miles
D30, 4.88's, Warn Alloy Inner and Outer Shafts, ARB Locker
Ford 9" Rear, 4.88's, Moser 31 spline Shafts, ARB Locker
NP231, AA SYE, Tom Woods Driveshaft
Modded 3" Superlift Springs, SOA, 100" Wheelbase
MORE Shackle Reversal
Custom 3/4ton High-Steer
SkyJacker Anti-Wrap Bar
Poison Spyder Rocker Knockers and Corners w/ Flushmount LED's
BlueTorch Fab Front Bumper/Stinger
Ramsey Patriot 9500
Smittybilt Rear Bumper/Swing-out
Bushwhacker Flares
37x12.50x16 Swamper TRXUS MT's on 16x8" MT Classic Locks
Kilby OBA Setup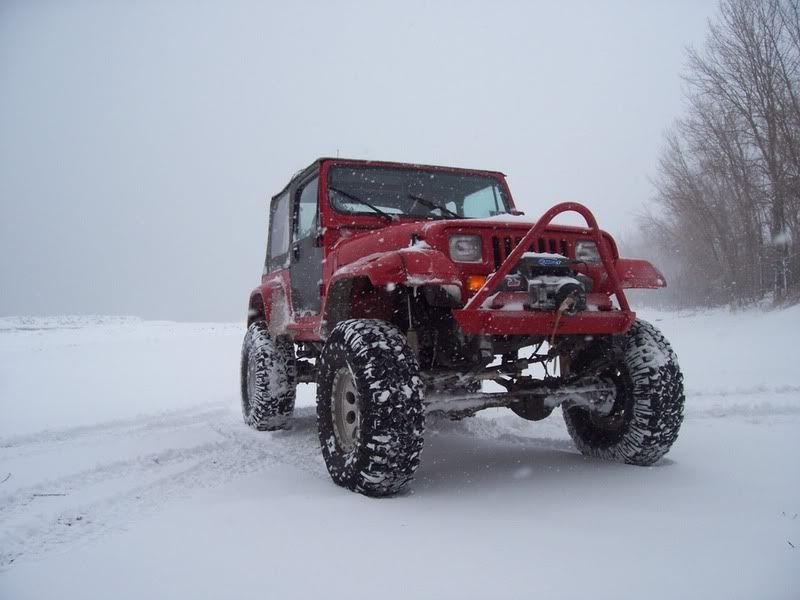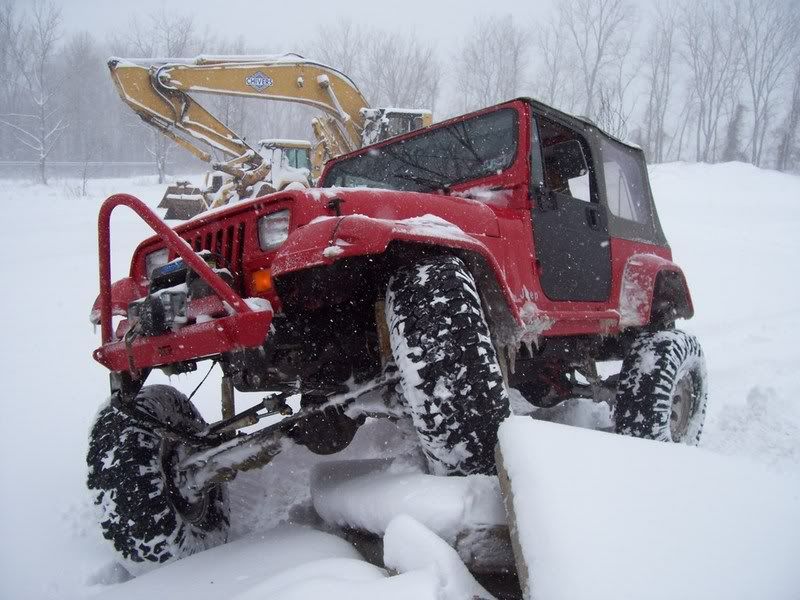 Feb '09 Winner:
Give a big round for Omarambo101. He is now the proud owner of an AtoZfabrication product. A set of rocker guards or a rear bumper. I will put Z in touch with him as soon as possible.
Specs:
This is my 1992 YJ Wrangler 4.0L/AX15. My dad bought this Jeep when I was in eighth grade, and over the course of three years, he helped me completely restore it. I saved my money since the first grade, and when My dad bought the Jeep, he decided to help me restore it so I could drive it when I was 16. The pictures don't do it justice, it went through a huge transformation from being a 16 year old rust bucket, to what is often mistaken as a new Jeep. The upgrades to this include: New seats, spray in bed liner, 6 KC lights, Banks headers and exhaust, Milemarker 9500lb winch, K&N FIPK, SYE and CV driveshaft, 32" BFGoodrich Mud Terrains on American Racing AR-23s. 2.5" suspension lift, Xenon fender flares, a home made front bumper, 4WD rear bumper/tire carrier, with home made D-ring mounts, a bestop supertop, and new paint. This is my daily driver, and I occasionally wheel it. Although it may not be the best or most capable Jeep out there, I wouldn't trade it for anything, and I never plan on selling it because of everything that my dad and I went through restoring it.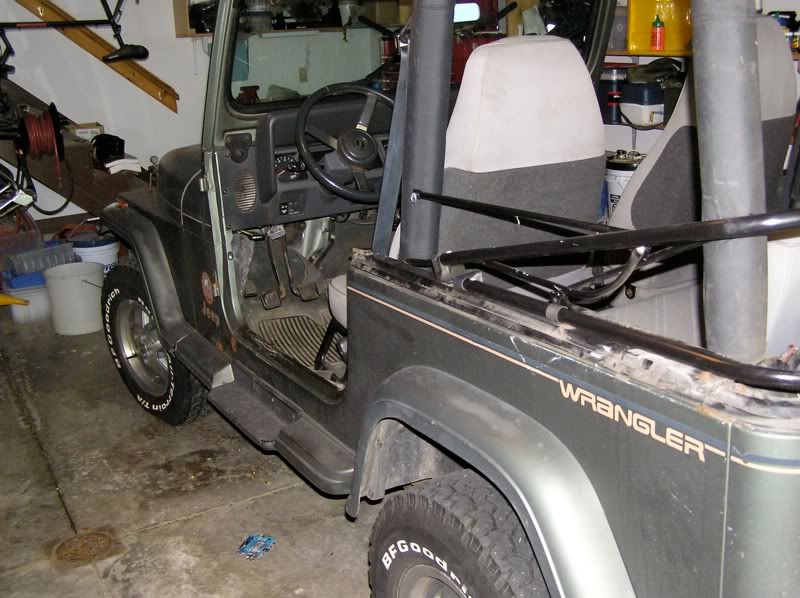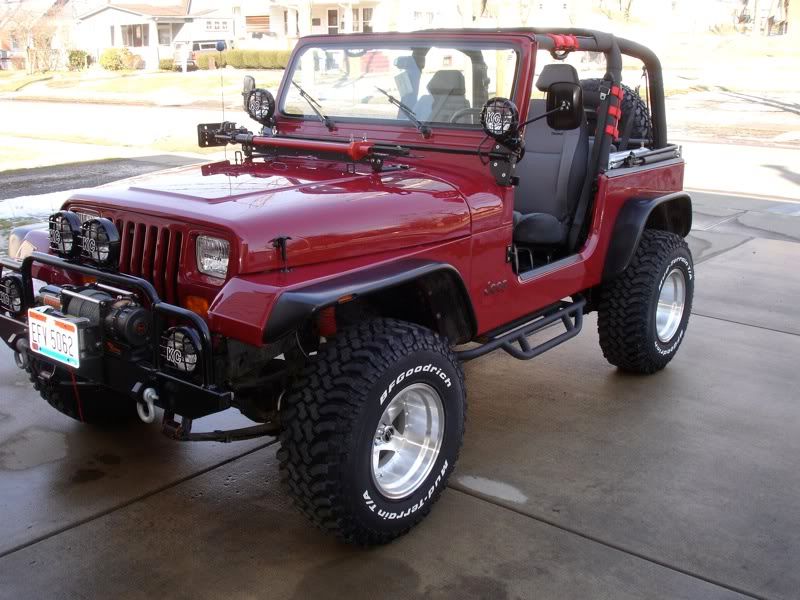 Got my eye on you.....
Nov. '08 Winner:
Congratulations
jvilla112
. You are now the proud owner of a set of lazer cut shackles or your choice. Please PM me for details.
And thankyou to all that participated this month. We had over 100 entries this time around. Next months contest will be even better. Wait till you see what prize I have lined up for that
-Rusty
Specs:
1993 Jeep Yj
Hp D30 front, Yukon shafts, carrier, pinion bearings, etc. lockrite lunch box locker
Ford 8.8 rear, Detroit locked
Terra 4.1 low np 231 xfer case
4.0l
Rhino lined inside
Tj fender flares with cut fenders
Warn front and rear bumpers with tire carrer
Custom belly skid plate/tranny mount
Automatic
4.56 gears
36x12.50x15 swamper tsl sx's
Black steelies
Cb/firestick 4 foot ant
Rear spot light,
Plenty of front lighting
Dual red tops, kit by wrangler nw products
Best top waterproof seats
Warn xd9000I winch
Front spring reversal
Sye kit
4 wheel disc
Custom rear over tire rack
Air raid intake
Rancho rs 9000 shocks
I guess that sums it up, My jeep is a very capable and has done some extreme trails, I have replaced almost everything in it in the last year. It has 133k miles on it, 3k on the tranny. I spend every spare moment I have on it, please consider me for the Yj of the month contest.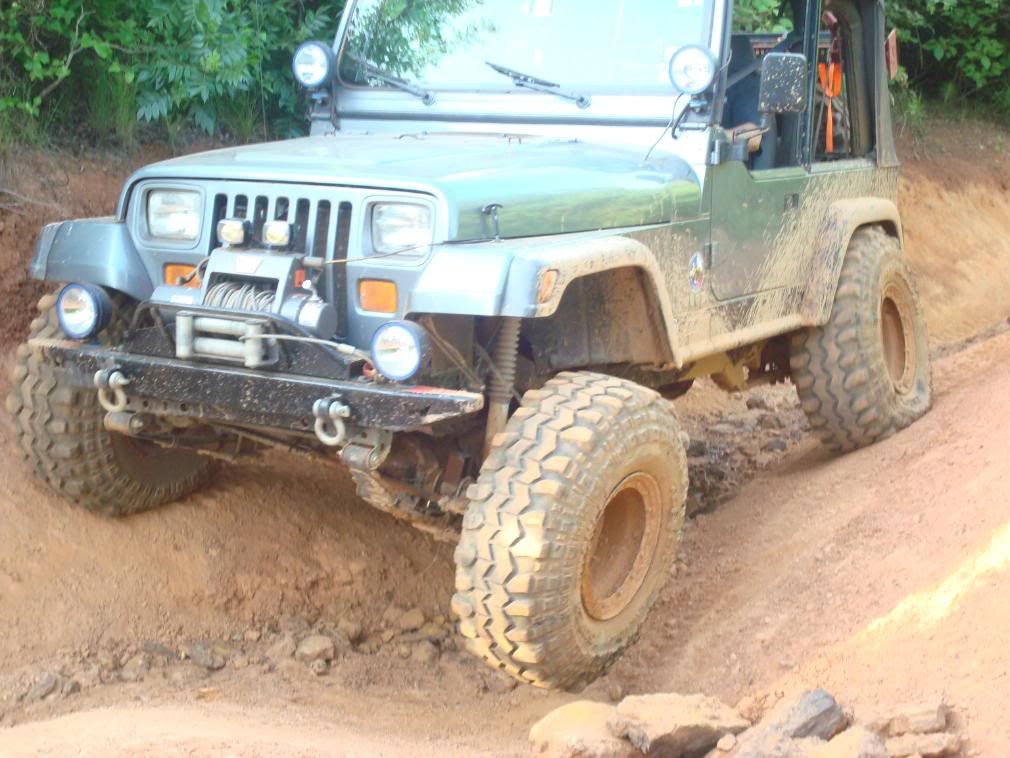 Got my eye on you.....
Oct. '08 Winner:

And the winner, with 36% of the vote is FarrellX. Congrats man, You will be contacted by the vendor shortly for your prize. Thankyou to Ridin Around for the prize and for all of the entries this month. Stay tuned for next months contest where there will be another great prize offered.

What you won:
Prize for the Winner this month:
[b][color=blue]Courtesy of Gabe(Vendor Ridin' Around )[URL="
Got my eye on you.....
Refreshed with the latest winners
---

To view links or images in signatures your post count must be 10 or greater. You currently have 0 posts.

Congenital Heart Disease is a reality for me, BOTH of my children have it. Please read up and become aware for future generations
Lydia Ann-Acquired 08/05/05 Open Heart surgery 08/10/05
Jacob Patrick-Acquired 01/17/08 Open Heart surgery 02/15/08
Currently Active Users Viewing This Thread: 1

(0 members and 1 guests)
Similar Threads
Thread
Thread Starter
Jeep Forums
Replies
Last Post
Yjotm??

zeke6785

YJ Wrangler Technical Forum

2

07-13-2009

05:01 AM

Anyone know what happened to YJOTM?

Ben_88Jeep

YJ Wrangler Technical Forum

11

01-27-2009

11:15 AM

Yjotm ???????

YJames90

Wrangler General Discussion

1

01-09-2009

09:33 PM

YJOTM Contest....

NewhampshireYJ

YJ Wrangler Technical Forum

1

12-11-2008

07:10 PM
Posting Rules

You may post new threads

You may post replies

You may not post attachments

You may not edit your posts

---

HTML code is Off

---