Registered User
Join Date: Sep 2010
Location: The sticks
Posts: 131
Paramount Offroad
---
So,
I was perusing FLEA Bay the other week, and came upon some company that was selling these tube rear bumpers with oversized tire carriers from Paramount Offroad. Read a few reviews, the main thing I was looking for was that the bolt holes actually lined up.
They had the Make an Offer so I did, and got a good price (or so I thought). I tried using their shipping calculator and it was No Joy there.
So, picked up the good old fashioned land line and gave them a jingle. The guy I talked to, Jonathan Ri, gave me a BETTER price on the phone than what I got on Best Offer. Shipping came out to about 80 bucks (damn thing is heavy as hell) and I got it last night. Took me and my boy about an hour to get both pieces unboxed and unwrapped. Whoever they have working in their shipping department knows his/her job very well.
I plan on installing this after Christmas, depending on if I can get a buddy of mine to help. The boy will help too, but I don't think he can hold the bumper up enough to have me get the bolts started. Maybe with my floor jack and the jack stands. Hmmm, have to think about that one. Time to start the PB BLaster on it. Problem is our highs are below freezing and should prove to make the job a bit more interesting.
I will post pics and any issues that come along. Fun times!!!
Registered User
Join Date: Apr 2012
Location: Graham
Posts: 4,153
I have their front tube fenders. They are nice. I'm considering their rear corners, unless I decide to go another route. Basically same as smittybilt. They're all made in the same factory.
---
Luck Favours The Prepared
Bumper install
---
First we started with the removal of the bumperettes, third brake light, tire carrier, license plate bracket and trailer hitch. Soaked all the bolts down with the WD 40 Rust remover - the stuff with blue torch technology.
Installed the bumper and it all lined up!!!
Fitment issue, hence we removed the license plate bracket.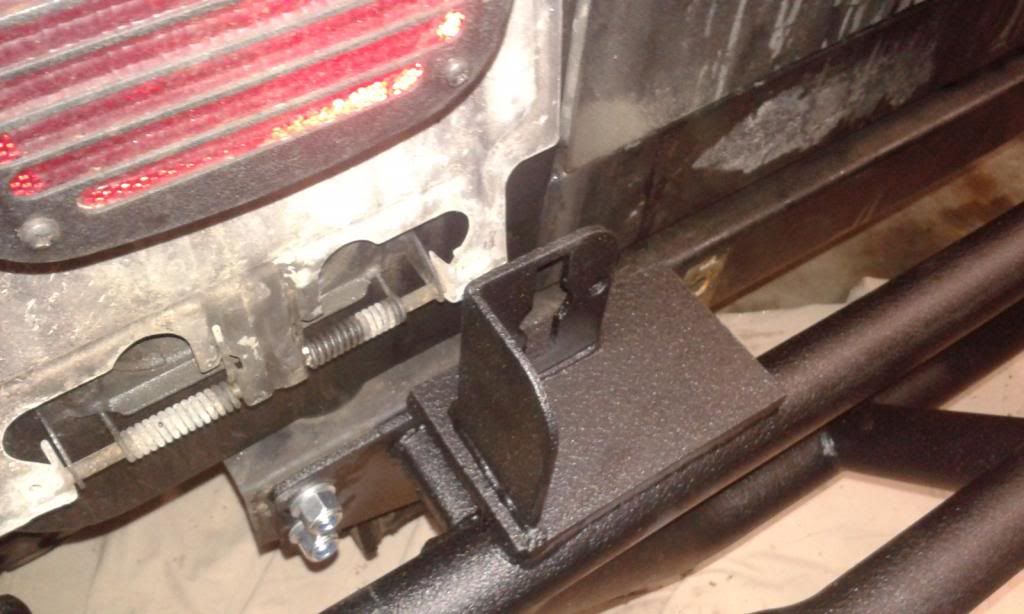 Trial fit of the carrier on the hinge.
Installed the billet handle and bracket
Installing the tire carrier on the swing away gate.
Final product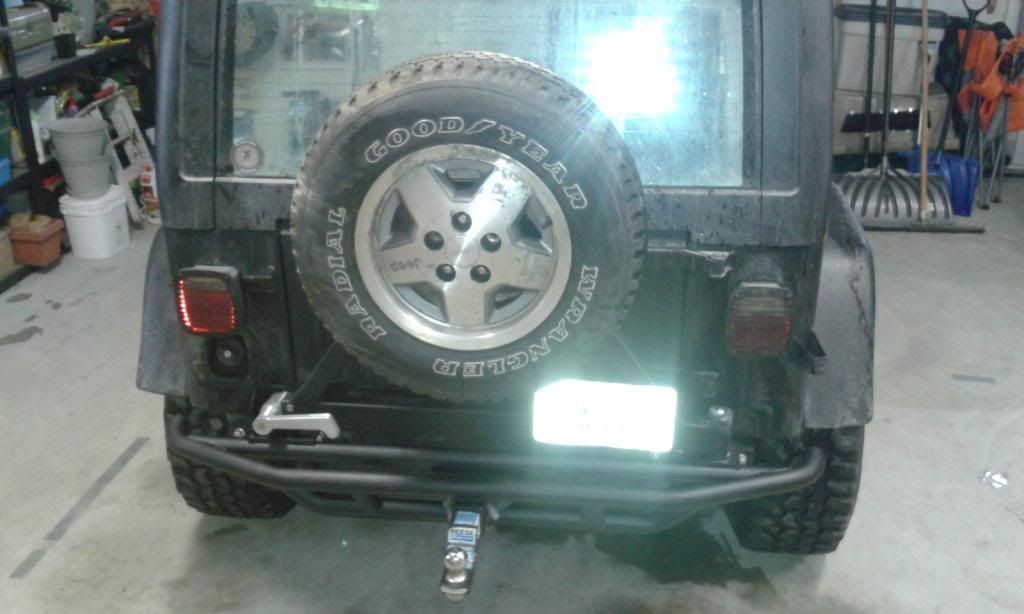 Only real issue other than the license plate bracket removal was holding the beast up to start the bolts. Two hours from start to finish. Not too bad.
Electric Chair Operator
Join Date: May 2004
Location: Lexington Park
Posts: 13,494
I went ahead and fixed the links so that they have image tags.
Registered User
Join Date: Sep 2013
Location: Dallas
Posts: 604
how much was that ? looks nice , does it tie into the frame ?
Registered User
Join Date: Jun 2011
Location: Surprise,
Posts: 645
Is this the new e-autogrilles?
---
93' YJ 2.5L, 4.88's, 8.8, E-Locker & LSD
Just under 350 delivered.
Registered User
Join Date: May 2011
Location: Baltimore
Posts: 3,776
Nice Bumper. I like the way it looks.
---
1995 YJ. 2 inch BDS Spring lift. 1 inch shackle lift. 1.25 inch JKS Body Lift 33x12.5x15's. Engo 10,000 pound winch.


Typical /f12 Hooligan
Join Date: Apr 2012
Location: Corona
Posts: 5,431
Quote:
Just under 350 delivered.
How much was the shipping? On CL out here there's a guy selling this exact bumper with carrier for $250.
Looks great IMO.
---
♔ 91 YJ "Alice" 4.0L, AX-15, NP 231 Flange, Adams Driveshafts F/R, 2.5" OME 36Rs, 5/8" /f12 Booms, 32" Yoko ATs, 4.10 D30/35 AutoLockers F/R
To view links or images in signatures your post count must be 10 or greater. You currently have 0 posts.
YJOTM never
♘ 05 LJ Rubicon "Ghost"

♠ Luck Favours The Prepared ♠
Shipping was 80 bucks. 250 was what they charged me. Well worth it - it lined up. I heard all the horror stories, don't buy this, the bolts and nothing lines up, it's junk. It made me really leery of buying anything, but we've needed an oversize tire carrier for years. That little 215 was not going to cut it when the rest of the tires are 33's. I found a good used BFG 33x10.5x15 for 50 bucks mounted and balanced today. Now I feel a lot more comfortable when the wife takes the Heep.
Currently Active Users Viewing This Thread: 1

(0 members and 1 guests)
Posting Rules

You may post new threads

You may post replies

You may not post attachments

You may not edit your posts

---

HTML code is Off

---