Registered User
Join Date: Aug 2013
Location: Atwater
Posts: 37
Ok heres a few pics of the new machine.
---
Disclaimer: I started the Black and Grabber green scheme before I read Sparrows build. LOL
Traded my 1987 K5 Blazer for the Jeep. 1994, 4.0 5 speed transmission.Home made shackles. ( I guess)
So far I have done a tune up, changed the oil, differential oil, bought 2 front tires, new exhaust and started making it my own.
Plans for the future are a OME 4.5 lift with some real shackles, herculine the interior floor pan and put in some new seats. (read the seat write ups so I know kinda what im looking for.
I have the soft top for it but its beat all to hell.. Time to save for a new one eventually.
PICS!!!!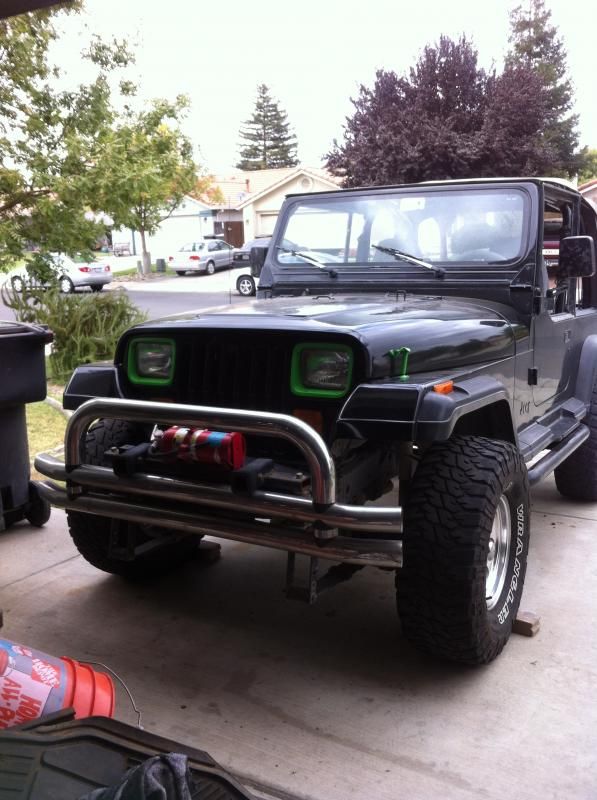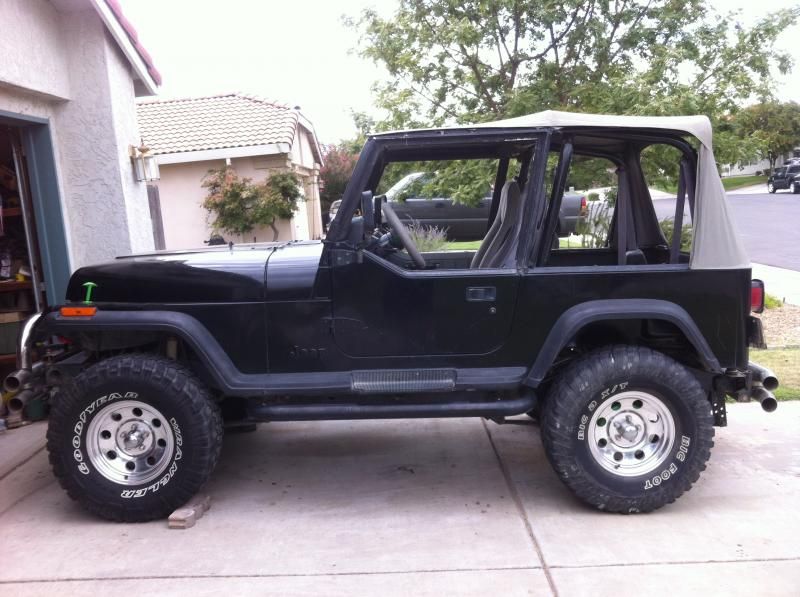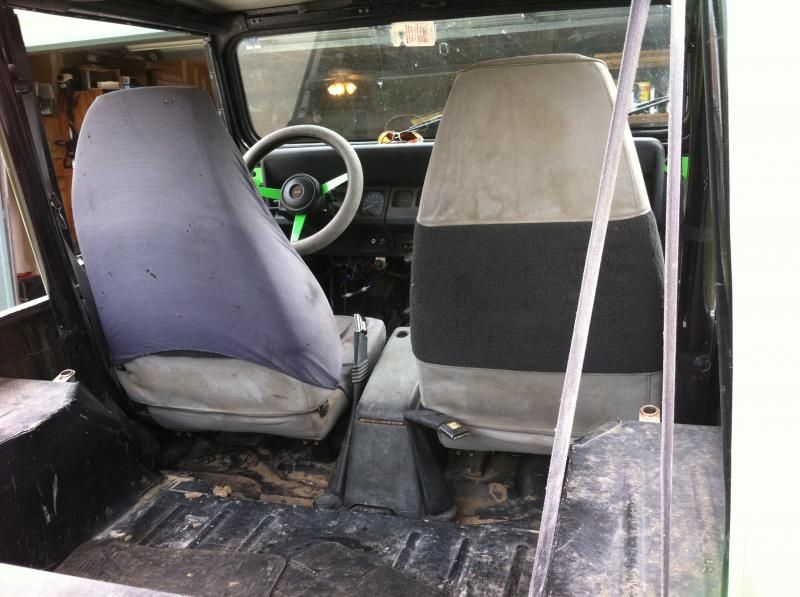 Registered User
Join Date: Oct 2010
Posts: 1,318
And the fun begins. Congrats and have fun.
Registered User
Join Date: Mar 2008
Location: corpus christi
Posts: 7,057
Those are universal auto zone shackles.

Good looking starting jeep. should be fun in the trails
---
I don't feel like working on anything at this time so i sold my yj.
Registered User
Join Date: Aug 2013
Location: Atwater
Posts: 37
Yea those shackles scare the crap outta me.. they are not cross tied. Just makes me feel unsafe. I will get a lift for it soon and get new shackles at the same time.
Registered User
Join Date: Dec 2006
Location: Lnxa, KS
Posts: 336
Nice swap. Trade out those shackles. Trade off those tires, remove body lift and cut in half. Use new hardware, 1.5" shorter. Don't worry, standard 7/16 and 1/2 UNC bolts (gr 5 or 8). Make sure to apply antisieze.
Check the vacuum actuator on axle. Vacuum line comes from top of tcase to engage the disconnect.
Remove and apply antiseize to the trans crossmember. Hope the nutserts don't break.
YJ's are know to have rust issue in frame where the shackle bolt and behind doors in front of wheelwell. If you look under the Jeep in front of the wheelwell, its a cavity with a drain hole. For the frame, flush with house hose and move jeep around afterwards to help drainage out of the frame.

Add aggressive smaller tires. Have fun and figure out what you want to do with it.
---
Mike

Jagular
Lnxa, KS
97 TJ SE lifted, locked and rubbered for fun
94 YJ SE stock, 225s, Trail Tested
Electric Chair Operator
Join Date: May 2004
Location: Lexington Park
Posts: 13,494
Looks like a good starting platform.
Quote:
Plans for the future are a OME 4.5 lift
Where did you find/see an OME 4.5" lift at?
Registered User
Join Date: Aug 2013
Location: Atwater
Posts: 37
Think it was a brain fart Joe.. LOL Want to go 4.5 lift and was cruising 4wheelparts.com and seen a 4.5 and brain made an erroneous connection. Its going to be a while before I buy one. Full time school, full time work, husband, father of 2.. time is a premium and money is tight. Thinking this one to get me by. I can work some weekends after the middle of next month when 1 of my classes ends.
http://www.4wheelparts.com/Lift-Kits...Q=Leaf+Springs
Currently Active Users Viewing This Thread: 1

(0 members and 1 guests)
Posting Rules

You may post new threads

You may post replies

You may not post attachments

You may not edit your posts

---

HTML code is Off

---