scubamc
1991 YJ
Atlas 2 Speed 5:1
4.0 w/AX15
Front Axle
76 Ford HP44 Narrowed to Waggy width
Warn Premium Locking Hubs
Alloy Shafts
PSC Hydro Assist Steering
Yukon 5.13
ARB Locker
TnT Truss
Rear Axle
87 XJ Dana44
Alloy USA Shafts
Yukon 5.13 Gears
ARB Locker
Tnt Truss
Crown Vic Disc Brakes
Suspension
Front
Polyperformance 3 Link
with Fox 2.0 Coilovers and Ebach Spirngs
Stretched 3 inches
Rear
Rubicon Express 4.5" Leafs SUA
Dynatrac U-Bolt Flip Kit
Armor
Metalcloak front fenders w/4"flares
Metalcloak Sliders
Metalcloak Rear Corners w/4" Flares
Poison Spyder Steering Skid
UCF High Clearance Skid
Genright Tank and skid
Interior
Poison Spyder Full Cage
Seats tied into cage and frame
Corbeau Seats
Tuffy Console
Custom Dash by Dan at Double D Fab
Autometer Gauges
Exterior
Savvy Tail Lights
Warn XD9000i w/Viking Rope
Trail Ready Beadlocksw/37x12.5x17 Pitbull Rockers
KC Slim Lights
Tom Woods Driveshafts
`````````````````````````````````````````````````` ```````````````
95wrangler4life
95 YJ, 2.5 ax5, NP231 all stock. Jeep started with a 3" BL and 2" shackle lift on 31's
Now:
New Frame
Suspension: 4" RC SUA, 1.5 Booms, 1" BL
Axles: HP30 with 4.88's, aussie locker, custom vacuum disconnect to a grand waggy switch, Rockcrusher cover, stock shafts. 8.8 rear, 4.88's, mini spool, rusty's slider cover, disc brakes. rear axle 1" stretch to allow for no SYE or t-case drop.
Tires: 36 12.50 15 TSL SX's on steelies.
Future mods: Grand Waggy springs and 2" wheelbase stretch to both axles, DIY beadlocks, and SYE.
Exterior bedlined, true trail rig but can still cruise on the street if needed.
Pics: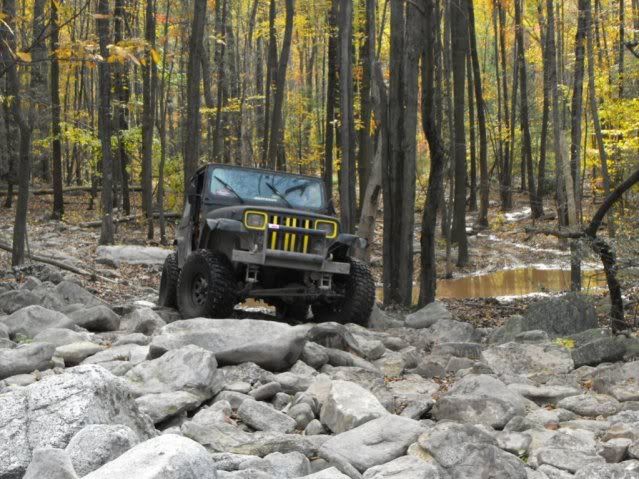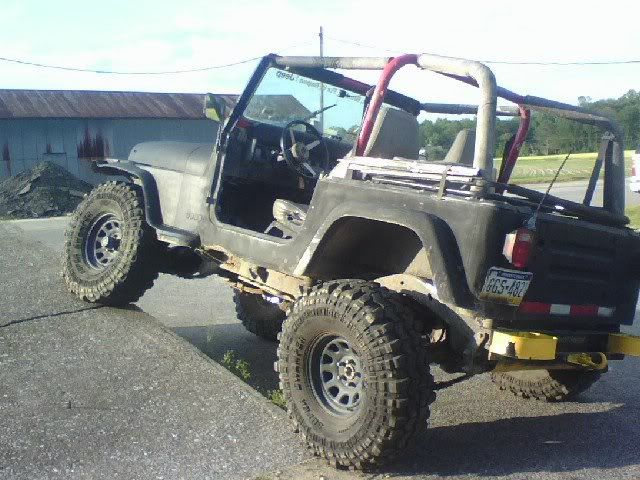 `````````````````````````````````````````````````` ```````````````````````````````````
Tongie
I first got the jeep bug as a young soldier in Southeast Asia . It was my first experience with jeeps
and it was unbelievable to me how these vehicles could go through the bush and mud.
As the years went by I would see great looking modified jeeps without their tops and doors
and developed a case of "jeep envy"knowing that someday I would be able to afford to
build my own. I finally bought her last October, completely stock and rusty.
This jeep is a reflection of my time in the military and the unit I was in. I had
my unit patches copied and made into vinyl stickers and put on the jeep. Found the color code
for Army green from the Viet Nam era and had her painted. Being older now, I didn't want the
rigid ride some lifts afford so at the advice of my mechanic, I put reverse shackles on her and she
rides like a dream now. Fortunately, she's not a daily driver but she's not a mall cruiser either.
This jeep does very well in rocks, mud, snow, whatever you throw at her.
I hope you like her.
1995 YJ
4.0
5 speed
4.88 gears
8.8 limited slip rear end with Auburn Ected locker
Aussie lockers in front d-30
Slip yoke eliminator with custom made and balanced drive shafts
BDS 4.5 inch lift and reverse shackles (another inch lift)
Hand throttle
OBA
33 x 12.50 tires on steel rims
4x disc brakes
Solid diff covers
Sway bar disconnects
Linex interior
Custom made secure trunk
Xenon flares
Uniden cb
Smittybilt sliders, console, seats, and bumpers
8000 lb winch
Full recovery gear
Hi-lift jack
`````````````````````````````````````````````````` ``````````````````````
Autoboy454
Rig Specs:
1989 Jeep YJ
4.2L swapped out for a 94 4.0L/AX15
Short tube intake, Taurus Fan, Walker Cat-back exhaust
NP231 with Crown SYE, cut down Cherokee CV driveshaft
4.10 HP D30 with Lock-rite, TJ shafts/knuckles/hubs/brakes
4.10 Ford 8.8 Open with Disc brakes
Rubicon Express 4" Leafs with Crown 1/2" Boomerang Shackles
33" Old School Goodyear MT/R's
Built Rocker Guards and Rear Crossmember/Bumper Overlay
Smittybilt 3" Rear Fender Flares
Badlands 9000lb Winch
I originally bought my YJ for $600 in August of 2010 from a family friend having always wanted a Wrangler since I was 16. It has been a year-long battle through rust, rot, parts-hoarding, and financial distress (what good are full pockets anyways...) I did all the work myself. Grinding, cutting, welding, patching, prepping, priming, painting, bolting back together. One thing to keep in mind is that the tub and frame in the first picture and the tub and frame in the second and third picture are one and the same. Lots of blood and sweat went into this thing, and I think it is finally time to show the "before and after's" of my self-named "Never-Ending YJ" project.
BEFORE:
AFTER: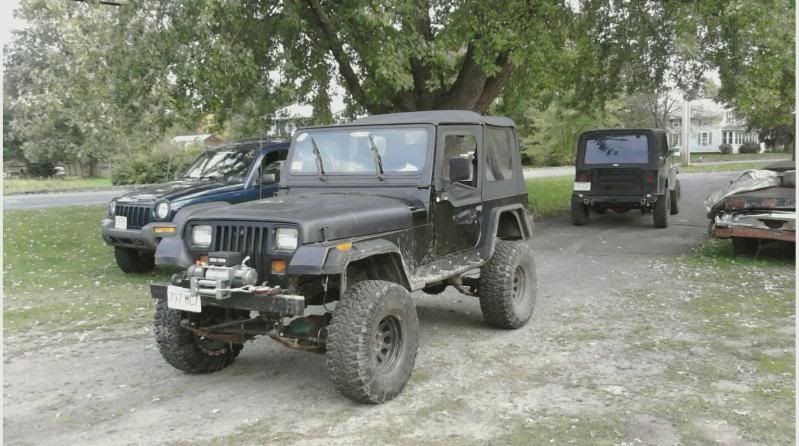 `````````````````````````````````````````````````` `````````````````````````````
stcarter44
specs/mods: i have been slowly building this jeep since i was 16 years old and got it bone stock. with help from my dad and some good friends i have been able to make it to what it is today.1995 jeep wrangler yj rio grande edition, 4 banger, 4 inch tuff country lift, 1/2 inch shackles, tail light guards, 33X12.5X15 mud king mud terrain tires with full size spare, neoprene seat covers, smittybuilt stinger bumper with 9,000 lb badland winch, cobra 25 ltd cb radio, stock axles ( for now) future engine swap either a turbo 6 or a 4bt cummins diesel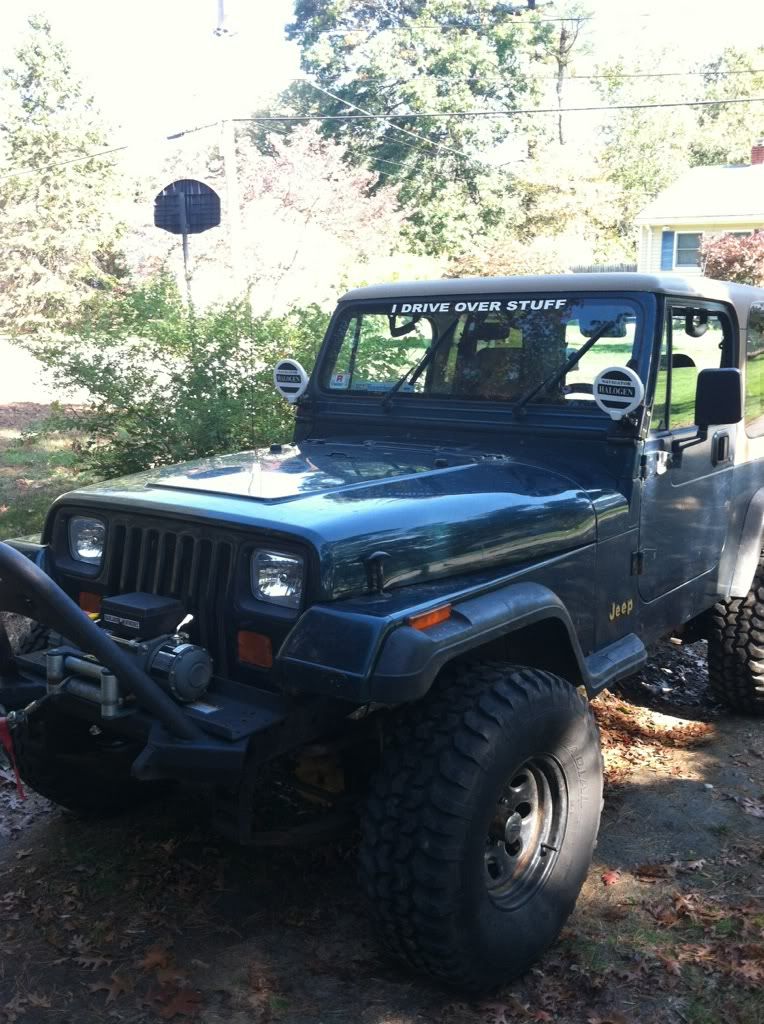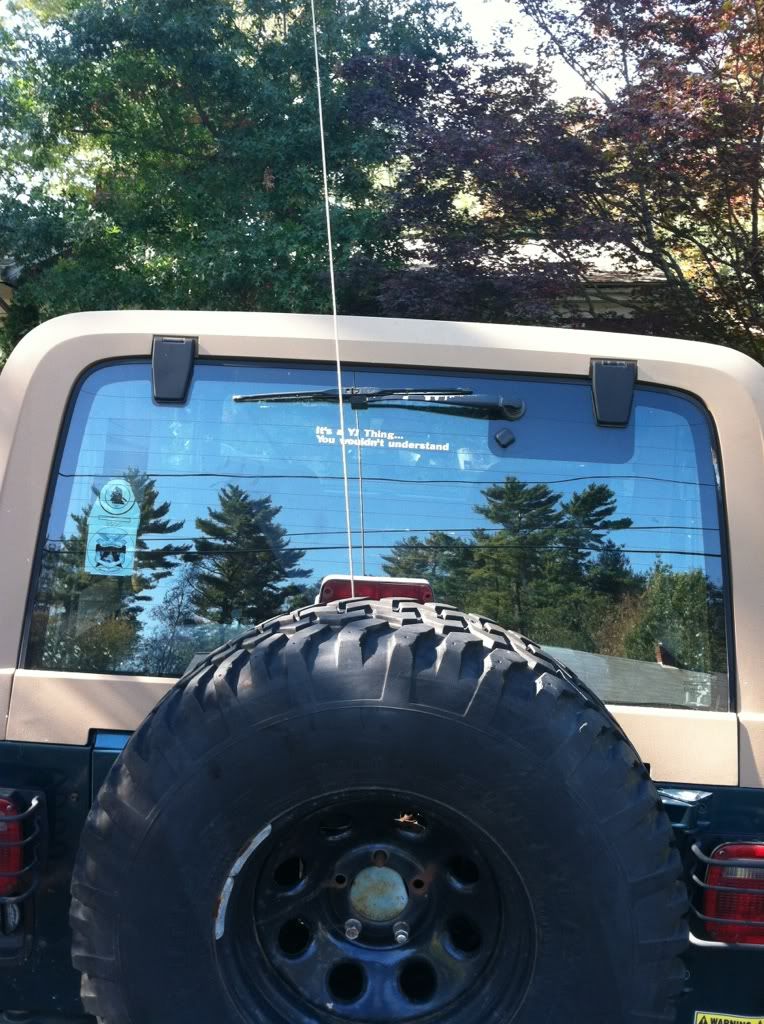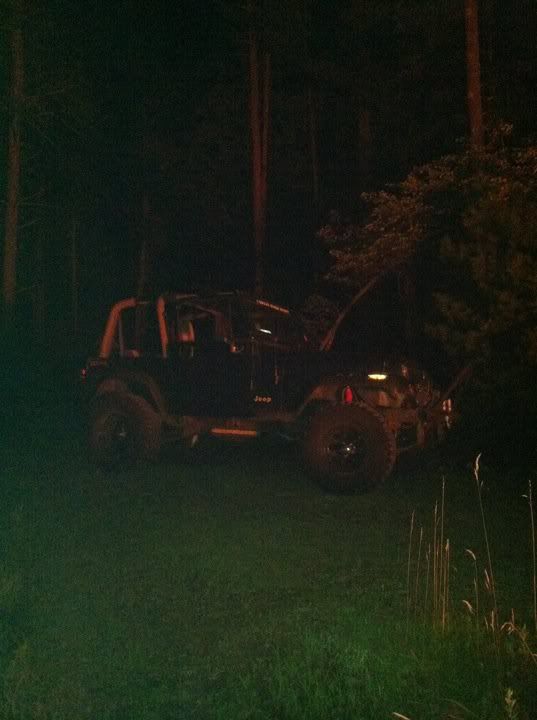 `````````````````````````````````````````````````` ```````````````````
wejeepinn
1987 Jeep Wrangler Laredo
1966 Chevy 327, 30 over, RV cam
Holly Projection
Ford T-18 Transmission
Scout Dana 20 Transfer Case
Tom Woods drive shafts
Front Axle: Jeep Dana 44, 4.88 gears, Detroit, Scout outers and discs
Rear Axle: Scout Dana 44, 4.88 gears, Detroit
SOA Rubicon Express 1445's
Rancho Shocks
"Parts Mike" High clearance steering
Super Swamper TSL Radials 36-12.50-15 on black steel wagon wheels
6 point roll cage
Warn HS9500i winch, High Lift Jack, Tree saver
Corbeau Baja SS seats, harnesses, Power Tank, tons of spare parts
CD player, CB
Custom built rear bumper/swing out tire rack
A bunch of other stuff I'm sure I forgot about
I got into this Wrangler after running a too short, too tall CJ5 for a few years. I had learned a lot on my CJ build on what I wanted and what I didn't.
My plan was to build a steet legal, comfortable, relatively simple (common parts), trail capable rig. I bought the complete, almost perfect body and frame (no motor or axles) from a Jeep salvage yard. I started by pulling the parts out of my previously built CJ (trans, tc, axles, tires,) to go into the new rig. I acquired a small block 327 which I built for the project. After the original build, almost 10 years ago, it's still a work in progress.
I think the Wrangler is the perfect mix of durability, functionality, simplicity, and comfort. My wife, myself and my son can wheel it safely and comfortably. I can put the top on it, the heater works, etc. When they get out it's a very capable white knuckle trail machine.
I have run this Jeep all over the Southeast at Tellico, Coal Creek, River Rock, and many others.
It turns heads wherever it goes and gets a lot of compliments. It has taken a beating and continues to perform. It does a great job on the trail and has surprisingly mild manners on the road.