Registered User
Join Date: Jul 2009
Location: Giles, Va
Posts: 262
OBA Pressure Switch
---
Does anyone know of store that carries this type of pressure switch? Advance Auto, Napa, AutoZone, O'Rileys etc. It's the only thing holding up progress on my OBA system.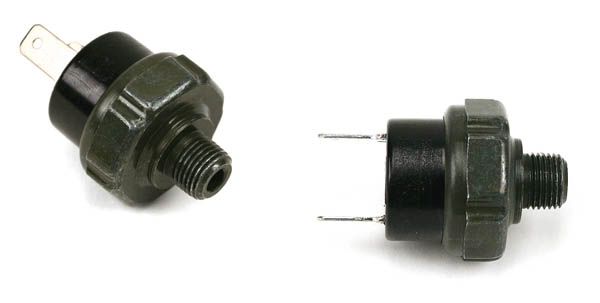 Web Wheeler
Join Date: Aug 2006
Location: Grass Valley
Posts: 16,241
---
Quote:
Originally Posted by George Orwell
We sleep safe in our beds because rough men stand ready in the night to visit violence on those who would do us harm.
Registered User
Join Date: Jul 2009
Location: Giles, Va
Posts: 262
Thanks. i was trying to keep from ordering one, I'm weird like that. But that's the cheapest I've seen so far, so I may just go that route. Thanks again man.
Registered User
Join Date: Jan 2007
Location: San Ramon
Posts: 2,443
Try Grainger Supply, or some other type of contracors supply
---
I can quit drinking anytime I want, but hey I'm no quitter :)


White Jeep Club #224
Registered User
Join Date: Jan 2009
Location: mi
Posts: 4,160
A regular air compressor supply shop should have what you are looking for. The contacts could be rated for 110 ac but will work for a dc just make sure of amperage rating. If I'm not mistaking you should be looking for about 10 amps for the clutch.
---
A 89 yj with a 4.0 aw4 sye out of an 92xj. Now the hard part is done time to get it up in the air just a bit. Working on 8.8 with 3.73 and lsd for the rear. and new D30 hp with 3.73 .
For those who have not figured this out I'm old school but can handle the new too.
Quote:
im just cheap, and cheap makes you creative.
i just bought a cambel husafeld compressor from wall mart cheep that had the switch and a 2 gallon tank and a manifold for all my do dads for like 70 $ i thought it was a good way out.
Registered User
Join Date: Sep 2009
Location: Austin-ish
Posts: 87
kasbiker, can you find a link? I'm interested
Registered User
Join Date: Dec 2003
Location: Morton IL
Posts: 5,806
---
93 YJ SOA 2" springs front, XJ springs rear w/main leaf added, High pinon 9 inch rear detroit locker front Dana 44 ARB 4.56 Gears, 36 inch Irok tires too much to list.
To view links or images in signatures your post count must be 10 or greater. You currently have 0 posts.

Registered User
Join Date: Jul 2009
Location: Giles, Va
Posts: 262
I have one like that, but i don't know which of the outlets to use. It has 4 or 5. It came off a used compressor that was taken apart when I got it. I have looked up the part number and all i could find was replacement ones not plumbing diagrams for it.
Registered User
Join Date: Sep 2009
Location: Austin-ish
Posts: 87
I like that Kasbiker. thanks for the link. did you hardwire it into your Jeep? if so how?
it is a 110v compressor so i had to take it all apart and do the regular oba set up with the ac pump but it has all the required gismos in one packidge so all you would need to buy is an oiler a toggle switch some wire and some air hose. it worked out sweet for me.
Currently Active Users Viewing This Thread: 1

(0 members and 1 guests)
Posting Rules

You may post new threads

You may post replies

You may not post attachments

You may not edit your posts

---

HTML code is Off

---