Fireman4X4
Info: Mad Millie is a 1994 slow work in progress. Finally got a mining job to finance her needs. I am relatively new to the Jeep scene (proud owner for only 2 years now) and have a relatively small tool collection and very limited experience. I have had to do a lot with what I have. But hey, at least I'm doing it! Before we bought it, my wife absolutely hated Jeeps, Wrangler or otherwise. Now she begs to hit the trails. It may not be much to look at, but I would not dream of getting rid of her for anything! A small list of the "meat and potatoes" to my YJ: 3" Black Diamond long arm suspension, 33" GY Wrangler Duratracs, swing-out tire/luggage rack, locked front/rear, XRC8 winch, Alpine 6-CD changer, CB, Tuffy console and trunk, Hella Black Magic lights, custom dome light from an antique fire engine, toolbox under the hood, Herculined interior, stubby bumper, trimmed front fenders and probably a few more minor mods...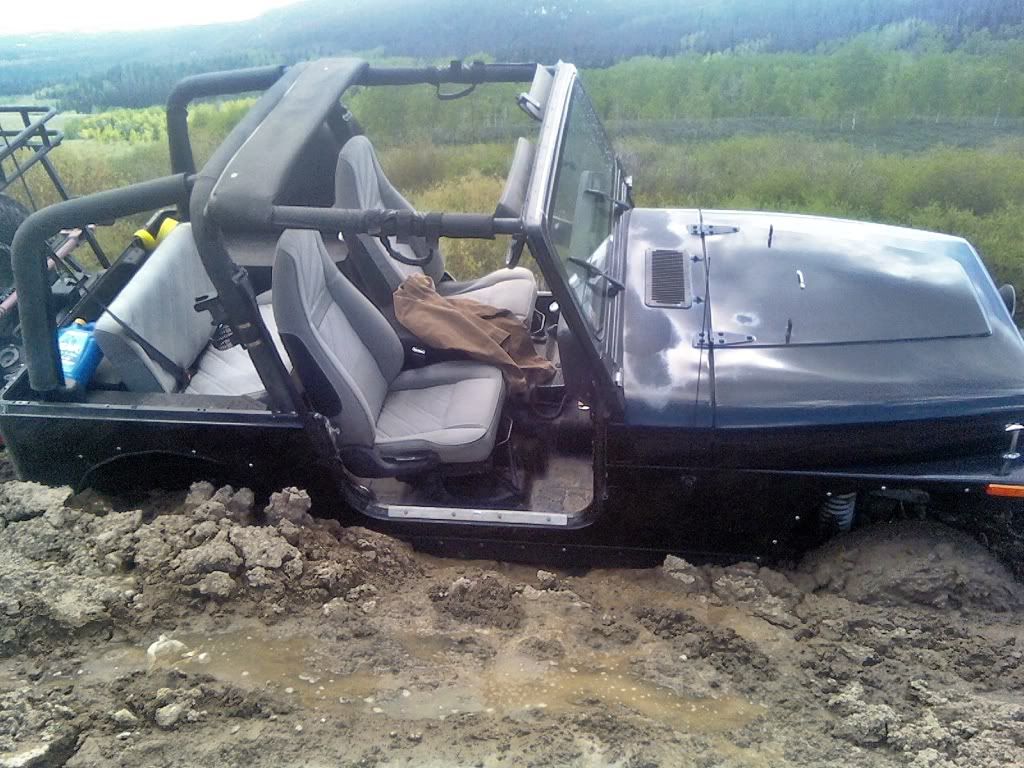 `````````````````````````````````````````````````` ```````````````````````````````
rmappelt
2. I am the original owner of a 1993 YJ. The YJ is still my daily driver to this day and I can't imagine a day when I won't own it. My jeep remained mostly stock for many years and faithfully carried me wherever I wanted to go. Lots of just exploring around central NM while at grad school. My first real mod was a 2.5" Skyjacker lift about 7 years ago. I have recently decided to start modifying my Jeep some more and push the envelope a little more when it comes to Jeeping. The drivetrain is original and has served me well. Probably the biggest changes to date are the 33" MTR-K's, Black Rock Viper wheels (tungsten finish), MetalCloak flares, rocker rails and M8000 winch. I also put on a 1" body lift in preparation for a belly up (as much as I can) down the road. I had a great time Jeeping with the family this summer around Ouray, CO. I also quickly discovered what I wanted my next modifications to be. Up next on the list are new gears (the stock 3.54 just ain't cuttin' it). Since new gears are going in I might as well replace the D35 with a D44, add lockers front and rear (selectable), and SYE. Then I will wheel it and see where to go from there!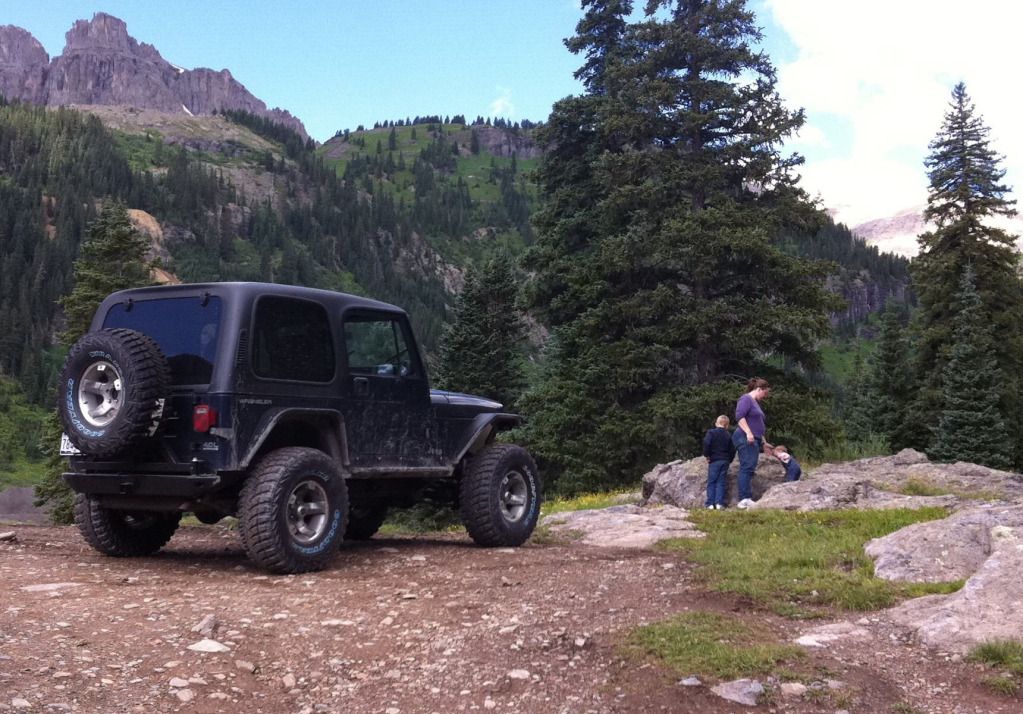 `````````````````````````````````````````````````` ````````````````````````````````````````
Bassnmick
Specs and stuff –
93 YJ
4.0L I six
K&N Filter
AX-15
NP231 with SYE
BDS 3 ½ in lift in back
RC 4" lift front to be replaced by BDS this winter
Bilstein 5100 Shock absorbers
JKS swaybar quick disconnects
Garbage can full of trackbars
Ford 8.8 ARB locker with Solid diff cover (From East CoastGear Supply)
Stock D30 front – (Super 30 and ARB in the plans)
ARB Compressor with air hose attachment
Xenon 6in fender flares
Mickey Thompson Classic wheels with Maxxis Bighorn 33x12.5x15
Or-Fab rear tire carrier
Superwinch EPi 9.0
PIAA 520 ATP driving lights
Home built switch panel for driving lights and in cab winch control
CB radio and junky stereo to keep me entertained
The pictures –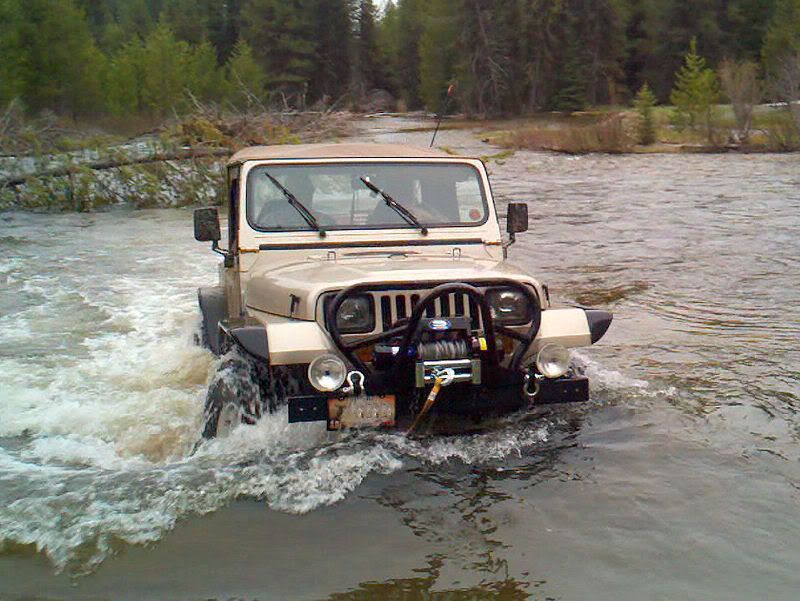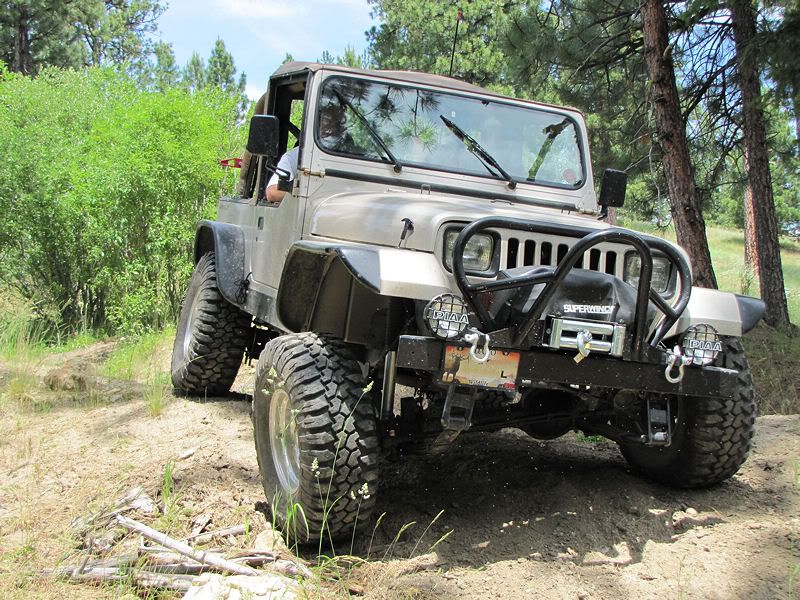 `````````````````````````````````````````````````` ````````````````````````````
YJames90
Jeep: 1990 Wrangler White
Mods:
Chevy 1988 4.3/4L60e/Np231C/J drivetrain
SOA
2" BDS spring lift
1" body lift
On board air modified from factory AC
Pontiac sunfire bucket seats
XrC8 Smittybilt winch with in cab controls
Tj family roll bar /Front CJ cage
33x 12.50x 15 Bf Goodrich KM2s
15x 8 Steelies
Aussie lockers front and rear
Ford 8.8 rear with disk brakes
3/4" boomerang shackles
Front and rear axles stretched out 1 " each
Solid and Riddler diff covers
Dana 30 posi-lok
Rear Custom CV drive shaft
Front Custom drive shaft
slip yoke eliminator kit
Smittybilt front and rear bumpers
Hand throttle
CJ rear cargo storage box
48" highlift jack
Hard half doors
Full soft top and doors
TJ Bikini top
Modified TJ rocker guards
I bought this Jeep a few years back when it was bone stock. Im proud to say that I have done most of the work myself including the engine swap.
Alot of tech help came from many members of Jeepforum .
Thanks to all that have helped !
We are also using my Jeep and our clubs Jeeps to bring supplies to help rebuild the Mount Beacon Firetower in New York
`````````````````````````````````````````````````` ````````````````````````````````````````````
94chb
2: 89 jeep wrangler previously had a 4.2 and auto trans , i just finished my swap and now has a Fuel injected 4.0 H.O. and i also converted to a ax-15.
4.5in suspension lift, 1in shackle lift, 2in body lift. 33 adventuro M/T . 410 gears with dana 30/35 . Cable locker. 8500lb winch. tub is completely rhino lined inside,outside,and underneath.
3:
`````````````````````````````````````````````````` ```````````````````````````````````````````
jeepster93
It has a name: Heap. Not said to be mean but it is my heap o' stuff.
I have had it for 10 years. got it stock and had never been off roading. Boy has that changed!!!
Not a single mod was done at the "shop'. I did everything to this Jeep in my street or driveway myself.
Taught myself to do gears so I could install my own lockers.
Taught myself to weld and bought my own welder, so I could weld on Heap.
Hardly a thing on this Jeep I haven't broken or handled. If you want to get to know auto repair...GET A JEEP!
Specs:
Black with a fair share of chrome(I like shiny stuff)
4.0L engine
5 speed manual transmission
It has 4 inches of BDS lift
33x12.50 Goodyear MT/R tires
Front End:
Dana 30 I pulled off a 1992 auto(because it had 4:11 gears)
Super 30
AlloyUSA 30 spline TJ style axle shafts(no vac disco)
AlloyUSA u-joints(supposed to all trick)
ARB 30 spline air locker
Home made truss
Welded tubes
Ruff Stuff cover
JCR 1 ton steering
Shackle flip
Bumper by High country(a copy of Warn) (A TJ bumper I modded a bit to fit)
Warn XD-9000I winch with 100 feet of 3/8 synthetic rope and a safety thimble(I carry 50 extra feet in a bag too)
Rear end:
Ford 8.8 from some junker.
4:10 gears
Welded tubes
Super88 kit
ARB air locker
Ruff Stuff cover
Garvin swing away bumper
Lite dot rear lights
Shackle flip
Body:
Kilby gas tank skid
Poison Spider trail weld in cage
Poison Spider Rocker skid plates
GenRight rear corner guards with 3 1/2 inch home made and welded flairs
Self made brush guard/light mount
Engine bay+:
K&N FIPK with a True flow filter
Dual Red top batteries
Battery isolator/combiner
Belt driven on board air with a storage tank (also powers my dual ARB air lockers)
Aux fuse box
Thumb throttle
Electric fan
Tera Low 4 to 1 transfer case
AA slip yoke eliminator
CV/DC custom drive shaft
In Cab:
CB radio
12 inch sub with separate amp
500 watt amp
6.1 speaker system
Custom switch set
In cab winch controls
I carry:
I have busted down in places...not good places. So I carry 3 days freeze dried food for 2 and a water filter and light sleeping bags.
A full tool set
Winch recovery kit
A spare unit bearing
All the u-joints(there are like 3 or 4 different ones) spares
Spare air hose for the lockers
Most of the time a handgun
PICS: