Registered User
Join Date: Oct 2008
Location: Philipsbug,PA
Posts: 85
New Winch Plate And Winch
---
So Guys Just Got Back Not Too Long Ago From Putting My Homemade Winch Plate On And Got The New SmittyBuilt XRC8 Mounted Up To It...So Far So Good...All I Have To Do Now Is Wire It Up And Of Course To Test It Out
For My Winch Plate I Got 1/4" Thick Steel Plate. Cut It To The Size That Would Fit Perfectly Between My Bumper And The Grille. Slipped Down Perfectly(After A Few Visits To The Grinder) Got It Lined Up Nice And Welded The Whole Way Around. If It Breaks Off I Will **** My Pants.
Problem Occurred During This Homemade FAB. See I Got So Worked Up On Just Trying To Get The Mount To Slip Nicely Into The Space Between The Bumper And Grille That I Completely Forgot To Build A Very Important Part. The Roller Had Nowhere To Lay Its Head. So Three Generations On My Family (My Pap, Dad, And I) Put Our Heads Together And Decided To Weld A Plate Straight Off The Bumper Cut And Drill Holes And Then Mount The FairLead Roller On It.
So I Like To Hit A Lot OF Water Holes And Was Wondering Where Do You Guys Mount Your Solenoid Box? I Was Thinking Of Getting Something Like A Tubberware Dish And Place The Solenoid Box It That To Protect IT From 99% OF Water.
Another Thing How Did You Guys/Gals Hook Up Two Batteries?
---
.:Frank-You:.
94 YJ 2.5L
97 TJ 2.5L
Registered User
Join Date: Apr 2008
Location: Tennessee
Posts: 180
I've been looking at getting one of the new Smittybuilt XRC8's myself and didn't see any winch mounting plates that were factory made. Do they not make one or will another manuf. work? Is this why you made your own or just something you wanted to do?
Got my eye on you.....
Join Date: Apr 2005
Location: Syracuse, NY
Posts: 18,613
Most plates in the aftermarket are drilled for the two most common winch bolt patterns. And most companies follow those patterns.
---

To view links or images in signatures your post count must be 10 or greater. You currently have 0 posts.

Congenital Heart Disease is a reality for me, BOTH of my children have it. Please read up and become aware for future generations
Lydia Ann-Acquired 08/05/05 Open Heart surgery 08/10/05
Jacob Patrick-Acquired 01/17/08 Open Heart surgery 02/15/08
Registered User
Join Date: May 2005
Location: Colchester, VT
Posts: 939
pics? lets see your work!
---
1993 Jeep Wrangler
4.0L Tom Woods rear HD shaft
D30 w/yukon alloys, lock right, jb4x4 bracket, Rusty's HD tie rod 8.8w/ LSD,SOA xj rear 100" wheelbase, homemade greasable boomerang shackles, SS braided lines, 1" prothane body lift, 35" TrXus M/T, smitty built XRC.
lots of gen right armor and rear stinger.
Registered User
Join Date: Jun 2008
Location: Lake Worth, FL
Posts: 767
I removed the stock jack assy., bent up a pc of metal to form a "c". Mounted the solenoid box by the battery. You will have to run different cables to the winch. The stock cables are too short. I also removed the controller connection and ran wire to a remote location by the top of the grill. Its just below the hood(high water line) and then you dont have to open your hood everytime you need to use your winch. You can use the same battery if it has multiple posts. Look closely in my pic. Side terminals for starter, top for winch and accessories.
---
--------------------------------------------------
Firefighters Jeep Club


To view links or images in signatures your post count must be 10 or greater. You currently have 0 posts.

Registered User
Join Date: Dec 2008
Location: east texas
Posts: 1,367
---
Sold) 94 YJ, 4.0L 5 sp manual, Hard top, 33/12.50s, 4.10 ring&pinions, Polished D30 w/Aussie front, 8.8 rear w/ LS, 2.5" RC, 2" BL, 5/8" booms, TJ flares, SYE, custom F/R bumpers and rock sliders, 8k winch, dual optimas, HO alt.

2) (Sold) 99 TJ, mustang 5.0 GT 40, AX15/231J, trektop, 37x12.50r17 cooper STT, superlift 6" long arm, D30/44 w/ ARBs & yukons, customized warn bumpers, custom sliders, 12K winch w/ synthetic rope, custom paint

3) 2007 JKU being built now
Registered User
Join Date: Oct 2008
Location: Philipsbug,PA
Posts: 85
where is everyone mounting a second battery or aren't you guys using two?
---
.:Frank-You:.
94 YJ 2.5L
97 TJ 2.5L
Registered User
Join Date: Oct 2008
Location: Philipsbug,PA
Posts: 85
heres some pictures of it
Product
Before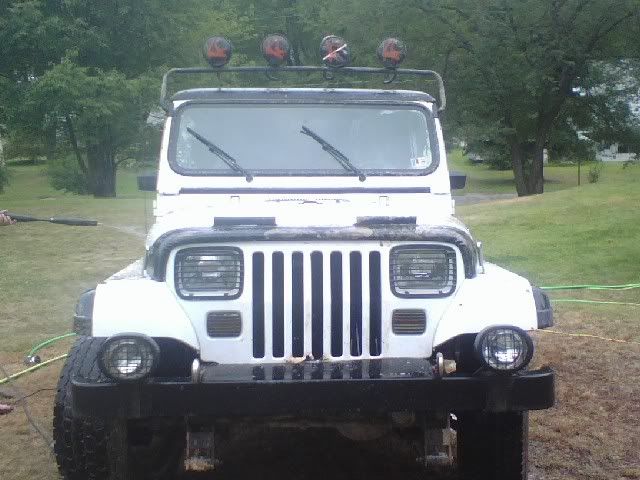 Almost Done
Got Winch Mounted on HomeMade Plate
Homemade Roller And Looks Like A Sweet Little Push Bar
Just Have To Wire It Up
---
.:Frank-You:.
94 YJ 2.5L
97 TJ 2.5L
Currently Active Users Viewing This Thread: 1

(0 members and 1 guests)
Posting Rules

You may post new threads

You may post replies

You may not post attachments

You may not edit your posts

---

HTML code is Off

---