Registered User
Join Date: Sep 2013
Location: Carlisle
Posts: 11
NannerHammock's build
---
So I'm going to start a build thread. It's going to be a slow process, but I'll document as much as I can here.
Here's the lucky subject:
95 Wrangler
2.5/AX5/NP231
Soft top, hard top, half doors, full doors all came with it
Stock except for aftermarket 15" wheels, 235/70/15 tires and rear tube bumper
Price: free.99
That's right. Got her for free. My girlfriends dad had it for a few years until the brake line rusted through(or so he said but I haven't found it yet) so he said I could have it and do as I wanted with it. Here's how it looked when I picked it up: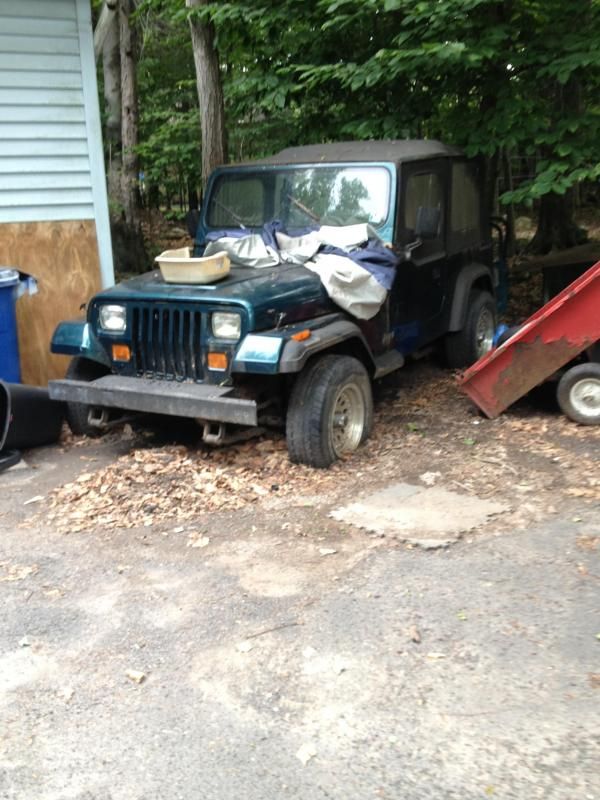 So I cleaned it up and got all the spiders out of it and here's how it turned out: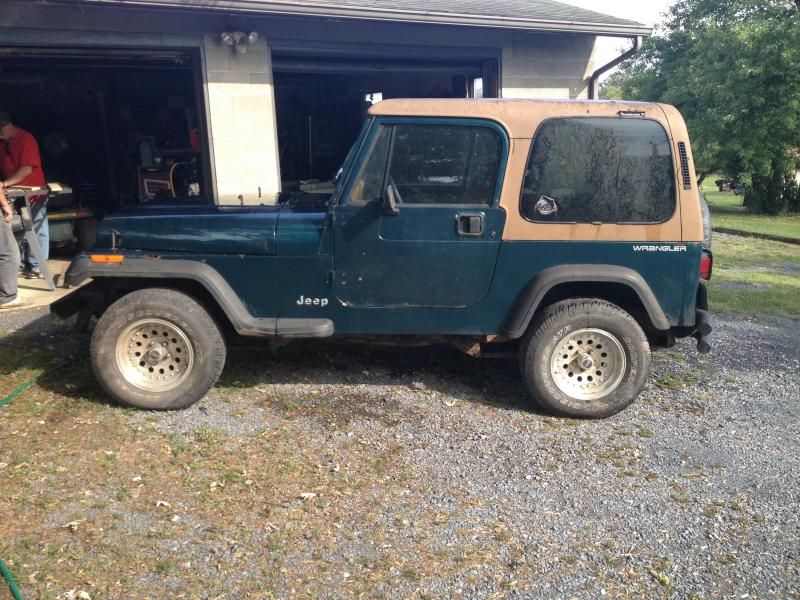 So I got to looking around and it needs a few things which I will be putting pictures of on here. Started to work on getting the tub off and here's the body mount bolts: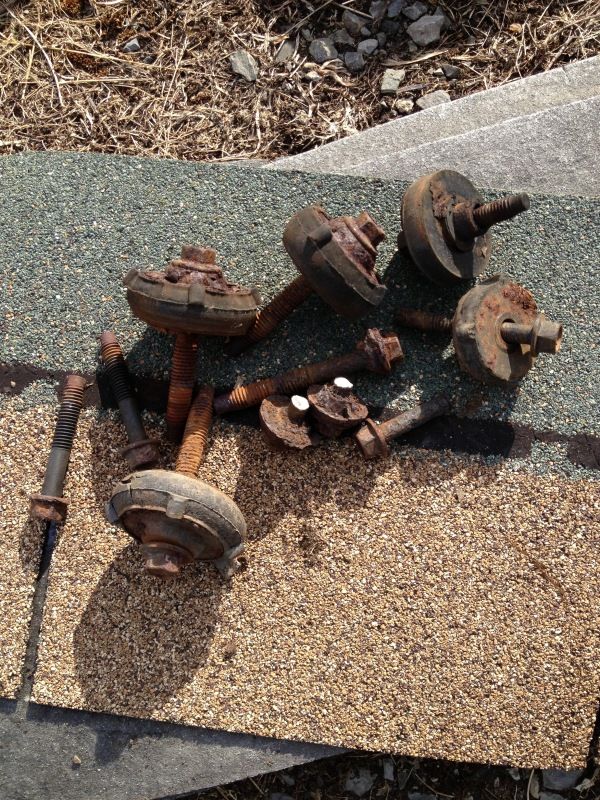 As I figured, 3 snapped. Two look really good still though. Those were the ones right in front of the tank. Gotta work some more on getting the tub off and then it's time to start fixing the frame. Pictures of the frame to come soon. Hopefully I'll have more to post tomorrow.
---
Last edited by Nannerhammock; 09-19-2013 at

12:39 PM

.
Web Wheeler
Join Date: Oct 2012
Posts: 1,113
Wow what a deal! Did you get the hard top also. Glad to see its getting back on the road or off-road.
---
Waiting on my Rough Country lift to sag!
Yessir. Got the hard top, a soft top, half doors with soft uppers and full hard doors too. I think I got a pretty darn good deal.
Here's how far I've gotten with tub removal other than body mounts bolts out: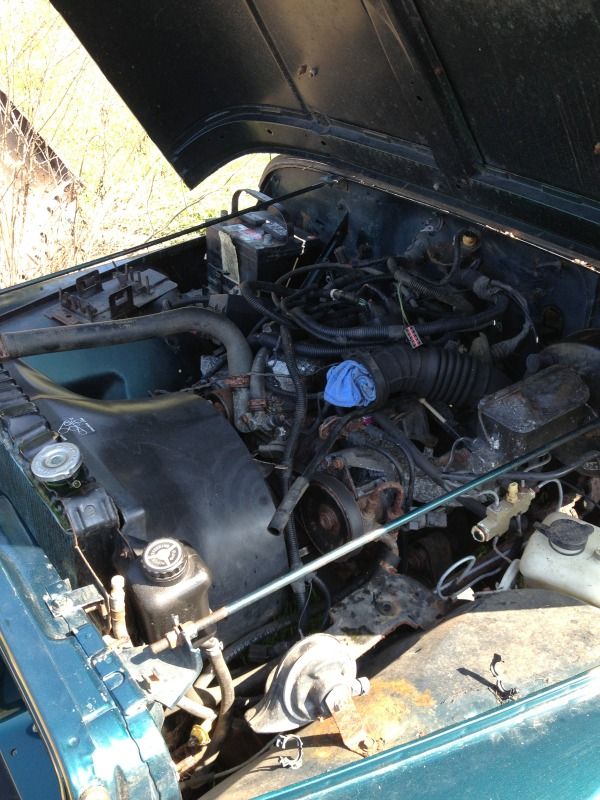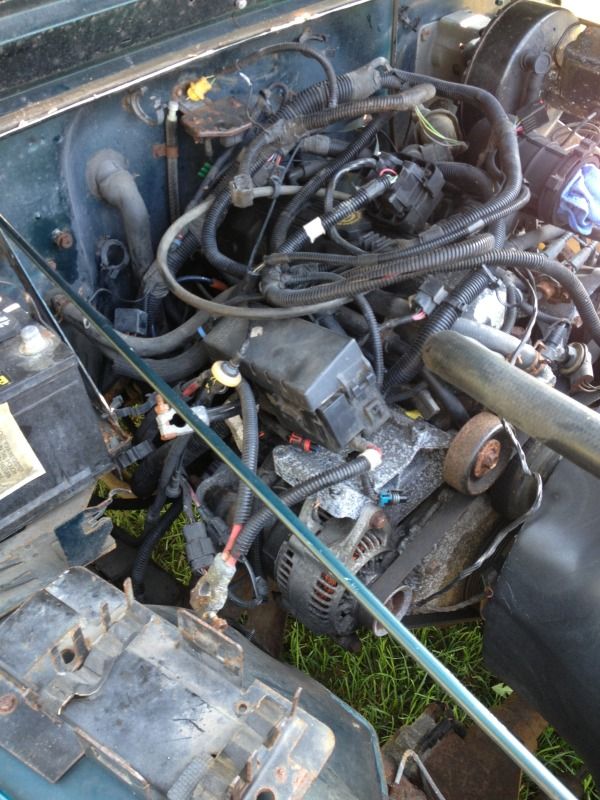 I started poking around more and here's the scoop on the frame: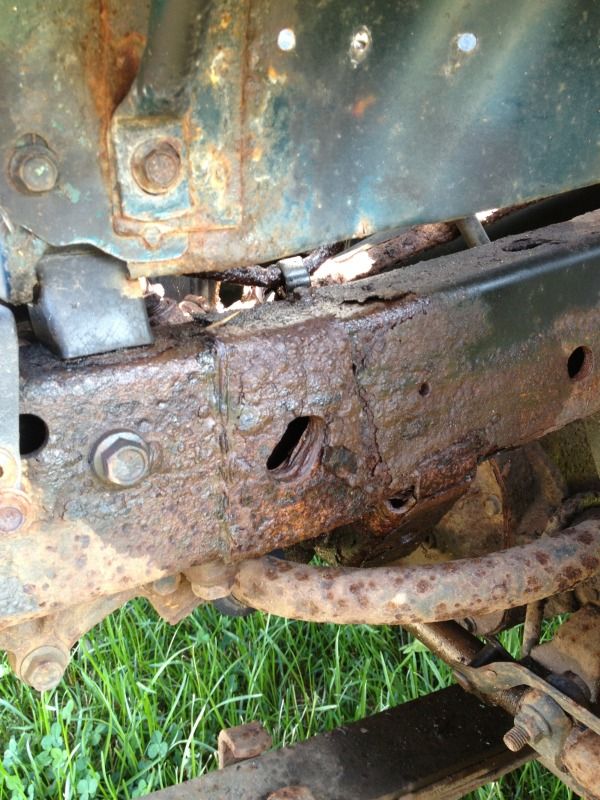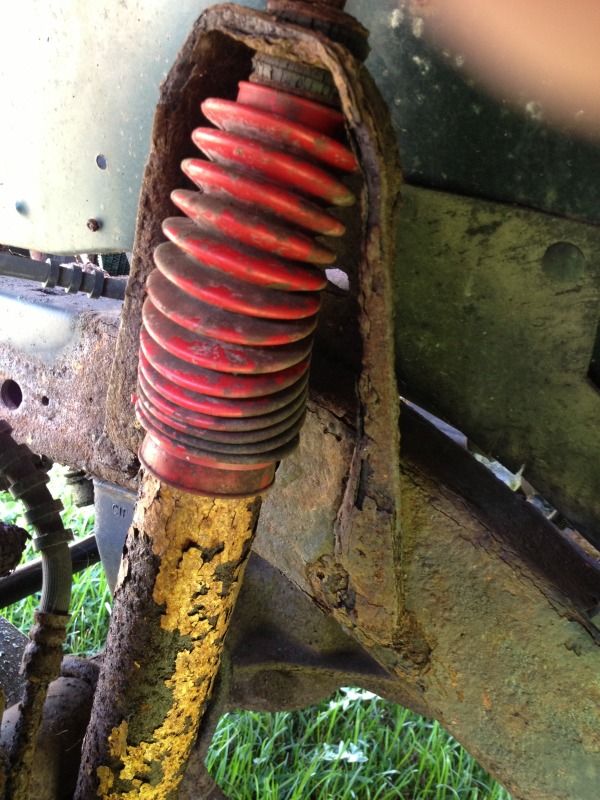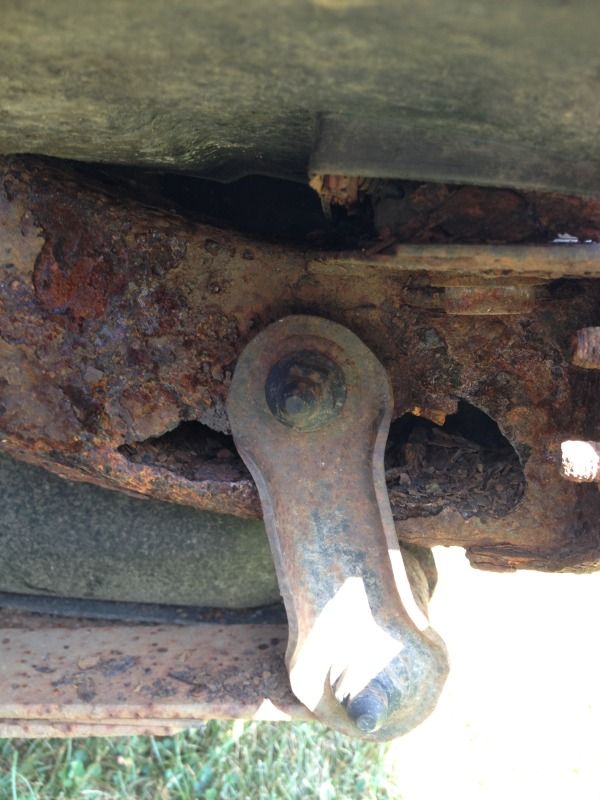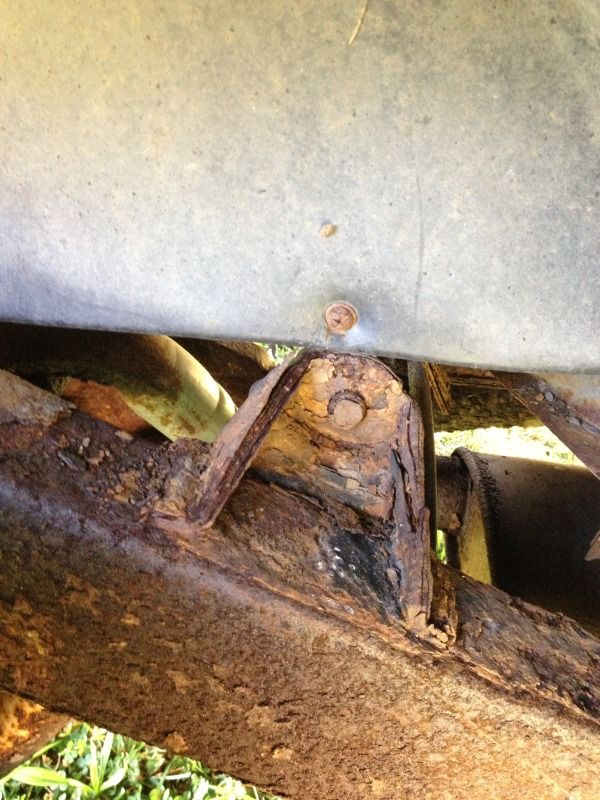 So it's definitely going to need a good bit of frame help. Once I get the tub off and get to grinding I'll see just how much needs replaced. Also needs attention in some other areas too. Shocks are rusted to hell, skid plate rusted through all the way round the trans mount, rear track bar bracket rusted halfway through on the axle, LR shock mount broken off the axle, LF fender rusted through and is rusted at the tub where it mounts.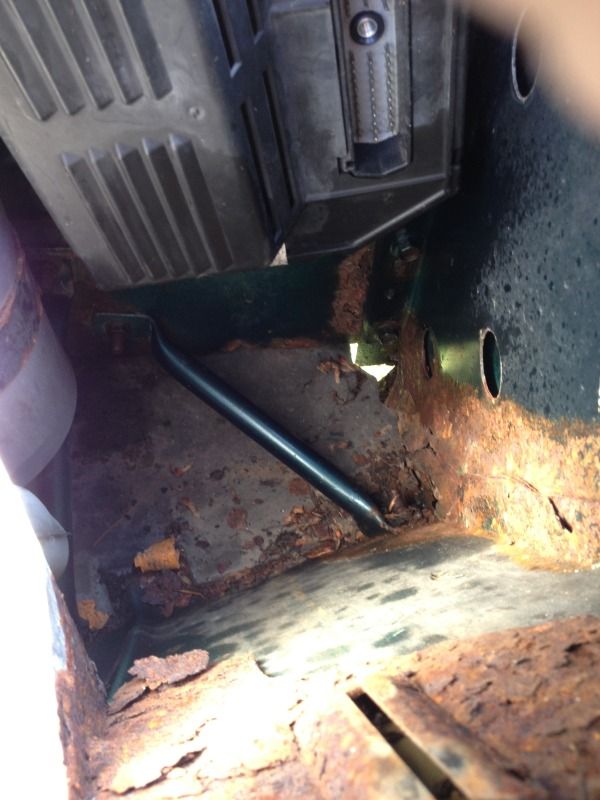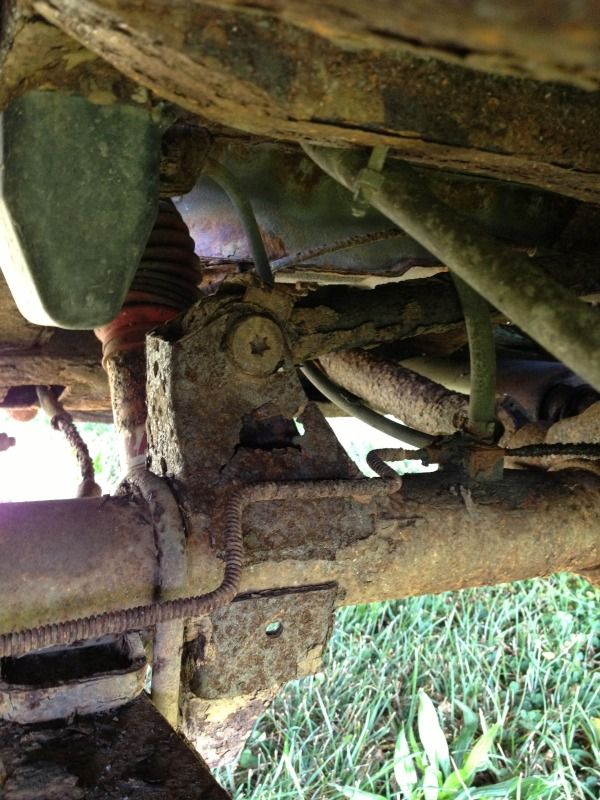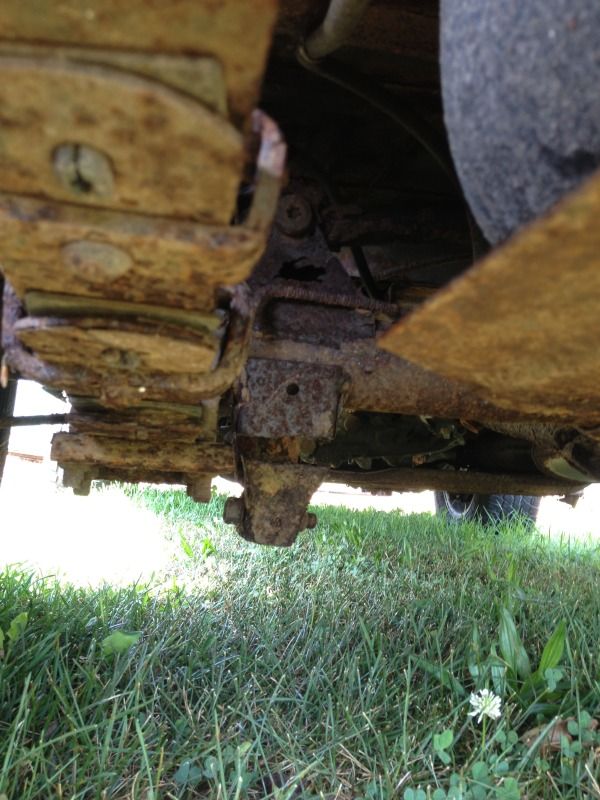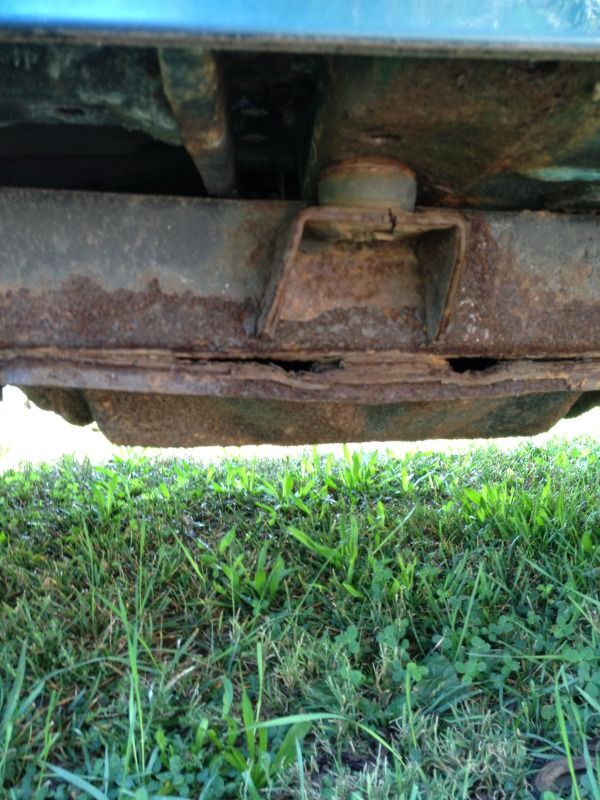 The interior isn't too bad. Needs a real good scrubbing and the carpet tore out but looks solid overall. I'm kinda scared to pull the carpet though, I think the rust monster probably got to the tub too.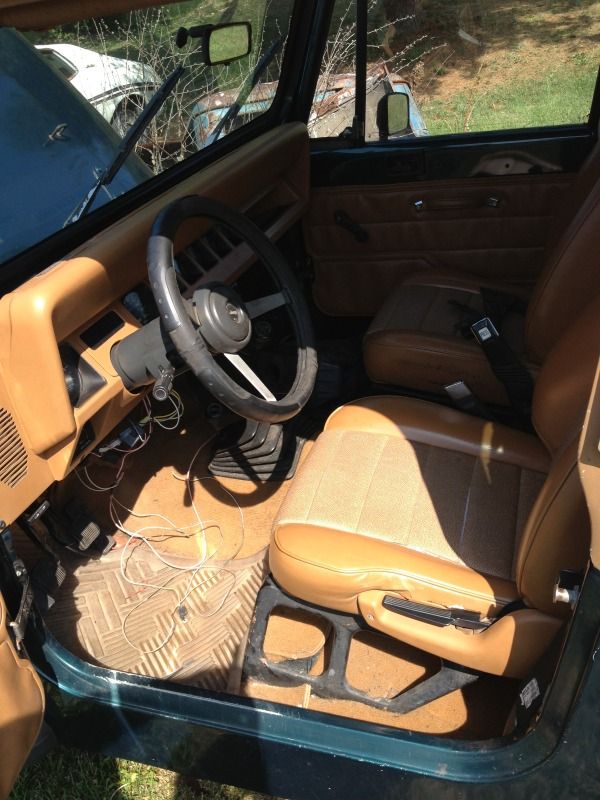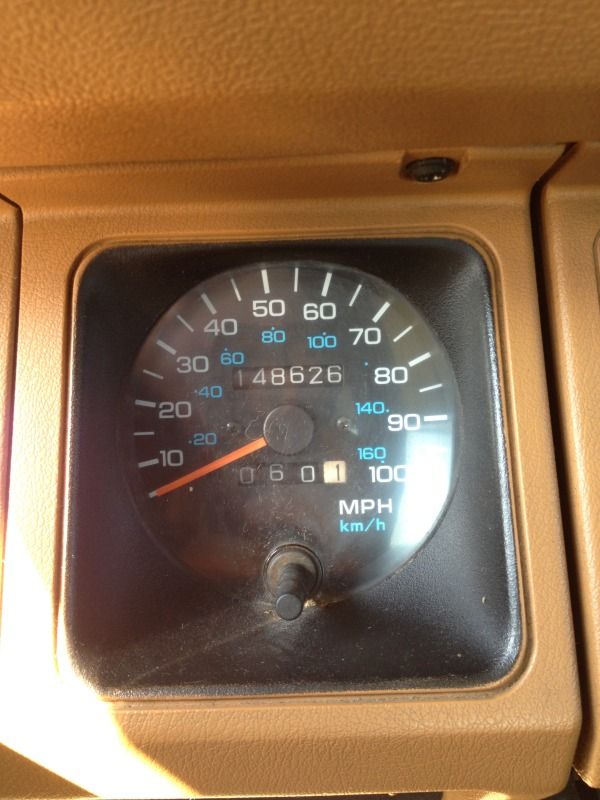 And here's the tube rear bumper. Idk who made it, any ideas?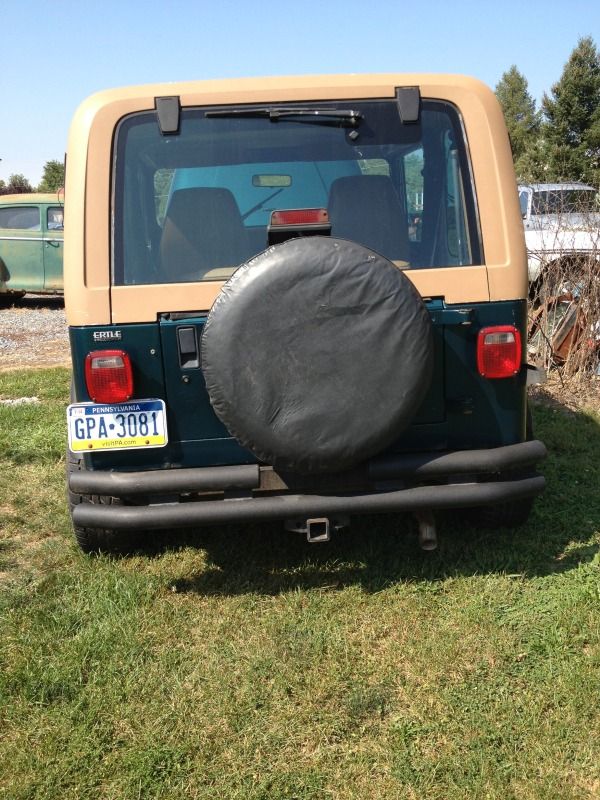 I got my work cut out for me. But at least it's a real jeep this time instead of what I previously drove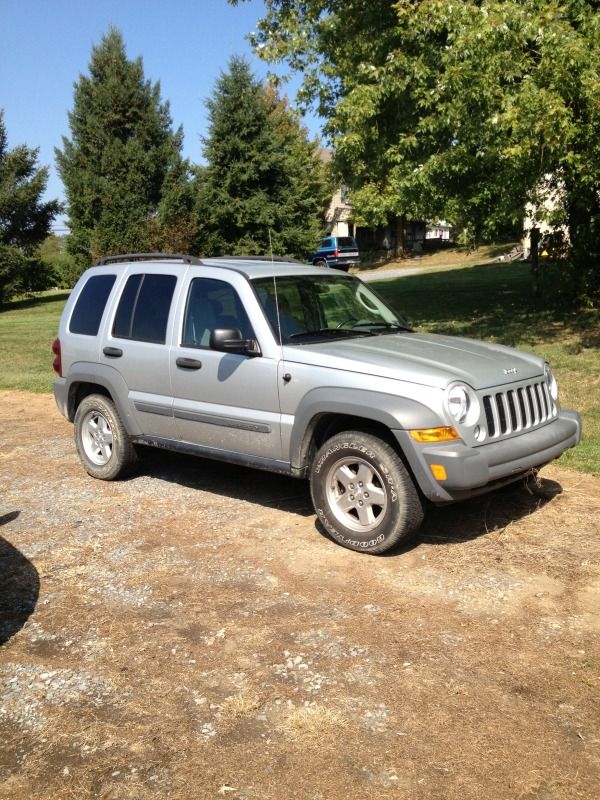 Registered User
Join Date: Jan 2009
Location: Tucson
Posts: 198
Hey that's a JEEP. Just a mall crawler instead of a rock crawler. Looks like you need a new chassis.
Registered User
Join Date: Feb 2012
Location: Greenfield
Posts: 410
Reminds me of mine when I first got it. In for a build !
Registered User
Join Date: May 2013
Location: Fort Wayne
Posts: 220
Sweet find, great price! She might just need a new frame. Of course anything is fixable but...

Watching...
---
My build: http://www.jeepforum.com/forum/f22/95-yam-project-1527472/?highlight=
Got some more done this weekend. I think I'm ready to pull the tub. All I need to do now is bribe a bunch of friends with beer to help me do it. Here's how she sits as of now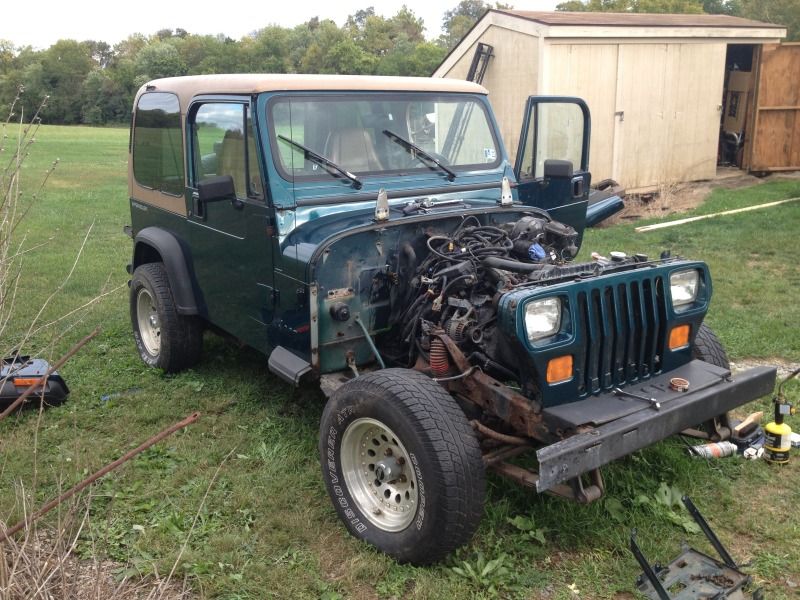 Not sure if you can tell by the photos but it really needs a lot. Like needs brakes(lines,hoses,rotors, I would guess pads), axles are very rusty(probably could be taken care of though) shocks for sure(RS5000s, think the RS stands for "Rusty ****e"). Guess I'll be looking for axles soon.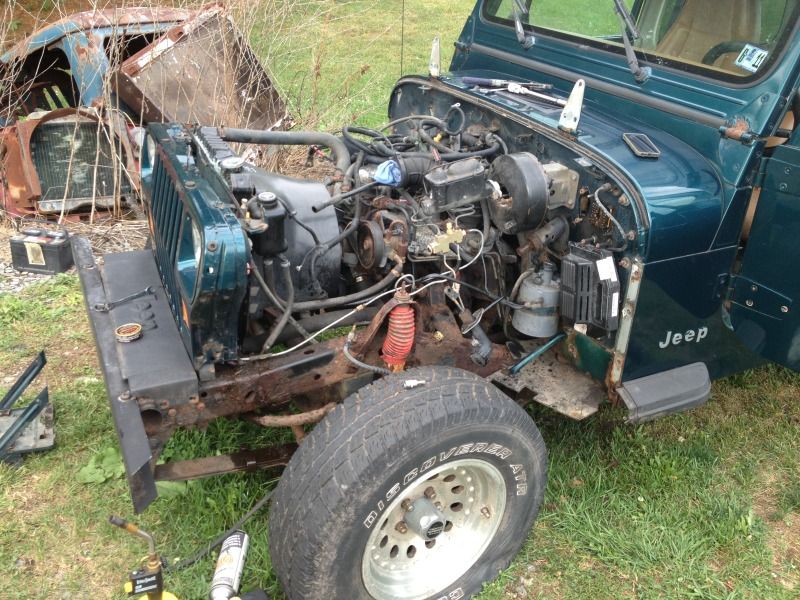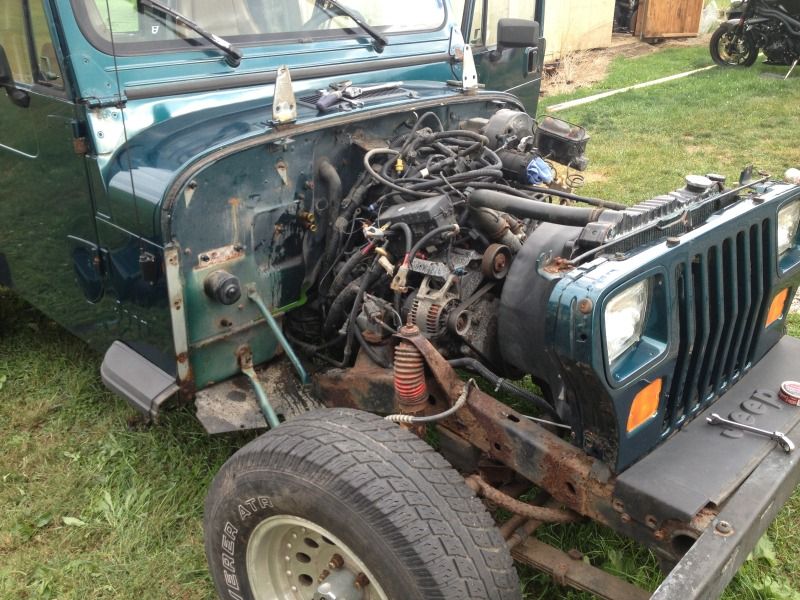 Here's the inside. Only issue here is I can't get the Tcase shifter handle off and it is very stuff moving through the selections. I need to take a closer look once the tub is off and see if I can fix it.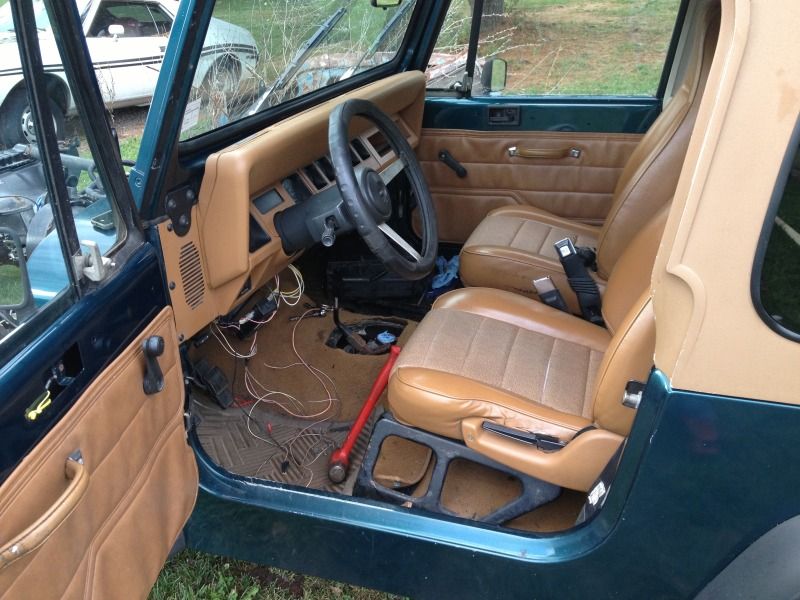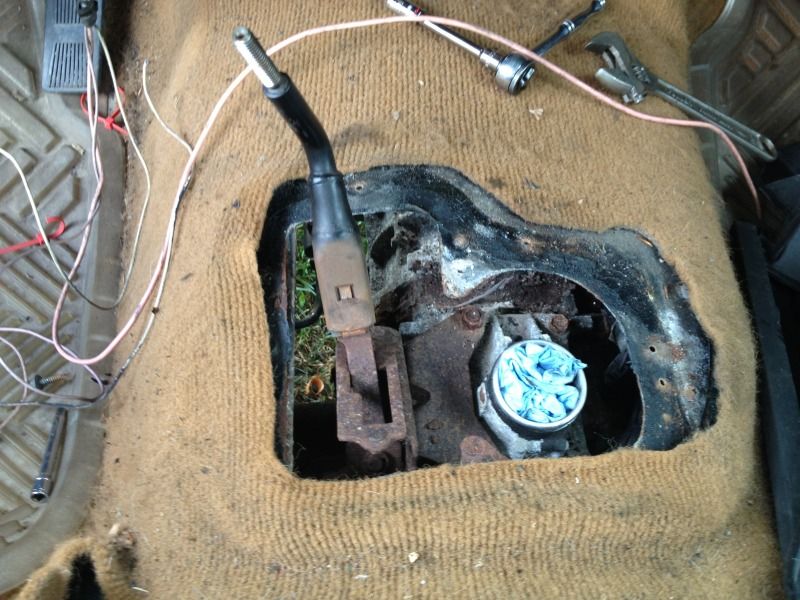 The only real issue I had this weekend was getting the steering shaft to collapse so I could remove it(which it didn't collapse but I got it out anyways) and the lowest fender to tub bolt was a bastard, it broke the weld but loose so I had to vise grip it so it would come out. I didn't get a picture of the driver side fender but it's completely toast. Rusted to hell. Ill also be looking for one of them. Along with a billion other things. Who wants to give me some parts so I can get this turd on the road?
Oh and here's some pictures of my buddy Bradley. He's a rescue from SC, they found him on Bradley St in some town, that's how he got the name. He's a little crazy but I love this little guy. Can't wait to take him Jeepin with me.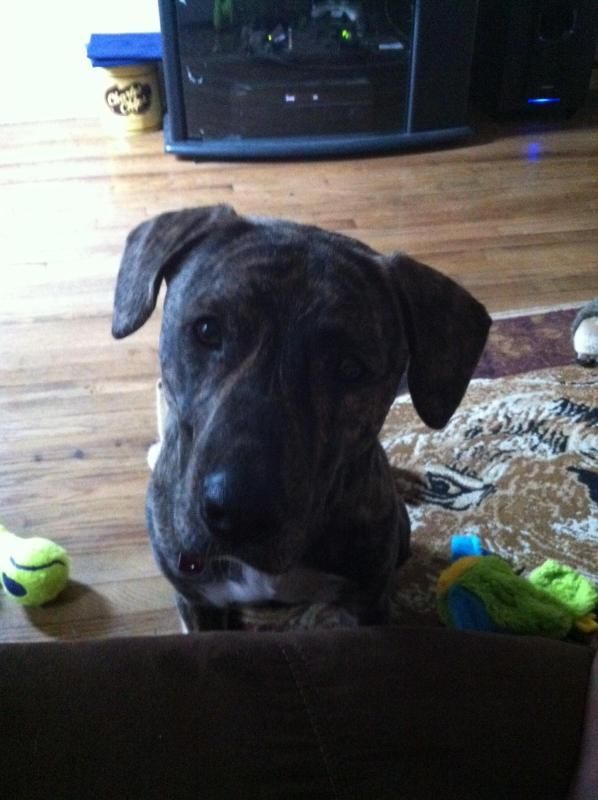 He's a little ham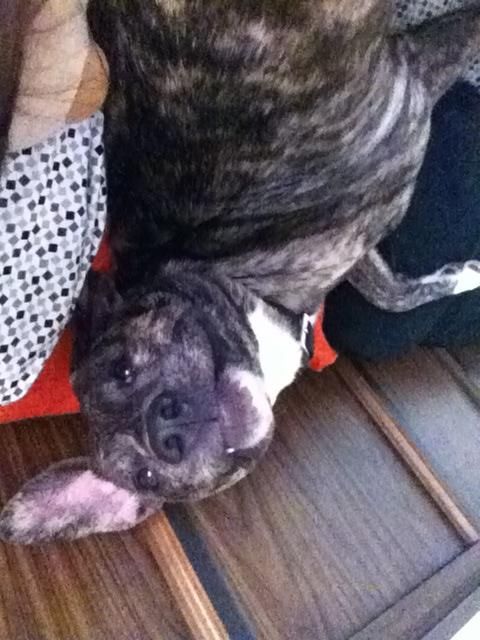 He likes to move right before you take a picture so that it's blurry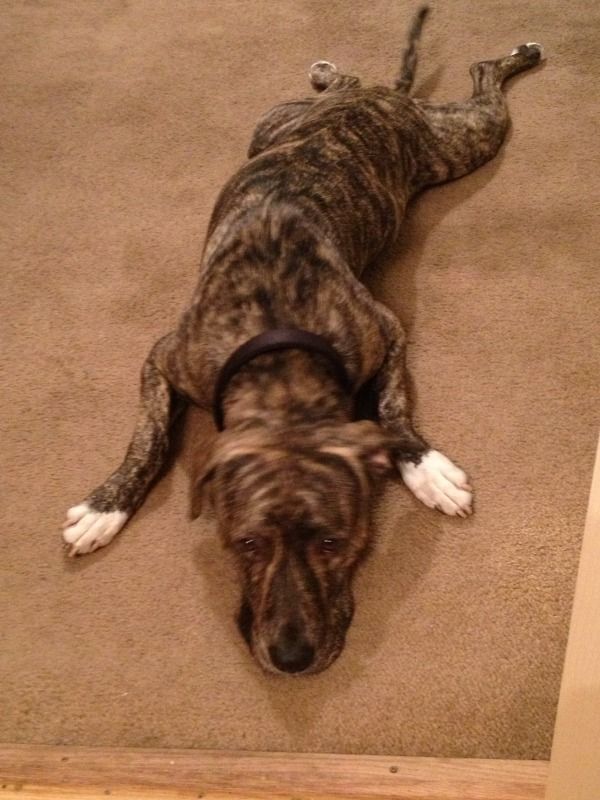 No progress lately. Still trying to source a frame. Anybody in PA have any leads on a good one?
Found a frame and axles for $200. Still has factory paint on the frame. It has AMC V8 motor mounts welded on it, so ill have to cut my 4 cylinder mounts off the old frame and weld em on. I also went to the junkyard this weekend looking for wagoneer springs and D44's, with no luck. I did however find an 85 Cherokee that should have CV joint front axles. Any reason to pull them or leave them? I don't plan on wheeling this thing much with the D30 in it but hear the CVs are better for regular driving(such as snow or easy trail riding in 4wd). Any opinions?
Currently Active Users Viewing This Thread: 1

(0 members and 1 guests)
Posting Rules

You may post new threads

You may post replies

You may not post attachments

You may not edit your posts

---

HTML code is Off

---