My "slowly upgrading" build thread...
---
Excuse the title but with so many hardcore rebuilds going on I would be a little embarrassed to call this a "build" thread. I'm putting this together so I can keep track of what i'm doing and for some input!
First of all, bought my stock '95 YJ back in April. It was my first Wrangler and loved it. But I think the whole excitment comes from not what you have, but what it's going to be...
Here's what it looked like when I first picked it up. 165,000km's with about 85% service records. Very clean with not much if any offroading.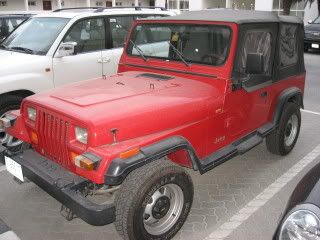 The first thing I did was cleaned it up and then took the advice of everyone here and gave it a nice full service - couldn't believe the difference in the transmission after the flush and fluid change, drove like new...
Spent the summer (in Dubai AKA - HOT) tinkering with it here and there trying to decide on lift and tyre combination. Trimmed and repainted the fender flares usin Krylon Fusion flat black. Would recommend to anyone, good paint.
You can see above how lucky I am with the rust, from past experiences with older cars I wasn't looking forward taking those flares off. After that I preferred the clean look so much, I wanted to go about "cleaning" the rear end. Bye Bye spare tyre.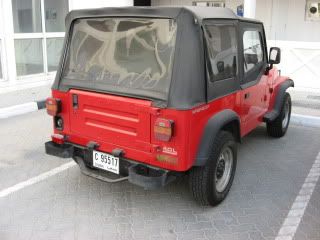 Now that was done I had intermitent problems with the cooling system and thermostat etc. That was a little frustrating because the dealer seemed to want to sell me a radiator hose that clearly doesn't fit my radiator, they kept saying "cut it". I made the old one work, for now.
After getting back from vacation I decided I hadn't spent enough money, sooooo... bring on the lift! This is what I would consider a eureka moment for a Jeep owner, when their baby finally grows some legs. I went with the 2.5" RC (vehicles fail their annual test out here if they are too big...
). Got that done and having some horrible vibs, getting a TC drop tomorrow. Here's how it looked on stock rims: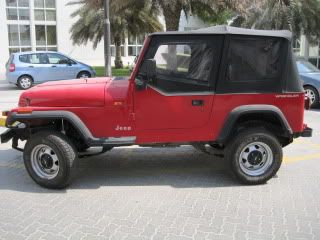 However, I had been searching for rims all summer and nailed these nice MT's from a mate, painted them black and bought shiney new centre caps from quadratec. Wrapped them in 31x10.5 Nitto Dune Grapplers (if the devil made a tyre, it would look like this).
My next mod is my TC drop and after that def the bumpers. To achieve my clean look at the back i'm getting the TJ rear bumper, must get rid of those 'ettes'. Then I think some paint work, followed by engine mods!!
Anyway guys, thanks for looking - it's not impressive but time is a constraint when you work hard and play hard (that meaning - taking my wife and daughter to shopping malls on my days off...)
Cheers
---
Did you hear about the ice-cream man who was found dead covered in hundreds and thousands?

He topped himself...