Registered User
Join Date: Apr 2002
Location: Crosby, Texas
Posts: 196
My 89 YJ Build
---
Alright, just thought I would document my Jeep build on here. OK, It's a 1989 YJ, 4 cyl 5sp. that I picked up for a grand.. Didn't run when I bought it, thought it was the fuel pump. When I got it home I noticed it was missing a the fuel pump relay by the battery....hmm $10 later she fired right up. Thought about turning around and selling it, but decided to keep it and build it.
So here are the specs.
Dana 44 front from a 1979 F-250.
Rear 14 bolt from a 2003 2500HD with factory disc brakes
37" BFG Krawlers on some H2 Wheels
Wheelbase is 102"
Front springs are a hybrid pack consisting of stock waggy front main and second leaf and a stock wrangler pack minus the main leaf. About 2" Stretch
Rear Springs are stock toyota spring from a 1985 truck, provides about a 5" Stretch and offset perches for a 6" stretch.
The day I dragged it home.
Cleaned the Jeep up and moved it in the garage.
Pulled the axles and sold them for $400
Removed the front fenders, Will build some tube fenders soon.
Here is a pic of my hybrid Waggy/YJ pack (front of pic) and a stock Waggy pack (rear of pic). I wanted to keep this build low, and this hybrid pack seems to be what I wanted to achieve.
Rear toyota springs in. May need to add a leaf to this pack.
Back on all fours on roller tires.
Measure the Wheelbase.. 102"
My new Jeep bling
Ugh oh, need to break out the sawzall
Just a rough cut. Will get some Genright stretch corners to make it look stock.
Looking like a real Jeep again.
Flexing the Suspension
This is where it stands now. Will build some tube fenders this week. Just need to get the brakes done, Driveshafts, steering and shocks and hopefully be able to get this thing out of the garage.
Registered User
Join Date: Jan 2008
Location: Portsmouth
Posts: 2,660
Yep, a few things, Been really busy the past few weeks with other things and haven't had much time to work on the Jeep. I will be off the last 2.5 weeks of the year for vacation, so I've been collecting a few parts here and there a to hopefully get the majority knocked out during that time.
I started on the tube fenders. Still need to bend the bottom brace.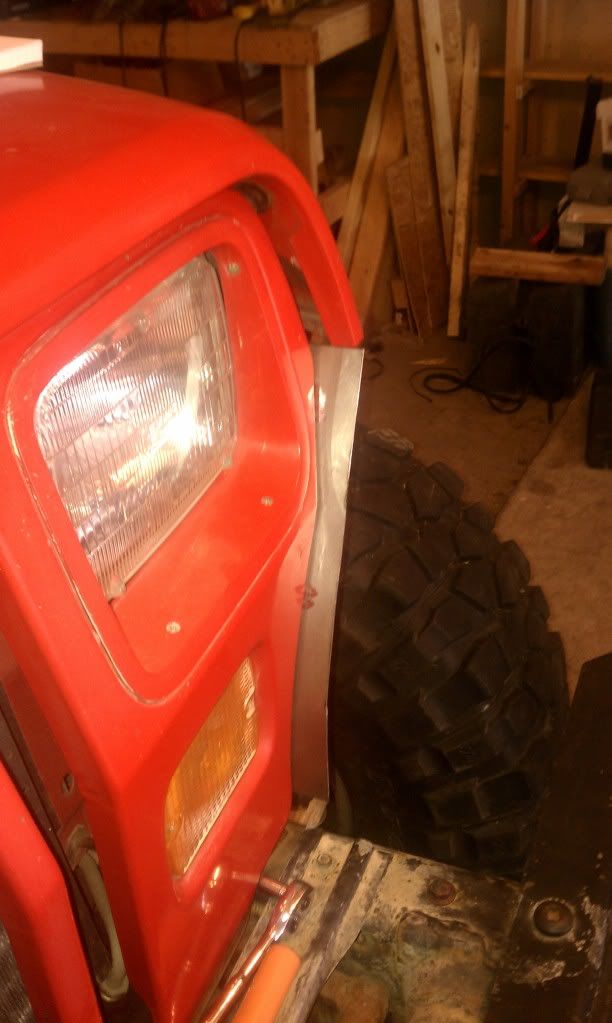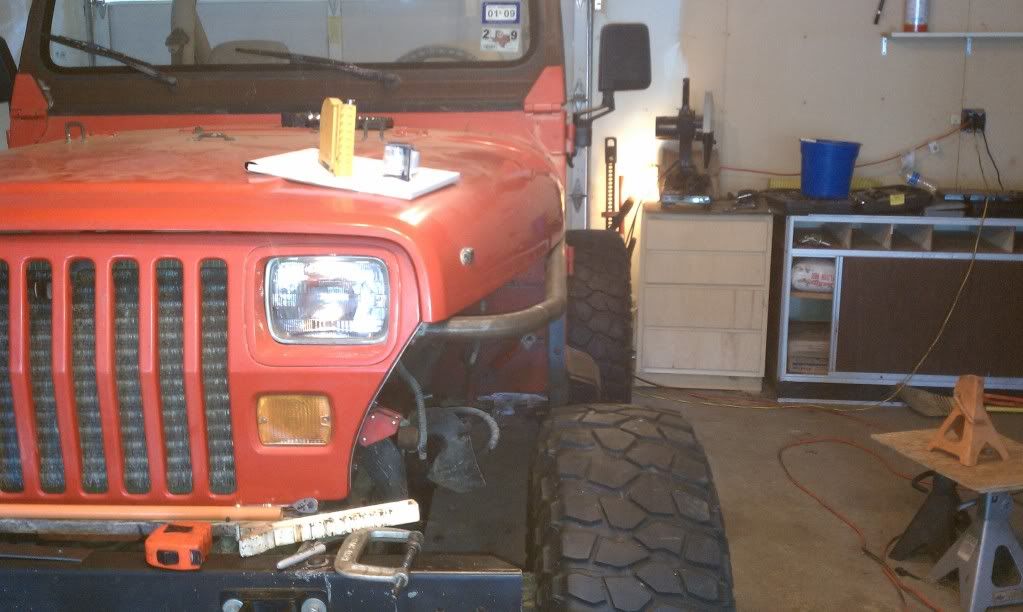 Registered User
Join Date: Oct 2011
Location: brantford
Posts: 1,311
Bent up a grill hoop
The genright stretch corners came in.
Ended up moving the axle forward 1" to center in the opening.
And were I'm at now
Registered User
Join Date: Jun 2011
Location: Henderson
Posts: 241
Currently Active Users Viewing This Thread: 1

(0 members and 1 guests)
Posting Rules

You may post new threads

You may post replies

You may not post attachments

You may not edit your posts

---

HTML code is Off

---