My 8.8 Build: Young and Dumb
---
8.8 Swap
completed
August 2012
Hello all. I recently picked up an 8.8 to swap into my YJ.
I want to use this thread to document progress and contribute to the already plentiful amount of info out there about this swap.
I will post updates in this thread in new posts but also go back and update one of the first 4 posts so it's easy to read
WARNING: THIS BUILD WILL BE SLOW
So we'll start from the beginning, my rig:
'90 YJ with 2.5L/AX5/NP231J and 4.10 R&P ratio.
I want to eventually run 37's and the 8.8 seems a logical way to go.
After some searching I found an ad on craigslist.
It was a guy who finds quality 8.8 rear ends in junkyards and sells them to
people doing conversions for jeeps, hot rods, etc.
I swear, he must of had 20 of these things in his garage.
I opted for the 8.8 with disc brakes, 4.10 ratio (to match my D30 front), and an open carrier (I plan on running a selectable locker).
It came from a Ford Explorer 95-01, not sure on the exact year.
The axle came with everything I could possibly need:
-All the perches and mounts still attached to the axle
-The stock sway bar
-Calipers (for cores)
-Usable rotors (could use a quick cut)
-Stock E-brake shoes
-Spring plates
-All brake lines (hard/soft and the remnants of some cables)
-Yoke
-Factory ABS sensor
I got all that for $300. It was really a pretty good deal all things considered.
So we loaded up the axle in the back of our very own Ford Explorer and drove on home.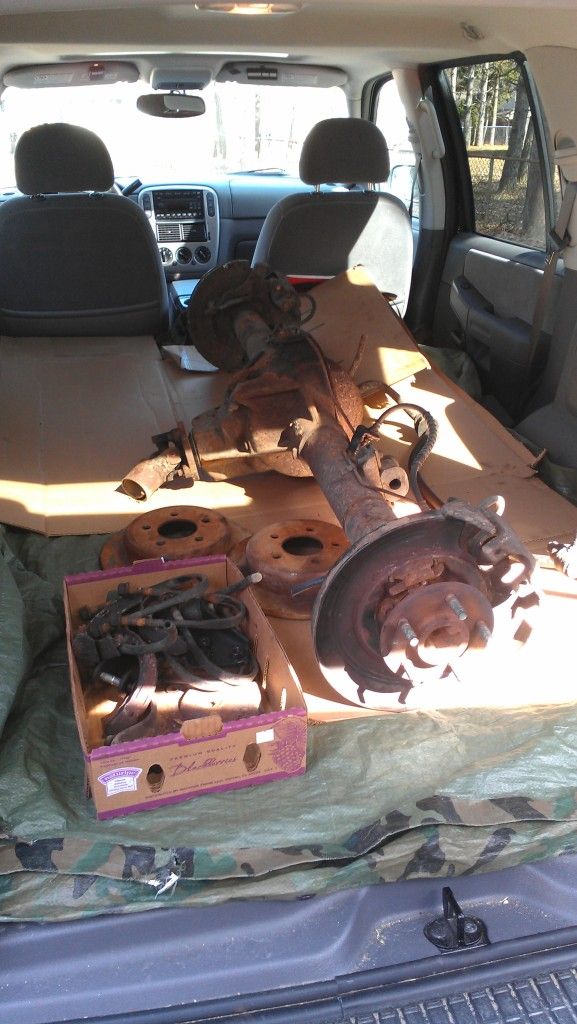 Unloaded the axle and propped it up on the jack stands that night.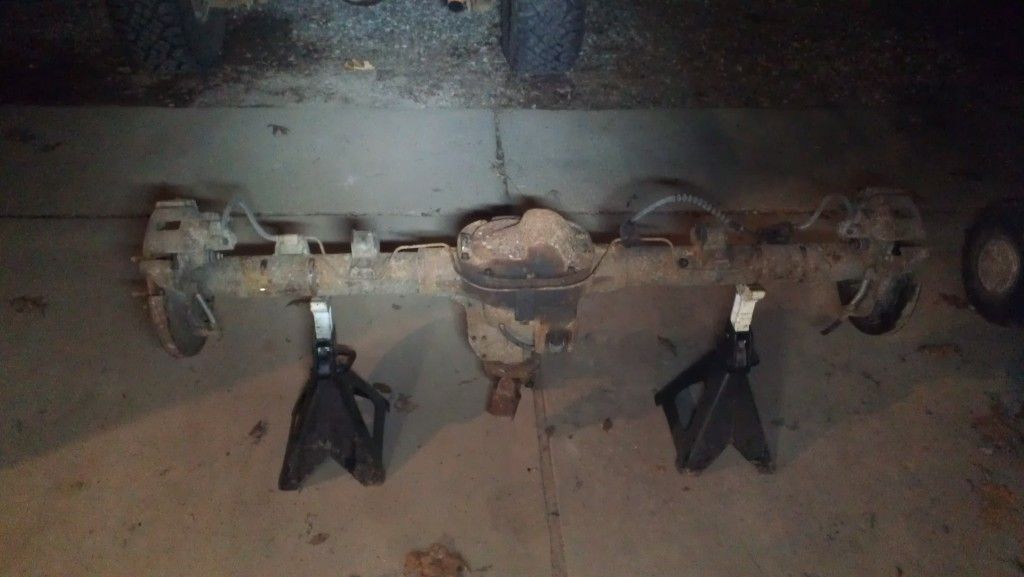 I did a quick inspection on the R&P when we picked it up and when we got it home, I cracked it open for a closer inspection
Everything was immaculate. No chips or visible signs of wear. I was very pleased.
Now onto removing the all the factory hardware.
First the hard and soft brake lines and calipers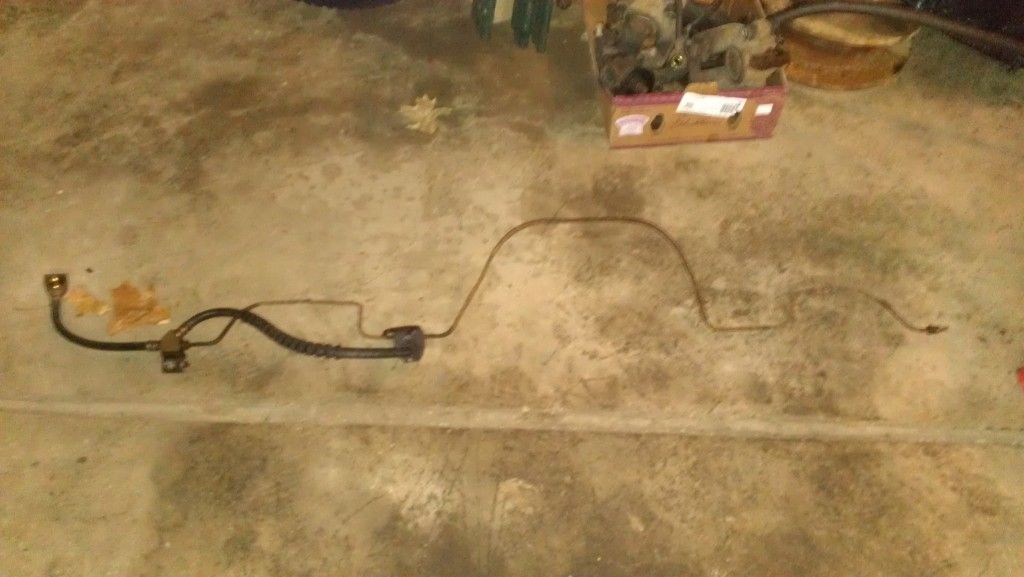 Onto the sway bar mounts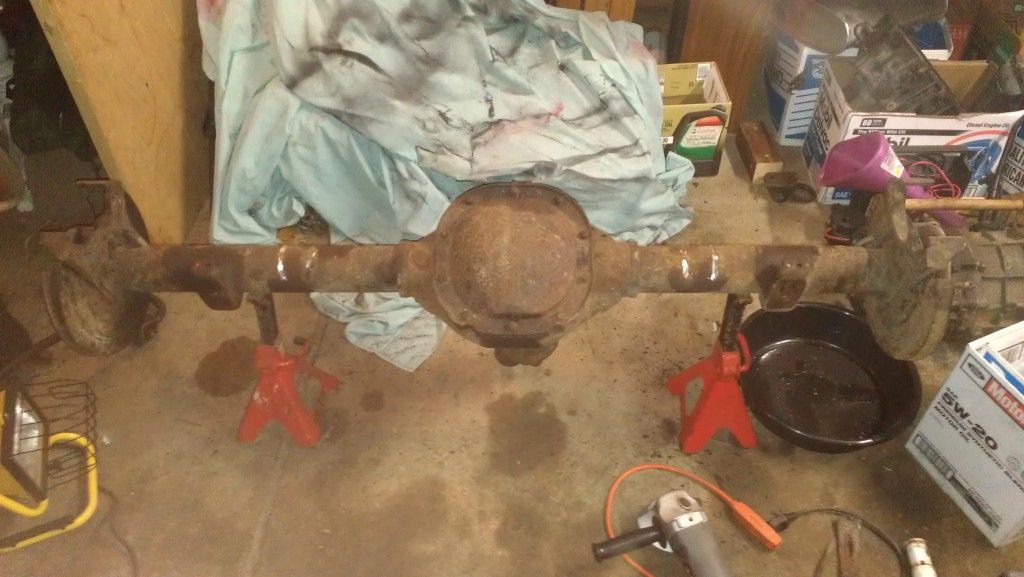 I cut a little too deep into the axle, oops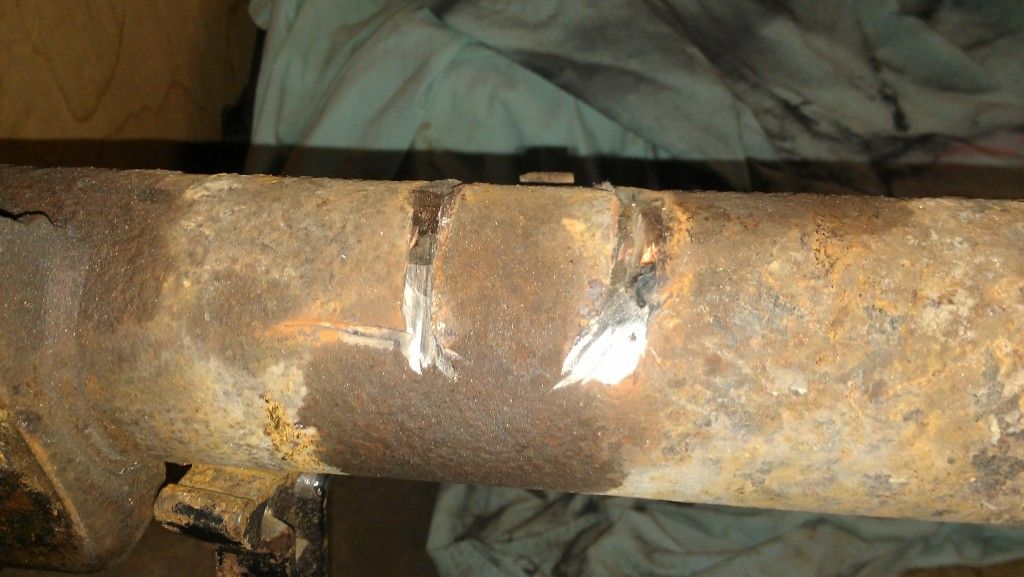 So I filled them in with my sorry excuse for a welder (and welding skill)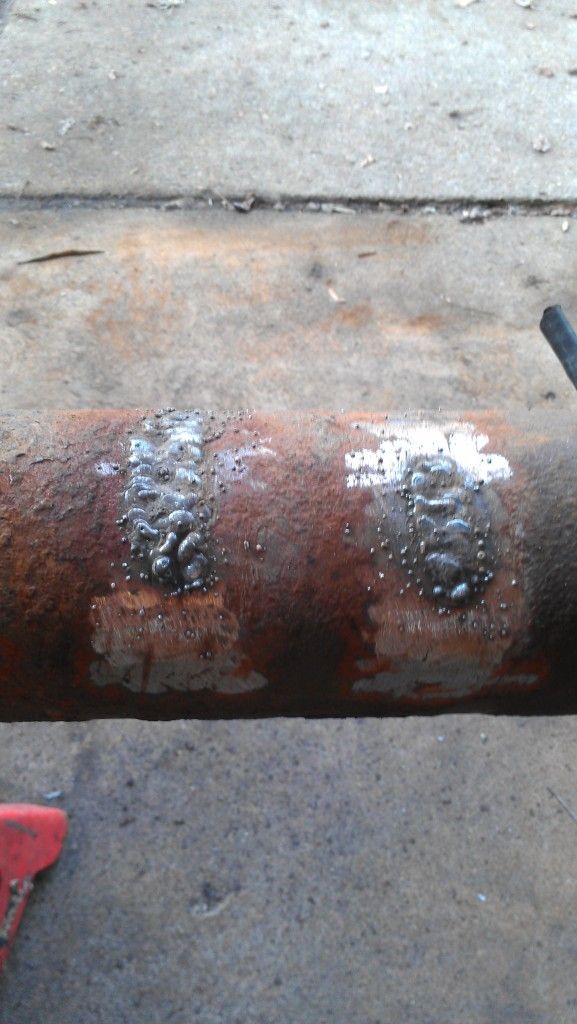 Ground it smooth (and you'll notice I removed the axle breather fitting)
Next step was basically the same but with the spring perches, no pictures of this.
After all the perches and mounts were off, I wanted to pull the shafts to put in new bearings and seals.
Also to clean up the caliper mounting bracket and dust cover.
To remove the shafts, I removed the bolt that holds the cross pin in place.
Then removed the cross pin.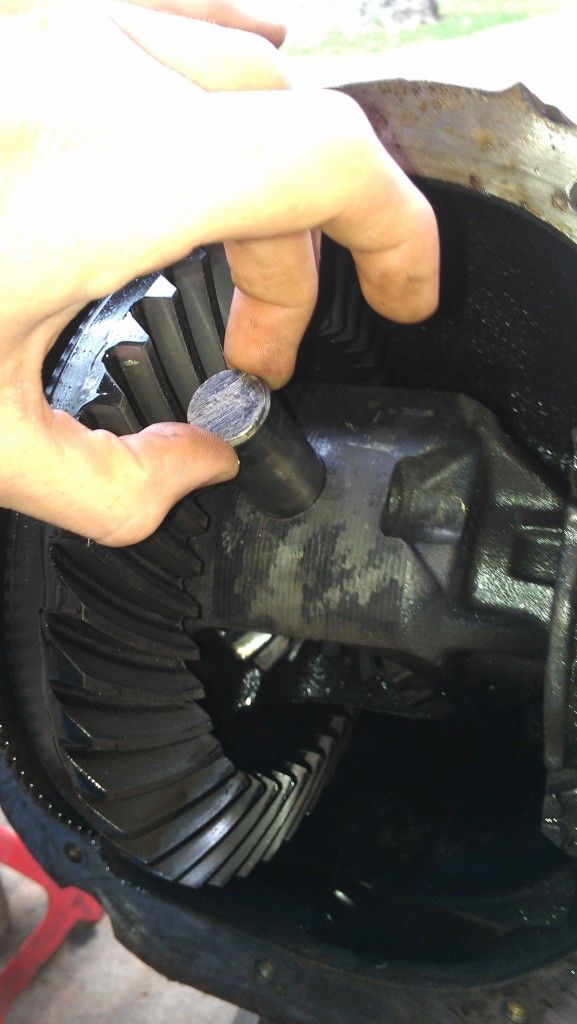 With the cross pin removed, you can push the shafts into the carrier enough to pop off the C-clips.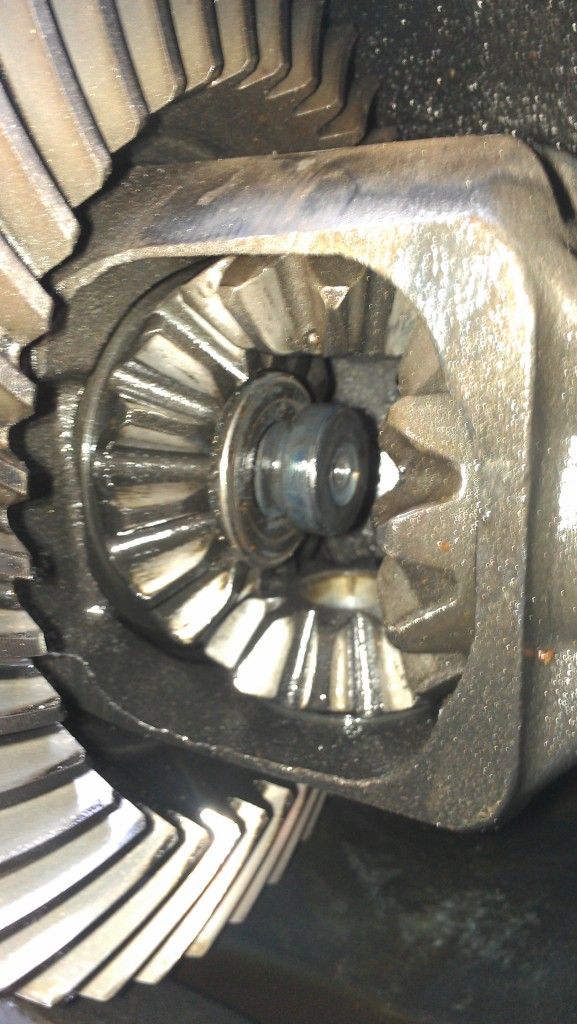 Shafts out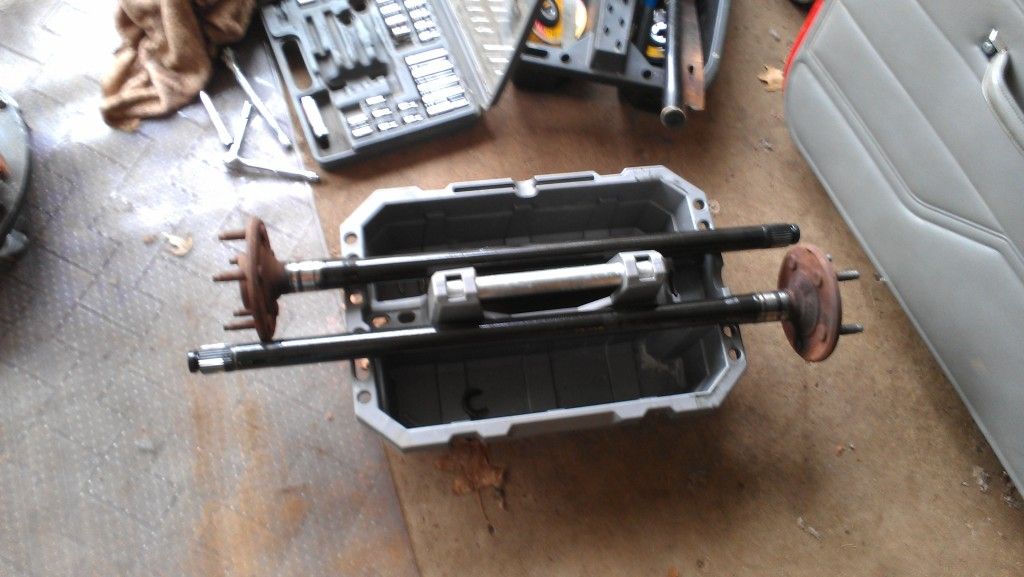 Now with the shafts removed, I was able to take off the caliper mounting bracket and dust cover
They come off in one piece but I later separated them.
Next step, removing the seals.
Pretty simple, just pried it out with a big screw driver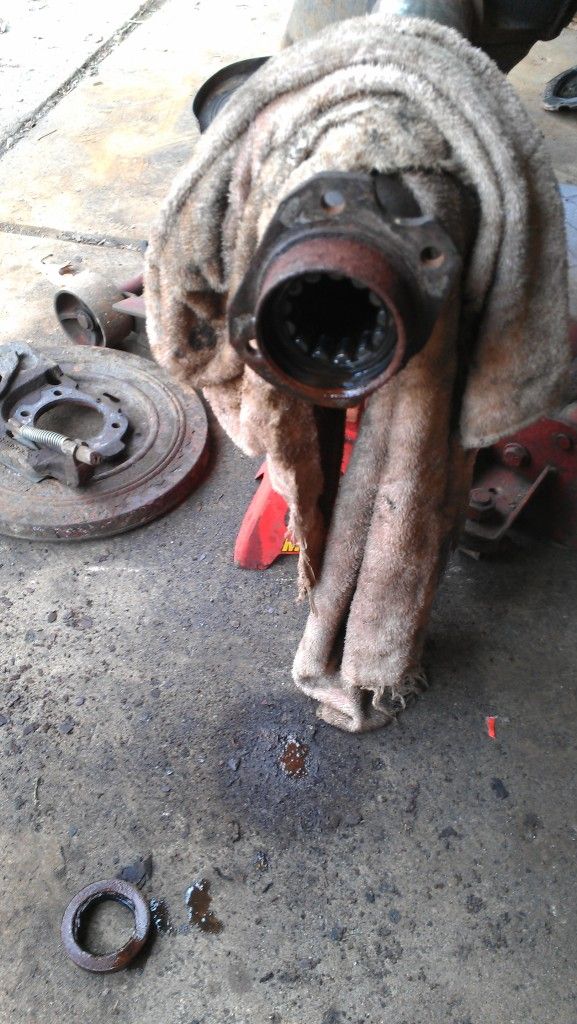 The bearings gave me a bit of trouble but I was able to get them out with some heat and a slide hammer
During this time I ordered my new bearings and seals
The next day I cleaned the inner axle tube with some brake clean and pressed (pounded) in the new B&S's using my bearing driver
Bearing in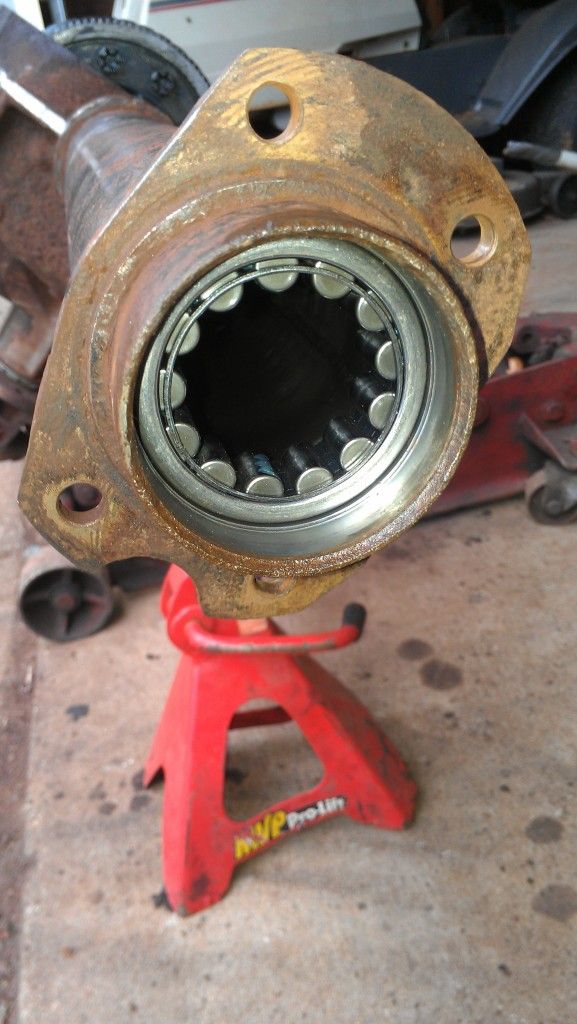 Seal in
With the new B&S's installed I started to clean up the axle itself;
I started with the rust on the differential gasket surface:
Before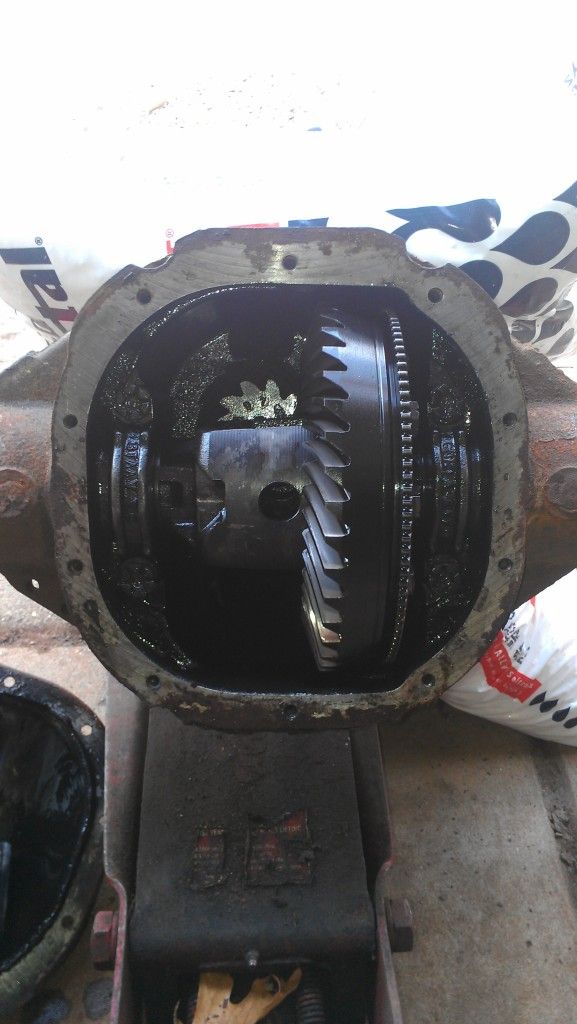 I used a 4.5" flap disc on my grinder
After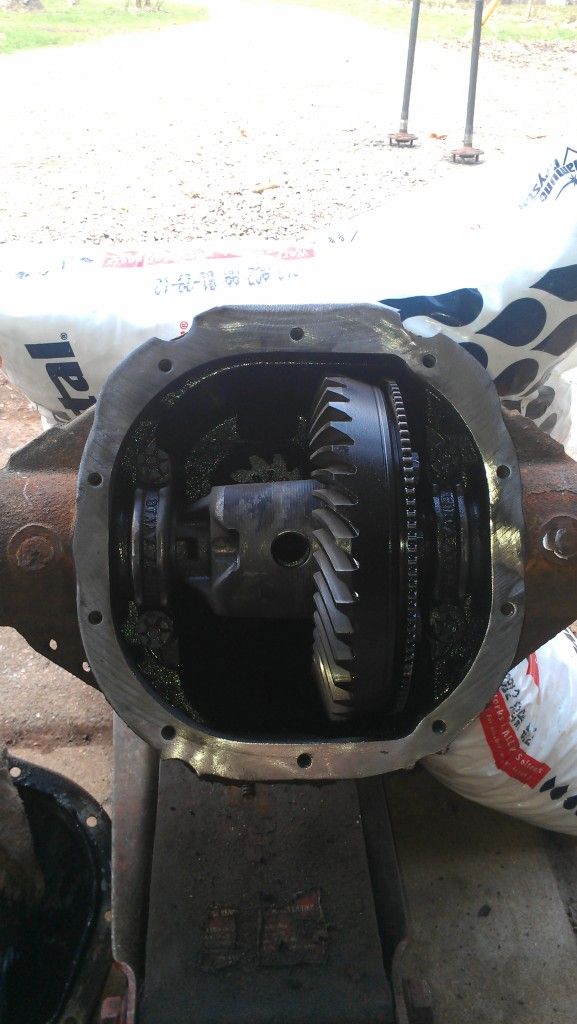 Next was just some random grinding really. I think It'll look much better this way
Smoothed out the factory plug welds, too ugly for my tastes.
I plan on welding the tubes as well before anyone freaks out about it.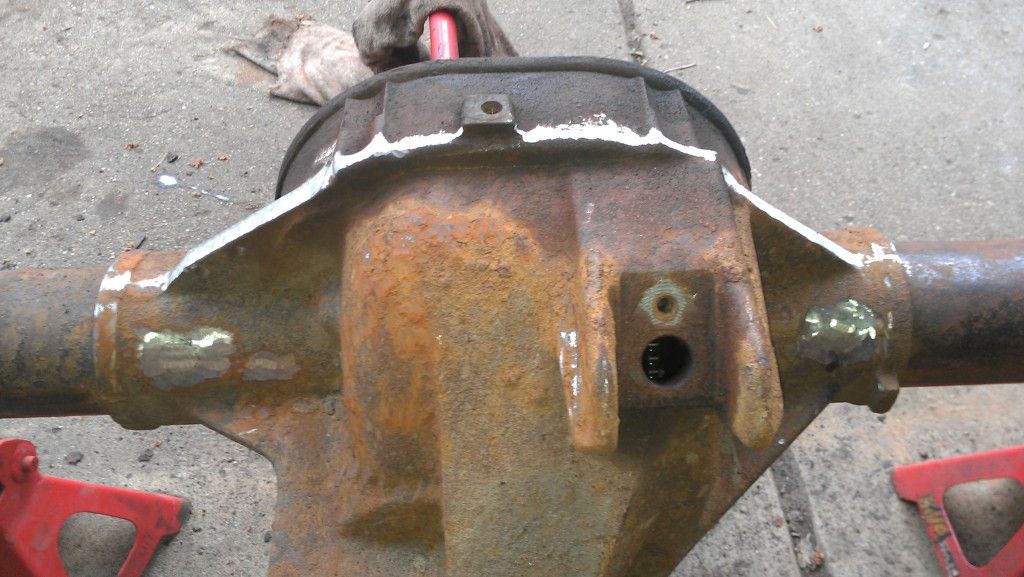 Overall just smoothing everything out.
You'll notice I removed the factory ABS sensor as well. I'll need to find a plug for this later.
I went over most of the tubes, smoothing and getting off most of the grime and rust.
But you'll notice that I didn't sand down all the way to bare metal because I plan on painting the axle with chassis saver (like POR-15)
and it adheres better to rusted surfaces.
I ordered the chassis saver to paint the axle with today
I took advantage of
this promo
.
Ordered a Monstliner 1 gallon kit and got a free quart of chassis saver and free shipping! Unbeatable, thanks Magnet Man!
Today I also ordered the spring perches, shock tabs, and U-bolt plates.
I contacted Eddie (BESRK) at Ground Pounder Fab and we figured out what I needed. I'm very pleased so far, Eddie is a great guy to deal with. Thanks again!
---
'90 YJ with some stuff
Build
I'm a pic whore, get over it.