May YJOTM Vote Now!!!!
---
Alrighty folks, here is the fifth contest and we have an awesome prize donated by 12voltguy.com. Even if you didn't even enter the contest, it's worth heading over to the site and find something that will fit your individual jeep build.
Vote for the TJOTM
here
`````````````````````````````````````````````````` ```````````
parkerm26
YJ year of production: 1993
Specifications and modifications:
-All work to my YJ was done by myself unless otherwise noted
-Stock 4.0 motor with CAI and AX-15, 139,000k
-NP231 w/ JB Conversions Super Short SYE
-New frame sand blasted, dipped in hot acid, and hot galvy dipped
-Dana 60 front narrowed 5.5 inches (done by forum member jason m) ARB locker, 4.88 USA gears (installed by local shop), completely rebuilt (ALL bearings and seals), high steer w/ 1 ton TRE's and 1/4 wall DOM tube, Warn premium hubs
-14 Bolt FF rear w/ cab & chassis hubs, 4.88 USA gears (installed by local shop), completely rebuilt, disk brakes
-E-350 Brake Master Cylinder w/ all new hard lines and new 12" extended stainless soft lines
-38x15.5xR16 Toyo Open Country M/T's on 16x8 Eagle Alloy 186's, 8 on 6.5 lug pattern
-4" springs, 1" shackles, SOA w/ 1" Daystar full body mount replacement.
-Custom 2.5 inch fully welded exhaust
-Aqualu High line front fenders powdercoated
-Entire bottom of body sanded and painted w/ POR-15
-Crossmember and gas tank skid painted w/ POR-15
-22.5 inch driveshaft custom built (done by local shop)
-York OBA (145psi self-regulated) with mid size york on custom bracket, filtered into a 3 gallon tank all set up for filling tires, air tools, ARB, and train horns.
-Optima battery
-Clutch and flywheel replaced myself march '11
-Custom center console built from composite deck material with rocker-switch pannel, speaker amplifier, and subwoofer w/ amplifier
-Solid aluminum 2" tank round replica shift knob lathed myself.
-I have an excel spreadsheet documenting all parts costs of the 1 ton and frame swap
Lots more things to come including a 4BT!
Brief history of your jeep and how it came to be:
-I bought this jeep completely stock with my own money 3 years ago when I turned 17. Only had 104,500k then. first thing i did was buy a lift. over the next 2 years i spent countless hours on JeepForum researching more and more. I funded and completed the entire 1 ton swap myself with the help of friends. I daily drive it 25 miles each way to work everyday and it has never let me down. Sorry I don't have any pics of wheeling it since I finished the 2 tons a month ago. Trying to work out the minor kinks first. In august I plan on conquering the mud hole that swallowed it last year when i only had a 4 inch lift with 33's!
```````````````````````````````````````````
BarryBum
My YJ is a 95 Sahara
Mods: 4 inch Rough Country Suspension Lift, Rubicon wheels with Goodyear MTR tires, modified TJ from bumper
Brief History: I had been looking for the "right" Jeep for a quite a while. My wife and I were on vacation on the coast of SC and much to her disapproval my quest for a Jeep continued while I was on vacation. I ran across this Jeep on Craigslist. It is a 95 Sahara, 5speed with 187,000 miles but it still has original paint and all original interior in immaculate condition. It was exactly what I was looking for. A girl owned, girl driven street Jeep. I went and looked at it and bought it no questions asked. Upon getting it home, I bought new top, cleaned it up and started enjoying it. I kept it all stock until this spring when I installed the lift and Rubicon wheels.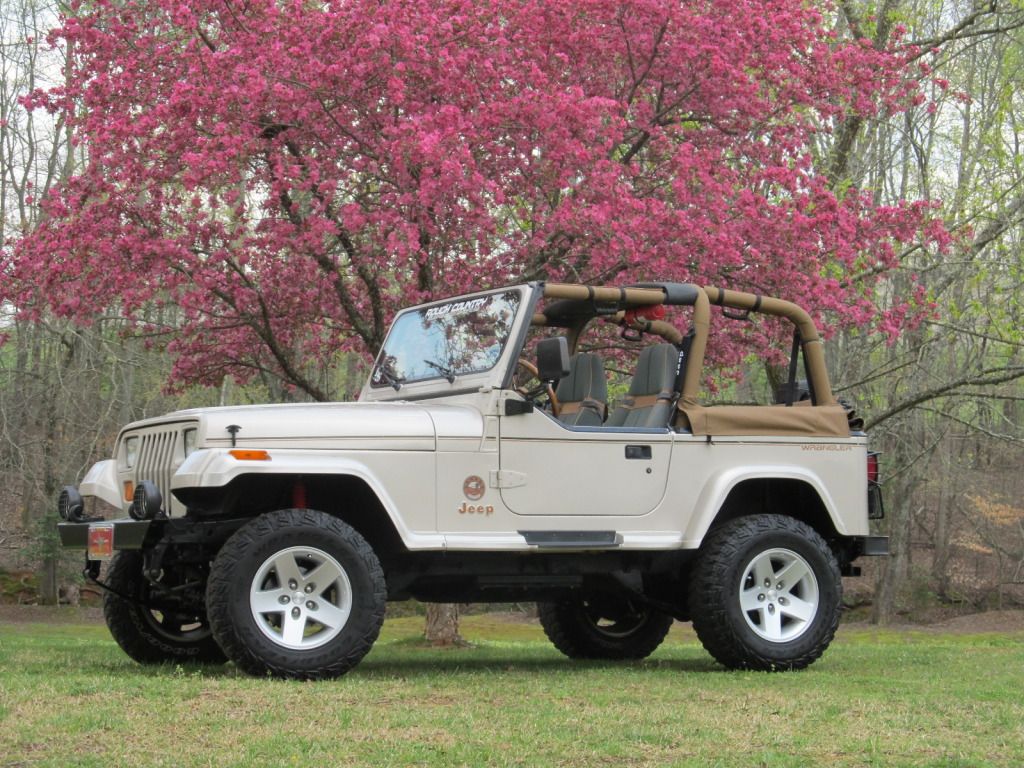 "]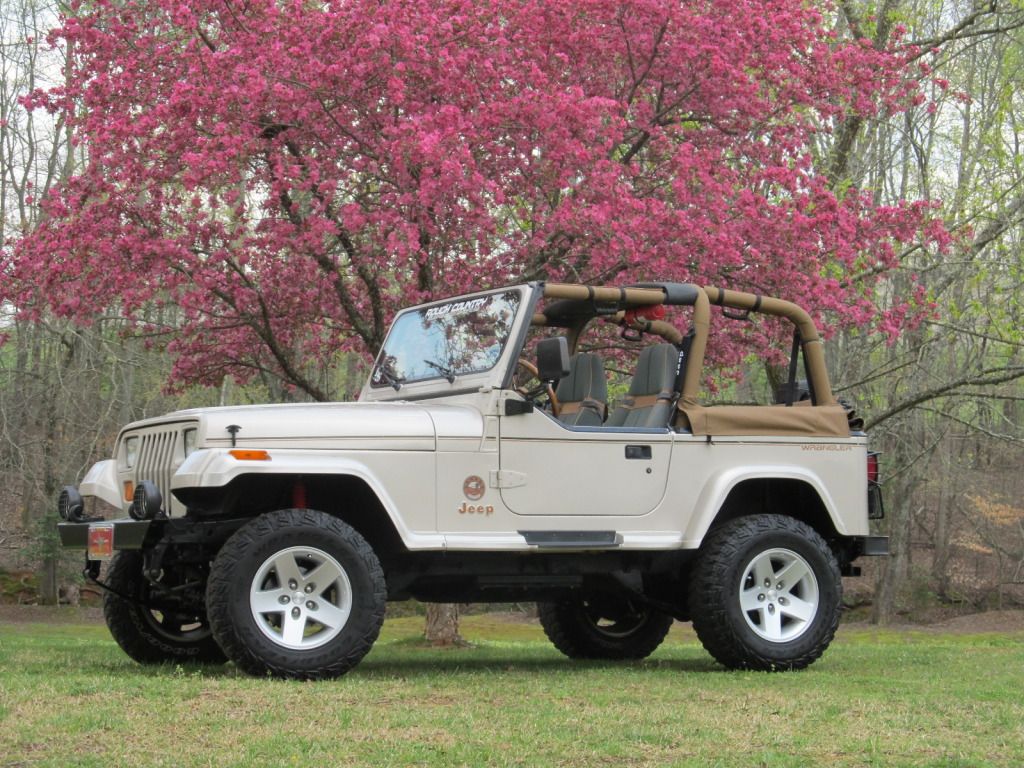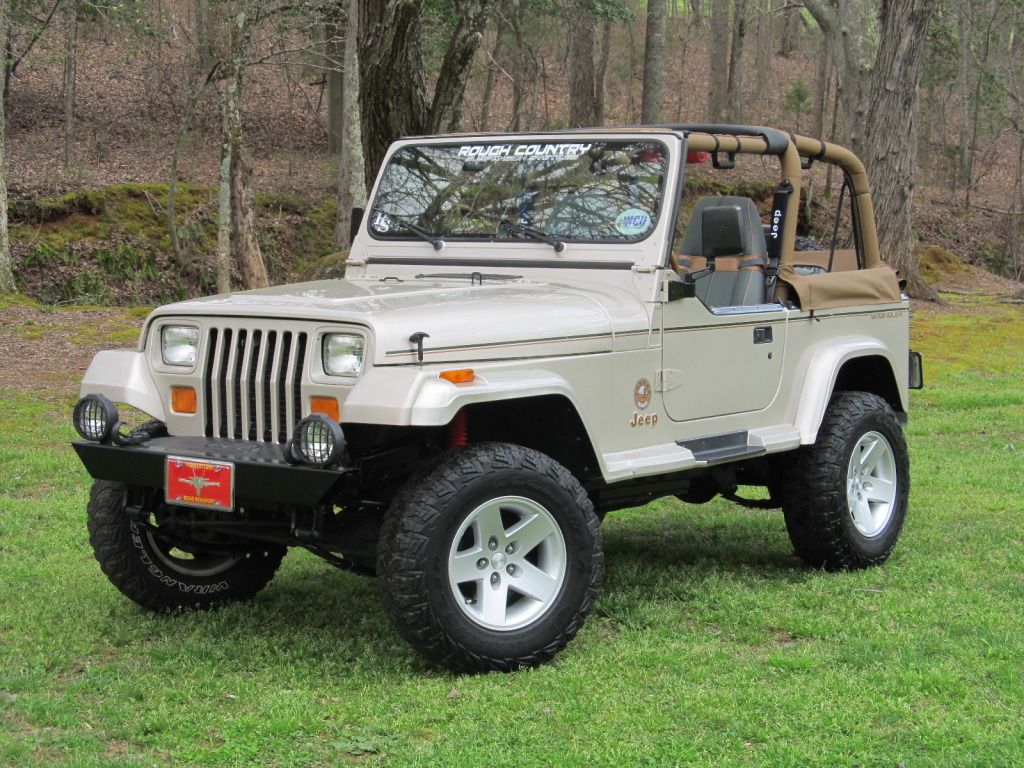 ```````````````````````````````````````
93jeepREDSOX
1993 YJ
Its a 4.0l rest of the standard stuff
8.8 in the rear
4" RE lift with 1/2" boomerage shackles
Sye with RE cv shaft
Warn bumpers front and rear
Warn skids
Hella off road lights
Herced tub
Ammo box storage
CB
33" Trxus M/Ts
A-Z rocker gurads
TJ flares
So i got the jeep when i was 17, and it had a moderate 2" lift and 32" bfg a/ts. It has been my dd and trail rig when its not broken for the past 6 years. After my first wheeling trip and i broke a couple things, i decided i wanted a bit bigger lift and tires and that included doing the sye kit and all that fun stuff. So now my wife drives, chief (grandpa was in the navy and helped with building before he passed, thus the name origin), and soon when we get a third working vehicle this will be more of just a trail rig. I remember entering in one of the first yj of the month contests a looonng time ago so hopefully everybody still like it, haha, lots of awsome jeeps in this now.
When i first got it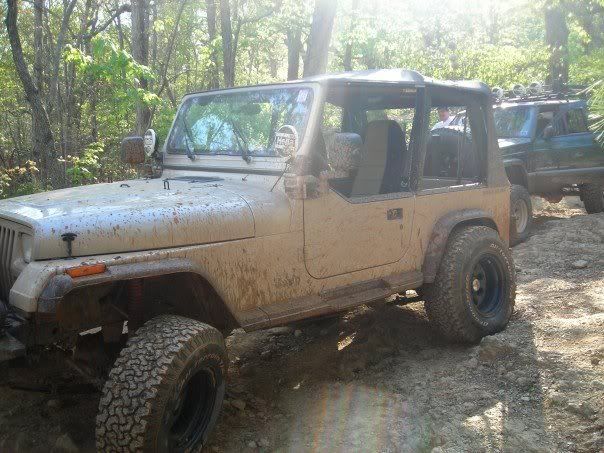 During the build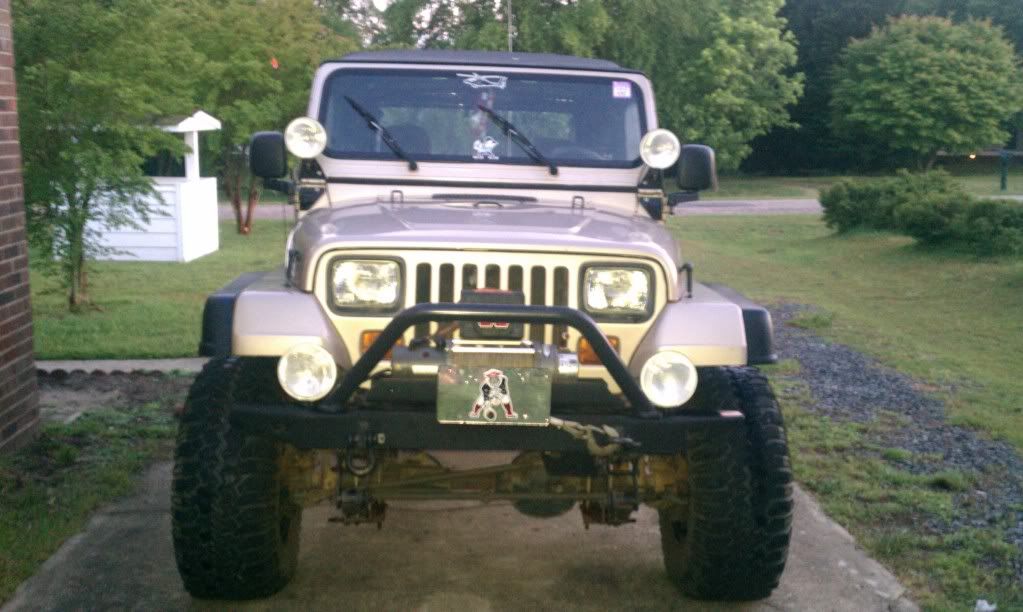 And how it sits now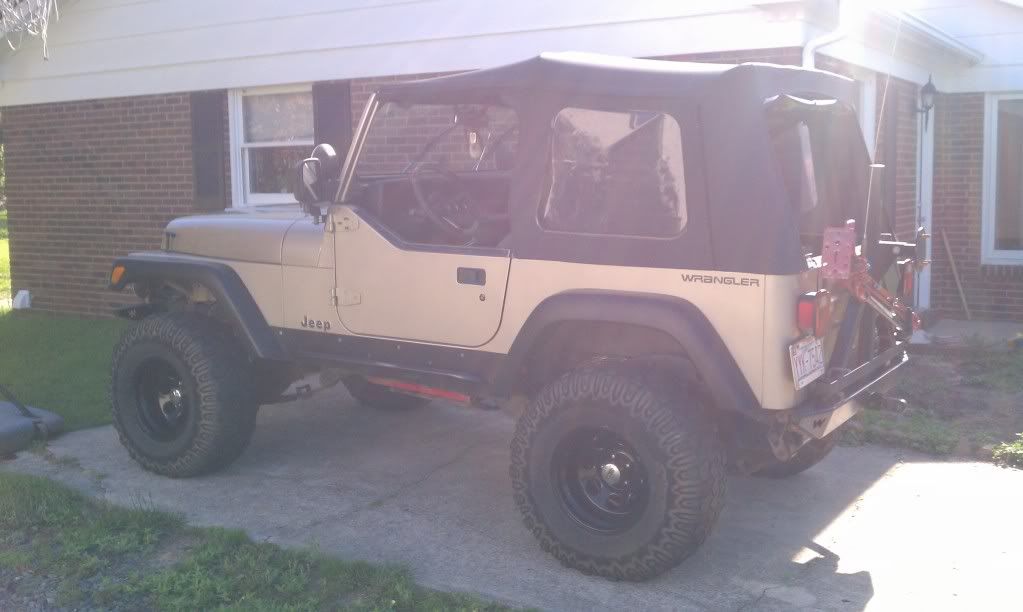 ````````````````````````````````````````````
94chb
1989 YJ Wrangler
Engine
4.2 carb swapped to 4.0 H.O fuel injected with 04
intake manifold with 5.0 injectors, durango steering box, 98 grand cherokee power steering pump, tj power steering lines.
Transmission
automatic tf999 swapped to ax-15
Transfer Case
231
Front Axle
HP dana 30 Cable Locker
Rear Axle
89 comanchee dana 44 with trac lock
Gear Ratio
4:10
Suspension
4.5 suspension, 2in body, 1in boomerang shackles
Tires
33x11.50 Adventuro M/T
Wheels
15in Pacer Black Rock crawler rims with beadlocks
Recovery
9500 lb HS Warn winch, Welded on Dozer D Rings
Armor
kc lights, oil pan skid, Completely Rhino Lined
Accessories
pace setter headers with straight pipe, 06 tj
breather box
I had a 24ft pontoon boat i traded for this wrangler
and soon realized what i got myself into and i wanted it built my way so i pulled everything out and swapped everything i could find from all of the best parts form all different jeeps.
`````````````````````````````````````````````
Mudcrawler90
1990 Jeep Wangler YJ
Lift:
spring over and 1" shackles
Drivetrain:
4.2L I6 with Weber carb
AX-15 5 speed
NP 231 with Slip yoke eliminator and CV shaft
Armor:
Custom ¼" steel Front bumper
Smittybilt XRC rocker guards
Gen-Right short corner guard
Axles:
HP Dana 30 front with JB 4x4 high steer bracket and lock rite
Ford 8.8 rear with limited slip and disk breaks
4.10 gears
Electronics:
CB Radio
Sony Xplod head unit
Digital gauges in an Auto Meter center gauge cluster
55 watt fog lights on custom bumper mount
ProComp 100 watt lights on the hinges
Other odds and ends:
32" BFG Mud Terrains on Pro Comp Rock Crawler Wheels
1999 TJ roll Cage w/ sound bar and custom rear hoop
Raptor Lined tub
POR-15 on the entire undercarriage (frame, axles, springs, etc.)
Custom made flip-up license plate/light/camera mount.
Sway bar disconnects (because I'm not the only person who will ever drive this and the others can't handle the body roll)
1" Daystar body lift
Plenty of custom pin striping thanks to tight NE Ohio/Western PA trails.