Here you are, folks.
YOU MUST POST WHEN YOU VOTE OR IT WILL NOT BE COUNTED!!
Please vote fopr your fellow wrangler models:
JK
TJ
And
NO
jokes about round headlights and mall crawlers. You represent the entire YJ section so
be on your best behavior!
In no particular order, here are the contestants that the judges have somewhat agreed upon:
```````````````````````````````````````````````
Bike Guy
Vehicle = 1991 JEEP Wrangler S (YJ)
Wheelbase = 98" at ride height, 101" springs Flexed
Belly pan Clearance = 20"
Engine= 4.0L Magnum I-6
Head Mods = Port matched & polish, Enlarge Valve bowls & polish, Mill down Head, Flow Benched Work By SCH RACING HEADS , Mopar Performance Ultra Thin multi-layer Head Gasket (to boost compression)
Valve Train Mods = Mopar Performance Stage II Cam, Mopar Performance HD rocker-arm assembly, Trend custom push-rods, Crowler cam-saver lifters, Coyles Double Roller Chain & Gears, R&D Off-Road Custom valve cover
Oiling Mods = Hesco Blue-Printed High Volume oil pump w/dist. lube-tube & H.V. pick up, Trans-Dapt oil filter Remote relocation System, AMSOIL over sized NanoFiber Filter
Cooling System Mods = FlowKooler High-Flow water pump, Hesco H.F. water inlet housing, Milodon H.F. 195 deg. Thermostat, Performance Radiator - 3 core CBR all metal Radiator, Flex-a-lite HD Fan Clutch, Flex-a-lite 6-blade Clutch Fan, Jegs sealed recirculating overflow Tank
Air Mods = Banks Ram-Air intake system (97-06), BBK 62mm Performance-Power-Plus series Throttle body, Custom 62mm throttle Spacer, '2000' Intake Manifold w/Polished runners
Fuel Mods = R&D Off-Road custom injector harness, Bosch 4-hole 20# (Black Jack) H.P. injectors, Hesco adjustable High Pressure fuel regulator, Walbro 255LPH High Performance fuel Pump, GenRight Crawler Extreme 17 gal. aluminum fuel Tank
Ignition Mods = Sreamin' Demon Coil, 10mm Livewires spark-plug wires, Fire Power Distributor & Rotor caps, E3 spark Plugs
Exhaust Mods = Borla T-304 Stainless Header (1998-99), with S/S 2 1/2" head pipe, MagnaFlow H.F. Cat., Custom Cat.-back 2 1/2" exhaust w/Performance Brand H.F. muffler
Engine Restraints = Brown Dog 1" Poly Motor mounts and Brown Dog Super engine brackets (15 bolts total to hold the Beast in)
Transmission: AX-15 (Manual 5-speed)
LUK Pro Gold Clutch, Pressure Plate, Release Bearing & Hydraulic Slave
Transfer Case: Atlas-II 5.0
DRIVELINE SPECIALIST Custom CV drive-shafts
Front Axle: Dana 30 HP
Mods = Spicer 4.10 gears, ARB 27 spline Air Locker, RCV Ultimate TJ CV Chromoly axle Shafts, Machined housing to except TJ seals - Done by Tom Staub (R.I.P.)
Rear Axle: Ford 8.8 HD
Mods = Ford 4.10 gears, ARB 31 spline Air Locker, Superior 1541 alloy 31 spline axle shafts
Brake Mods: NAVAJO brake system = 9" Dual vac .diaphragm & 1" Dia. Master Brake Cylinder by Off Again 4X4 (Harold Off - R.I.P.)
Steering Mods:
PSC High Volume pump with 4.5" billet pulley & Aluminum large volume baffled Reservoir, PSC Xtreme Series steering box, Derale 7000 series Cooler
Parts Mike Custom 1 1/2" DOM tubed Tie rod & Drag link Kit with 1 Ton tie-rod ends
Parts Mike Special XJ pitman arm
Borgeson HD Steering shaft
Knuckles have been reamed for Over-Knuckle Steering
Wheels & Tires:
Off-Road Wheels = Trail Ready Heavy Duty Cast Aluminum Bead-Locks 9"x15" w/Maxxis Creepy Crawlers 6 ply bias 35x12.5x15
Road Wheels = Cragar soft-8 steel 8"x15" w/BFG A/T 33x12.5x15
Suspension/Lift Mods: 7" Stretch with a total Lift of 6 5/8"
Front = BDS SUA 5" lift Springs, M.O.R.E. 5 1/4" boomerang Shackles (5/8" lift), Rancho RS9000XL adj Shocks, M.O.R.E. Shackle Reversal, M.O.R.E. HD Trac-bar Bracket, M.O.R.E. HD 1" adj Trac-bar w/ Heim joints (stretched 4")
Rear = BDS SUA 5" lift Springs, M.O.R.E. 5 1/4" boomerang Shackles (5/" lift), Rancho RS9000XL adj Shocks (stretched 3")
Armor:
Body = Poison Spyder Trail cage +, P.S. Trail Stinger, Hazardous Concepts hood Hoop (attaches to stinger), P.S. front Tube Fenders w/ 3" steel flares, GenRight tub panel Guards, P.S. Rocker Knockers w/sliders, SWAG Off-Road HD Body mounts/skids, P.S. Crusher corners w/3" flares & modified for stretch
Accessories:
Interior = Herculiner Lined Tub, MasterCraft Rubicon seats w/adj. lumbar Support, MasterCraft 4-point restraints, NJT Flat instrument panel & Equus gauges, Tuffy Security glove Box, Tuffy S. Console, R&D O-R roll-bar mounted Tire Carrier, PowerTank 10# System
Exterior = BesTop Super Top, BesTop Super Doors, Doors, WRX Hood Scoop, GenRght Hood Louvers (5), AutoFab hood Pins, SWAG Off-Road Drop Down HD Tail-Gate conversion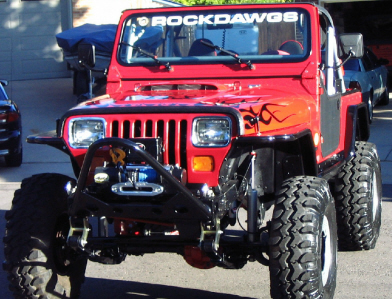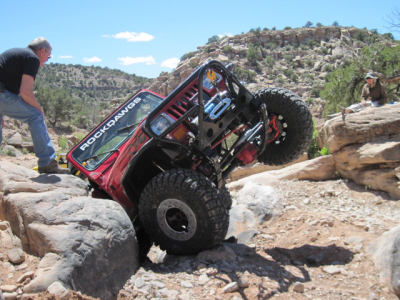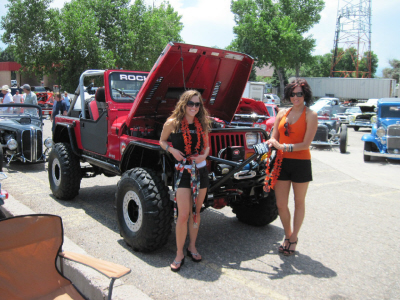 `````````````````````````````````````````````````` `````````
WINGNUTT611
-1989
-6 cylinder manual
32' BFG All-terrains
Locking Lugnuts
2' body lift from PO
herculined tub
3 new Bestop seats
new Bestop Soft Top
Tuffy security and Radio Console
Bestop Instatunk
Bestbuy Head Unit
speaker pods with 6x9's
New dash speakers
New Radiator
New Master Cylinder
4 new skyjacker shocks
Hard Doors and Canvas half doors
Mirrors with windshield relocation bracket
Bikini, Deck Cover, and Windjammer Top
new ignition cylinder
Probably more...
- I'm a 17 year old senior in highschool. I wheeled it for the first time at a local trail this month with a friend from school and i had a blast! I felt like i could enter this moth after actually wheeling it! My dad bought this jeep when i was about ten. It had bald stock tires and a hard top and he never did much to it besides throwing on the new tires and soft-top before it was given to me for my 16th birthday present. We spent the couple weeks before my 16th birthday gutting the interior and replacing pretty much all of it to make it a more comfortable DD for highschool. I was hooked but most of the work i've done on it has been replacing the stock worn out parts like the radiator and the master cylinder. I play baseball for the highschool so i don't really have much time for a job except during the summer so my funds for mods are pretty low haha but i still love it! I'm going to UGA next year so hopefully I'll really be able to get going on my build!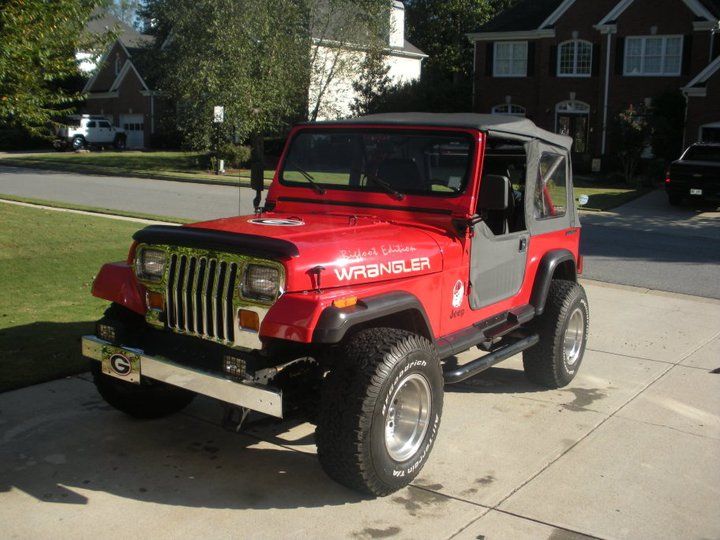 How it sat on my 16th birthday. Sorry no pic from when we bought it.
After i wheeled it with my shirtless friend and his jeep in the background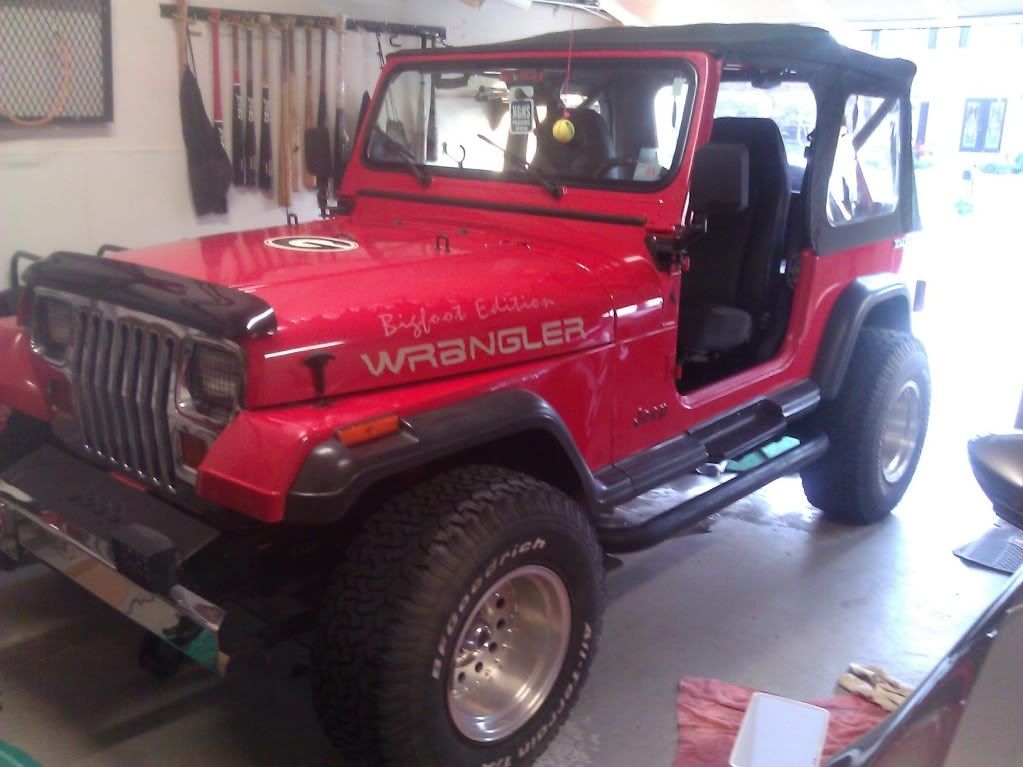 sitting in the garage as of today
```````````````````````````````````````````
remmons
YJ year of production, 1988
Specifications and modifications; 1988 XJ AW4 Transmission, 1988 XJ NP242 Selec-Trac Transfer Case, ECM and harness assembly from a 1993 XJ, 4.0L from a 1995 XJ, Fuel pump assembly unit from a 92-95 YJ, Rear drive shaft from a 1997(?) TJ, Seats from a Cavalier, Wheels and tires, Phantom A/T 32-12.50R15LT mounted on Cragar Steelies, misc dash parts from forum members, Rampage Soft Top from Amazon.com.
Brief history; I had bought this Jeep from a friend who had no time to work on this. It was a total mess, there were parts everywhere. There were two boxes of wiring, one was for the 1988 YJ, the other was from a 1993 XJ 4.0L. The interior was a mess as well, missing the steering wheel, seats and most of the dash. I also bought the 1988 XJ that was next to this YJ, both were bought for $400.00. I rewired and reset the pin-outs on the bulk head connector, re-wrapped the wire harness once I was happy with it. I bought the wheels and tires for $400.00 from my local salvage yard. I installed a 2" shackle lift to accommodate these wheels (only until I get the spring lift done). I bought a set of seats from a yard sale for $60.00, and only had to modify two holes on each seat. I had just recently bought and installed a complete soft top kit and installed it just last Wednesday night.
Thank you.
R. Emmons.
Vernal, UT.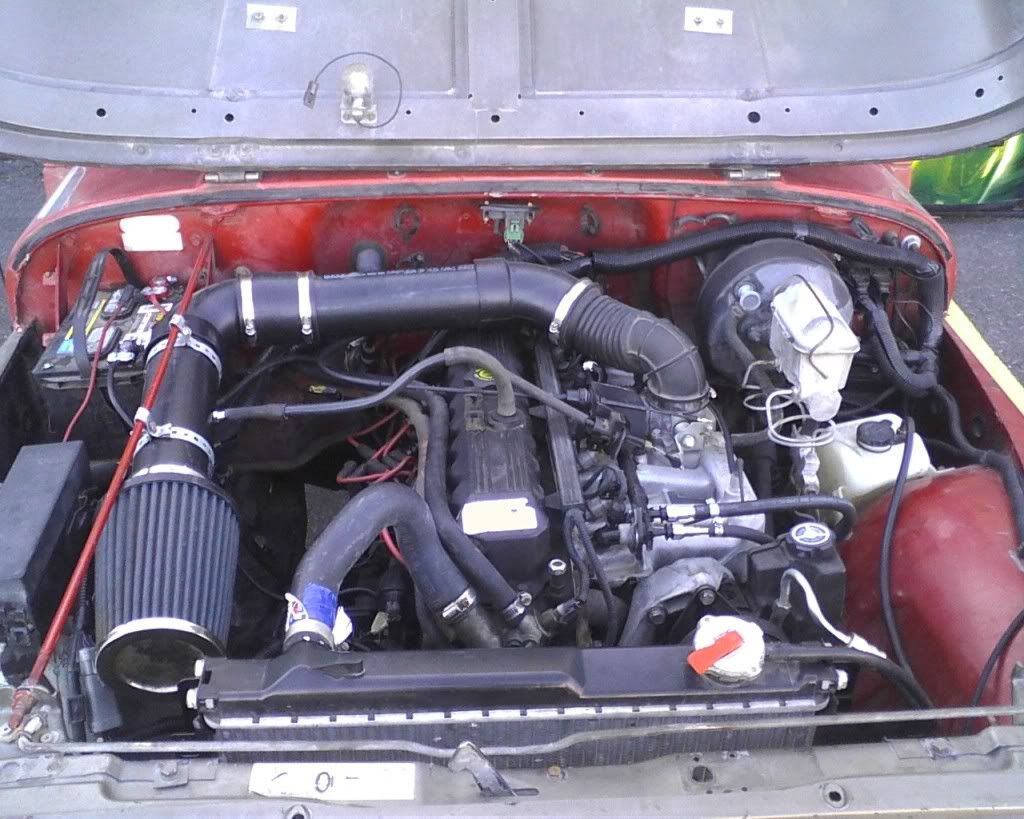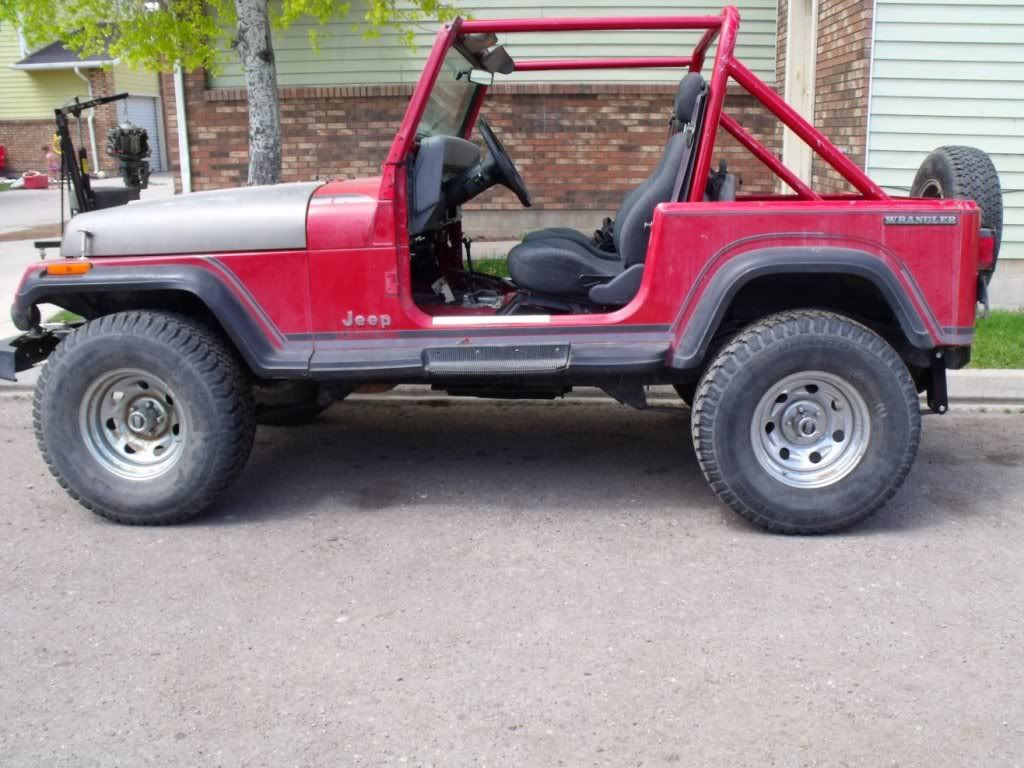 ``````````````````````````````````````````````
vwtipeii
94 YJ, 4.0L 115,000 miles, AX-15 5 speed. Klune V 4-1, Dana 20 TC 2.31-1, twin sticks
D30 front, Ford 8.8 rear, new rotors and black magic pads
ARB's front and rear w ARB dual compressors
Chromo's front and rear.
wheel spacers front and rear
37" Good Year MTR w Kevlar on 17x9 DC2 wheels
ARB Bull Bar, Warn 8000 winch, Viking SL black.
IPF fogs n driving lights, HID conversion head lights
Engine mods:
Jet level 1 chip
Turbo City intake + KnN filter
Borla header, custom exhaust w High flow cat
DUI ingnition, coil and wires w .65 plug gap
Jeepers n Creepers 62mm TB
aluminum 2 row radiator
aftermarket AC
Dual Optima Yellow Tops
Interior:
ARB fridge
Corbeau Baja XRS seats
Tuffy security console
Cobra CB
Exterior:
Smitty Built tube fenders
Genright stretch rockers
Genright stretch alumimum fenders +3" flares
Genright stretch tank
Tera flex hydro bump stops rear
JSK switch Blade up front and Currie Antirock in rear
Body Armor rear tire carrier w high light and 2 Jerry cans
Riddler 8.8 diff cover and Warn D30 diff cover
custom rack on rear tire carrier (being fabbed as we speak)
Fulkerson Fabrication 50" bowed light bar (being mounted as we speak)
Rock Krawler coil conversion, stretch w 100" wheel base.
Rock Krawler coil over shocks up front and Rancho RX9000 adjustable shocks rear.
Rampage soft top w black tinted windows
Best top tube doors w skins and full doors
2 gallon air tank.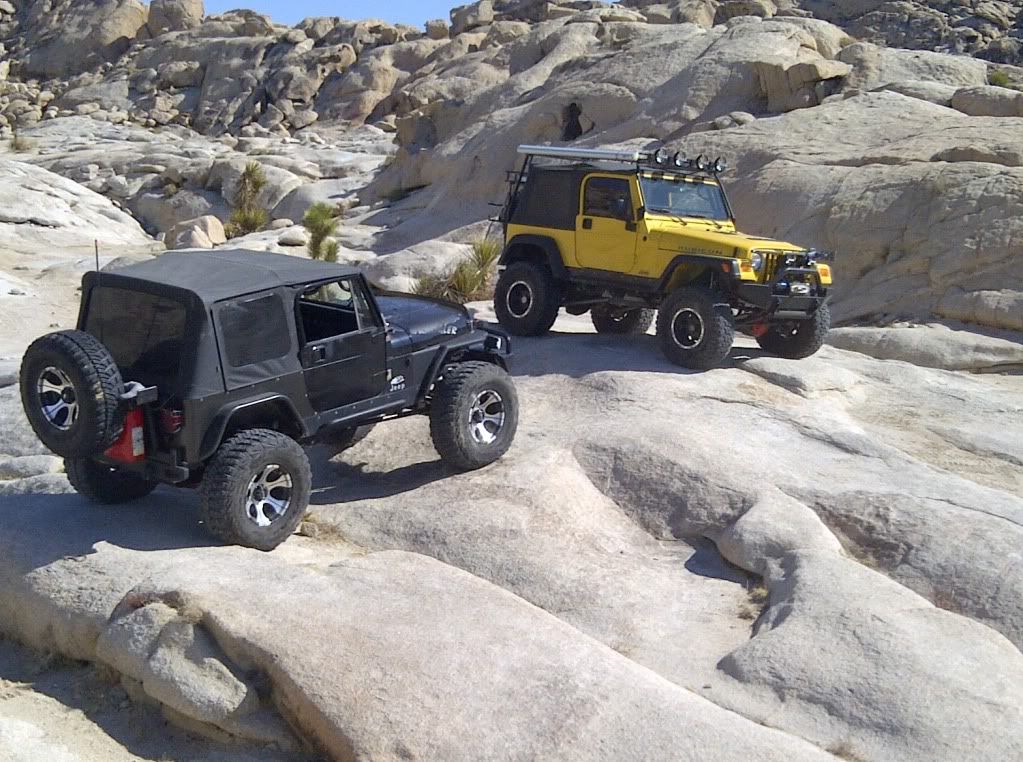 `````````````````````````````````````````````````` `
TSEJEEPERS
93 YJ
4.0L engine, AX 15 trans, NP231 transfercase with Advance Adapters SYE, Ford Nine inch rear, 31 spline, big bearing, disk brakes, Currie Enterprises high pinion 3rd member, 4.56 gears, Detroit Locker.
86 Jeep Waggy 44 front, 4.56 gears, Yukon Chromoly axle shafts, Alloy U joints, ARB air locker.
Engine bored .30 with Comp Cam.
Sanden OBA.
RCI 2161 fuel cell, sunk down, cut out to accept the stock fuel pump and sending unit.
SOA, worn out BDS springs in front, pushed 2" foward.
XJ springs in back, main leaf added, reversed, ruffstuff spring hanger on rear crossmember. 102" wheel base.
M8274 winch.
Garage made belly up kit.
Koz offroad front cage with frame tie ins.
I think that is enough. I am sure there is more that I forgot.
History:
I bought this Jeep new in 93, well somewhat new. According to the Salesman a woman had bought it and decided she did not like it. Why is it when you buy a used Jeep it is always a woman that owned it?
Anyway it had 1500 miles on it so I considered it new.(so did the loan officer).
I started modding it right away.
I am a little embarassed with what I did to it.
Hey it was the 90s.
Add a leaf and 31 inch tires. All the aftermarket stuff I could throw at it.
I did my SOA in 97 and went to a Jeep Jamboree in 98.I was hooked.
I joined our local club (MIJC) in 98.
I put the nine inch in the same year after watching one of our members roll down a cliff after the Dana 35 broke and the axle shaft came loose from the rear end.
I was also not running a traction bar and tore up more driveshafts than I care to remember.
I put a MORE traction bar in 04 after a buddy was watching me trying to get up the waterfall at Tellico. He said did you know you have severe axle wrap?
I really had no clue that I had it. At the time I was running Rubicon Express SOA springs in the rear, that were suspose to control axle wrap. Yea right.
Did the wheelbase stretch during the winter of 09.
Here it is before the Sniperfab fenders, at Flat Nasty in MO.
Here it is back in 2010 in Moab.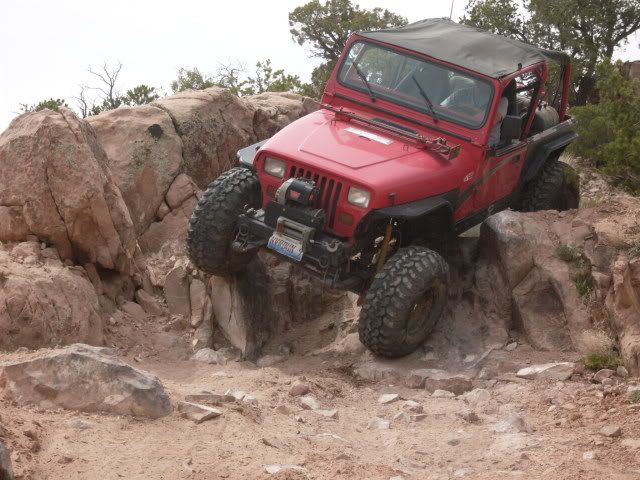 Poser shot
``````````````````````````````````````````````````
Scary-Animal
Year: 1987
Engine 4.2 nuttered w/ 2100 motocraft
Procomp 15x10" satin black wheels
37/12.5 Super Swamper IROKs
High Flow Cat Super 44 Series Flowmaster
AX-15 & NP 231 with SYE
8.8 Rear 4.88 Motive Ring Pinion Aussie Locker, SOLID dif cover welded tubes
Shortened Dana44 Powertrax locker, skidded,
Crossover steering, Ford knuckle, BTF steering arm
Chromoly custom front shafts shortened upgraded u joints
Modded XJ Front Shaft on rear
Custom Triangular front drive shaft built locally
Custom Fuel Tank Skid 3/16 steel plating.
Relocated Reverse shackle 1" lift rear 1" stretch.
Reverse shackle stock length front shackles
Front stretch 2" with WP Warrior Cross-member/mounts
3.5" BDS Springs SOA
Bedlined inside and out
Rancho 9000
2002 Grand Prix Seats
2007 Durango Center Console
Highlift Jack mount made from All-Thread, stock spare tire bumpers
9 in over stock extended steel brake lines
Durango steering gear box
Smittybuilt SRC Front Bumper (slightly modified)
200W Kenwood Amp Hooked to 2 Alpine 4.5" dual plate Mids/Tweets & 2 Premire 6x9s
4.5" LED taillights with 1.5" Halogen reverse/rock lights.
Custom Tube Fenders/Stock inner fenders modified
Antiwrap cables with turnbuckle and locks
Bought this Jeep as a stocker from my father-in-law. I decided I wanted to learn about vehicles, and weld, and fabricate metal... so I learned on this.