Maintenance required light came on?
---
I know what to do when my engine light comes on but what the hell is the maitenance required light trying to tell me. How do I firgure it out without going to the stealer-ship?
---
/I,[_____],
L---L--[]IIIIIII[]
()_)()_)--------)_)
92 Wrangler
2.5L No mods yet! Besides 31's.
87 Wrangler W/258 stock and even missing parts.
Senior Member
Join Date: Oct 2002
Location: West Virginia
Posts: 577
The light comes on at certain mileage,it reminds you to have things checked over like emissions and so on.
Registered User
Join Date: Sep 2004
Location: Near St Louis,MO
Posts: 1,066
Do what I did just take the bulb out. I dont have factory exhaust and it didn't effect my emission output to I just pulled the bulb problem solved!! But really if you have emission tests you might want to have it looked at
---
1998 Grand Cherokee 5.9 Limited Edition, Upcountry Suspension for Now, Infinity Sound, NP 242 Swap

2002 Jeep Liberty Sport 4x4 3.7L Auto

1998 TJ 4.0 Auto Sahara Package 4" Suspension Lift 33 BFG Hard & Soft Top
Registered User
Join Date: Nov 2004
Location: Suffield, CT
Posts: 55
The maintenece required light is on a timer that tells you when your O2 sensor is due to be changed. I think the timer is set for 85000 miles The only way to shut it off is to replace the timer. Just take out the bulb and the problem is solved
Registered User
Join Date: Aug 2004
Location: kenowhere (kenosha)
Posts: 877
Actually on a 1992 the timer light is able to be turned off, I got mine to shut off, I think by just replacing the O2 sensor. I do believe that was at 85,000 miles. For some reason mine came back on, when I was in the garage for a diagnostic check the tech just reset it with a scan tool and the thong has been off for the last 10,000 mi. I think on the older models yopu have to take the bulb out or whatever. If the light bothers you just stick some tape over it until you can figure it out or have someone reset it. I think it may say how to do this in the Haynes I will look later.
Registered User
Join Date: Jan 2004
Location:
Posts: 613
If you have the timer just unplug it. It's on the firewall in front of the shifter.
Registered User
Join Date: Dec 2003
Location: Jacksonville, NC
Posts: 107
What does the timer look like?
---
/I,[_____],
L---L--[]IIIIIII[]
()_)()_)--------)_)
92 Wrangler
2.5L No mods yet! Besides 31's.
87 Wrangler W/258 stock and even missing parts.
Registered User
Join Date: Jan 2004
Location:
Posts: 613
Like this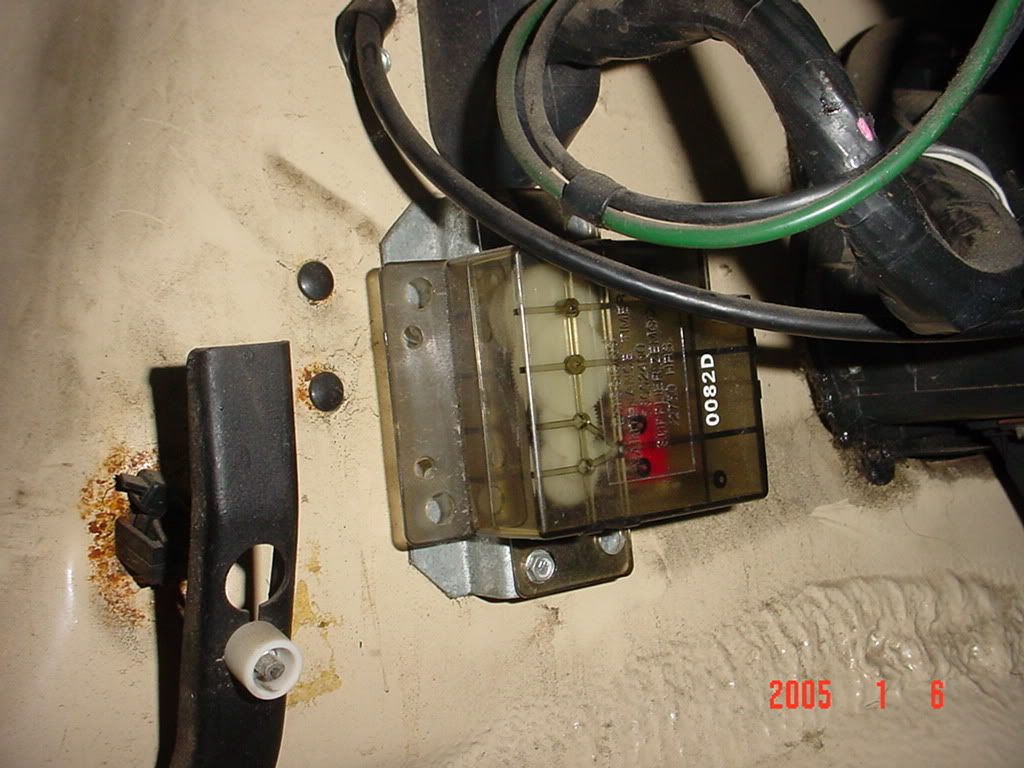 What the hell?
Join Date: Nov 2004
Location: at the bottom of Big Cotton Indian Creek, GA
Posts: 1,435
wow!
that thing actually has clockwork gears in it.
---
.

To view links or images in signatures your post count must be 10 or greater. You currently have 0 posts.

________________________________
'05 Rubi, Patriot Blue, RE SF, Antirock, Warn, Fabtech, Tomken
_________________________________
2000 Grand Cherokee Laredo V8, Patriot Blue
Stock
________________________________
'93 YJ Sport, Canyon Blue
4.0, auto, air, limited slip, HT.
2.5" Rancho suspension, Ramsey 8000
_________________________________
Previous Jeeps...
'91 XJ Laredo, white
'87 YJ Sport, white
Registered User
Join Date: Jun 2004
Location: Somewhere east of Seattle, WA
Posts: 223
Just had mine cleared at the dealer with the DRB II - most of the time they will do this for you at no charge.
The FSM confirms that the ONLY function of the Maint Req'd light is to remind the owner to replace the O2 sensor and other components and that it is only triggered by time... for older models ('91 is when they changed it I think) the timer was semi-mechanical, for newer ones it's all electronic and based on cycles of ignition timing, so there's no set way to know how many actual miles will fire it - I've heard that lots of high revving will cause it to fire sooner.
Also, it's not indicitave of the actual state of your O2 sensor at all, it's just a 'good idea' to replace it every 80k...I've got a nice O2 sensor tester that lets me check the condition of O2 sensors...neat tool. Replacing the sensor alone will not shut off the light.
...talk about generating repeat business for the dealers...
---
'92 YJ Sahara / OME / BFG AT/TA - a few other rides.
Currently Active Users Viewing This Thread: 1

(0 members and 1 guests)
Posting Rules

You may post new threads

You may post replies

You may not post attachments

You may not edit your posts

---

HTML code is Off

---