Before i bought my YJ i really wanted a scrambler. Then i found out how expensive they are. After seeing a few really nice lifted TJ unlimiteds, I decided that it would be sweet to stretch my jeep to the unlimited length. This length would be a good compromise between the departure angle of the yj and the extra space and wheel base of the scrambler. Although this thought bounced around my head for a while, i never thought i'd actually do it.
While trying to come up with a master's project, I ran through a few different ideas including a cnc plasma table, but realized that there wasn't really much engineering involved, and i'd have a hard time writing a paper on it. I finally settled on doing a coil conversion on my YJ from scratch. This will give me enough material to research and there will be plenty of stress analysis involved as well.
I was able to get a graduate committee together and located a place to build my project.
I figured while i'm going to be taking the time to build a new suspension, i might as well lift the jeep at the same time. If I'm lifting the jeep I'll need stronger axles, and what the hell, let's stretch it too.
The project is going to be broken down into two phases. Phase one will be getting everything done that needs to get done before i build the suspension. Phase two will obviously be the suspension.
the plan is to run a ford high pinion D44 narrowed to wagoneer width with chevy flat top knuckles and high steer for the front. In the rear i will be running an explorer 8.8 converted to 6 on 5.5 to match the front.
The front will have an aussie locker and the rear will have the factory trak loc limited slip. both axles will be geared to 4.88:1.
For wheels i will be running double beadlock H1 rims recentered and converted to 6 on 5.5. The tires will be the military goodyear wrangler R/T IIs found on early hummers. they are 36". I may move to 37s later when i have more money.
Enough talk, it's pic time.
PHASE 1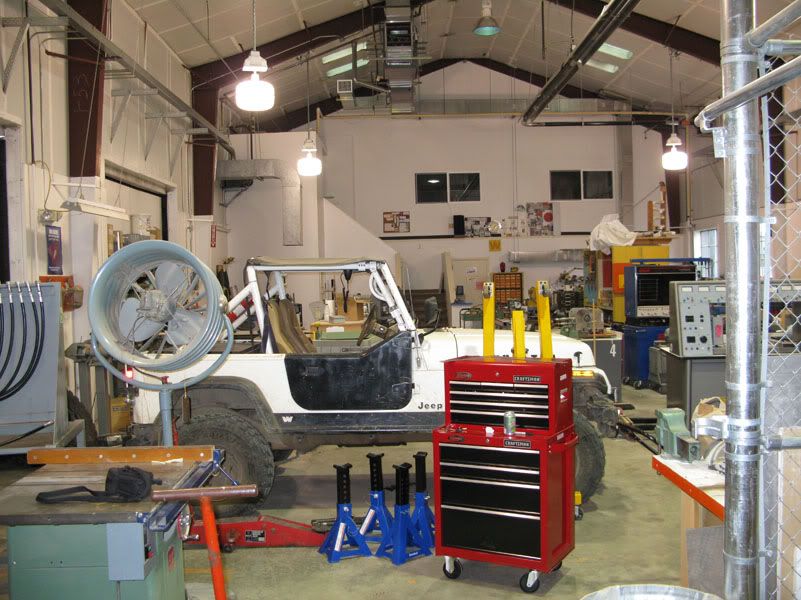 This is my working area, the power tech lab at the school. There is a classroom on the second floor which you can see behind the jeep. there's only about two or three classes in the building per year, so i will pretty much have it all to myself.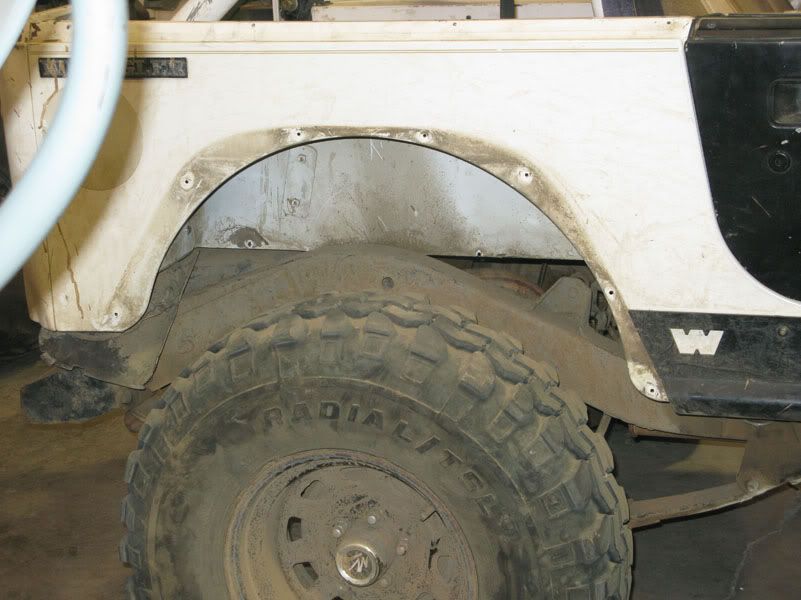 It took me a couple of hours to get everything ready on the jeep including removing all of the crap on the back end that i wanted to keep, the fender flairs and the rubber liners on the inside of the wheel wells. I ended up cutting them up to get them out easier since they won't fit back in when I'm done.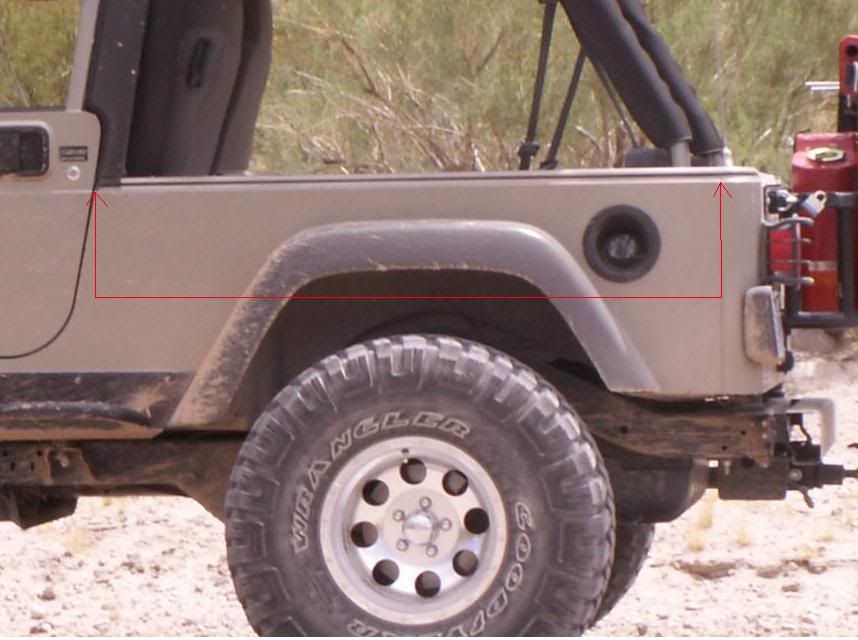 After making a post on the TJ forums, i was able to get a few people to go out and measure their unlimiteds like so.
the general consensus was that the distance was 55 and 7/8" the same dimension on the YJ is 41", so that's a stretch of 14 and 7/8".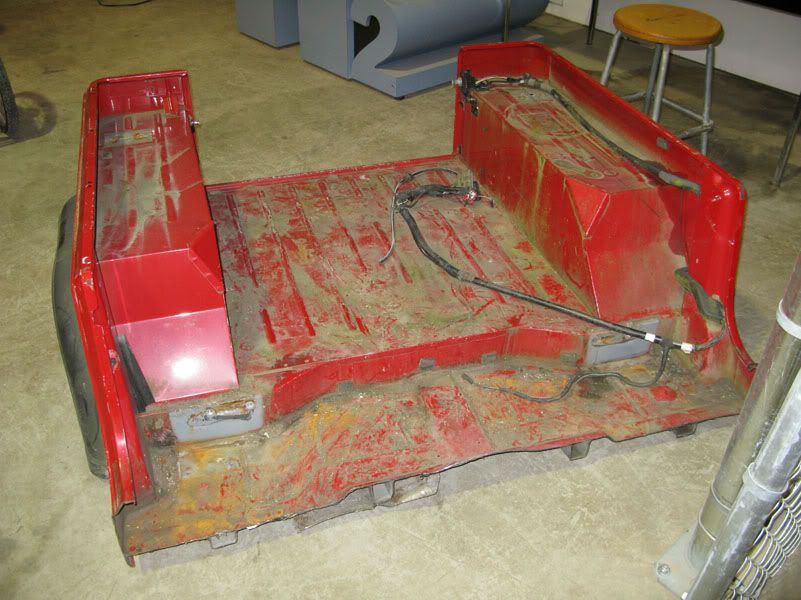 Here's the tub chunk i picked up at Olympic 4x4 in Snohomish, wa. it was $200. instead of just cutting my body and patching in between, i decided to get the rear of another yj tub because it would be easier, plus my old tub was dented up in the back.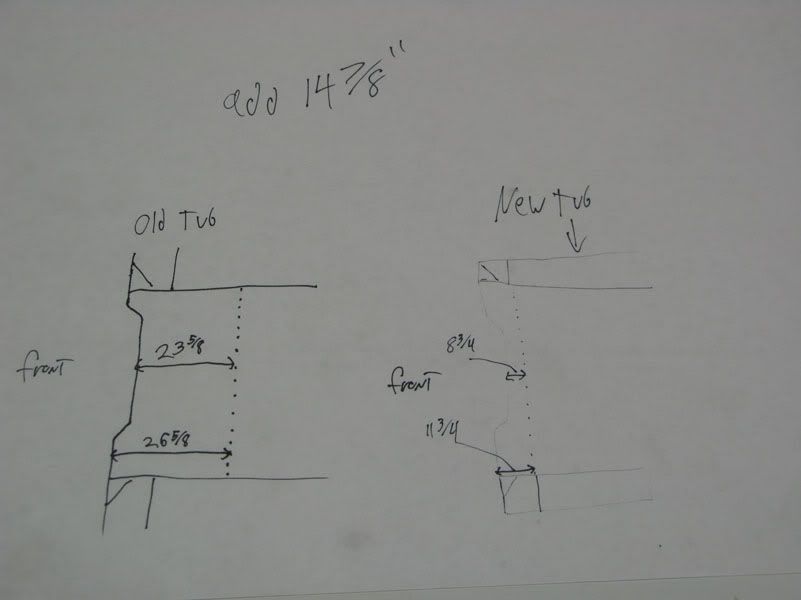 here's the plan!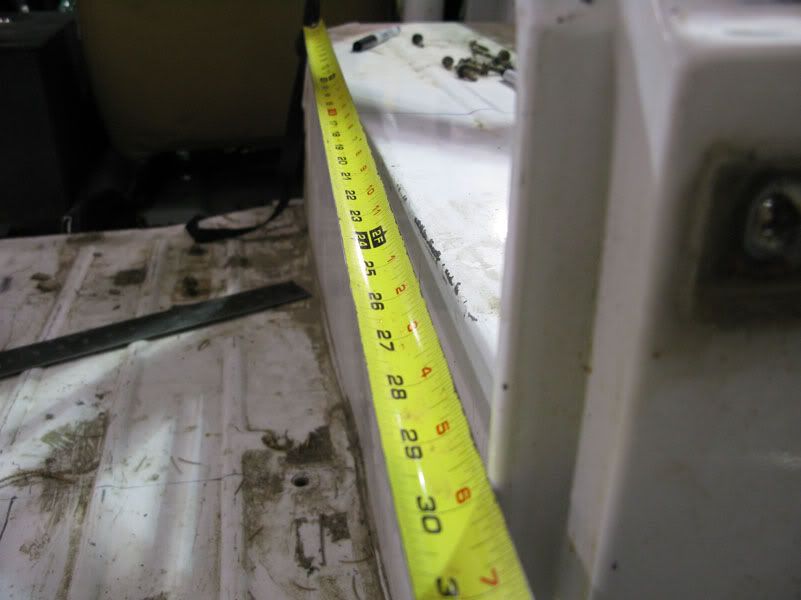 i found the best places to measure from were the back tailgate lip and the top of that triangular wedge piece on the wheel wells. It was the only place i was able to get a consistent reading from side to side (and tub to tub)
after marking out my line, i started cutting with an air cutoff wheel. it worked pretty well. I used a square to transfer the line onto different surfaces. I triple checked to make sure all of the cuts were square because i have to try to replicate the exact cut on the other tub.
The air cutoff wheel worked great. I had access to a plasma cutter but thought the cutoff wheel would make a straighter line. the first cut only took a couple of minutes.
the floor took a while because it's a lot thicker AND it's double layered. who knew?
( Stretched YJ Jeep Stretch body unlimited length) <- adding some keywords for searches. It took forever for me to find anything when i was doing my research.