*** June YJOTM!! Vote Finally!!! ***
---
It's here and I'm sorry it's late.
Enjoy.
Rules for voting
Post when you vote or it will not be counted
No soliciting votes from within JF or outside JF*
No promotion within this thread will be permitted via more pictures. We have PMs please use them*
All voters will remain public as to promote self moderation
```````````````````````````````````````
Youngjeepr
1999 chevy 350
mild cam
Edelbrock intake
TH400
NP231
Dana 30
Chromoly TJ shafts
Powertrax no slip locker
Ford 8.8 rear
SOA on stock springs
Hurculined tub
Homebrew sliders
Homebrew front bumper soon to be replaced.
When I was 14 I thought jeeps looked cool so I got a job and started saving up for one. By the time I was 15 I bought my 88 yj with 128k completely stock. I knew absolutely nothing about cars, but I thought it looked good so I didnt care about the mechanical condition about 6 months later the clutch went out so I bought a repair manual and taught myself how to do it. after that all hell broke loose and I was constantly working on it... Long story short I have now replaced every part on my jeep besides the body and frame. I can now tell you how just about any part of a car/truck works because ive either replaced it or rebuilt it. Now that im 19 I have my jeep just about where I want it, until I go 4 link maybe 5 link and full width axles.
When I first bought her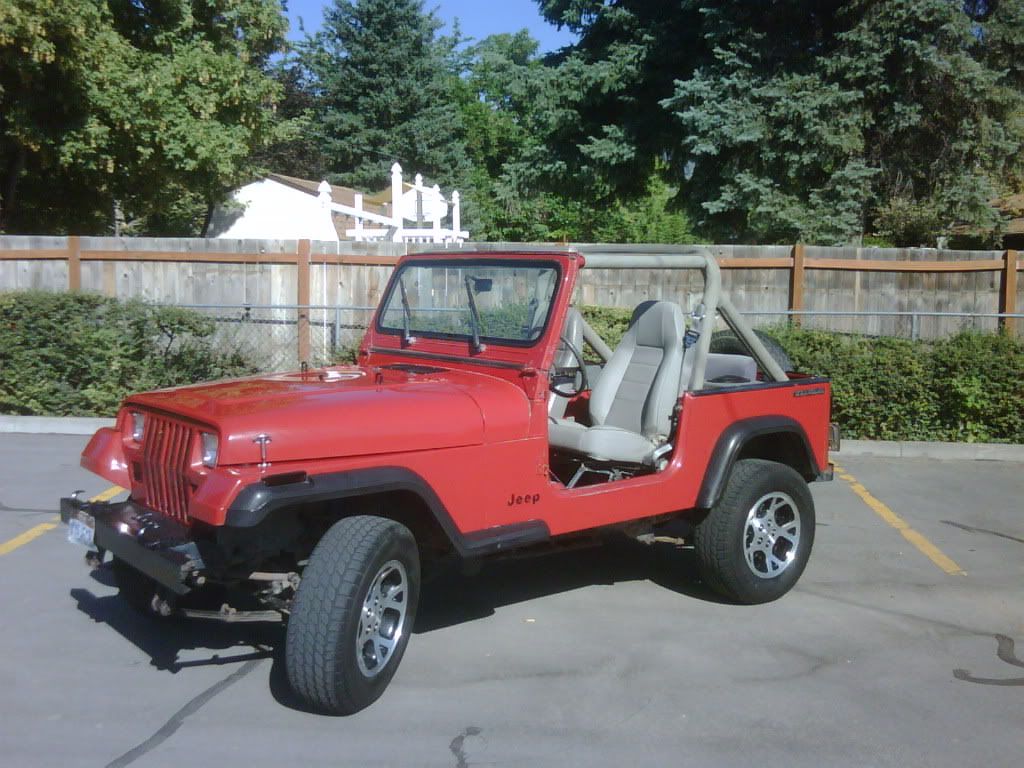 The 350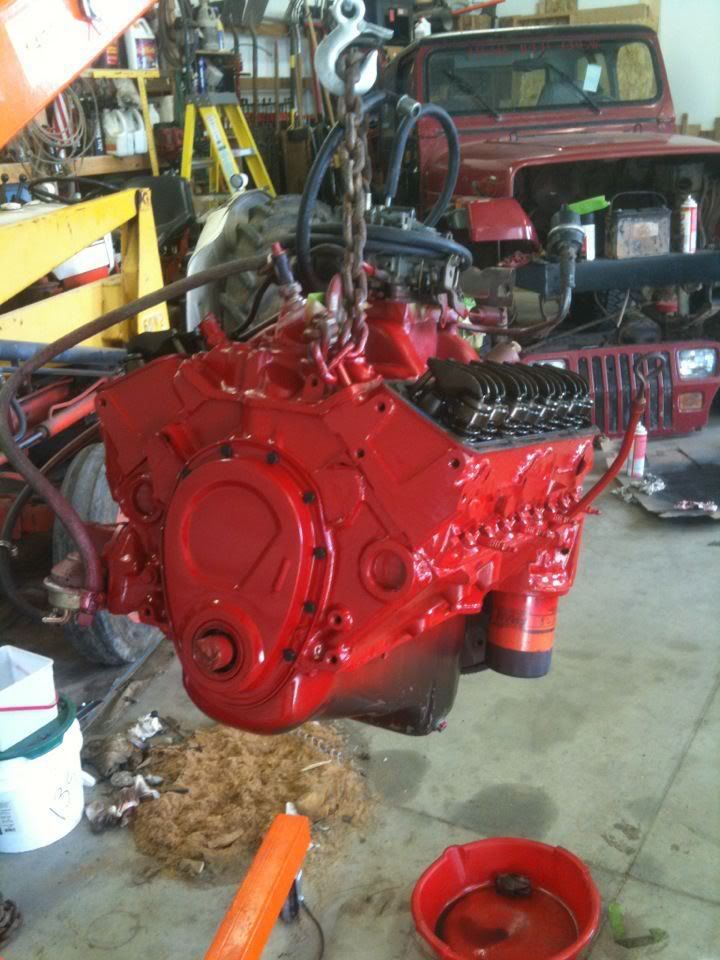 2 weeks ago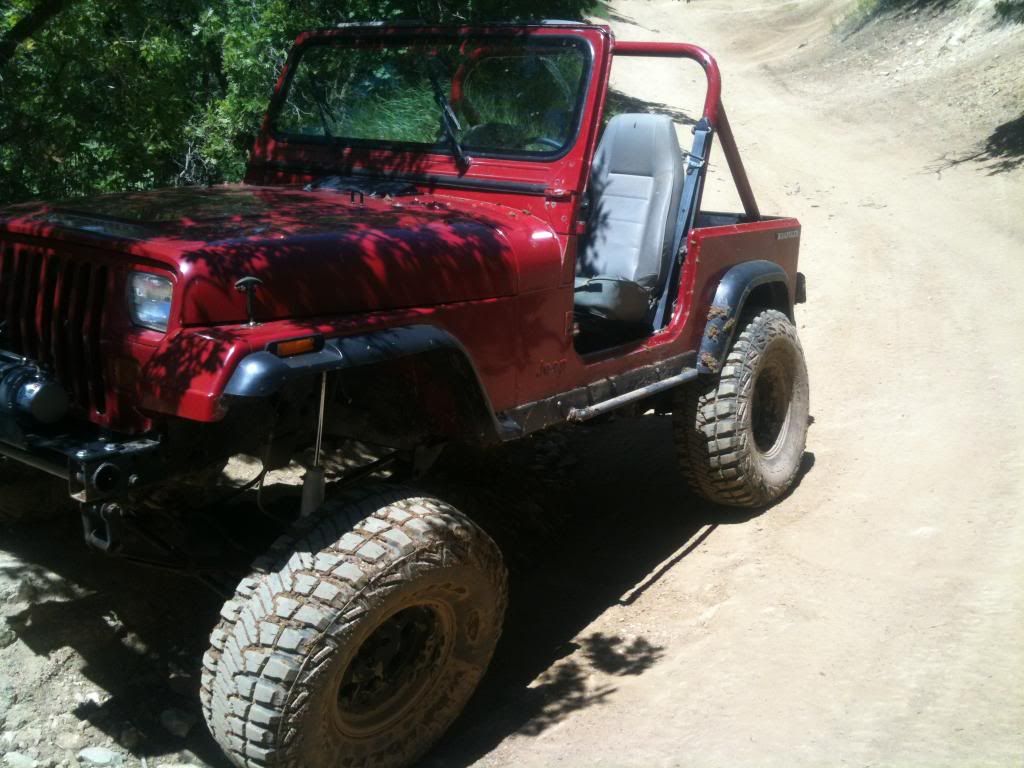 `````````````````````````````````````````
skyj
1990 Jeep wrangler
4.2/ 4.0 head swap, HEI
motorcraft 2100 carb
Ax15 5 speed
np231 with SYE
cut down cv shaft from cherokee for rear shaft
lengthened cv shaft from cherokee for front shaft
ford 8.8 rear 4.56 gears and detroit locker
LP dana 30 from ZJ with 4.56 gears and tj shafts(open) soon to be replaced with waggy dana 44
saggy Grand Wagoneer springs giving 2.5" of lift and
4" of stretch
1" shackles and 2" body lift.
tie rod flip with ford ranger pitman arm.
home made MORE inspired shock extensions.
Warn 5687 winch.
custom made front and rear bumpers all built by me.
home made rear swing away tire carrier.
seats out of a 99 TJ
custom roll cage made using YJ sport and TJ family cage.
custom ammo can center console with cup holders
35x15.5x15 super swamper SX mounted on 15x10american racing wheels
33x12.5x15 BGF all-terrains mounted on ultra wheels
I grew up driving a jeep on our ranch and during my senior year of high school I built a cj-5 from the ground up with my father. Doing that brought me so much closer to my father than I could ever imagine. I bought this jeep a few years ago with the intensions of building it with my three sons. My two oldest boys Love working on the jeep with me and its been a great project for us. MY youngest (1yr) is still a little to young to be helping but there are always more mods to do and more to improve on (ie replace the LP dana 30 with a dana 44). The Best part is that we have done this entire jeep from my garage with only the tools and Welder we have at our home. My jeep is by no means DONE and plan to continue to mod it and spend lots of hours in the garage with my boys teaching them and learing from them with this jeep. Its not just a vehicle to us its a family member.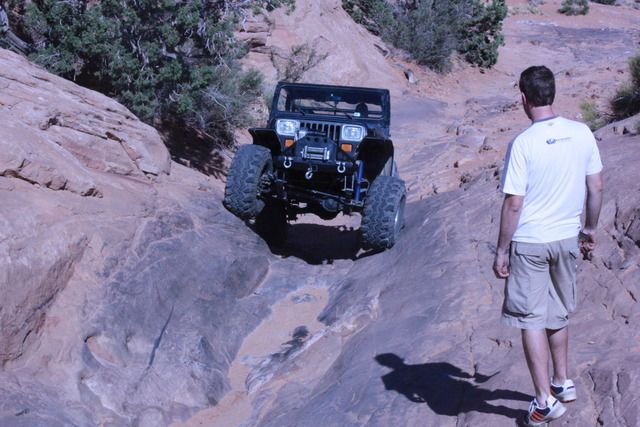 ````````````````````````````````````````
NotmYJ
92 yj
4.0, AW4 (overdrive auto out of XJ), np231, D30 front w/ yukon shafts, one off air operated OX Locker, Ford 8.8 rear, yukon shafts, mini spool, 4.88's. 37x14x15 Swamper Irok bias plys on 15x10 Mickey Thompson classic II's. SOA on factory springs, winch, bumpers, body armor, tube fenders, and a UCF Ultra High Clearance skid plate, York OBA and more that I'm probably forgetting
This jeep was born out of an rear end accident that totalled the last yj. This one was bought with the intentions of being a weekend warrior/toy. I bought it from a member here sight unseen. Title work and payment was done via fedex and I had the jeep shipped to my house. When it arrived in stock condition, I drove it 1/2 mile around the block then in the garage it went. A few weeks later this is what emerged save for a few changes like tires and wheels. All work was done by me and an occasional hand from a few friends.
[ame]http://www.youtube.com/watch?v=7U08oUIONTk&feature=youtube_gdata_player[/ame]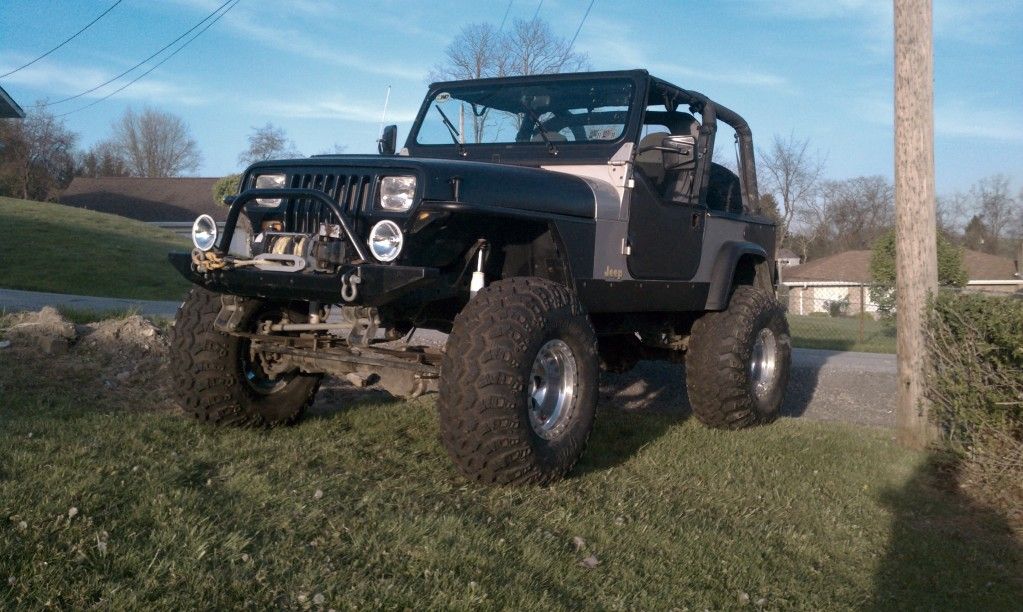 ```````````````````````````````````````````
Gravesdiggerxj
-1989
-Corvette TPI 350 and 700R4 Auto swapped in. 62000 miles on the motor. Rebuilt transmission.
Hurst Shifter.
NP231 transfercase with a 27 spline input and 32 spline HD SYE. CV rear driveshaft by Tatton's Drivelines.
Chrysler 8.25 rear axle and steering column swapped from a Cherokee.
Approx 2" lift and very good 31" tires mounted on 15" chrome wheels
TJ flairs, clear corners and custom paint. The color is Burnt Orange Metallic from a 350Z. The metallic makes the color almost change from light to dark depending on lighting.
Black color matched Dash and reupholstered sun visors.
Warn rear bumper w/ integrated 2" hitch. Hippo-liner bedliner interior.
Dark Grey/ black Durango SLT plus leather seat swap with full functioning electrics. Rear bench seat professionally reupholstered to match with suede insert. TJ rear seat belts.
Custom 2.5-3" exhaust.
Custom LED rear tail lights. Custom flop down tailgate (CJ style). LED plate light.
DOT HID front projector style Headlights
Optima Red Top
-I built this for my wife to daily drive as a wedding present and she absolutely loves it. We did a full ground up resto-mod build on this Jeep.
-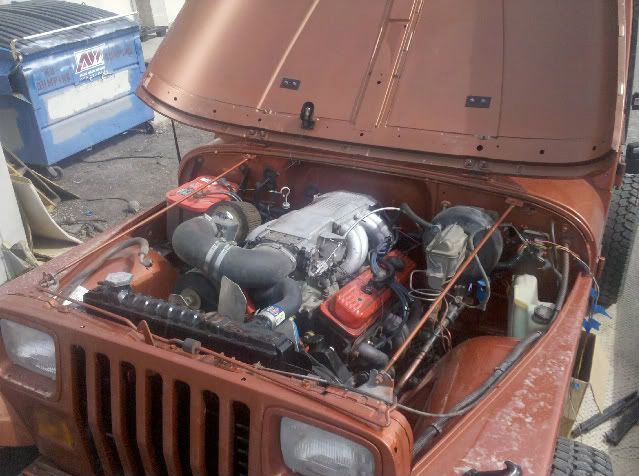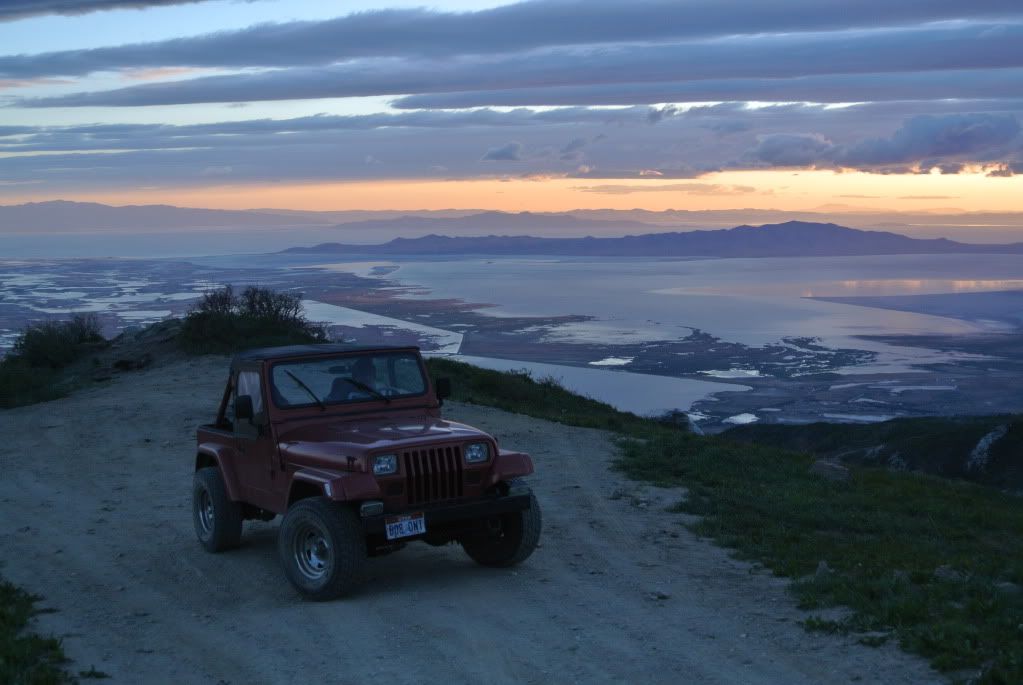 ``````````````````````````````````````````
Mudcrawler90
1990 Jeep Wrangler YJ
spring over and 1" shackles and 1" Daystar body lift
Drivetrain:
4.2L I6 with Weber carb
AX-15 5 speed
NP 231 with Slip yoke eliminator and CV shaft
Armor:
Custom ¼" steel Front bumper
Smittybilt XRC rocker guards
Gen-Right short corner guard
Axles:
HP Dana 30 front with JB 4x4 high steer bracket
Ford 8.8 rear with limited slip and disk breaks
4.10 gears
Electronics:
CB Radio
Sony Xplod head unit
Digital gauges in an Auto Meter center gauge cluster
55 watt fog lights on custom bumper mount
ProComp 100 watt lights on the hinges
Recovery:
Hi-Lift Jack
Smittybilt XRC 8 winch and recovery bag
Tow hooks front and rear
Smittybilt compressor
Other odds and ends:
32" BFG Mud Terrains on Pro Comp Rock Crawler Wheels
1999 TJ roll Cage w/ sound bar and custom rear hoop
Raptor Lined tub
POR-15 on the entire undercarriage (frame, axles, springs, etc.)
Custom made flip-up license plate/light/camera mount.
Sway bar disconnects (because I'm not the only person who will ever drive this and the others can't handle the body roll)
Plenty of custom pin striping thanks to tight NE Ohio/Western PA trails.
[ame]http://www.youtube.com/watch?v=XsoV7S9csPA&feature=youtube_gdata_player[/ame]
---
Luck Favours The Prepared