Registered User
Join Date: Jan 2010
Location: NYC
Posts: 685
Quote:
I make light bars too. They mount over your hinges like the one shown but are much nicer. They hold 4 lights on the top and 2 on the bottom and I sell them for $150
Very nice, $150 + shipping?
---
Did you Hug your Jeep today?
2008 Jeep Liberty
1994 Wrangler Sahara
just send me a message with your zip code and an email address and I will send you a quote.
Any possibility you could build something similar for the back for some pond boat hauling?
Sure, I made one to haul a jonboat for some one but it mounted to the rear bumper so he could still use his hardtop and it was detachable. I can even put rings on the corners to attach straps. Do you have stock bumpers?
A lot of people are asking about stainless and I can do it but it cost twice as much. I build a lot of custom designs for people, everything from autocad to hand drawings and I really enjoy making one of a kind pieces so if you have something in mind just shoot me your idea and i'll give you a price. It never hurts to ask.
RIP one good jeeper
Join Date: Aug 2009
Location: Ripon
Posts: 20,368
It may be advantageous to be getting a vendor account before trying to sell anything.
---
Luck Favours The Prepared
Not stock but here's a pic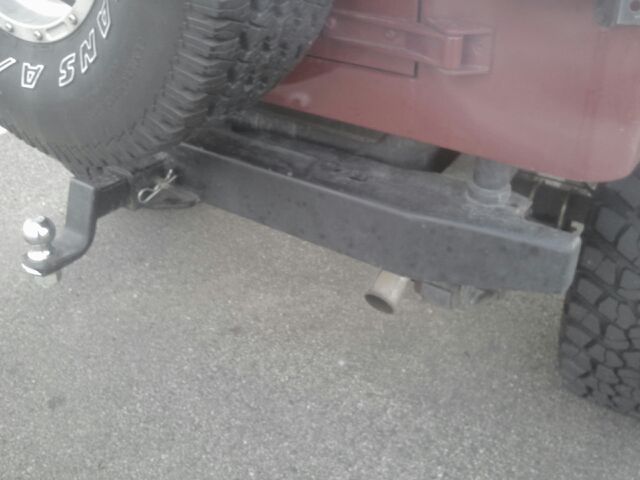 I make two 6" 'recievers' out of 1 1/2 o.d. that mount to your bumper then the 1 1/4 bar sets in them and locks with pins. Then you can easily take it off. I got scolded (hehe) last time I tried to post pics but I'm working on it.
Ill pm you with my number in a few give me a call I'm definitely interested.
Thanks, hope I can help you
Registered User
Join Date: Oct 2012
Location: Mullica Hill
Posts: 135
Quote:
Is this the one you're looking for?
Attachment 507816
http://hudsonvalley.craigslist.org/pts/3321356007.html
Not mine but I was gonna contact the guy for some of the other parts. I think he's kinda far from you, but i figured i'd throw it out there. Honestly those tabs look a bit flimsy to me, I went with the Olympic 4x4 maxi light bar:
Attachment 507827
Attachment 507828
With those big kc 69 series lights, it's a bit over the top, in more ways than one
The one I got obviously only has 4 spots, but I think I saw one with 5 on Craigslist before I decided to go with this bar, and by then it was sold. The tabs are a bit more beefy as they have 3 sides; horizontal on top where you bolt the light, and two vertical below for support, all welded to the bar. And you can rotate it down if needed for clearance in a parking garage or whatever. Though wiring it was a bit tricky. If you want I can see if I have any pics of when I installed it.
I'm thinking about getting this light bar but I have 2 KC lights mounted to the windshield hinges, do you think it will work?
Registered User
Join Date: Apr 2015
Posts: 111
Quote:
Originally Posted by
firefighter315
View Post
Quote:
He said "like the one shown" apperently to the fact they mount over the hinges.
It would help if I paid closer attention, wouldn't it?
I doubt the OP is still looking for one. His post is almost 2 years old. I actually gave one away like the one he wanted. Built this one to replace it. Wanted low profile & very little amp draw.
How did you have yours wired? I'm trying to figure out how to wire my lightbar without drilling holes!
Currently Active Users Viewing This Thread: 1

(0 members and 1 guests)
Posting Rules

You may post new threads

You may post replies

You may not post attachments

You may not edit your posts

---

HTML code is Off

---