Ok I have posted several times on this but now I have everything installed on my 98 jeep yj 4.2L 258. but I am not having any luck getting it to fire.... My first guess is that I have the timing off. I do have fuel flow, it took awhile and a mouth full of gas but it is pumping.
I will explaine both the carb and the dist in pictures below.
This is a new engine to me, it has about 35000 miles on it.
I installed a new:
Weber 32/36
CRT Performance HEI Distributor
New exhaust manifold and new Valve cover
Carb install specs:
I installed the vacume lines per the diagram on the 32/36 sticky
Vacume advance:
I came off of the CTO valve in two places with a T like shown in the diagram from there I went to another T one into the carb vac port on the right side in the picture and than to the vacume advance on the carb
PCV:
off of the valve in the spacer below the carb to the PCV valve and than down to the charcoal canister
CTO:
straight to canister
EGR:
from CTO to EGR valve (i do not have and EGR tube so I plugged the hole with a bolt until I can get one)
Hose to the right is fuel
hose to the lower left with T is the vac advance
hose on the top left is carb vent directly to canister as well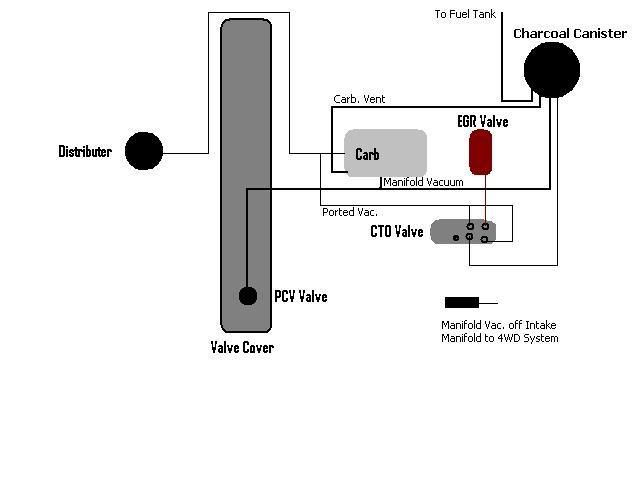 Distributor (CRT Performance HEI)
This engine had the distributor removed when I got it so I had to find TDC on my own. I put my finger over the 1st cyl spark plug hole and turned the engine until I felt the air. When I checked the timing the line was at 0 TDC. I would assume this means I found the TDC of the 1st cyl.
from there I installed the dist with the vacume advance facing the passanger fender, took off the cap and marked the first point based on the rotar button. installed the wires 153624. I do get a spark.
so I get nothing....... it turns and I hear a carb pop every 10 seconds or so and a little bump but nothing that sounds like it is going to fire. I even tried turning the dist 180 Deg out but still nothing. The plugs are flat black not wet.
any ideas where to start???