Registered User
Join Date: Jan 2012
Location: Newbury Park
Posts: 74
Internet EFI and 4.0 Head Project Tips
---
I wanted to put something together to help those looking at doing an EFI and 4.0 head project into a Jeep YJ. I've found a few good articles on the subject but always get thrown off a bit when you're actually going through the project. My disclaimer: These are my personal tips, I'm not stating it's the right thing, just something that worked for me. If you have a better, cheaper, faster way than please share. But ideally these tips are for those that can't get a donor car or have access to cheap junk yard parts and don't want to buy the complete Mopar MPI kit. I figure I saved about $1000 off the MPI kit and was able to do the 4.0 head as a bonus.
A little background: I had finished a NV3550 swap into my 87 YJ about 2 months earlier and planned into that project my EFI project. So I put in a 4.0 flywheel with anticipation of putting in a CPS in the bell housing. I knew Hesco sold an EFI kit for around $2500, plus a damper style CPS for another $350, but I couldn't force myself to spend that kind of money knowing I could do EFI and 4.0 head for around $1500 just sourcing parts. I originally thought I was going to do a Junk Yard EFI until I started getting prices from local junk yards, wow, often close to or more than a new part would cost. If you're doing EFI alone you're still going to be around $1000.
So that's when the challenge really began. In the end, I spent around $1700, not including my time and fuel cost. Hopefully I can pass on some knowledge that will allow you to save more than I did and less aggravation. I did look at other options such as donor car but given my logistics it wouldn't have worked out so well and would have introduced other issues such as towing, licensing (DMV), etc… that I didn't want to deal with. Plus being in California everyone thinks their non-running wreck is still worth 2K.
So the goal was to do the complete swap using parts I sourced online through Ebay or online parts like Rock Auto. Another goal was to travel for parts and junk yard as little as possible for this swap. The junk yard went well as I only made one planned trip, but the auto parts store was a little much. In hindsight I should planned the parts trips a little better and ordered online for everything, shipped right to my door. The little trips added up about $300 more than I should have spent, but that's the problem when you get impatient and want to have that plug wire set now for $40.00 when you could have bought it online for $7.99 with free delivery.
For those of you who want to do this swap for your DD; don't do it. You're jeep will be down for a few weeks at best and you'll loose your sanity trying to find a parts store on Sunday at 7:00PM because you need your jeep to get to work Monday morning. My jeep was out of commission for about 2 weeks for the swap and another week to iron out issues, but could have easily been more than a month or two had I not bought some parts locally. Remember this, you can have your jeep done fast, cheap, or correct, pick two. Started out cheap and correct, but ended up blended a little fast and correct by spending a little more than I originally planned.
Because this is not a "How To" I'm not going to go through every detail, only those tips that helped me or we're vague from other sites. Basically I'll try and save you some time if I can.
The first purchase I started with was the wiring harness. The wiring harness became the reference for the year I would use for the computer and in my case was a 1991. Make sure you purchase the right computer for auto or stick as the idle is set different. Get circuit diagrams for the specific year of your wiring harness. The computer PCM pinouts tend to be the same but the wiring colors are different per year. Even with a good circuit diagram get ready to trace wires down and research as their are some subtle differences. At first I thought I had the wrong wiring diagram but 99% is correct so I figured it was simply errors in the diagram, but test/trace to make 100%.
Tip: If you are going to use a 4.0 flywheel and CPS make sure you get a new starter. I tried to use my 4.2 starter and apparently the gear doesn't pull back enough and you get that metal to metal grind. The same sound that you get if you try and start a car that is already running, but this time doesn't go away until you turn it off. If you can't do the flywheel version then you'll need to look into the Hesco route. But if it were me, I would buy used ax15, np231 (or just input for current np231), flywheel, and clutch kit for less than the Hesco damper and CPS. Plus you would have a better tranny in place.
Tip: Lay the wiring harness on the engine in roughly the location it will be installed. Hookup all connectors related to your install plus PCM, then remove the plastic keepers and wire loom on the main thick harness section. You're doing this to remove all the wires you don't need, plus to trace back everything from the PCM you'll need to keep and hook up. Since the PCM is the main controller for EFI we only care about the connections coming from this unit to the rest of the engine. Generally if the wire doesn't come from the computer you probably don't need it.
Tip: You don't need the entire PDU. I gutted the PDU for my initial start and troubleshooting, but really I didn't see a need to keep an entire PDU unit for 2 relays and 1 fuse. I bought an external 30 amp fuse holder and wired the relays. You can purchase new relays but I found the ones in the PDU work just fine, plus you'll have extra's from the other PDU relays you pulled. If you're not familiar with relays, learn how they work before attempting this or just leave the PDU alone. If you mis-wire you could prevent your car from turning off or worse end up frying the PCM.
Tip: Sites that helped me immensely.
Jeep Forum for help with wiring diagrams, tips, and opinions
http://www.jeepstrokers.com/forum/vi...c.php?f=6&t=24
http://www.angelfire.com/my/fan/dist_index.html
and Hesco MPI installation and tip sheet
Tip: Source from Ebay: complete intake, wiring harness, computer, exhaust manifold, head.
Tip: Look for free shipping, closeouts, and compare prices. What you really care about is what is the cost to get the parts to you. What good is a discount if you're going to gouge me on shipping and handling.
Tip: Buy new sensors and distributor. I found a closeout distributor, so I paid $60.00 with no core. Unless you know for a fact that sensor works don't waste time troubleshooting old parts. But if you're OK with troubleshooting and waiting for PCM codes to tell you what's not working then knock yourself out. In my experience I've found the junk yards want more for sensor parts than the cost of new.
Tip: Get the Hesco fuel pump, regulator, and alternator diode. I never really liked in tank pumps or more specifically ones you had to drop the tank to get to. Fuel pumps usually last a while but you'll be happy yours is external when it does go out.
Tip: Buy the Hesco air filter kit unless you want to DIY something together. I've looked at trying to build a cheaper kit, but between what the junk yard will charge as well as time, you'll come out ahead with the Hesco kit. Note: You still need an adapter or hose to go from your charcoal canister to the intake. 1/2 to 3/8 adapter from Jegs worked well.
Tip: The CCV from the back of the valve cover to intake. Use a 1/2 tube on the CCV side, place a 5/16 short hose on the intake fitting thats about 1 inch longer than what you need for the fitting. Take the 1/2 tube and slide it over the 5/16 hose and fitting, it should work as a sleeve and no adapter needed. Mine runs flush so it looks like the 1/2 tube fits straight into the intake manifold.
Tip: Get 7120 head as it has coolant temp sender so your stock gauge will work. Other heads may have this, but if you have a choice go with the 7120.
Tip: Buy a head already welded to fit right up to 4.2, unless you want to JB weld but the savings doesn't come out to much when all is said and done. I thought about the JB weld route, but I couldn't find styrofoam that dissolved in water. I even tested different ones in hot water and couldn't find any that melted away. Plus JB would probably work perfectly but I would always have that in the back of my mind that I used JB weld on the cylinder head.
Tip: Purchase fuel line adapters and jets 3/8 input/output fuel filter. Adapters needed 5/16 to 3/8 (tank to filter) and 5/16 to 1/4 (return line) to complete the Hesco fuel pump and regulator kit. See parts list for quantity and options.
Tip: Power Steering Pump bracket will need to be cut to fit under the 4.0 intake.
Tip: Purchase fuel block off plate from Summit or ebay SUM-402035.
Tip: Source from junkyard brackets and bolts. I took zip lock bags to the junk yard so I could bag and tag everything. Coil bracket, map sensor bracket, valve cover, valve cover bolts, intake/exhaust bolts (if several jeeps around then pull from multiple jeeps so you don't need to get the bolts from underneath the manifold). Also pull a couple of intake fittings off as you never know what sizes you'll need.
Tip: Distributor threw me off a bit. When you have the distributor ready to put in, the router will be at about the 2:30-3:00 position and when you install it the gear will turn the rotor to the index point, TDC position. Idiot me, I was looking at the instructions as if they were literal and wondering why plug wire #1 doesn't line up with oil pump position at 11:00. So just set the oil pump slot to 11:00 and install. The oil pump slot is not at 11:00 when seated, just put it there and don't over analyze.
Tip: Hook up a check engine light (CEL) to troubleshoot and if you're in California you'll need it to work for smog check. You should get several codes or at least I did. 12 - Computer power removed last 50 starts, 33 A/C Relay, 41 Generator/Alternator, and 43 Cylinder misfire. Code 43 is due to the new head, the lifters are hydraulic and need to run a few minutes to work correctly and the code should go away. Code 33 and 41 are fixed by installing a 1K Ohm resistor you can purchase from radio shack. I installed 1/4 watt 1K resistors but you can use 1/2 watt or 1 watt depending on what's available. The computer just measures voltage and the resistor is to make sure you don't overload the circuit. I hooked up a small line 18GA to an always on circuit (battery) that is spliced to two resistors then each resistor is plugged into the line going to PCM, one for the AC/Relay circuit (PCM 34), and the other for Generator/Alternator (PCM 20). On newer model computers you may have to supply power and resistor to the Fan check
Tip: To hookup the tach use old YJ tach feed wire and splice this to the coil negative feed wire. To locate the correct wire, it's the one going between the coil and PCM. On mine it was yellow/black PCM (19). There is a buffered tach signal coming from PCM but my splice worked so never tried that. From what I have read that doesn't work unless you change the tach.
Parts list: for EFI
1. Wire Harness : often called engine wiring harness with PDU- The most important piece as it dictates everything else in terms of sensors, coil, and dist. YJ harness from 91-95 is ideal. 95 is best as reference for everything is online, but second best is 91 as it is already pinned for a 2 wire VSS. Jeep Cherokees are ok, but placement of PCM will be different than the Wrangler.
2. Complete Intake - Fuel Rail, throttle, etc… As a note I purchased one from a 96 Cherokee. I had to change out the TPS and MAT sensor as the connector isn't the same. Plus the MAP sensor on in 96 came on the intake, which I removed and placed a cap on.
3. Sensors: MAP, MAT, Coolant Temp (waterneck), O2, and CPS. If your intake is from a 96 or earlier then you'll need TPS also.
4. Coil: I bought from a Jeep supplier as everywhere else kept giving me one with the wrong connector on it.
5. Distributor - If you look hard enough you'll find some supplier getting rid of these for $60 with no core return.
6. Air intake - Hesco
7. VSS - Hesco - You might need to get a 2 wire adapter if your harness is earlier than 91. My harness was missing the wiring going to the transfer case, so I bought the adapter simply to wire it up.
8. PCM - make sure you get a year that matches the harness and tranny style (manual or auto). Might get lucky and find harness and computer together for sale.
9. Charcoal canister : You'll need an adapter from intake 1/2 to canister 5/16 or a soft rubber tube would probably work as well.
10. Fuel pump/regulator
11. Fuel fittings, brass barbs 1 - 5/16 to 3/8 and 1 - 5/16 to 1/4: Jegs. Get two of the 3/8 to 5/16 if you want to use the Hesco filter. I bought a Jegs high flow filter with 3/8 input and output, which also reduces the number of adapters and fittings you need to have in place. Plus the Jegs is a cleanable filter system.
12. 5/16 fuel injection hose: about 5 feet
13. 3/8 fuel injection hose: 3 feet - Hesco sends some with their kit but I find you're better off if you can make the connections before installation and not have to be so exact on your trimming.
14. 195 Degree Thermostat. I think this is the stock thermostat for the EFI year but you can always verify the temp when ordering.
15. Diode - Hesco. Needed for alternator hookup so your jeep will turn off with the key.
16. 12 Volt indicator light - to read troubleshooting codes.
17. 14 gauge and 16 gauge wiring. Needed for the fuel pump and in my case the wiring loom
18. Tie straps (optional)
19. Wire loom (optional)
Parts list for 4.0 Head
1. 4.0 Head - Request the 7120 head as it has a coolant temp sender near the back drivers side for your coolant temp sensor. The sender on the old head fits perfectly on the new one. I picked up the head off EBay from Clearwater Cylinder Head with the water jackets already welded for the conversion. If you're willing to JB weld the water jackets then you could save about $150.
2. Head Gasket Kit
3. Waterneck - bought online, gasket should be in the head gasket kit.
4. Exhaust Header - I bought a stainless steel header off Ebay for about $140.00 that looks strong enough to double as a roll cage if needed.
5. Napa pipe #44626 that comes off the exhaust and connects to cat pipe.
Parts List: Junk Yard
1. Valve cover plus all bolts - get some extra's as well off multiple jeeps, this goes for all bolts I gathered.
2. Intake/Exhaust bolts - to save time just get the top 5 bolts that are easy to get to, 3 jeeps later you'll have 15.
3. Waterneck bolts - Don't get tempted to get the water neck, new is about $7.00.
4. Coil mount - Just the mount and all bolts.
5. Map sensor mount - Just the mount again not the sensor.
6. Vacuum fittings off various jeep intakes. My intake had too many large fittings and good thing I grabbed smaller opening extras from the junk yard. Otherwise I would have been trying to fit a 1/4 tube on a 1/2 opening. Charcoal canister is a good example of this.
Final thoughts: Be ready to design, engineer, and fabricate solution. This is not a bolt on solution and if you're uncomfortable with trying to figure things out then don't even start this project. I had to cut the power steering pump bracket to fit under the manifold. The exhaust headers I bought required some trimming of the intake manifold. I had to cut away some of the metal between ports 5 and 6. You can probably find exhaust headers with better fitment, but don't expect a custom job like this to go perfect. PCM placement and bolt on took a bit of time as bolts where in the way, try and bolt the PCM right side up (louvers down) so you have drainage if water gets in.
Basically you have to be able to think in terms of "how am I going to fit this part to that part" or "get this from here to there". Fortunately I didn't need to weld anything even though I thought about welding together a bracket for the PCM. Also I could have welded the exhaust but I didn't have a pipe expander and I wanted to put in a flange to be able to disconnect the exhaust in front of the CAT. So for less than the cost of a decent pipe expander and tube bender I let the pros handle this one.
Fuel pump and regulator installation requires some adapters. The lines on the YJ are 5/16 and connections between pump and regulator are 3/8 and output from regular 5/16. You need 2 - 5/16 to 3/8 and 1 - 1/4 to 5/16 for return line to YJ's hose, I found both these as Jegs using brass barb in the search. I opted to not use the Hesco filter and bought a Jegs 3/8 barbed filter for about $30 so only one of the 5/16 to 3/8 adapter is needed, plus gives a little wiggle room between the corner area with all the hoses and your filter since the only thing jammed in there now is the adapters. I'm not sure why the Hesco filter is reversed and I guess you could run it in reverse but I hate mucking with the way it was designed unless I have to. Hey wait, isn't this whole project something that was never designed for the 4.2 engine
Don't do this build out if you need the jeep. Murphy's law apply's to this conversion.
All the wiring laid out:
The back of the PDU when I started stripping the relays. The FSM says the end relay sockets are blank, if you look at the right one, doesn't look blank to me. Here is where you have to trace things and don't trust the diagrams 100%.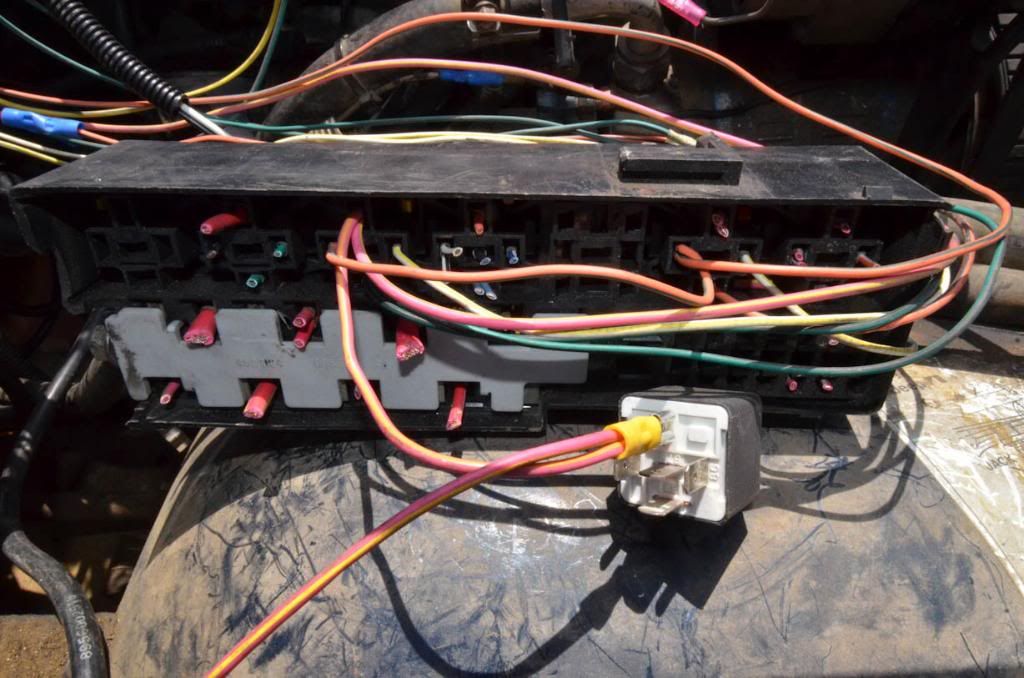 Relay's pulled and mounted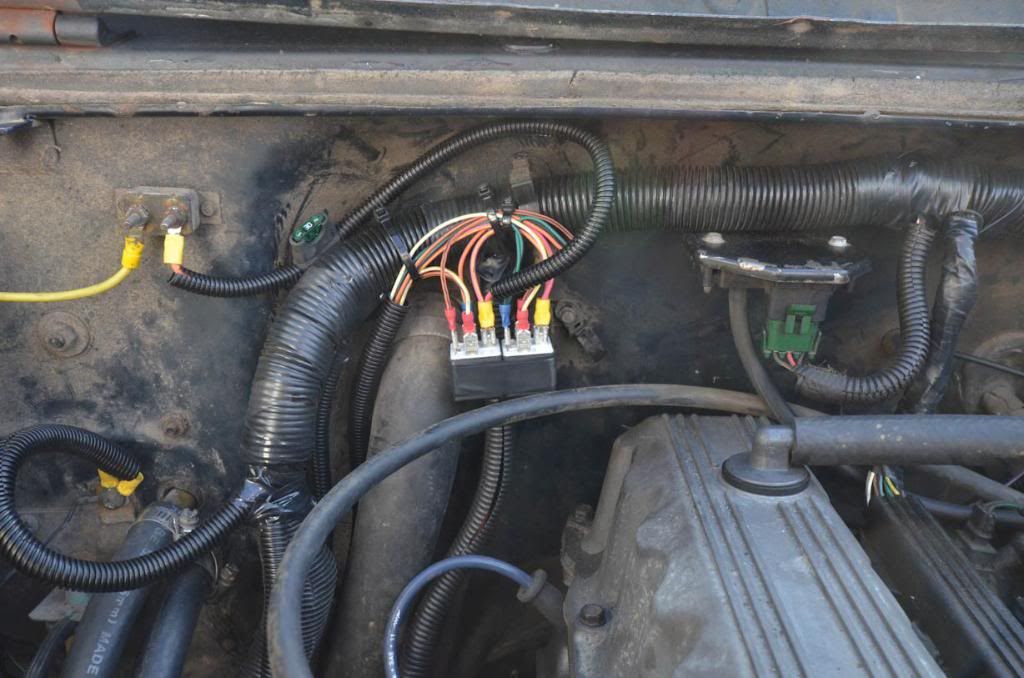 The Charcoal Canister. Tube on the left goes to fuel tank, top center to intake, and bottom center goes to the air intake.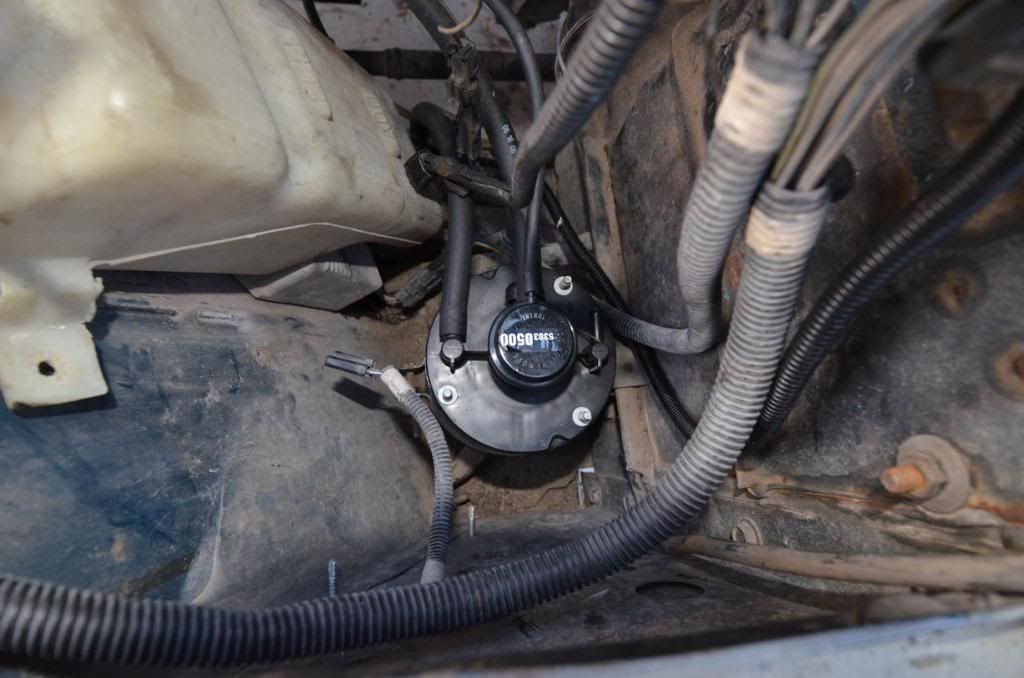 Power Steering Bracket Cut Down from two angles: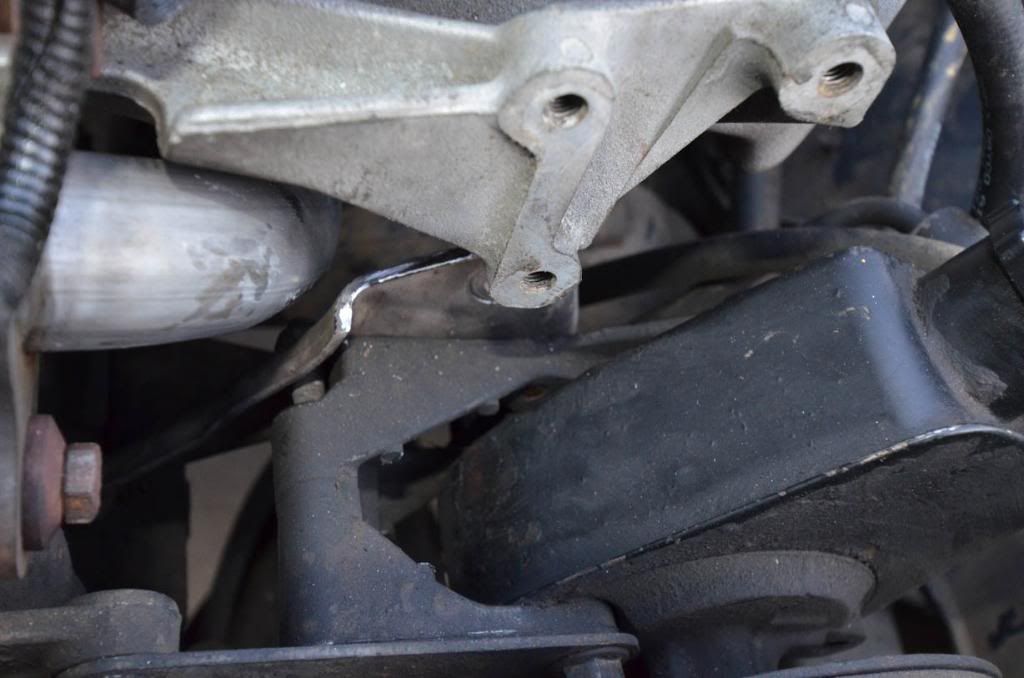 The old computer, which was under the radiator fill tank. I'm surprised it still worked.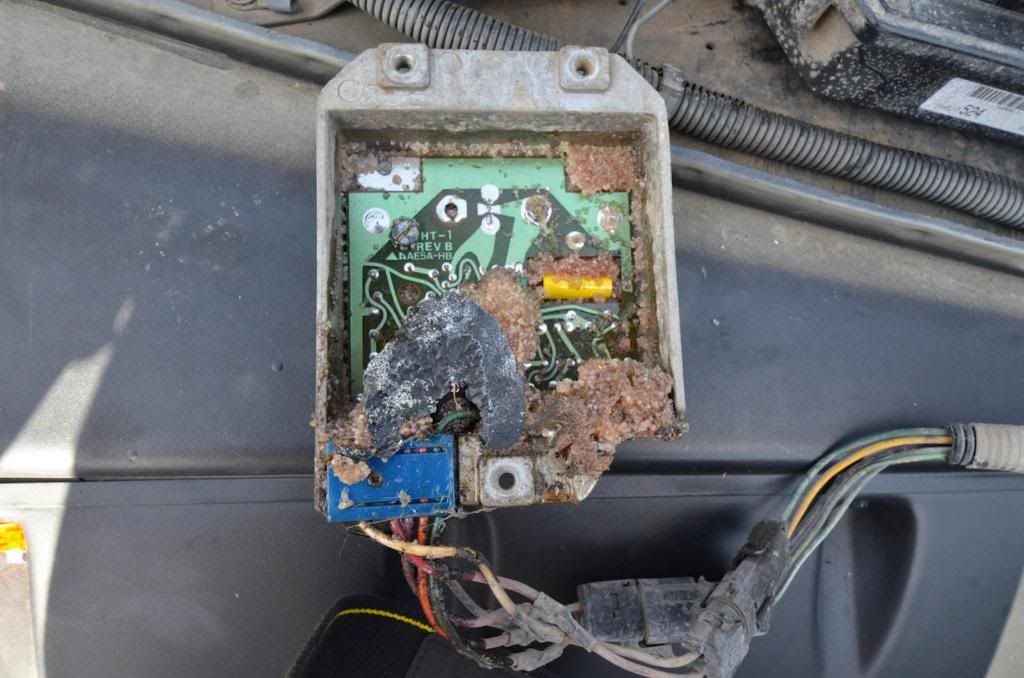 The cut I made to the Intake. Around the center of the pic, you can see the exhaust tube through the hole I cut.
Radio Shack Resistors:
Wires cut for resistors and getting ready to splice. Solid red is straight to battery and the other 2 are to the AC and Generator/Alternator checks at the PCM. Only necessary if you don't want those pesky codes on the check engine light
:
PCM with the wiring all spread out:
The Finished Product: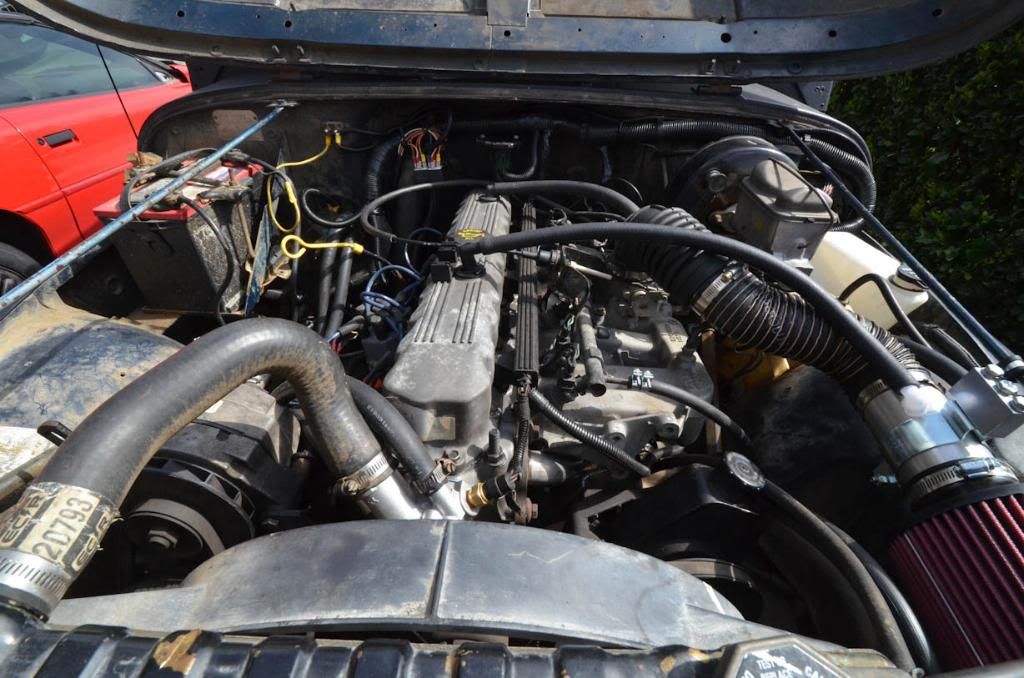 Registered User
Join Date: Feb 2006
Location: Burlington
Posts: 195
You sir, must have the patience of a saint and the determination of a bulldog.

Well done.
Registered User
Join Date: Mar 2008
Location: corpus christi
Posts: 7,057
Looks great!!
---
I don't feel like working on anything at this time so i sold my yj.
Registered User
Join Date: Dec 2010
Location: College Station
Posts: 217
where/how did you mount the fuel pump? You used the existing hard lines, correct? I'm doing something similar. I'm taking the fi intake and parts and combining it with a megasquirt to control.
Currently Active Users Viewing This Thread: 1

(0 members and 1 guests)
Posting Rules

You may post new threads

You may post replies

You may not post attachments

You may not edit your posts

---

HTML code is Off

---