Installed A Subwoofer Under The Back Seat
---
Found this Boss Bass600 on Ebay and got it for $70 including shipping. It is a self powered sub and it CRANKS. The stereo sounds so much better, not glass shattering, but it brings out all the lows in the music.
Started by attaching some wires to the springs inside the foam under the seat. Didn't want to trash the seat and came up with this idea.
Drilled some holes in a 12" x 24" piece of plywood - each corner and one in the middle. The recess in the foam measures 13 x 25 and I had this piece left over from something. Pulled the wires through the holes.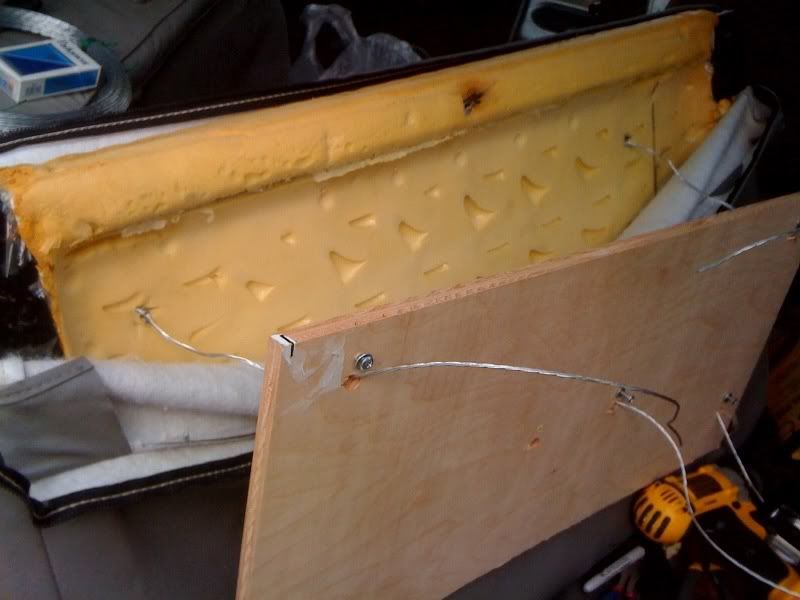 Used #10 x 3/4 screws and washers to secure the wires after pulling them tight.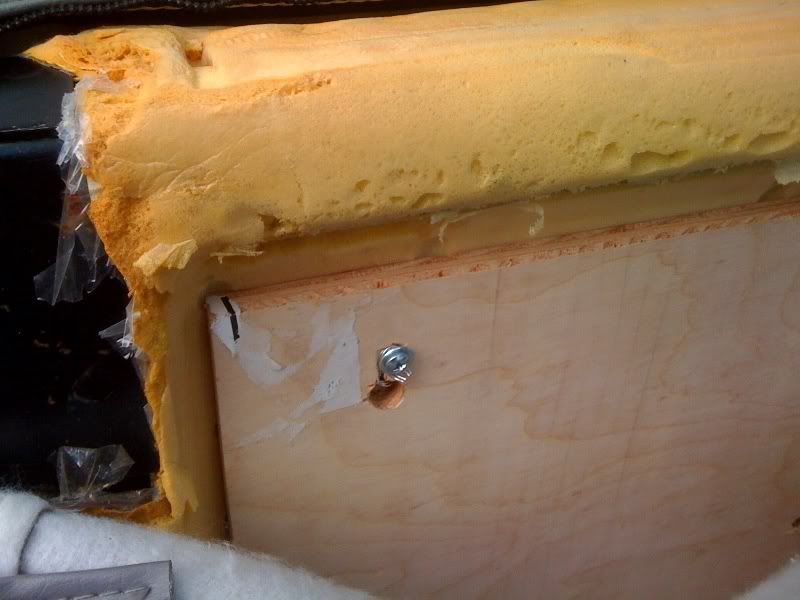 I didn't want the back of the unit hitting the floor, and wanted a little more space under the seat for a small toolbox, so this is what I decided.
Raised the floor brackets 1 1/4" and raised the side brackets 1 1/4" to match up. Decided on 1 1/4" because that was the piece of steel I found.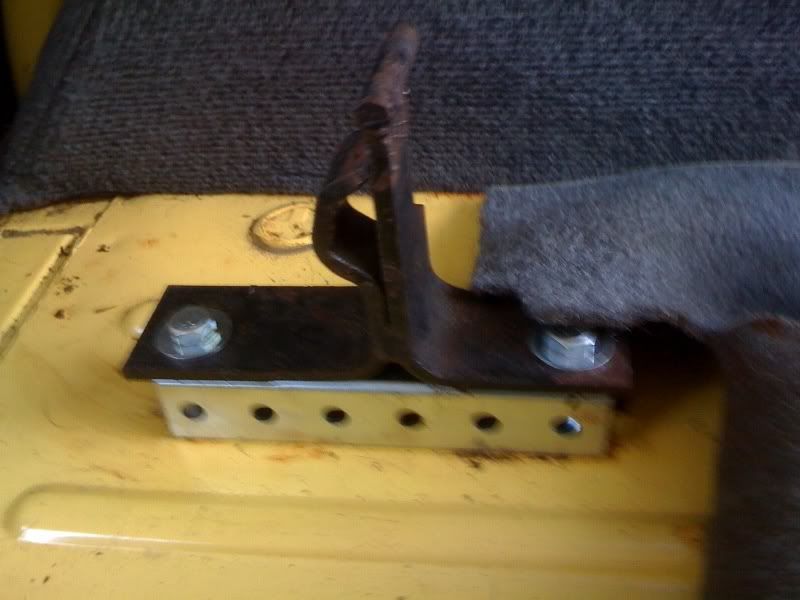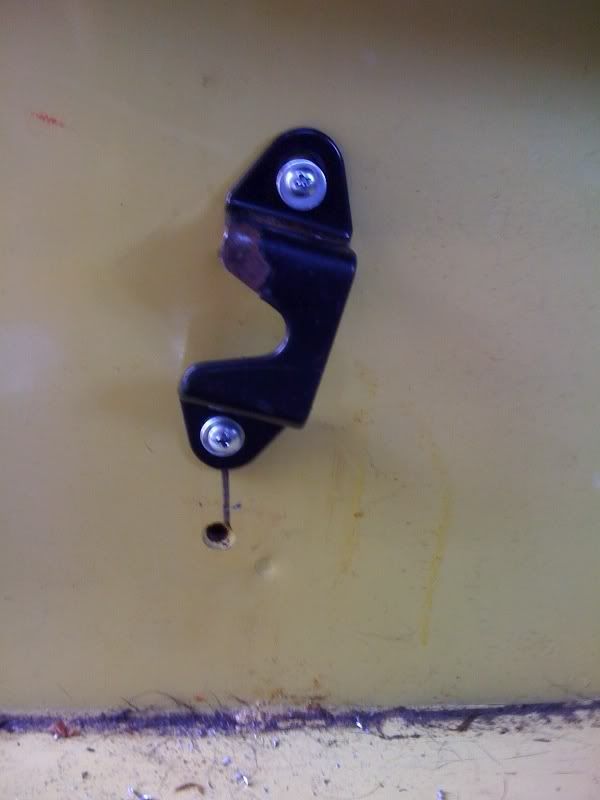 Also had to raise the back legs 1 1/4", so got 3 of these things and a piece of threaded rod and these are the "new" legs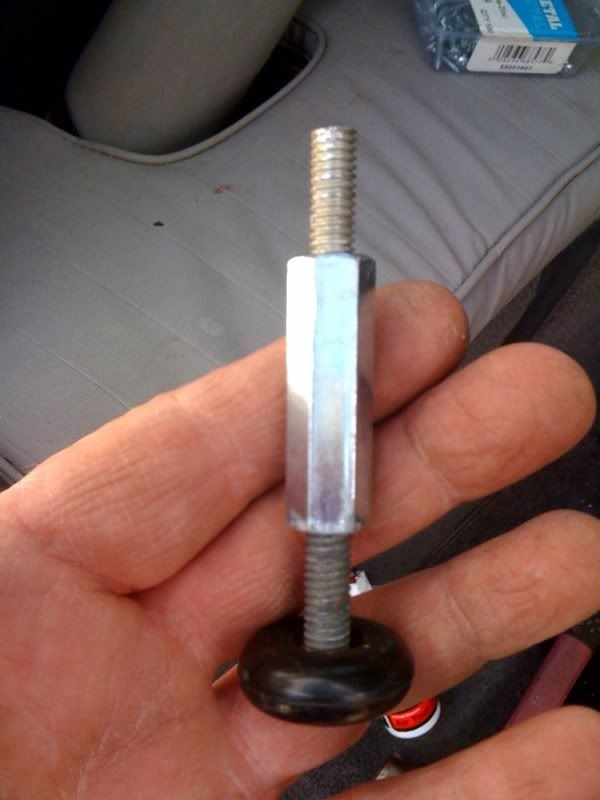 I wanted to be able to pull the seat out without hassle when I need to so bought a male and female twist connector from Lowes. Plug carries the hot, ground and remote wires. The other wires here are the phone type cord for the remote bass boost adjust dial up on the dash and the RCA connections going to the radio.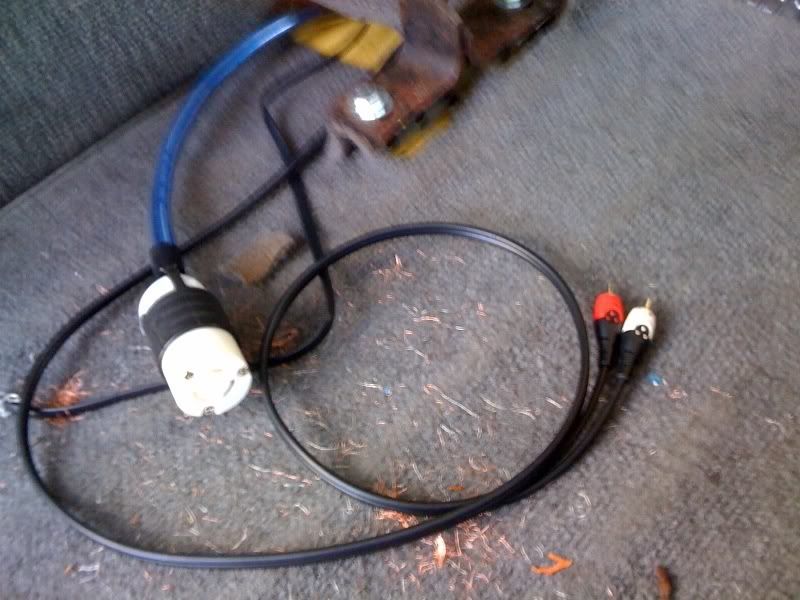 So, this is what it looks like attached to the bottom of the seat with the seat folded forward.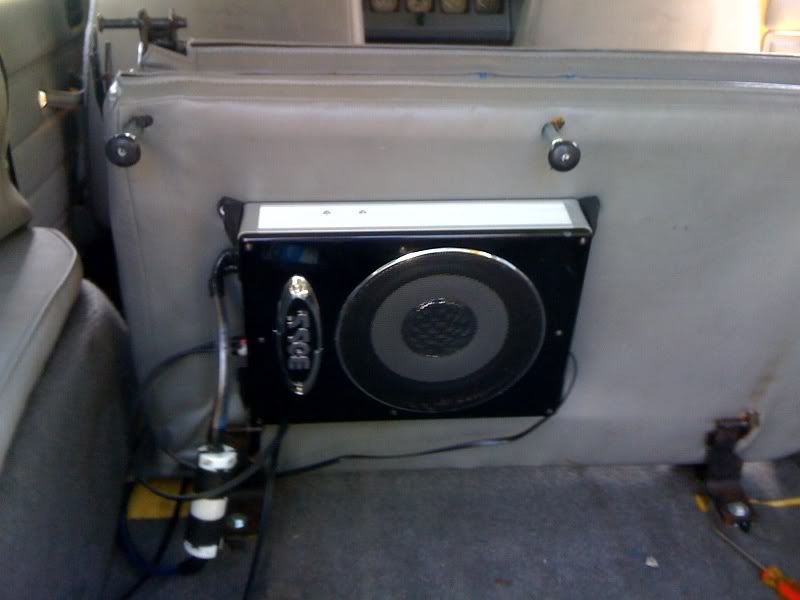 It all tucks up there nicely, out of sight from the sticky fingered ones. Wouldn't even know it was there walking by, which was my goal.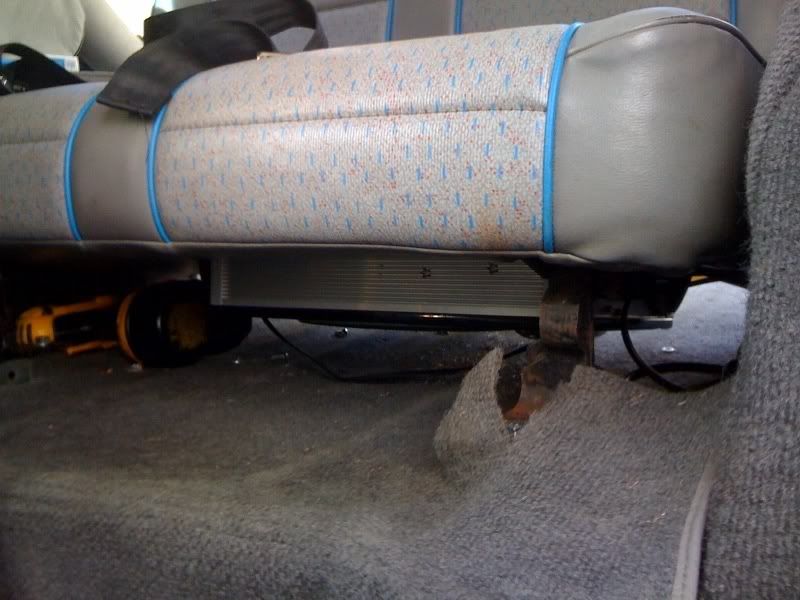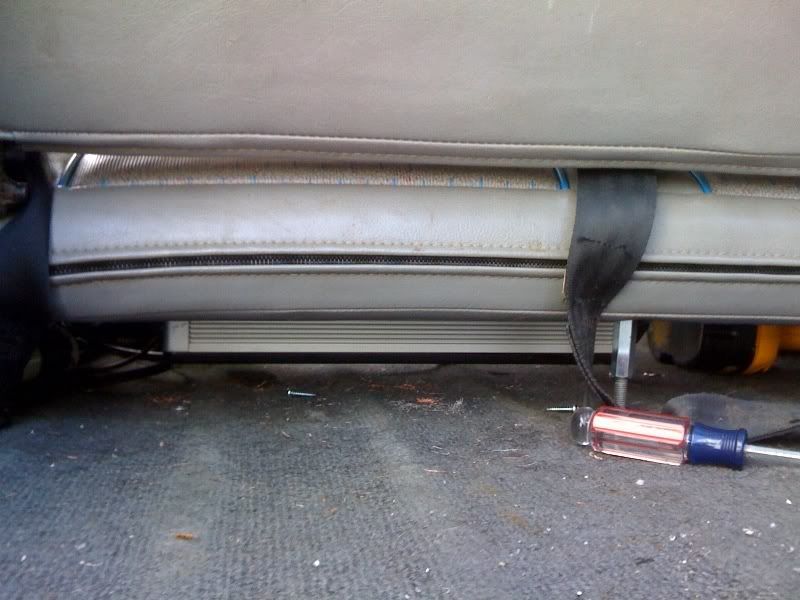 All things said, I am very happy with this. Looks good and sounds great.
One thing I will be doing is turning the unit 90 degrees to free up some more space, but will need to fabricate some straps to hold it to the bottom of the seat.
Total cost on this with wiring, materials and amp was about $115, but I did have some stuff kicking around. I bought "Streetwires" 8g for the power and ground from a local stereo install place so the wires alone were $20 but are nice and flexible for going under the carpet and through the firewall
---
'89 Islander 4.2l 5 speed
'14 Grand Cherokee Limited 3.6

One Jeep is Never Enough
Registered User
Join Date: Sep 2009
Posts: 280
Nice work. Clean and out of the way
Registered User
Join Date: Jan 2010
Location: Costa Rica
Posts: 182
Sorry for reviving this thread, but I'm planning on doing something similar with a low-profile Blaupunkt powered subwoofer that was given to me. I don't think I'll have to raise the seat at all (might do it later on), but is the wooden table felt when people seat there? Ride is hard enough as it is, and I'm worried it'll be much harder once that's installed. Also, I've got the cloth seat (not leather like yours). Do you figure I can just hide the subwoofer under the cloth? Mine's like 3.2" thick. Think that'll fit there? Thanks!
Senior Member
Join Date: Jun 2009
Location: Woburn
Posts: 565
Can't feel the plywood at all. I put the plywood there to hold the sub itself because I saw no way to attach under the vinyl.

I looked at the Blaupunkt but found mine cheaper on Amazon so went with that.

Also, I've had zero problems with the install.

Good liuck with it
---
'89 Islander 4.2l 5 speed
'14 Grand Cherokee Limited 3.6

One Jeep is Never Enough
Registered User
Join Date: Mar 2011
Location: Melbourne
Posts: 3
Nice job man. Surprised I had not seen this thread before. Looks nice and clean!
Registered User
Join Date: Aug 2009
Location: OR
Posts: 299
thats a cool solution for bass. I just put in my subwoofer and amp and it is definitely amazing how much better it sounds.
Registered User
Join Date: Feb 2011
Location: Tucson
Posts: 472
This should get stickyed. Cause I wanna find this thread easier when I attempt to pull it off
Registered User
Join Date: Jul 2011
Location: Birmingham
Posts: 33
Currently Active Users Viewing This Thread: 1

(0 members and 1 guests)
Posting Rules

You may post new threads

You may post replies

You may not post attachments

You may not edit your posts

---

HTML code is Off

---