Registered User
Join Date: Dec 2011
Posts: 1
How to. Test whatever engages your front hubs
---
My 95 wranglers 4x4 quit working after being parked. Driveshaft turns but no light on dash or tires turning on front axel. Must be what electrical runs th hubs . How to test
Registered User
Join Date: Sep 2008
Location: USA
Posts: 1,393
Check your vacuum line going from the tcase to the front axle.
---
Horsepower is like a hot girl with STDs. You know you want to hit it but you're afraid of the consequences.
Registered User
Join Date: Feb 2007
Location: florida
Posts: 3,900
Yes, look at the vac lines on your axle. See if they are connected.
Registered User
Join Date: Jun 2008
Location: st. louis
Posts: 2,116
Jack up the front right tire. Put in Neutral. Put transfer case in 2wd. Start the engine. You should be able to spin the front tire and front driveshaft will not spin. Put in 4wd and repeat. Either it won't spin or it will spin and the front drive shaft will spin I don't remember but it will obviously be different if it is working.
If that doesn't work, then unplug the vacuum lines and switch the 4wd back and forth and feel for vacuum switching back and forth in the lines. If you don't, either the lines or the switch on the transfer case is bad.
If that doesn't work, then get some hose and hook straight to manifold vacuum and try switching it back and forth between the two ports on the vacuum motor and see if you can get it to lock and unlock. Or you could use a vacuum pump if you got a good one of those. If that doesn't work, the vacuum motor is bad or the fork is messed up somehow. Take the vacuum motor off and look at it and test it with the vacuum hose.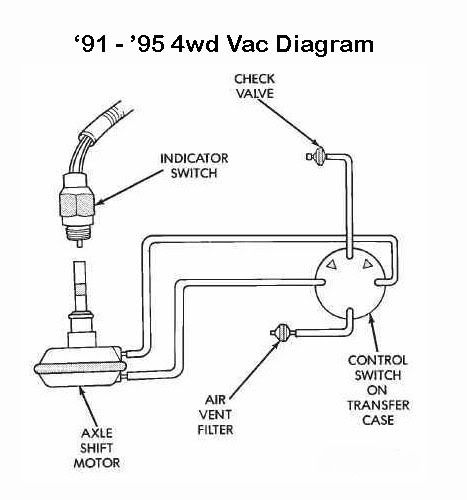 Currently Active Users Viewing This Thread: 1

(0 members and 1 guests)
Posting Rules

You may post new threads

You may post replies

You may not post attachments

You may not edit your posts

---

HTML code is Off

---