Registered User
Join Date: Jan 2012
Location: Oak Hill
Posts: 46
Did they tack weld it or run a bead all the way around? How much did you guys pay for the welding?
Thanks,
Pat
Registered User
Join Date: Jan 2009
Location: new york
Posts: 404
I'm in the same boat. My floor looks exactly like yours and I just replaced the same spot under the stamped jeep logo.
I got a welder for Xmas and am going to give it a try myself. The sheet metal repair I did wasn't too ugly. And it's a jeep it isn't supposed to be perfect hahaha. Plus bedliner will cover most of it and the carpet will cover the rest.
---
My Build Thread -
To view links or images in signatures your post count must be 10 or greater. You currently have 0 posts.

Registered User
Join Date: Feb 2012
Location: Neosho
Posts: 107
Ah the common issues that draw us together! I am in the same boat as you are., I got a friend charging me a 6 pack and $20 bucks to weld mine in. I just have to wait on him to find the free time. Just go to a machine shop and ask them, can't see it costing much if you can do the prep work yourself.
Registered User
Join Date: Oct 2010
Location: Birmingham
Posts: 292
I paid $500 for a body shop to replace 4 floor replacement panels and put down spray-in bedliner. That included labor to remove the seats, roll bar, etc. I probably could've paid less had I stripped everything down and cut out the bad sections of floor but I didn't have any means to tow my jeep to the body shop. Again, I don't regret paying to have that done.
---
94 ZJ Laredo (sold)
98 ZJ TSI (sold)
92 YJ 4.0
Registered User
Join Date: Jul 2013
Location: Rock Hill
Posts: 1
Where did you get your pedal covers?
Quote:
PLHamp,
I was in your shoes about 3 months ago trying to decide what to do about my floor pans. I really considered using some automotive body panel adhesive or even some sheet metal screws. I had the same replacement panels as you. I was going to have the inside of the tub bedlined but I still wanted it to look good. I ended up paying someone to weld in the new floor panels and I haven't looked back. To me it was worth every penny. My$0.02
Not the best picture but it's all I could find.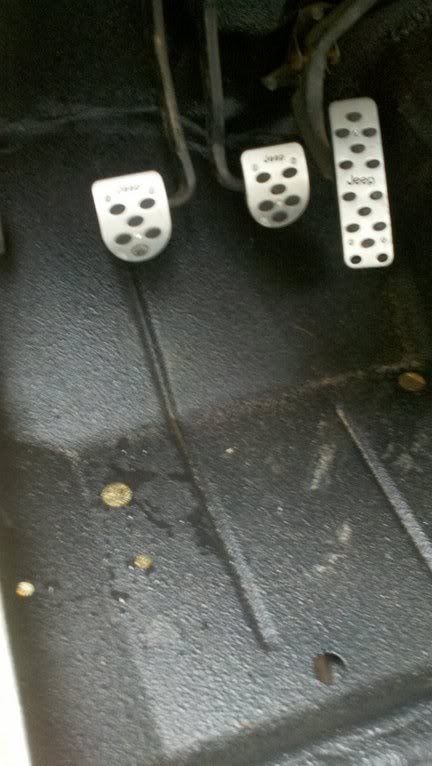 Registered User
Join Date: Feb 2013
Location: Northumberland
Posts: 1,605
I welded mine in
---
1992 YJ
Registered User
Join Date: May 2011
Location: Baltimore
Posts: 3,776
I guess this isnt the worse necro thread resurection we have seen around here.
---
1995 YJ. 2 inch BDS Spring lift. 1 inch shackle lift. 1.25 inch JKS Body Lift 33x12.5x15's. Engo 10,000 pound winch.


Registered User
Join Date: Dec 2012
Location: Marietta, GA
Posts: 632
On my drivers side I went a little overboard, but that's just how I typically roll. Cutting out the rust and trimming the Key Parts preformed pan was made easy by a sheet metal nibbler from Northern. Their flanger/punch tool was used to flange the edges of the floor and punch clearance holes every 2" for sheet metal screws around the pan. The fit was perfect and well worth the $65 price for the pan. Then holes were drilled in the floor for the screws to hold the pan down while it was welded. Also, I made sure to pick up the tub structural channels under the pan as much as I could.
I'd pull a screw and spot weld, alternating around the pan as shown below.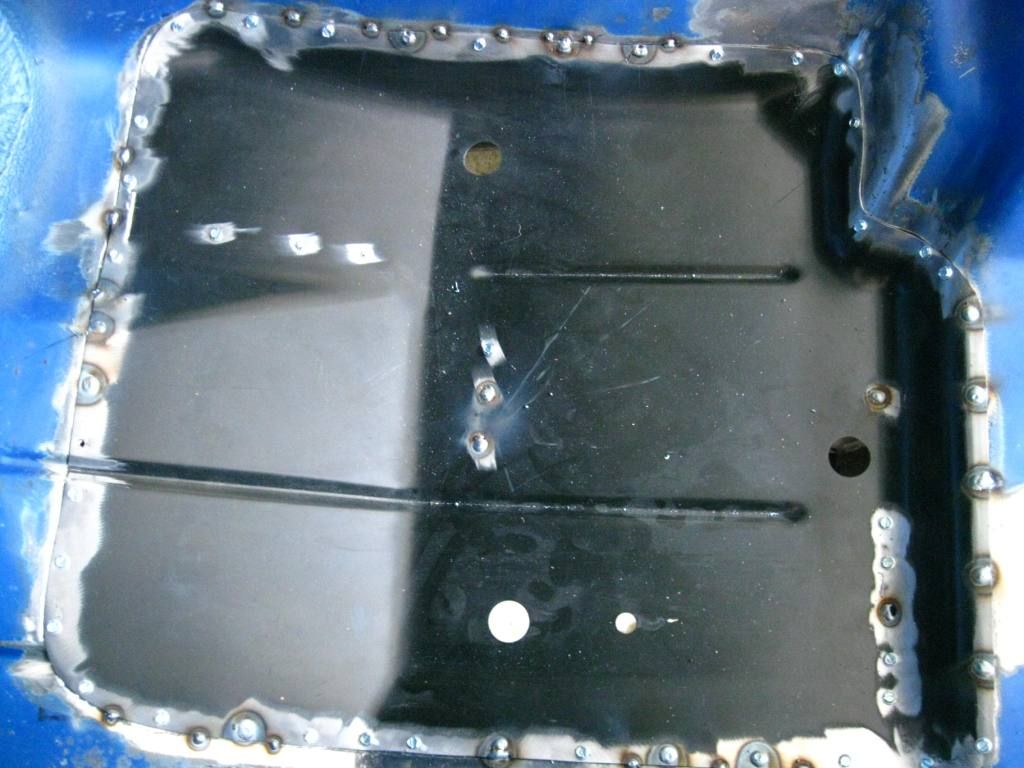 Sometimes when I pulled a screw the panels would separate from minor warping. That called for tightening the screw back down and putting a spot weld on the seam. Eventually the seam was stitch welded around the entire perimeter.
While I don't have a picture of the area with Raptor liner on it, you'll have to take my word it looks awesome, almost like I knew what I was doing (actually this was the first time I ever done anything like this). I haven't done the underside of the pan yet and will probably use auto body seam sealer and paint.
While I was at it the multitude of screw holes in the tunnel from PO repairs were welded up and ground down to make a decent start for the uncut Warrior cover I got on closeout for $40 from Morris or somewhere.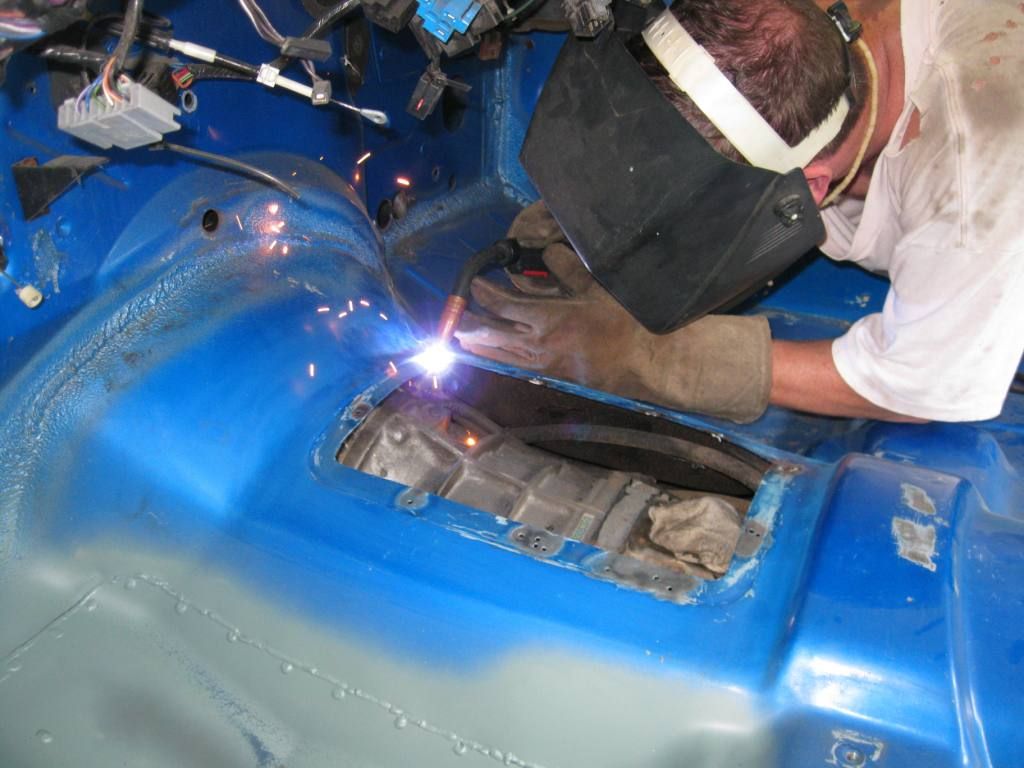 ---
Tom
Registered User
Join Date: Jan 2013
Location: Little Chute
Posts: 382
Im with Gage56...even used the same floor pans (I thought he stole my pics for a second LOL). I used to fab solar panels that were 40ft x 10ft x 5" and weighed close to 2.5ton. We welded the 3x5 angle iron frame, but the pans we glued in with automobile panel adhesive. We did tests by flipping them upside down and the the glue held up better than I would have thought. We even had a guy come in from 3m and show us a bunch of stuff about their products. This was almost 10 years ago already so I am sure their stuff is even better.
In short there are pros and cons to each...glue them and its easy and no heat, no grinding welds. Weld them, they are permanently bonded together, you know what you have! But if you own a Jeep, I would recommend a welder and learn how to use it. Jeeps should come with welders.
---
Time and budget build...lots of pics::::
To view links or images in signatures your post count must be 10 or greater. You currently have 0 posts.


94 YJ slightly modified

00 WJ stock
Registered User
Join Date: Feb 2007
Location: florida
Posts: 3,900
Weld it. Do it right the first time.
Registered User
Join Date: Feb 2013
Location: Northumberland
Posts: 1,605
Quote:
Jeeps should come with welders.
LOL Right
If you act now on any new or preowned jeep wrangler you get a free welder
---
1992 YJ
Currently Active Users Viewing This Thread: 1

(0 members and 1 guests)
Posting Rules

You may post new threads

You may post replies

You may not post attachments

You may not edit your posts

---

HTML code is Off

---