Registered User
Join Date: Aug 2008
Location: Sandwich, IL
Posts: 2,758
Help adjusting Carter carb
---
Before anybody says "replace it with a Motorcraft or a Weber" my carb runs solid. I'm looking for some help in adjusting it. It's nuttered already, and I've had the idle adjusted. High idle is 1800 and low idle is between 600-700. The idles hold very nicely. What I'm looking for is how to adjust the air-fuel mixture. I have a bit of a fuel smell, so I know she's running rich.
Can someone help me out with an image of the carb and exactly what screws I should be adjusting?
I was told by a mechanic ---- adjust the air down to where the engine just about wants to stall (super lean), then bring it back to where it idles smoothly. I'm just not 100% certain of what screw to turn what direction.
Thanks in advance.
---
1996 White ZJ
1987 Maroon YJ (sideways build)
1996 Forest Green XJ

The "sideways" build thread:
To view links or images in signatures your post count must be 10 or greater. You currently have 0 posts.

Registered User
Join Date: Nov 2012
Location: SLC
Posts: 54
I fiddled with mine quite a bit post-nutter to try and get the dang thing to pass emissions. There's two screws down by the mounting plate, one for each barrel that adjust the air fuel mixture. Problem is depends where you left the pins when you nuttered it as to how much adjustment you have. I gave up and put the Howell FI kit on mine.... drives like a whole new vehicle!
Registered User
Join Date: Nov 2008
Location: Ga
Posts: 5,145
Get a hold of a vacuum gauge. Adjust the 2 idle mixture screws to obtain max vacuum reading, then turh in 1/4 turn. Both screws should be within 1/2 turn of each other from bottomed out.

Check well for vacuum leaks at the base of the carb and intake manifold to head area(spray carb cleaner at suspect area, leak will cause idle speed change)
---
418 miles on 19 gallons of gas. Can't beat the BBD !
Registered User
Join Date: Nov 2009
Location: The southern armpit of California
Posts: 2,098
You'll find the mixture screws on the throttle plate within square housings, facing to the front of the vehicle. If the Carter you have is factory and hasn't been messed with, then the idle screws (#64 at bottom of diagram) may still be plugged (by #62 in diagram). If so, you need to carefully drill out the plugs to get to the screws.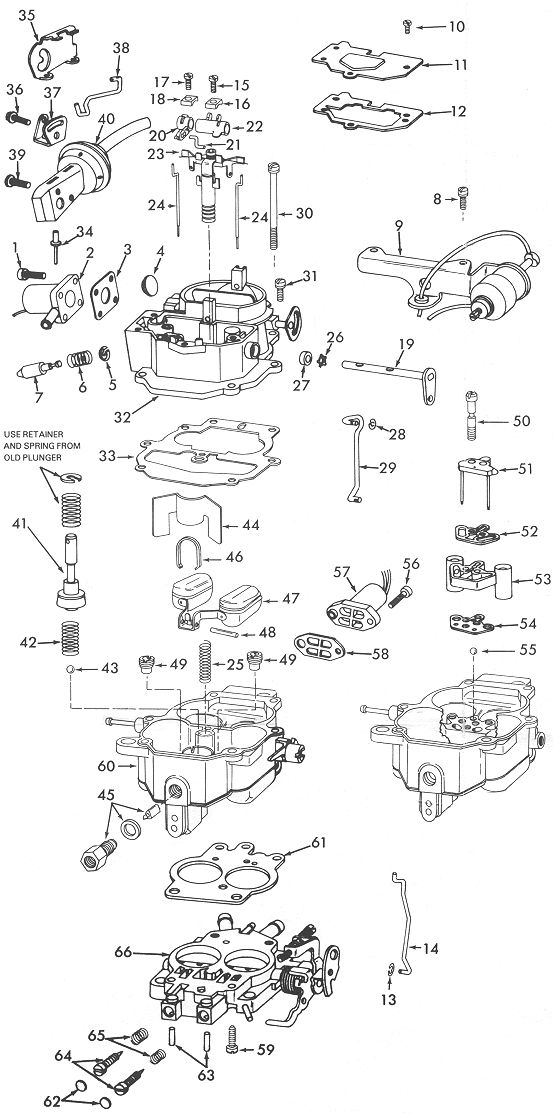 Currently Active Users Viewing This Thread: 1

(0 members and 1 guests)
Posting Rules

You may post new threads

You may post replies

You may not post attachments

You may not edit your posts

---

HTML code is Off

---