Registered User
Join Date: Jun 2011
Location: Bow
Posts: 20
Gunk in my water jackets??? (2.5l 4-banger)
---
So I bought my 1990 YJ and knew it needed a freeze plug. I wasn't sure which one until I got it home and ran it with fluid in it. (I had to put a head gasket in it to get it running, and while I had the head off I found the freeze plug on the back of the head was leaking so I replaced that... thinking that was the one that was leaking. (I only wish I was that lucky).
While I had my head off, I noticed there was like rusty looking dirt in my water jacket holes. I was like well thats not good... thats probably why all the freeze plugs blew out.
Well I dropped the tranny and found that one of the freeze plugs on the back of the motor was leaking. One of the ones on the side was also leaking too. I finally got the jeep in a shop and up on jack stands with the tranny already out. I decided to just pull the motor out too since it was a few hoses and 2 motor mounts. I took the nose off the jeep and then took the motor out.
I took the freeze plug off the back of the motor that was leaking. This is what I found: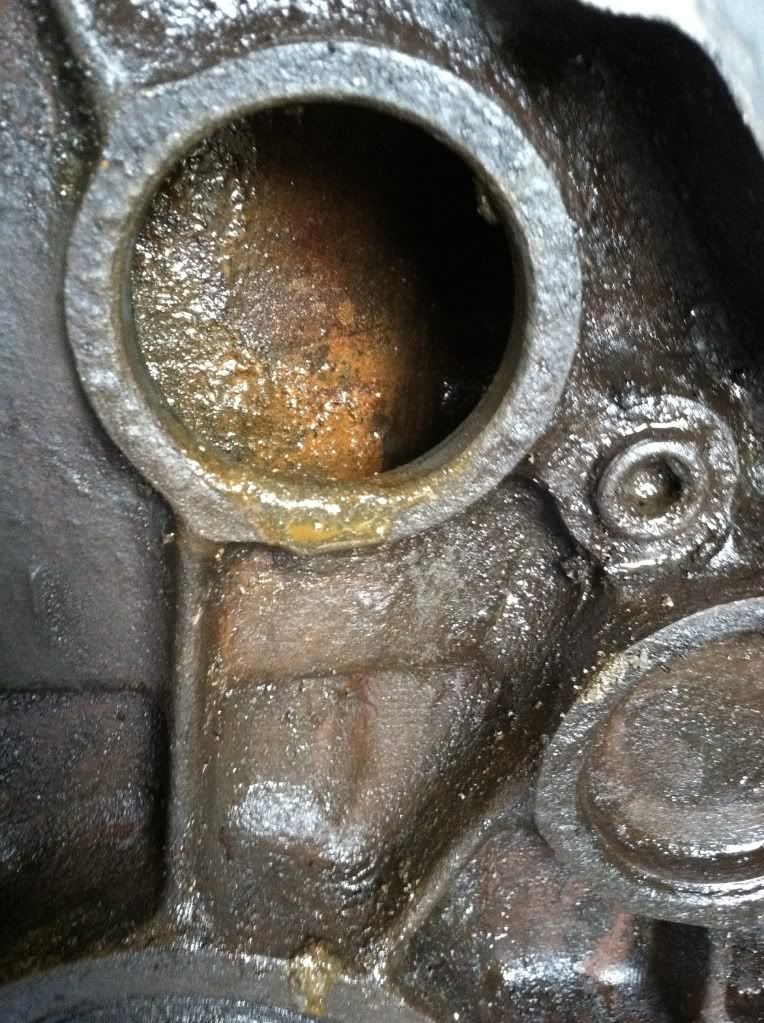 This gunk was like a copperish brown/dirt looking color. It had a slight glimmer to it as if there was copper in it. Anyone have any ideas as to how this happened??
I also found that there was no pilot bushing between my tranny and motor. I bought a freeze plug kit (Hardest thing ever to get) and planned on putting new freeze plugs in and throwing the motor and tranny back in. Does anyone advise against this? Money is real tight so...
---
Last edited by JeepJunkie17; 06-28-2011 at

05:57 AM

.
How do I get those pictures to work? I uploaded them to photo bucket...
**Nevermind** I figured it out
Registered User
Join Date: Jan 2011
Posts: 253
Somebody probably put stop leak in it. I would flush all of it out with a garden hose and clean the radiator real good. I think you would be good to go. I guess when the plugs went they tried to use a band-aid to fix it.
---
4bt,NV4500,NP205 Twin,Soa,8.8, 4.88's locked front and rear
Registered User
Join Date: Nov 2008
Location: Elizabethtown
Posts: 3,064
Looks like someone used stop leak bet tne heater core is stopped up also.
---
MIKE


To view links or images in signatures your post count must be 10 or greater. You currently have 0 posts.


MJM Powder Coating
Elizabethtown Ky.


To view links or images in signatures your post count must be 10 or greater. You currently have 0 posts.

How do I unstop my heater core? lol
Registered User
Join Date: Sep 2010
Location: Potosi
Posts: 308
I also agree that you should be fine if you flush it out the best you can while you have the frost plugs out. I would check the heater core by having both hoses off the block, hook a garden hose to one and see how well the water flows out the other, then reverse the hoses to flush it the other way too. If you get good flow, you are good to go.
Alright I will see how it goes on wednesday night. Thanks guys!
Currently Active Users Viewing This Thread: 1

(0 members and 1 guests)
Posting Rules

You may post new threads

You may post replies

You may not post attachments

You may not edit your posts

---

HTML code is Off

---