Registered User
Join Date: May 2010
Location: Williamsburg, VA
Posts: 793
Gauge Cluster, no power
---
First, anyone got a good diagram of the 87-91 gauge cluster wiring?I have a Haynes manual and it is 0 help.
I had my dash apart and after I put back my gauge cluster I now have no power to any of the gauges. Took it back out and the circuit board on the back is fried from pin #5 and #2 to the gas gauge (+ marked terminal) and there is no power at all coming to pin #5 (white with black tracer positive feed to the gauges).
Here's the pins and wires to the gauge cluster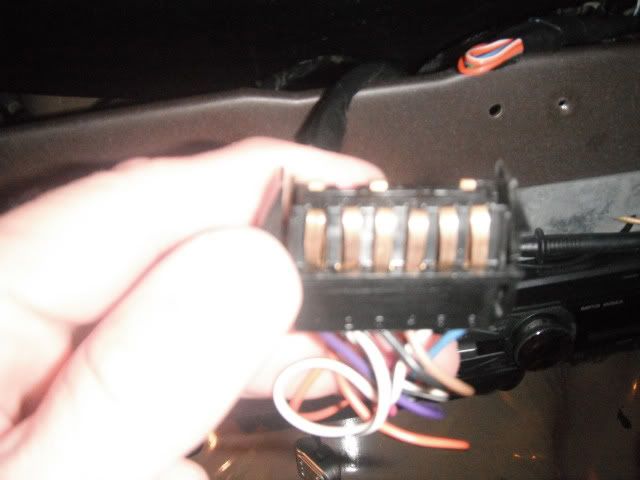 sorry it's a bit blurry but the pins are numbered left to right
I've looked at all my fuses and can't find one that is blown, but nothing in the fuse block is marked as 'gauges'. My acc. fuse is fine, and when I turn the lights on the bulbs work, as well as the feed to the center clock. That tells me I have ground, and the other feeds to the circuit board are working.
Here's the circuit board damage
When I turn the ignition on though, nothing at all to the gauges themselves. Prior to this happening my fuel gauge was not working (just like nearly everyone else's of this year) but everything else functioned properly. I need to trace out where the feed comes from for the gauges, as I don't want to buy a new circuit board or new gauge cluster to find out it won't work either, or worse yet to fry a new one. HELP please!!
Web Wheeler
Join Date: Jul 2006
Posts: 3,668
Check the IOD fuse in the PDC.
Thanks, but my 88 yj has no IOD fuse in the power distribution center. I've pulled my fuses and can't find any that appear to be blown, still got no power to any of the gauges or to the tachometer. HELP. Anyone!
Registered User
Join Date: Oct 2010
Location: West palm beach
Posts: 11
I agree its a fuse under the hood. F3 Maybe

Orange and black pin #1 should come on with your lights and the 2 wht with blacks should have power with key on. Are you testing fuses with a meter or a test light?
---
1992 Jeep Yj. Built SBC 350 Fi 150s Nitrous
JP Custom Switch Controls
WWW.CustomSwitchControls.Com
Custom Controls, I have no fuses under the hood. My 88 has the fuses under the dash on the driver's side. I tested the two black and whites with a meter, and the orange and black wire on #1 with a meter, plus the lights all come on with the light switch. I haven't metered the fuses, just visibly checked to see they are not blown.
Here is about the best shot I can get of my fuses. On the very top are my emergency and turn signal flashers (round items). From top to bottom, starting on the left
15A turn/backup
20A Accessory
5A AC/PS
in the center
20A Dome
20A Park/Tail
unmarked Circuit Breaker
on the right side
15A Haz. Stop
15A Ign LPS
25A Heater
there is some sort of black box on the bottom with numbers, that's all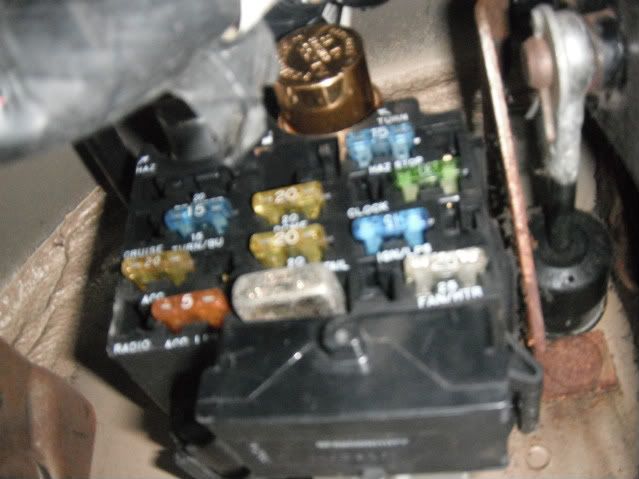 Member
Join Date: Nov 2009
Location: Nederland
Posts: 305
According to my 89 Factory Service Manual the pink wire pin 7 goes to a splice that is fed power by the Dome Fuse light . The same fuse controls the Courtesy lamps, dome light and radio. For my 89 this fuse is position 5. Pin 2 on the cluster is fed by the ignition switch going through the ign lps fuse which is Fuse 9 in the fuse box it shows as a white/black wire.
Registered User
Join Date: Oct 2010
Location: West palm beach
Posts: 11
maybe try a new fuse anyhow? i would start with that little 5 amp fuse. swap it out with a new one. same with the rest of them. its got to be a fuse. anything else not working? if you can get your hands on a test light, checking fuses and such will be easier. Ive seen fuses blow and look ok. but being you have damage i would think the fuse would look fried. either or i would be certain its not a fuse.. before you move on.
---
1992 Jeep Yj. Built SBC 350 Fi 150s Nitrous
JP Custom Switch Controls
WWW.CustomSwitchControls.Com
Bingo!!!! Thanks a million LaddieHanus. I went back and pulled the fuse marked IGN LPS and when I tested it got no continuity. Looking at the fuse it looks brand new. I've replaced the fuse and now I have power to the gauge cluster on pin 2, which in mine is jumpered to pin 5. I have a working temp gauge (left side from pin 2) but because of the burned circuit board the two right side gauges, temp and alternator, aren't working. I'm guessing something in the fuel gauge went to dead short and blew the fuse, but not before burning thru the printed circuit board on the gauge cluster. Since the circuit board is fried, I have no power downstream from the fuel gauge. Anyone got any other explanation?

By the way, when I jump across the fuel gauge feed wires (tan and black on pins 3 and 4) I get 56 ohms which is what I would expect for between 2/3 and 1/2 a tank of gas I have in the vehicle. If I get a new gauge cluster things should work ok, assuming the fuel gauge was the problem all along. I sure would like some confirmation on that theory!
Currently Active Users Viewing This Thread: 1

(0 members and 1 guests)
Posting Rules

You may post new threads

You may post replies

You may not post attachments

You may not edit your posts

---

HTML code is Off

---