Front clip removal
---
I want to know how hard is it to remove the front clip on a YJ?
I did a look see on my Jeep and looks like a few bolts to the grill to fender area, pull radiator out and a mount in the center of the grill.
Not sure how many body to fender bolts there are.
I have seen a few pictures in my search for how to remove the clip of Jeeps without the clip on them but no good details on how to remove it. How many bolts/locations etc. I know get the PB out.
I am going to take mine off for painting and prep work etc. Or would I be better off painting it on the Jeep? Figured since I had all this time with the engine overheating issue I would prep/paint it in sections over the next few weeks/months.
Also think it might be easier to paint the grill if itís off the Jeep. I donít want to paint the radiator green
I am going with flat olive green so I think painting it in section wonít cause a problem with it matching. I am going use the Rustoleum primer and paint from depot. I wish I could find it in a quart can but cannot. So I got like 6 spray cans of the stuff and will just do one section at a time.
How many coats does it usually take? How many cans on average etc?
Thoughts on this?
I have read lots of the posts on the painting of the Jeep this way and other cars so it looks like itís the most bang for the $$ as they say.
I donít have tractor supply near me or I might consider their paint.
I painted one of the old 1/2 doors and did not wet sand between coats just to see how it would look. I liked it so now on to the full jeep. I'll post pictures of the door in the next day or so.
What the heck if I donít like it I can always repaint right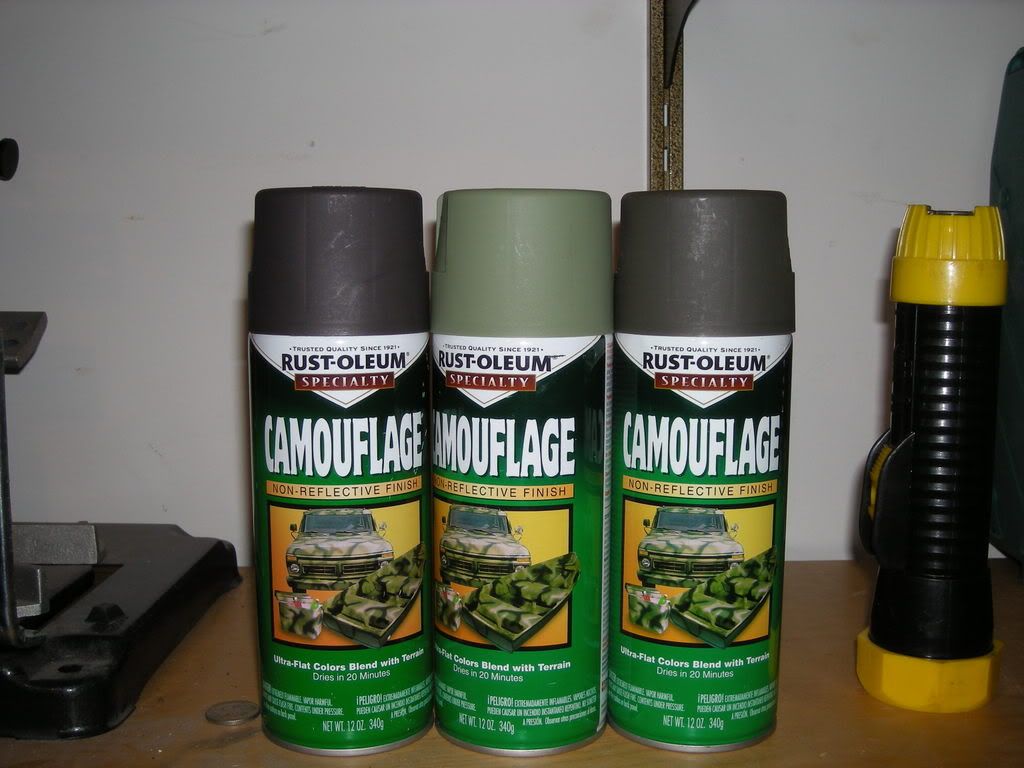 I am using the darker green not the bright green in middle. Its just to bright for my tastes. I was trying to figure out if I wanted to accent it (hinges clips etc) with the brown in some way. The jeep will have black flairs on it too when done.
I donít think I am going to do a military pattern on it just a one color job.
---
2015 Jeep Wrangler JKU "Tank" Sport S
2002 Avalanche: To many mods to list
---
Last edited by jeepwrnglr92; 11-20-2007 at

07:16 AM

.