[QUOTE=jonzjeepyj;11983394]Go For It. Re geared the little 2.5 does well. I'm running 35
BFG TA-KO's. With the 2.5L motor, every upgrade counts. It
runs great. Will it ever be a 4.0L Jeep, NO. But it runs very
well and does everything I want it to.
4.0L TB upgrade
Bored out intake to match
19lb injector upgrade
Super Coil and Live Wires
14" electric fan conversion
High flow muffler
Re gear to 4.88's front and back
92YJ / 2.5L / 5-Speed / D30-35 / 4.88's / AX5 / N231J
TeraFlex High Steer Kit / Solid Front Axle Conversion
Super Coil / Live wires / 14" E-Fan / 4L TB / 19lb Injectors
AA-SYE / CV Rear DS / 1" Lift S-Reversal Kit Up Front
1" lift Shackles Rear / 4" RC Lift SUA / 1" Daystar Body Lift
Hack and Cut Flatty Front Fenders / TJ Rear Fender Flairs
35x12.5x15 BFG TA KO's / 15x10 AR Outlaw 1 Wheels
High Lift Jack / D-Rings / 9000lb Winch / Tow Hooks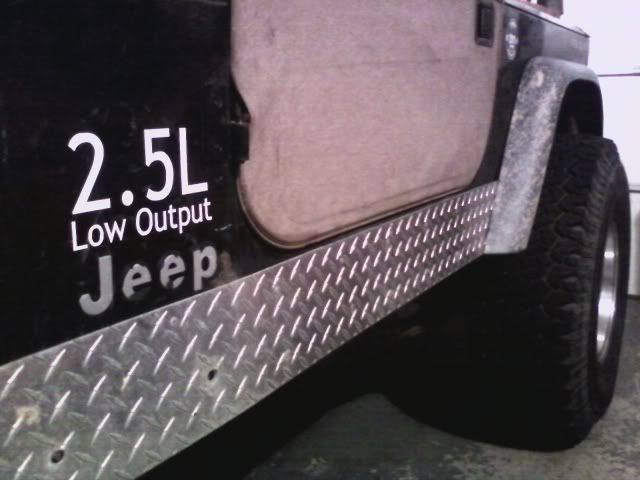 [/QUO
hey jonzjeepyj i love how u did the rocksliders on the jeep. could u give me an idea on how u went that way for that upgrade. thats what i had in mind on wanting to do but didnt know if u have to make it?