Jeep108
My jeep is a 1990 Sahara, with the 4.2, 5 speed and hard top. It
allegedly lived most it's life being towed behind a RV & was pretty stock when i bought it except for the chrome wheels.
-mc2100 carb
-Msd capacitive discharge ignition
-team rush mod
-1.25" body lift
-Set of old, used, Canadian made 4" RC springs
-Home brew tc drop
-TJ Sahara flares - painted to match
-Set of 4 new firestone destination mud terrains
-Redneck speaker tube - pvc elbow to mount my speakers in
- smittybilt center console (thanks to person that cracked my stock one open, hope you enjoy that $20 mp3 player)
Probably something I've missed. I am currently gathering parts for an axle swap, and have plans to swap my ax15 for an auto (what can i say,
i'm too lazy to shift).
*
3.
`````````````````````````````````````````````````` ```````````
monsterYJss
1993 Jeep Wrangler YJ
ARB Air Lockers (Front and Rear)
Viair on board Air System
4-1/2" BDS Suspension Lift
33" Tires
D44 Rear Axle
4.0 High Output Engine
SYE
CV joint in the Rear Shaft
Dana 30 Front Axle
One Piece Shaft Conversion in front
Smittybilt Front and Rear Bumpers
`````````````````````````````````````````````````` `````
Ripper3494
1994 Jeep Wrangler S
Modifications:
2004 6.0l lq4 from a silverado
4l60e trans with a shift kit
np231 from an xj
Dana 44s from a wagoneer
rear disc brakes
Metalcloak arched tube fenders all around
Metalcloak rear corner guards
15gal fuel cell behind rear seat
4in rc lift
durango steering box
37x12.5 interco trxxus M/t tires
home made front bumper and rear crossmember
triangulated rear crossmember for hitch
ford e-350 brake cylinder
B&M transmission shifter
novak np231 cable actuated shifter
novak engine mounts
4 core radiator from god knows what
aux trans cooler
bazooka tube sub
kenwood 200w head unit
home made antiwrap bar
12,000lb winch
Home brewed alternator welder
custom 3in magnaflow exhaust
and a few stickers
History: My jeep addiction actually started after one of my dads best friends passed away due to cancer. We bought his 2003 tj from his wife and build that up for a bit, thats when the bug got me. when i was 15 My dad and i started looking for a YJ for me, we eventually found one with a 4cyl, 4in lift and 33in tires that we thought was perfect... well 2 4 cyl engines, 3 ax5s 2 transfer cases and a couple axle shafts later we decided it was time we had a little project. and from there it just kept going for about 8 months we worked on it just about every day until it looks as it sits today.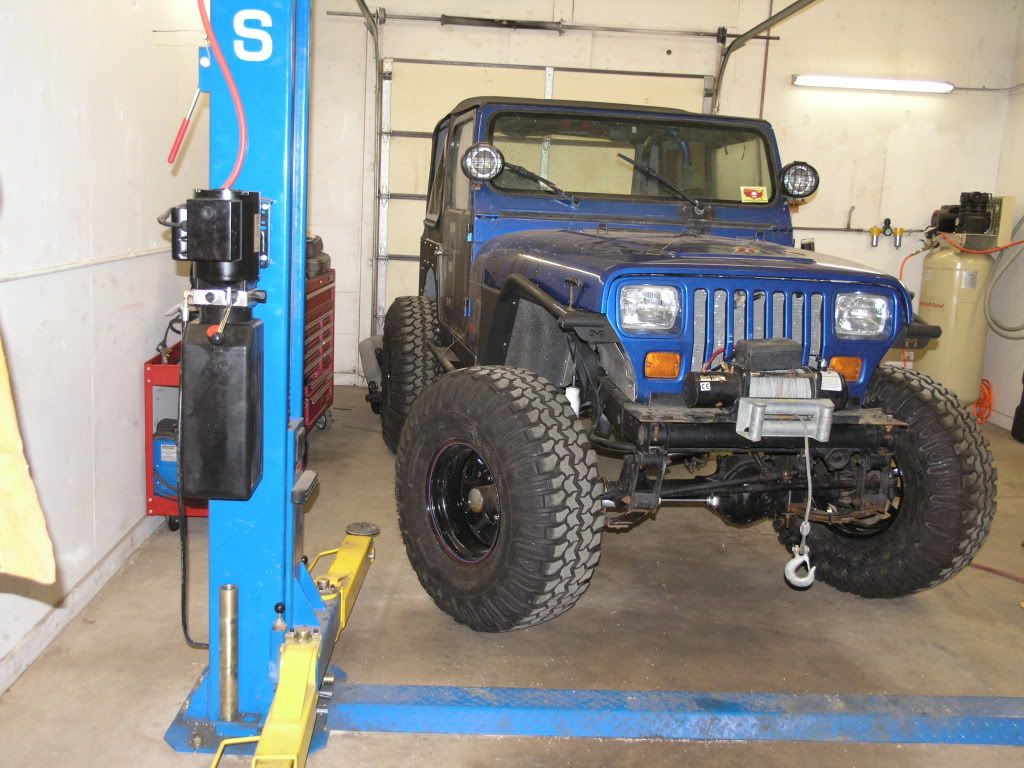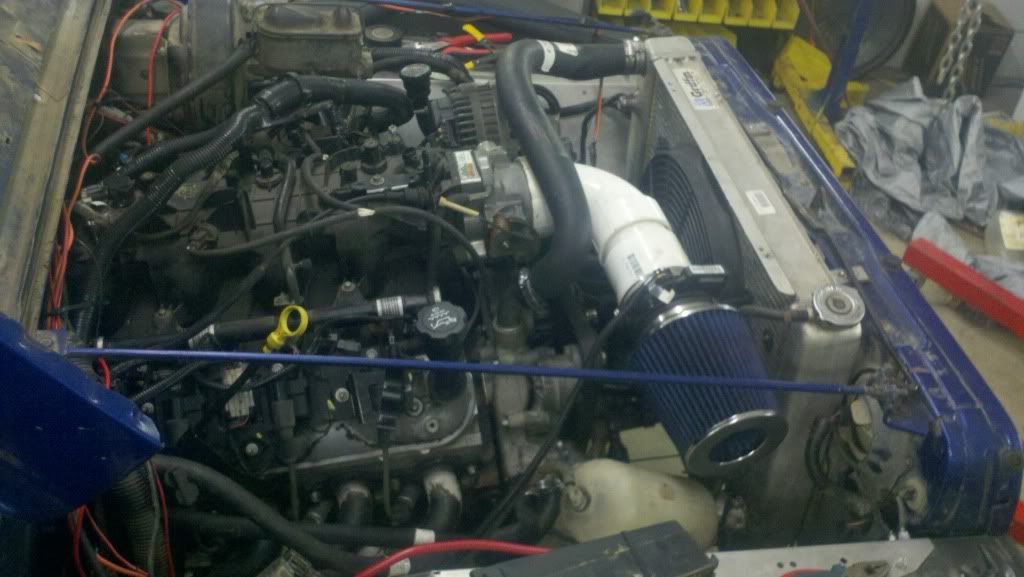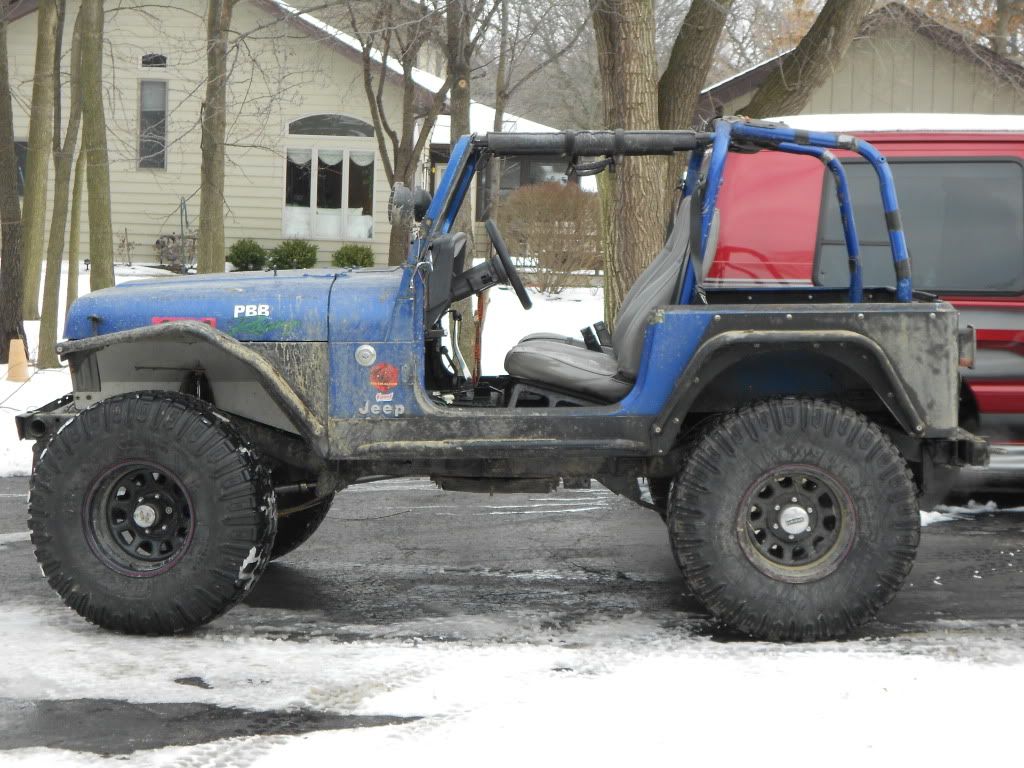 `````````````````````````````````````````````````` ````````````
'92 vegas YJ
'92 YJ
4.0L with airaid air intake
AX15
NP231 w/ true nuetral plate and Advance Adapters SYE
97 1/2" Wheelbase
SOA front with waggy springs plus offset perches for a 3" front stretch
SOA rear with bastard pack springs made up of stock and some procomp lift springs to help keep some arch
1/2" BESRK boomerang shackles F/R
Bilstien modified front TJ shocks
Doetsch Tech rear shocks
D30 front axle with vacuum CAD delete running TJ shafts
Spartan locker
SOLID diff cover
Ford 8.8 rear axle w/ disk brakes
SOLID diff cover
35x12.50r15 Mud Dawg tires
15x8 cragar black steel wheels
custom shortened "stubby" front procomp bumper
Rear Smittybilt bumper tire carrier w/ fullsize spare
M.O.R.E. hi-steer bracket with custom drag link & Tie rod
Warn m8000
A/C converted to OBA w/ 3 gallon tank mounted in trunk area
Herculined interior
Sony CD player/radio
Sony 6x9 speakers mounted on rear wheelwells
VDP center console
instatrunk
TJ rear flares
Lecarra steering wheel
roll cage mounted fire extinguisher
rear parts box for spare parts, tools and first aid kit
Hi-lift jack
Flowmaster exhaust beat up from trails
body damage
DIY parts made solely by me
Tube fenders using stock inner fenders
rocker guards w/ integrated step
oil pan skid
traction bar made from 1.5x.250 DOM with ruffstuff heims and poly bushings
traction bar mount and custom made shackle
steering using 1.5x.250 DOM w/ Ruffstuff 5/8 hiems
front and rear sport cage from 1.75x.120 DOM
license plate hold down for refueling
Cut down XJ shaft for rear CV shaft using 3"x.250 4130 Chromolly(made w/ the help of Joe Dillard)
Steering box brace
`````````````````````````````````````````````````` `````
89Yeep
1989 Yj
Rear locker
4.2 straight 6
6 inch Bushwacker cutouts
Tuffy Stereo console and glove box
33 inch BFG AT 4 inch lift
Converted rollbar to family style
Body Armor bumpers with tire carrier
Custom paint with diamond plate airbrush
Rhinolined interior
`````````````````````````````````````````````````` `````
ruthole
1994
4" rough country lift, 33X12.50X15s interco M/Ts, SRC front bumper, 4 horbor freight off road lights, rock lights, HIDs, cb, 102' whip antenna, throttle body bored,
`````````````````````````````````````````````````` ````````
Anticanman
This is my daily driver and weekend toy. I dont wheel it as hard as I could because I always want to make sure I make it to work when Monday comes around. It's also my dog transport. He loves going for rides!
1994 Jeep YJ
4.0L 6cyl
Ax15
NP231 out of a '98 TJ with Teralow 4:1 Terashort
SYE
Super-ish 30 w/ECTED Max diff, Ten Factory
shafts, RR HD steering, greasable axle seals,
rock guard
Super 88, Detroit Truetrac, 1" stretch,
SOLID diff cover
4.10 G2 gears front and rear
Rubicon Express 4.5" HD front 5" BDS
rear + 1" Ground Pounder Booms
35 12.50 KM2's or Q78-15 (36 10.50) TSL Swampers, depending on my mood
Smittybilt XRC8 winch with a 20mm ammo can completely filled with recovery gear
Smittybilt SRC front bumper & side armor, homebrew swingout tire carrier, MetalCloak'd Arched front fenders with 6" flares, TJ rear tube fenders, full RockHard cage, GenRight crawler gas tank skid, BodyArmor 4x4 tub rails
I've also got some lights and other accessories that arent too important like extended brake lines and an alarm and the like. Pretty boring stuff. Have some pictures to distract you from being bored.
Monday Morning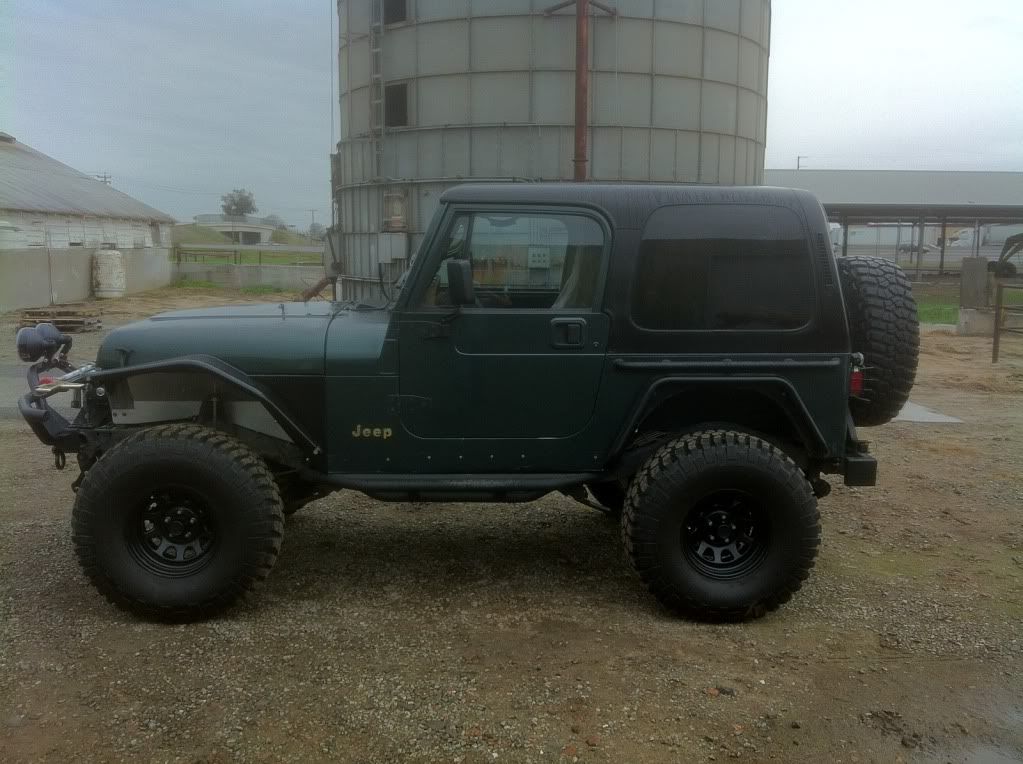 After the Mud Hole at the local ORV park
After running a couple trails and stopping for lunch