Recently installed an after market electric fan kit in my 88 YJ - 2.5L engine. Shroud was missing when I bought it, and bearing was out in the fan clutch. Never overheated, but it needed fixin, none the less!! I E-Bayed the fan kit through northcoastperf, on a Buy-it-Now, cheaper than I could buy the clutch and shroud used. I gain a few horsepower, and it affords me options like turning off the cooling fan when it isn't needed up here in ND.
One I ordered came with -
•2 Procomp 10" Fans (w/ mounting feet)
•2 Mounting Tie Strap Kits
•1 Derale Thermostat Fan Controller Kit
Measurements:
•Thickness- 1 1/4" at edge, 2.5" at center
•Height- 11 1/4"
•Single Fan Width- 10 3/4"
•Dual Fan Width- 21 1/2"
Derale Electric Thermo Fan Controller Kit included -
•Thermostat is a Single Stage Controller
•3/8" pipe thread water jacket thread-in brass probe.
•Activates turn on at 180'F and shuts off at 170'F.
•Will work on any 12 volt fan.
•Relay is 30/40 amp, heavy duty for fans that draw over 10 amps.
•Maximum capacity is 25 amps.
•A/C override circuit included.
•Designed for single and dual fan setups.
•Kit includes thermostat switch, relay w/ wiring & fuse, wire hardware and relay holder screw, installation booklet with diagram.
Actually... pretty much everything you need to install the kit, but not quite, delivered to my door, for a whopping $70!
Wasn't impressed with the through radiator mounting kit; hanging fans on aluminum radiator fins, on an off road vehicle, just don't seem wise. So I went to the local machine shop and picked up a piece of 1" x 3/16" flat and built a frame to mount all of this too. Then I bolted it to the radiator frame, where the shroud was once mounted. (
On a side note... The dual 10 inch fan kit does NOT fit within the radiator frame work, it's about a half inch too wide, so use of the through radiator mount was not an option on this installation. I measured all of it before ordering, and knew that going into the install.
)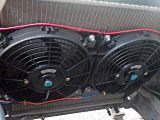 <~~ Clickable thumbnails y'all...
Installation was relatively sweet and simple, clamped it all together, marked my holes and drilled them, welded up my framework for the mounting bracket, turning the center support perpendicular to the remainder of the frame to give it a little additional strength, and prevent front to rear flex. Between this and structural integrity of the fans themselves, there is very little flex in this mounted unit. It maybe moves 1/8th of an inch back and forth, worst scenario, and it all sits a 1/2" or better from the radiator itself. It's actually WAY MORE RIGID than I anticipated! Yet, on the other hand, allows enough give that it shouldn't destroy the radiator bouncing around.
Had intended running a toggle to shut the fan off during cooler weather, water crossings, whatever, and in reviewing the wiring diagram, the kit comes wired for a manual override. I picked up a 3 position toggle, and wired it so it affords an Auto/Off/On configuration.
Assorted hardware, steel, additional wire for the almost but not quite a wiring harness, toggle switch, etc. totalled around $25, so I'm still under a $100 total for this repair/improvement.
PROBLEM IS...
When I went to screw the 2 piece temperature sensor...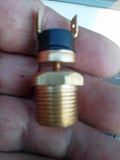 ...into the plugged hole in the thermostat housing...
The brass fitting is the wrong size!
Parts list in the kit suggest this is a 3/8" OD brass plug. Aluminum plug in the thermostat housing is just a hair smaller, but I don't have anything to check it with. Almost suspect it may be metric, since it doesn't appear to be a nominal pipe size.
Would any of you guys happen to know what size and thread this plug in the thermostat housing is, so I can try to locate an appropriately sized plug??
As for the fan kit... I LOVE IT!!
Dual fan installation it's supposed to move 1800 CFM. Fan direction can be reversed if you want to mount them in front of the radiator and push air. Currently running them on the manual override, so I simply have fan any time the ignition switch is on, and they are amazingly quiet!! Jeep runs better at low speed for some unknown reason, has noticeably better performance, and is WAY quieter. Took it out for a test drive after install; 35 miles of beating around prairie trails and 3 miles of highway home, it was cool enough you could put your hand on the radiator and it wasn't even a little uncomfortable.