This has been kicked around for a while now, so I finally pulled the trigger to make it real. The design is credited to FireMedic82 for the original /f12 design, Sparrows for getting it done back in the day, and zte87 for our new motto, "Built It - Wheel It - Break It - Repeat".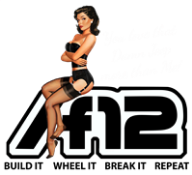 For their contributions, both FireMedic82 and zte87 will recieve one free shirt in their choice of size. PM me your sizes and I'll cover it.
Let me break down the pricing so everything is transparent.
100% Cotton Haynes T-Shirts Small - Large with 6-color logo on back, chest logo and sleeve print cost $22.50
XL shirts add $1.00 more
2XL shirts add $2.00 more
3XL Shirts add $3.00 more
4XL Shirts add $4.00 more
One-rate box to ship them is $5.95
So your basic L shirt with shipping is $28.45
Add in the fact that most orders are going to be XL or 2XL (50% mix) and cost average price is now $ 1.50 more or $29.95 (thus the $30.00 price)
If I get a ton of 3xl orders or even a few of the 4XL orders, It could mean operating at a net loss. Unfortunately, there is no way on the site I'm using right now to add additional fees for sizing. So it's a gamble - hopefully there will be a few S-M-L orders to offset the XL-4XL guys.
Visit the site
HERE
to preorder.
Any questions etc. can be handled in this thread or via my email available on the site.
All the best,
Luuca