I would just use a Taurus fan my friend. I did and couldn't be happier.
To tell you the truth, I don't use the fan 90% of the time. It's just not needed. I run a 195 degree thermostat and while moving my YJ never gets above 160 degrees. The only time that I use the fan is while off road because I'm crawling at low speeds thus causing heat to build up, especially during the summers here in Florida. It is also nice to be able to turn the fan on and off with the flick of a switch, VERY nice for when you cross deep waters.
Keep in mind I said switch, and that's all that I have it wired to basically. I wired it into the fuel pump line so that it can't be left on when the key is in the "OFF" position, other than that it's just wired to a toggle switch in the cab, no thermostat regulating it at all. It's wired to the fuel pump so that I don't murder my battery by forgetting to turn the fan off
The Taurus fan is a beast even on it's low setting. I never even wired up the "High" setting. It has never been needed. Even on low it will make my temp needle drop like a limp ****.
It's perfect for when you need to cross water like this.
And look at all this space it gives us with the 2.5L ! I can stand on the front axle when I work on the engine now! (Also not how perfect it fits over our radiators. I bent some galvanized sheet metal 90degrees and used a few self tapping sheet metal screws to hold it to the radiator, been holding strong for 9 months now!)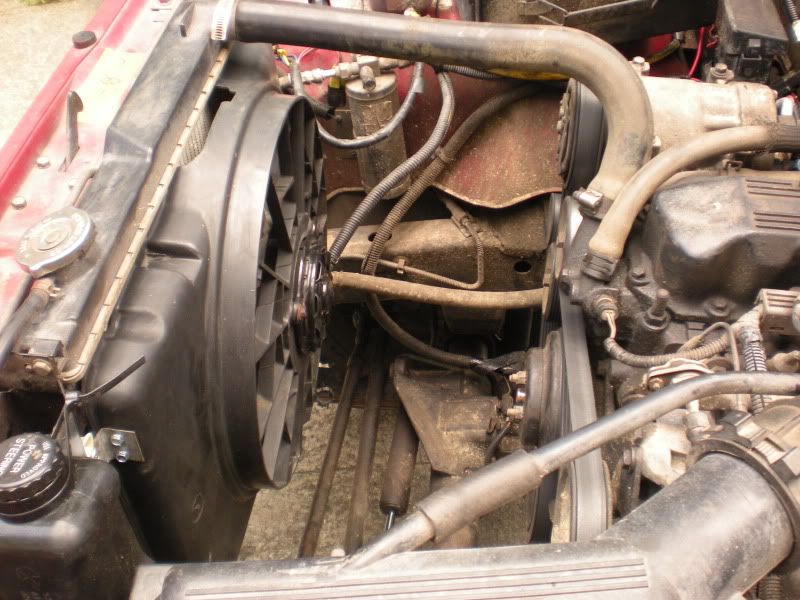 The fan had cost me $30 at the junkyard and I spent maybe another $15 on a relay, wiring, and fuse.
I'm not trying to convince you to go the Taurus route, I just wanted to share my good experiences with it.
Good luck!
Jake