Quote:
Originally Posted by
95greenrio
Its technically an air conditioning compressor but its popular as an air compressor for on board air.
X2
here are some vids... this is very impressive to me anyway, keeps up with my air chisel AND my Impact, if I turned it off idle I am sure the VERY minimal drop off I see would go away. I have the medium sized York, the only thing I haven't been able to run that I have tried is my 3" air cut-off wheel. I was able to remove all 8 - 1" lug nuts off my motorhome without waiting for rebuild of air using that impact.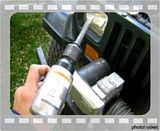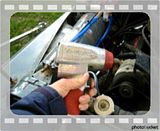 __________________
94 V8 YJ, SOA, H1's, 37's, HP D44, D60, 4.88's, winch and some other goodies TRAIL TESTED (currently under the knife)
1946 CJ2A, 225 V6. mild lift - TIME TESTED
1966 M416 1/4 ton Military Trailer -- WAR TESTED
Full Page Club member #004
Green Jeep Club Member #005