Hanksride
Specs / Mods
1995 YJ Wrangler SE (108K Original Miles)
4.0L Engine, 5 speed manual trans
4" Rough Country Suspension Lift
1 ¼" Brandon Boom Shackles
D30 / D35 3.07 Gears (Bummer)
Aussie Locker (Front)
SYE and Tom Woods CV/DS
Bicycle Hand Throttle
Cobra 75 CB radio
XRC 10K Winch
Smitty Built Rock Bumpers (Front and Rear)
33X12.50X15 Firestone Destination MT Tires
Rhino Lined Inside
KC Daylighters (2EA)
Red LED Dash Lights
Front and Rear Clevis Recovery Points
Painted Hard Top / Flares
Bug Shield
There has been a lot of blood sweat and tears go into this thing so far. Most of it was on one electrical problem that ended up being a bad ECU. This jeep has had mods, repairs and maintenance done by all family members. But what makes it the most special is getting my 18 yr old daughter interested in jeeps and sharing a 3500 mile road trip across country with her last summer. Also it has been a blast hitting some trails with friends and my Labrador Hank Williams V.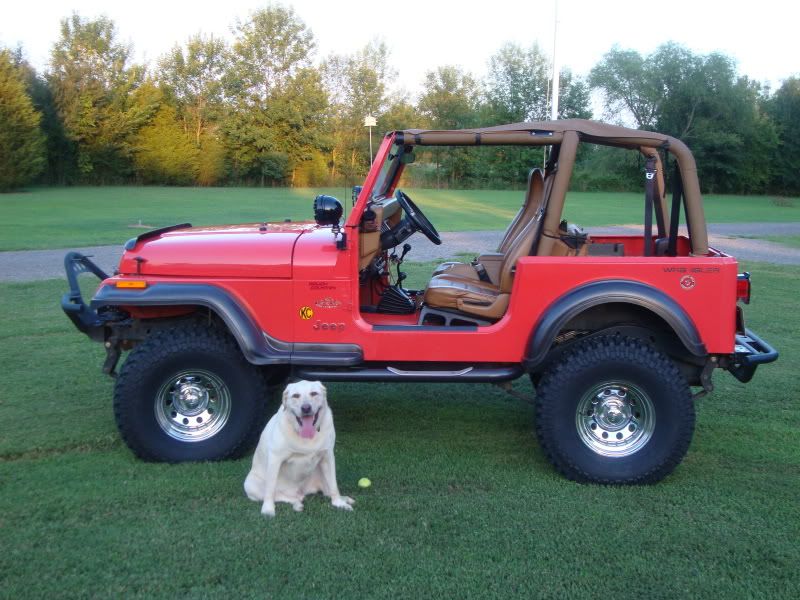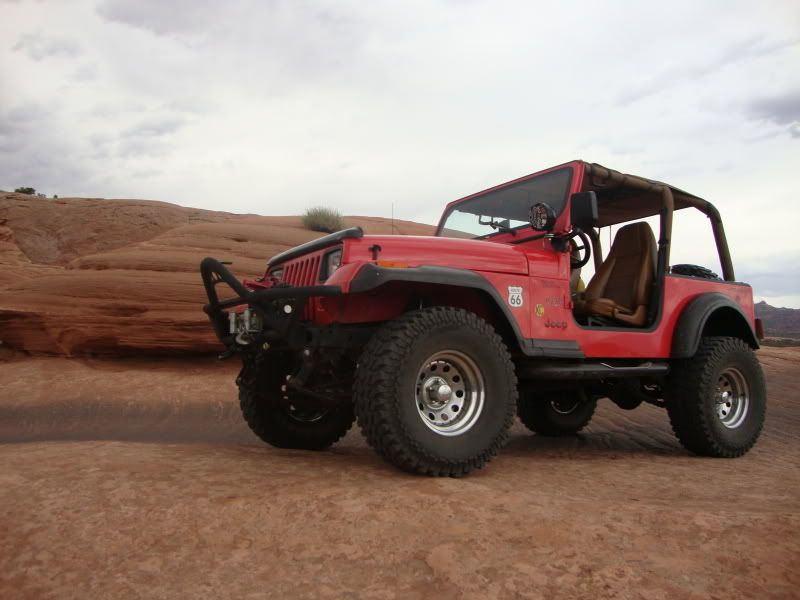 `````````````````````````````````````````````````` ````````````````````````````````````````````
mudcrawler90
My father and I got this 1990 Jeep YJ in November of 2008. It had been sitting in the previous owner drive way for three years torn apart and in the middle of a SOA. We traded a 1996 Chevy S-10 straight up for it. It was originally purchased to be a mud toy, but after spending six months restoring/building it, learning all along the way, it came out way better than either of us expected. It was (still is) a great bonding experience for my father and I. Aside from all the learning and bonding, this Jeep is also special because the SOA set up can out flex alot other Jeeps (TJ included)in my area and I'm the only person I know still running the 4.2. Not to mention, the joy of owning a vehicle that is older than me and knowing it was built, not bought.
The fist picture is before the body lift and custom bumpers:
`````````````````````````````````````````````````` ``````````````````````````
1993BlackYJ
4.0L
AX-15
SYE on the T-case
4" Skyjacker Lift
RS9000 Shocks
D30 w/ Aussie Locker
Ford 8.8 w/ ARB Locker
ARB On Board Air
Homemade Rear Bumper & Tire Swing
35" Mickey Thompsons
8.5 Ramsey Winch
KC 130 Slim Lights
TJ Fog Lights
Rhino Lined Tub
Bestop Seats Front & Rear
Hard Top/ Soft Top & Full and Half Doors
`````````````````````````````````````````````````` `````````````````````
'92 vegas YJ
'92 YJ
4.0L with airaid air intake
AX15
NP231 w/ true nuetral plate and Advance Adapters SYE
SOA with bastard pack springs made up of stock and some procomp lift springs to help keep some arch
1/2" BESRK boomerang shackles F/R
Bilstien modified front TJ shocks
Doetsch Tech rear shocks
D30 front axle with vacuum CAD delete running TJ shafts
Spartan locker
SOLID diff cover
Ford 8.8 rear axle w/ disk brakes
SOLID diff cover
35x12.50r15 Mud Dawg tires
15x8 cragar black steel wheels
custom shortened "stubby" front procomp bumper
Rear Smittybilt bumper tire carrier w/ fullsize spare
M.O.R.E. hi-steer bracket with custom drag link & Tie rod
Warn m8000
A/C converted to OBA w/ 3 gallon tank mounted in trunk area
Herculined interior
Sony CD player/radio
Sony 6x9 speakers mounted on rear wheelwells
VDP center console
instatrunk
roll cage mounted fire extinguisher
rear parts box for spare parts, tools and first aid kit
Hi-lift jack
Flowmaster exhaust beat up from trails
body damage
DIY parts made solely by me
Tube fenders using stock inner fenders
rocker guards w/ integrated step
oil pan skid
traction bar made from 1.5x.250 DOM with ruffstuff hiems and poly bushings
traction bar mount and custom made shackle
steering using 1.5x.250 DOM w/ Ruffstuff 5/8 hiems
front sport cage from 1.75x.120 DOM
license plate hold down for refueling
Cut down XJ shaft for rear CV shaft using 3"x.250 4130 Chromolly(made w/ the help of Joe Dillard)
Steering box brace
`````````````````````````````````````````````````` ```````````````````
jeepster93.
It has a name: Heap. Not said to be mean but it is my heap o' stuff.
I have had it for 10 years. got it stock and had never been off roading. Boy has that changed!!!
Not a single mod was done at the "shop'. I did everything to this Jeep in my street or driveway myself.
Taught myself to do gears so I could install my own lockers.
Taught myself to weld and bought my own welder, so I could weld on Heap.
Hardly a thing on this Jeep I haven't broken or handled. If you want to get to know auto repair...GET A JEEP!
Specs:
Black with a fair share of chrome(I like shiny stuff)
4.0L engine
5 speed manual transmission
It has 4 inches of BDS lift
33x12.50 Goodyear MT/R tires
Front End:
Dana 30 I pulled off a 1992 auto(because it had 4:11 gears)
Super 30
AlloyUSA 30 spline TJ style axle shafts(no vac disco)
AlloyUSA u-joints(supposed to all trick)
ARB 30 spline air locker
Home made truss
Welded tubes
Ruff Stuff cover
JCR 1 ton steering
Shackle flip
Bumper by High country(a copy of Warn) (A TJ bumper I modded a bit to fit)
Warn XD-9000I winch with 100 feet of 3/8 synthetic rope and a safety thimble(I carry 50 extra feet in a bag too)
Rear end:
Ford 8.8 from some junker.
4:10 gears
Welded tubes
Super88 kit
ARB air locker
Ruff Stuff cover
Garvin swing away bumper
Lite dot rear lights
Shackle flip
Body:
Kilby gas tank skid
Poison Spider trail weld in cage
Poison Spider Rocker skid plates
GenRight rear corner guards with 3 1/2 inch home made and welded flairs
Self made brush guard/light mount
Engine bay+:
K&N FIPK with a True flow filter
Dual Red top batteries
Battery isolator/combiner
Belt driven on board air with a storage tank (also powers my dual ARB air lockers)
Aux fuse box
Thumb throttle
Electric fan
Tera Low 4 to 1 transfer case
AA slip yoke eliminator
CV/DC custom drive shaft
In Cab:
CB radio
12 inch sub with separate amp
500 watt amp
6.1 speaker system
Custom switch set
In cab winch controls
I carry:
I have busted down in places...not good places. So I carry 3 days freeze dried food for 2 and a water filter and light sleeping bags.
A full tool set
Winch recovery kit
A spare unit bearing
All the u-joints(there are like 3 or 4 different ones) spares
Spare air hose for the lockers
Most of the time a handgun
PICS: